Created by the tech giant, Google Vault has for many years been a favorite email archiving solution among US government organizations.
It was especially loved by school districts because of its free inclusion in the Google for Education package.
But in recent years, everyone has been looking for a Google Vault alternative.
This article will help you understand why you should consider a Google Vault alternative and which one suits your needs best.
What Is Google Vault?
Google Vault is a cloud-based information governance and ediscovery tool for organizations utilizing Google Workspace.
It enables Workspace administrators to retain, hold, search, and export data from the G Suite including Gmail, Hangout, Google Drive, and Groups data.
With its ediscovery options, it allows users to do comprehensive searches through all of their Google data and create custom data retention policies within their business suite to manage when data is being deleted.
Why You Need a Google Vault Alternative
At first glance, Google Vault seems like it has all the features one might need – retention, legal hold, advanced search, exports, audits…
It comes freely included in the Google Suit plans starting from $6 per user. Although there have been rumors that Google Vault pricing will be changing in the near future, it still means that you are paying at least $6 for it.
But when you take a closer look, it uncovers a couple of serious issues that people have noticed and are opting to go with Google Vault competitors to solve these problems.
From an archiving perspective, Google Vault just isn't an optimal solution for email archiving in regulated industries and hasn't been for quite some time.
Let's go over the most significant drawbacks of archiving with Google Vault.
Google Vault Only Supports Gmail
The key issue with Google Vault is that you can only archive Gmail messages. And while Gmail is the most widespread email provider, it is not the only email platform used by businesses in the US.
Data by Reuters show that only 15 companies listed in the S&P 500 currently have Google's business tools, meaning that most businesses use different emailing services. Companies frequently use Outlook, iCloudMail, ProtonMail, and Yahoo! Mail.
This means that opting for Google Vault means having to use Google Tools Suit and skip archiving crucial business information from other communication channels.
This is a huge loss on crucial documents and business records which are mandatory to be archived in many industries such as education and healthcare.
So while using Google Vault helps easily archive Gmail messages, you are risking being fined for not meeting full regulatory compliance.
Google Vault Can't Archive Social Media
Over the years, social media has started to make the bulk of business message exchanges, and it's only growing.
While 61% of employees prefer email communication, there's a huge 39% gap in which employees discuss crucial business information over different social media.
With there being so many social media channels (WhatsApp, Facebook, Instagram…), there's tons of information flowing, but Google Vault can't go outside the G Suite meaning it can't archive social media communication.
As you know, social media is considered official business records, and as such, you need to monitor, capture, and archive it in its entirety to be in line with FINRA, HIPPA, SOX, and FRCP. With their rise, social media archiving will become even more important in the future.
With Google Vault, you would be forced to purchase another archiving software in order to capture social media content and be compliant, which adds to the list of your IT costs.
Google Vault Can't Archive Mobile and App Messaging
Chat apps and mobile messaging tools have gained in popularity over the recent years, as confirmed by the reports of the Radicati Group which cite strong growth and forecast an even stronger rise in the number of users by 2025.
Platforms such as WhatsApp, Slack, and Microsoft Teams are among the most popular communication channels for business.
In 2018, WhatsApp introduced WhatsApp Business which has already managed to amass a user base of 2 million people requiring businesses to invest in WhatsApp archiving. While Slack shows around 600K businesses use their platform based on industry data.
All these users exchange millions of messages that all need to be archived.
Google Vault doesn't have the option to archive any mobile or app communication which puts anyone using it in danger of non-compliance.
Limited Ediscovery Options
While Google Vault is meant to help businesses with Gmail ediscovery it just doesn't have the right tools to manage stored messages efficiently, create email retention policies and tags, nor index and precisely retrieve information.
With the rise in the amount of data generated each day, it is only natural that the number of ediscovery requests also rises.
To navigate that much data, businesses are opting for many third-party services that specialize in ediscovery.
Google Vault just can't compete with features like cases, classifications, and integrated redaction that these competitors offer to their users.
No Central Archiving Database
The bottom line is that Google Vault doesn't provide a solid overall archiving experience.
Yes, it can support the capturing and storing of some of your business data (Gmail), but it doesn't allow you to take care of all your archiving needs from a single place.
Why is this important?
The archiving industry is becoming more demanding and requires you to optimize your processes to meet all regulatory requirements.
This means archiving data from various sources and being able to manage it which becomes impossible if it's scattered around 2-3 archiving platforms.
This, coupled with Vault's lack of key archiving functionalities and it is limited to one channel prompts organizations to look towards Google Vault Competitors for a better alternative.
Let's look at the top 5 Google Vault Alternatives that will solve your archiving challenges.
Five Google Vault Alternatives to Consider
Before diving into the list, let's establish what a good Google Vault alternative needs to have for you to consider it as an option for your organization:
Multi-Channel Archiving – An option to archive communication from different emailing services, social media, and applications, as well as mobile messaging.
Efficient Search and Retrieval – Advanced search filters for all channels making it easy to find exactly what you are looking for quickly.
Compliance Features – Ability to classify and retain data enhancing your organization's ability to comply with laws and regulations.
User-Friendly Interface – Design intuitive for first-time and experienced archiving users.
Scalability – Ability to easily scale with the growing number of inboxes and data without compromising performance.
Security – Prioritizes security by offering the latest encryption technology, protection against unauthorized access, and role access control.
Mobile Accessibility – Ability to access your archive and perform different actions while on a mobile device.
These are only a few must-haves for a new archiving solution.
Now, let's get into the list with our top choice:
Jatheon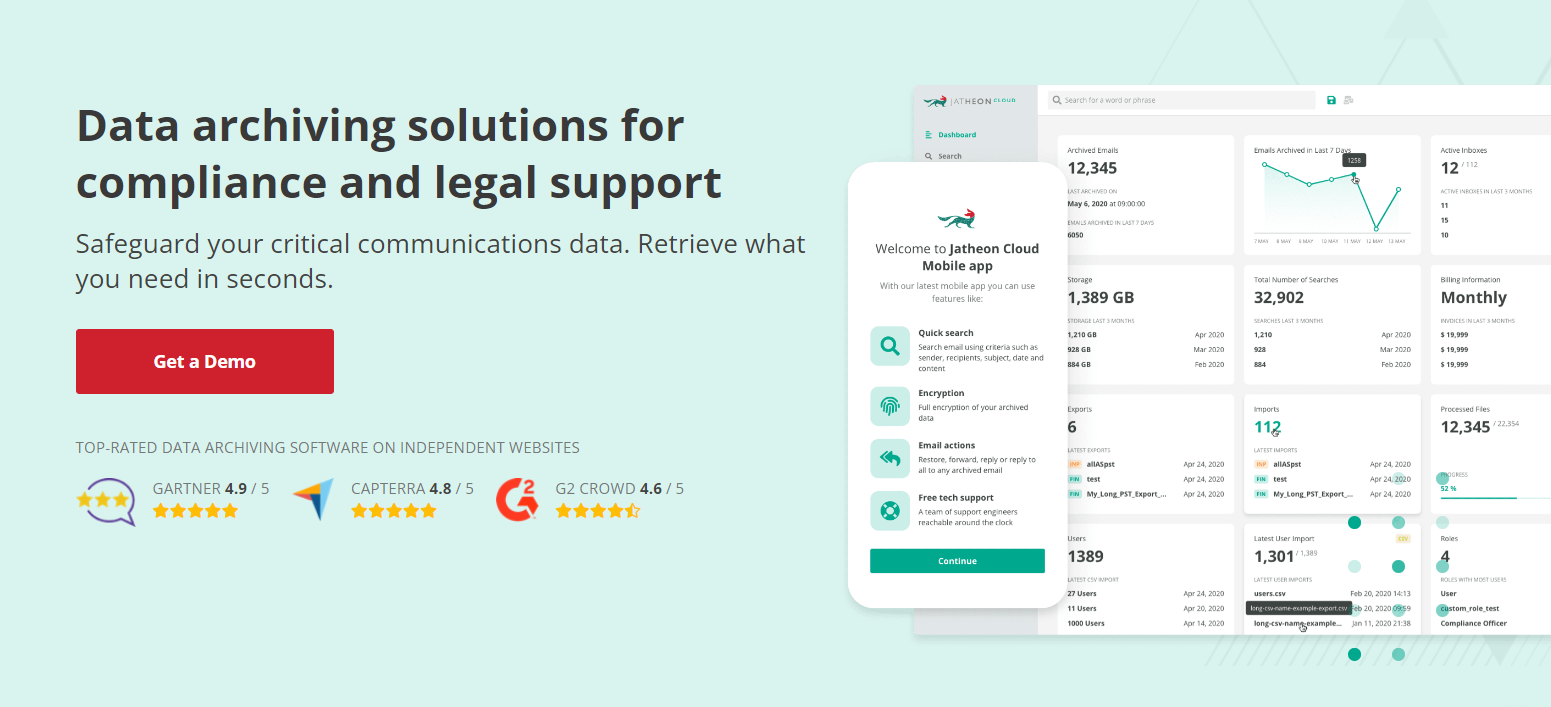 Jatheon offers a cloud-based data archiving solution tailored for businesses within regulated industries, providing essential assistance in ensuring compliance and legal support.
Founded in 2004, it offers businesses a unified archiving solution that covers all communication channels, including Email, Social Media, WhatsApp, and Text Message archiving, all stored in a single, easily searchable database.
With its modern user-friendly interface and mobile access, it offers full customization to data access, administration roles, and an easily scalable database.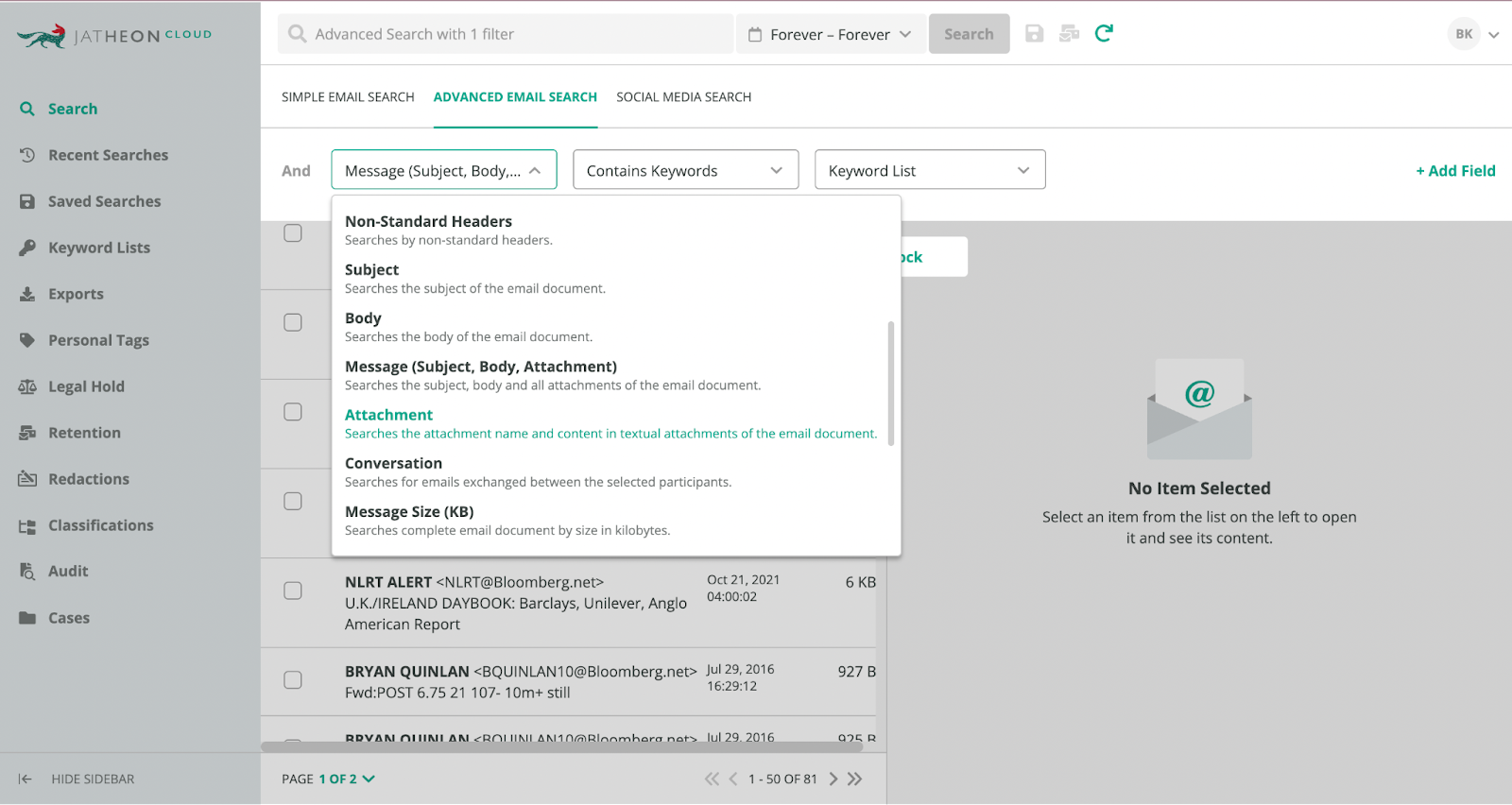 One of its key selling points is its complete compliance and ediscovery feature set including Advanced Search (with 20+ search criteria, proximity, and fuzzy operators), integrated redaction feature, legal hold and retention tags, and automated retention policies.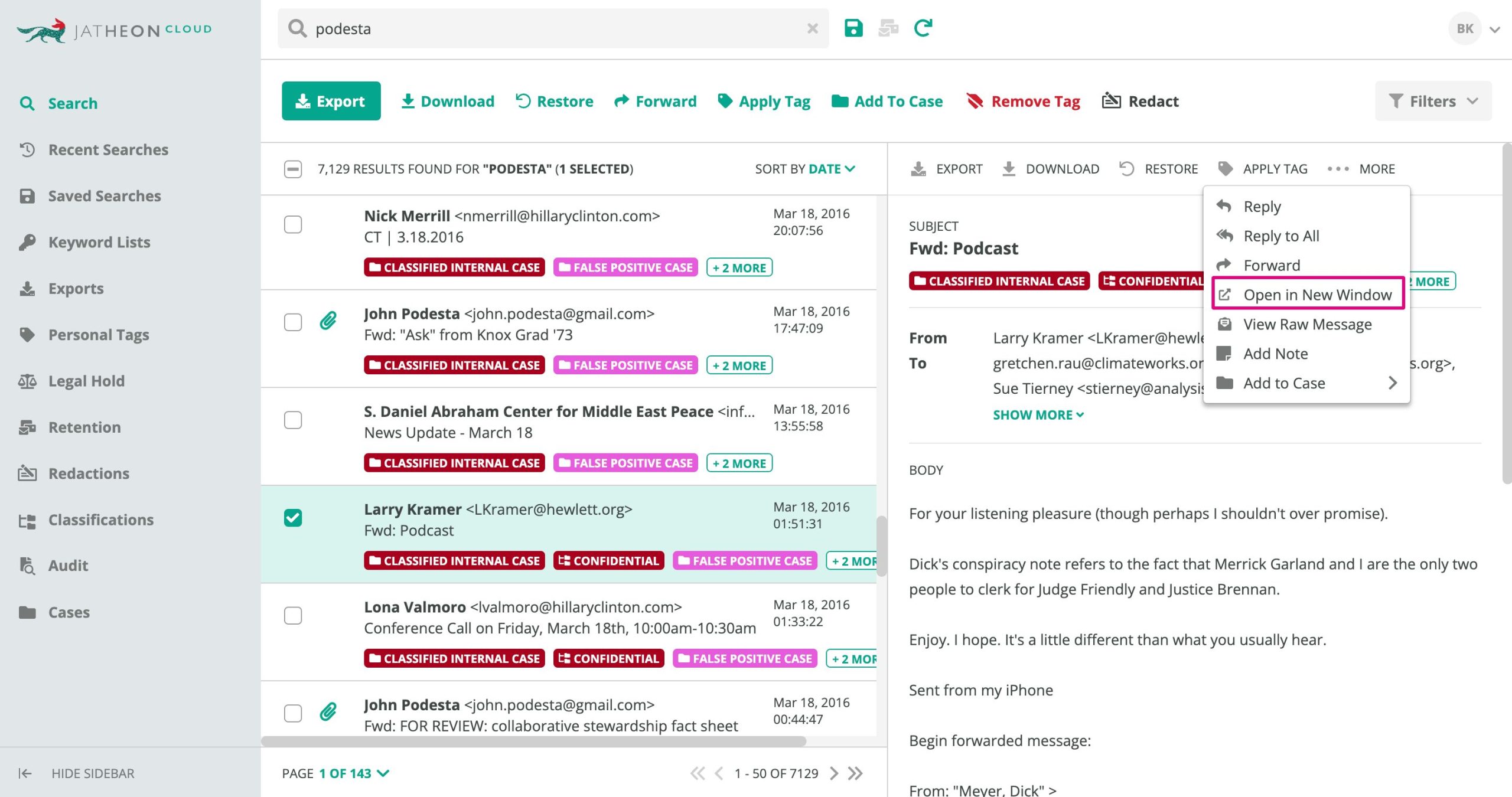 Check out Jatheon's complete feature breakdown to make a better decision.
Barracuda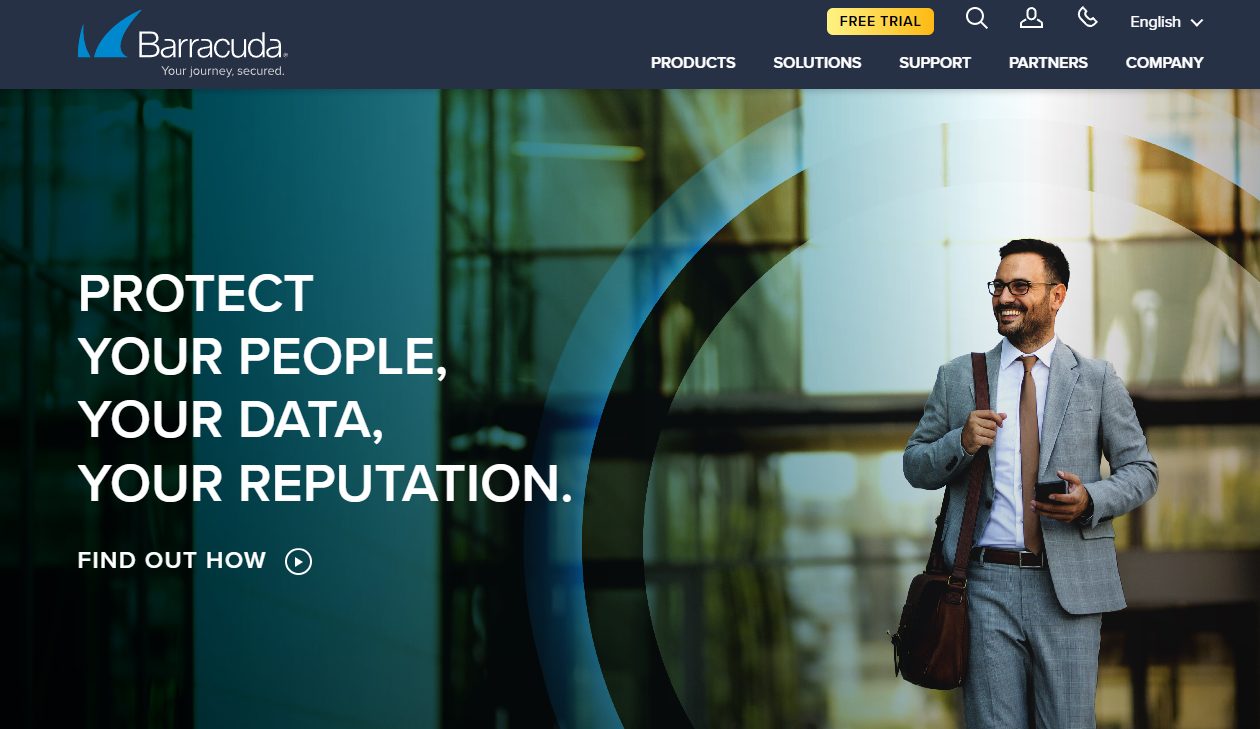 Barracuda is among the leading email archiving solutions in the market and comes with a number of complementary services including email security, firewalls, network and application security, as well as data backup functionalities.
Barracuda's key archiving feature Barracuda Message Archiver allows users to expand their storage capacities through stackable appliances as well as carry out combined searches.
One of its strong points is easy access via mobile and desktop, as well as free hardware refresh (though this depends on your pricing plan). Barracuda also offers cloud storage capacities to be used as second-tier storage.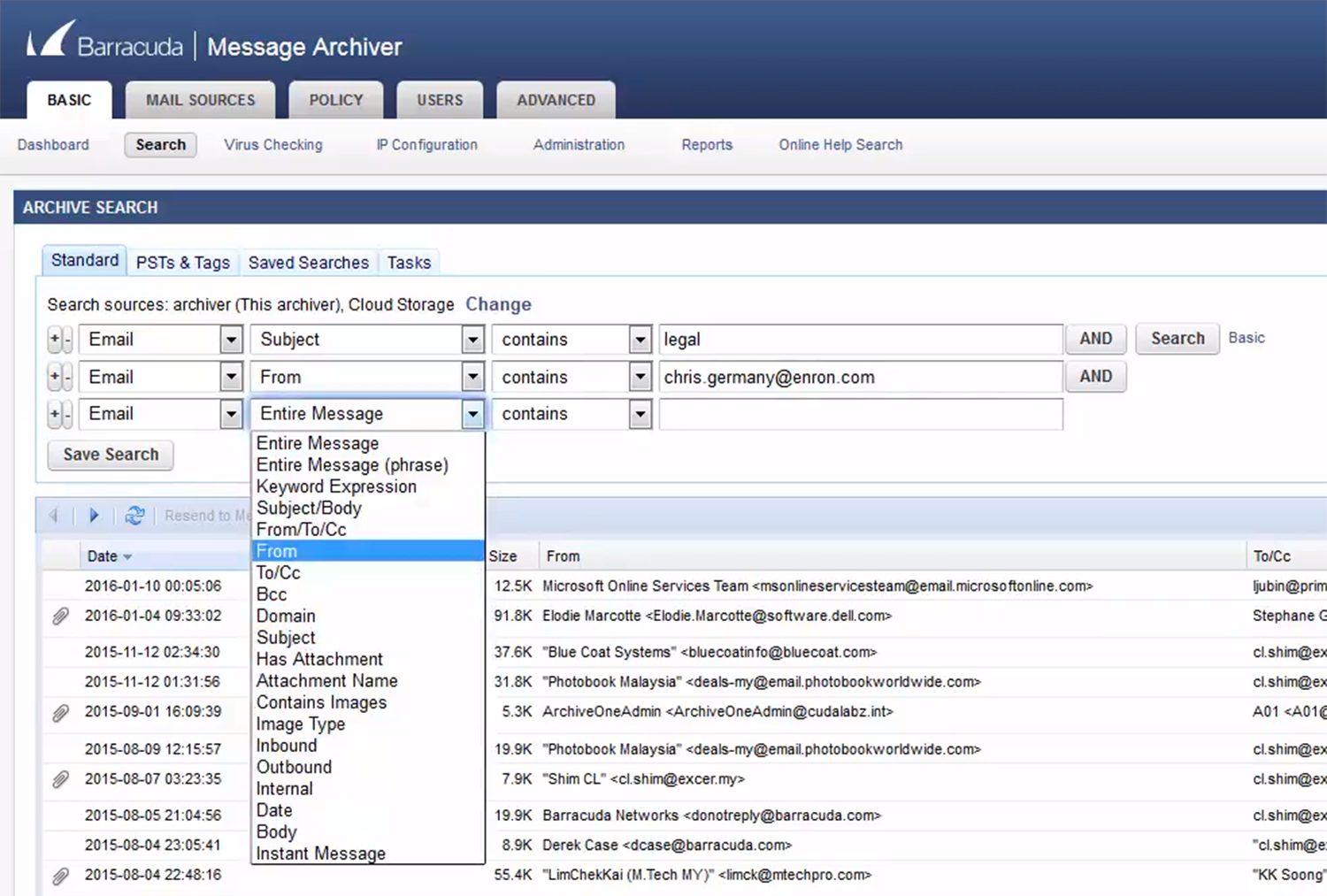 On the downside, Barracuda's search speed and load times are often low, and exporting large amounts of data tends to be an issue. In addition, customers have complained about clunky interface and not-intuitive screens.
Smarsh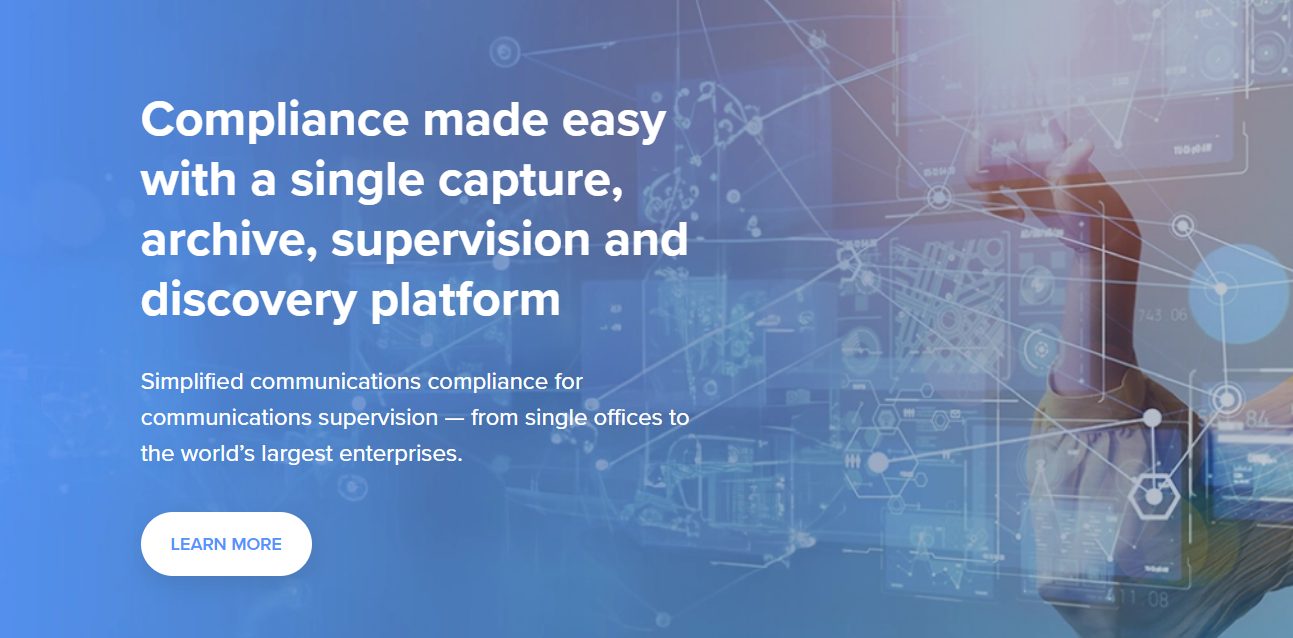 Smarsh has been a global leader and a recognizable name in the archiving industry for a while now. The company mainly focuses on the public sector and the financial services industry.
Smarsh gets points for the variety of services and capabilities it offers (various packages and the capacity to archive social media, text messages, and websites) and the ability to export data to multiple formats.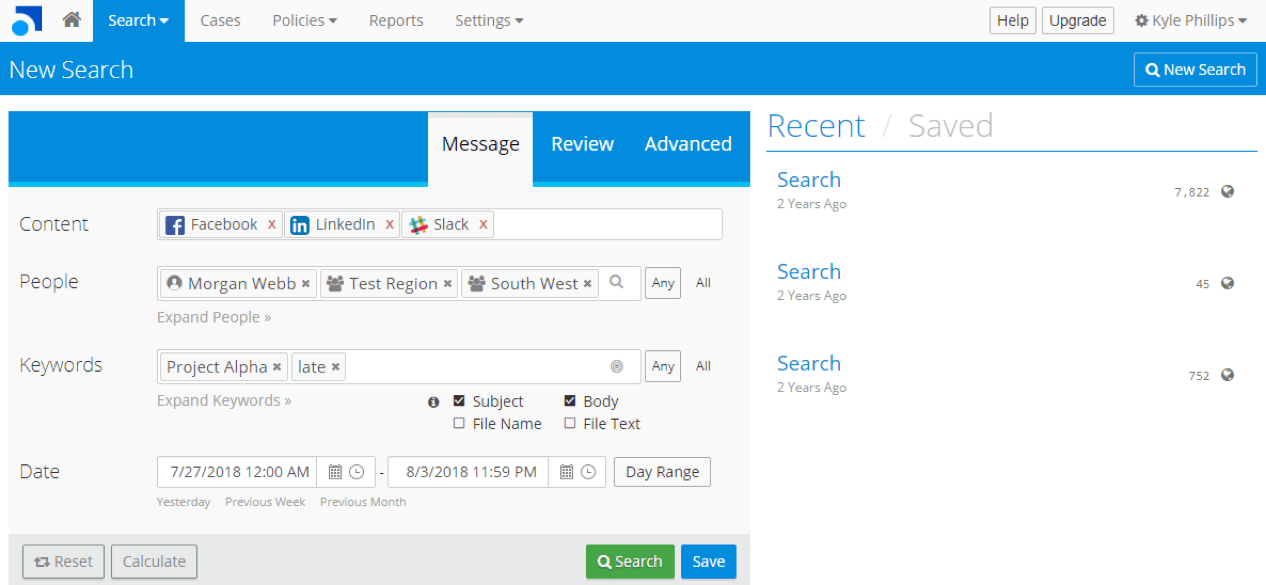 As a cloud-based platform, Smarsh offers bottomless storage that can be scaled up and down based on the organization's needs. However, customers often complain about the speed of search, unavailability, unannounced maintenance, and lack of technical documentation and training.
On top of that, Smarsh has a very complicated pricing structure that may leave you paying several times more than what you initially believed.
In our opinion, its glory days have passed and there are much better Smarsh alternatives that solve its problems and have a more robust feature set.
Intradyn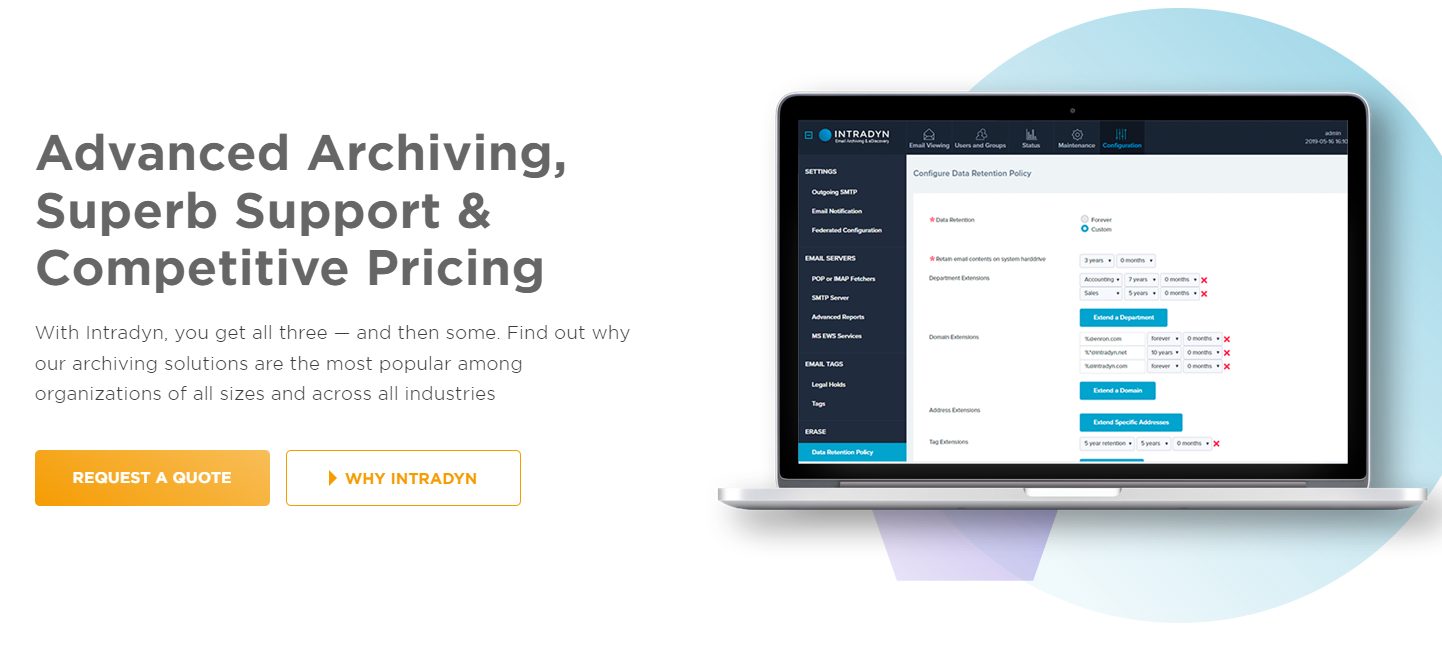 Intradyn is a key player in the archiving industry whose solution can archive various types of data (email, social media, and text messages), and is available in three deployments: on-premise, cloud, or virtual.
Intradyn's Email Archiver offers a great solution for archiving all of your email communication with great compliance and ediscovery capabilities.
Often praised for features such as the user interface, retention policies, redaction, and backup, Intradyn is a great option for businesses of all sizes.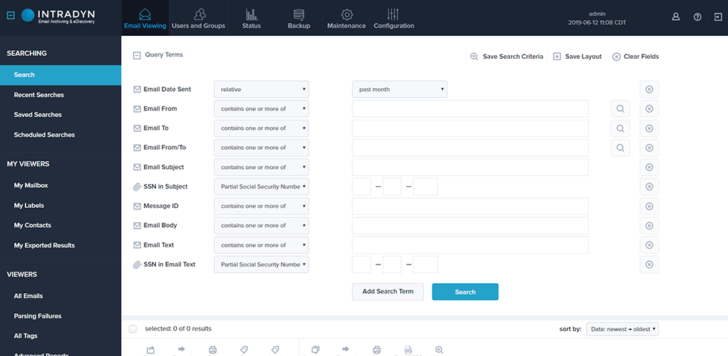 The obvious downside is that Intradyn relies on stubbing for storage reduction and cannot export files to PST directly. This means that users might have difficulty handling large PST exports and would need a third-party app to ensure a smooth PST export.
ArcMail/Data443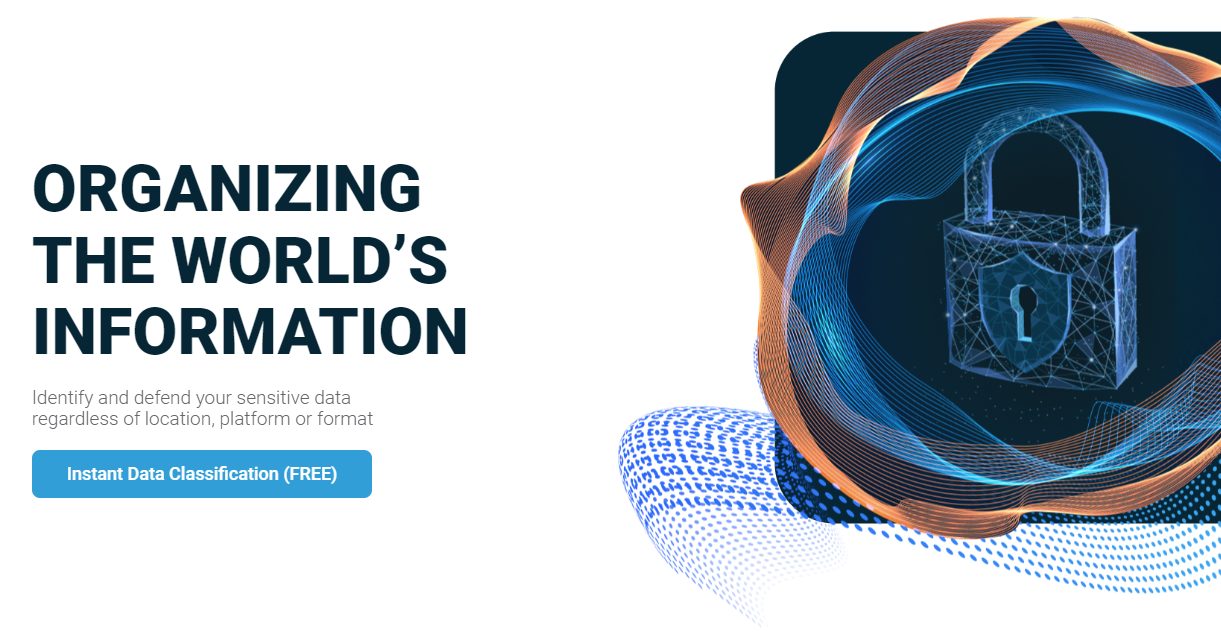 ArcMail or Data443 after being acquired by LandStart started off with its flagship product used to be the ArcMail Defender – an email archiving appliance that is now available as a cloud or hybrid solution for email compliance, ediscovery, governance, and business continuity.
Data443 provides businesses with a data archiving manager that allows them to archive email, Gsuite, OneDrive, and Sharepoint in a centralized interface with the ability to easily manage it and search through all of its messages and documents.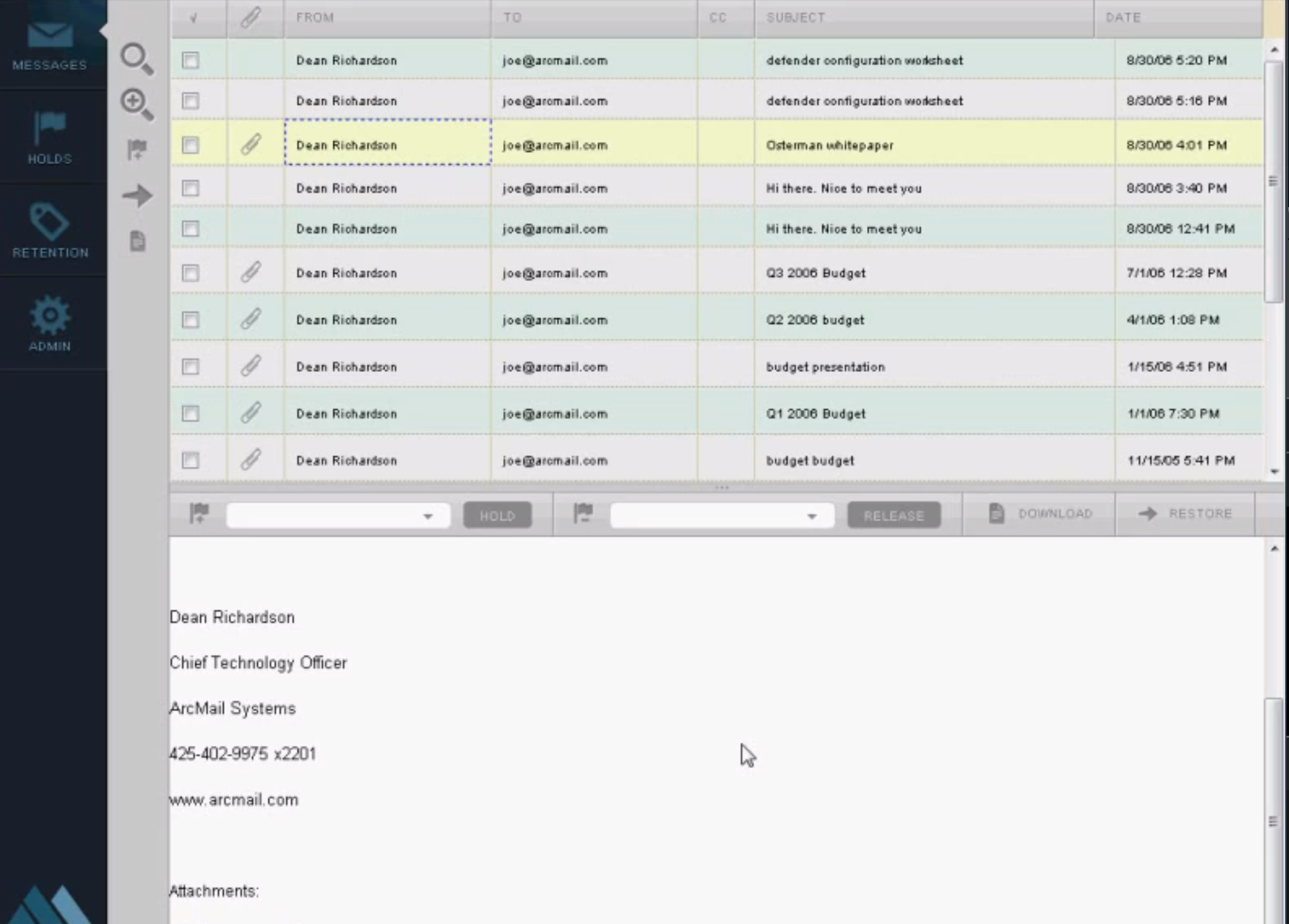 Although initially known as one of the industry leaders, in recent years ArcMail has received criticism for its poor technical support, old technology used in its search functionality, export troubles and backup capabilities, as well as an old-fashioned user interface.
Conclusion
The world of data archiving is evolving faster than ever and with so many new channels to keep records of Google Vault just isn't a viable solution.
It was a nice option for many organizations only using Gmail, but exploring alternatives can offer tailored features and capabilities that better align with your unique needs.
The key is to carefully assess your organization's specific needs, budget constraints, and compliance obligations before making a decision. By doing so, you can choose an email archiving solution that not only meets your immediate needs but also sets you up for success as your organization evolves and grows.
If your organization is on the hunt for a cost-effective Google Vault alternative product that will give you more control over your data and contain a richer feature set,
Check out how Jatheon Cloud's advanced features can help you safely preserve all business records for compliance and legal support.