Created by the famous tech giant, Google Vault is the compliance and ediscovery application that allows IT administrators to retain, hold, search, and export data from G Suite, at least the data that's stored in Gmail, Hangouts, Google Drive (including Shared Drives) and Groups.
For many years, Google Vault was a favorite email archiving solution among US government organizations and school districts, if not for its features, then because it was offered for free as part of their regular Google for Education package.
But recently, they're all looking for a Google Vault alternative.
Strange, because choosing a free, cloud-based email archiving software provided by one of the Big Four sounds like the most logical way to go, especially for public schools with limited budgets.
At first glance, Vault archiving contains all the features one might need – retention, legal hold, Boolean and wildcard search, export and audit.
A more detailed look at Google Vault uncovers a couple of serious issues – users are citing problems such as unreliable export, the fact that Vault can only archive Gmail messages rather than work with multiple email platforms.
Moreover, if organizations have the need to archive content other than email – social media, content from chat apps or mobile – Vault would not be able to support that.
So in this guide, we took a closer look at Vault archiving to help you understand:
Some straightforward drawbacks of Google Vault archiving
What you can get from a third-party system
A list of potential Google Vault alternative vendors and software
Why You Need a Google Vault Alternative Now
There has recently been plenty of talk in the archiving industry circles (though few hard facts online) that as of 2020, Google Vault will be charging organizations $45/user/year for their previously free accounts.
Some large organizations in the public sector have allegedly been informed of the coming change. And it's already happening for non-profits.
The increase in price of this range is expected to put a big strain on companies' budget, especially large companies in the government, healthcare, education and non-profit sectors.
From an archiving perspective, this change does not make much of a difference – Google Vault is not the optimal solution for archiving in regulated industries. And it hasn't been for quite some time.
Google Vault Drawbacks for Archiving
Here's why Google Vault is not an optimal solution for data archiving, regardless of your industry or company size:
Google Vault supports only Gmail
Google Vault can't archive social media
Google Vault can't archive chat apps and mobile communications
Google Vault doesn't support ediscovery
Google Vault doesn't support on-premise archiving
Google Vault supports only Gmail
The key issue with Google Vault is that you can only archive Gmail messages. And while Gmail is the most widespread email provider, it is not the only email platform used by businesses in the US.
Data by Reuters show that only 15 companies listed in the S&P 500 currently have Google's business tools, according to Reuters' review of public email server data.
Companies frequently use Outlook, iCloudMail, Yahoo!Mail, AOL Mail. And while Google's email platform is rapidly spreading, the steady number of users of other email platforms for business correspondence shows that there are still many emails that you need to account for. For instance, Office 365 has around 180 million active monthly users.
From here, it follows that that opting for Google Vault means having to skip archiving some business information that could prove crucial in eDiscovery or compliance cases. Not to mention that in regulated industries, such as education or healthcare, you are obliged to archive all business records.
So while using Google Vault helps easily archive Gmail messages, you are risking being fined for not ensuring full regulatory compliance.
Google Vault can't archive social media records
One of the biggest reasons you should look for a Google Vault alternative is that it can't archive social media.
This means you would need to find another software to meet the archiving requirements of your business in order to stay compliant.
As you know, social media is considered official business records, and as such you need to monitor, capture, and archive it in entirety, in line with FINRA, HIPAA, SOX, FRCP.
Over the years, social media has started to make the bulk of business messages exchanged. Government agencies, non-profits and schools all use Facebook, Twitter, Instagram, TikTok and LinkedIn to communicate both with citizens and internally.
This trend will likely continue in the coming years, as more and more companies from regulated industries turn to social media platforms for communication.
With Google Vault, you would be forced to purchase another archiving software in order to capture the social media content and be compliant, which adds to the lists of your IT costs.
Google Vault can't archive chat apps and mobile communications
In addition to not supporting social media archiving, Google Vault archiving fails to capture other major business communication channels as well.
Instant Messaging and Mobile Messaging tools have gained in popularity over the recent years, as confirmed by the reports of the Radicati Group which cite strong growth and forecast an even stronger rise in the number of users by 2025.
Platforms such as WhatsApp, Slack, and Microsoft Teams are among the most popular communication channels for business.
In 2018, WhatsApp introduced WhatsApp Business which has already managed to amass a user base of 2 million people.
As for Slack, industry data shows that around 600K businesses use this platform for day-to-day communication, including 80% of the Fortune 100 companies, but also non-profits and regulated organizations.
All these users exchange millions of messages that all need to be archived.
And with Google Vault, you won't be able to archive a single one of these messages, which puts you in danger of regulatory non-compliance.
Google Vault doesn't support ediscovery
A major Google Vault drawback is that it doesn't help with ediscovery, which is one of the key functions in email and social media archiving today.
With Google Vault, you won't be able to manage stored messages efficiently, create retention tags and policies, nor index and retrieve required information precisely.
To navigate through eDiscovery, you need an archiving tool that will help you browse through terabytes of data within seconds to retrieve crucial information. This is where Google Vault can't compete with other, specialized archiving industry vendors, whose solutions come with advanced ediscovery features like cases, classifications and integrated redaction.
The amount of data generated each business day is on the rise, and will continue upwards in the coming years. All this data is subject to ediscovery requests and you will need to be able to extract and deliver it upon request fast.
Otherwise, you will miss deadlines and fail to provide key pieces of information.
Google Vault doesn't support on-premise archiving
While cloud email archiving is getting traction due to its scalability and flexibility, cloud solution might not be the software of choice for companies working in heavily regulated industries, such as government, healthcare, or education.
In some cases, companies want to be able to have control over their storage facilities, choosing instead an on-premise appliance for archiving.
Some companies are required by law to have full control over their storage and information. However, Google Vault can't help you here as the platform only supports cloud archiving.
Google Vault doesn't support unified archiving
The bottom line is that Google Vault doesn't provide a solid overall archiving experience.
Yes, it can support the capturing and storing of some of your business data (Gmail), but it doesn't allow you to take care of all your archiving needs from a single place.
Why is this important?
Because going forward, the archiving industry will become more demanding and will require that you optimize your processes in order to meet all regulatory requirements.
Plus, Google Vault doesn't allow you to apply key archiving functionalities on your data sets.
This is a major issue, as looking at the industry forecasts, advanced searches and the ability to export to a variety of formats will be crucial. Google Vault won't be able to keep up, unless there is a major overhaul or new functionalities are introduced.
What will happen is that the volume of data will keep expanding, the businesses will start using more and more communication channels. And you will need to find a solution that can support all of your archiving needs with as little 'waste' as possible.
On top of that, it's practically impossible to restore messages from Vault to original mailboxes. This, coupled with Vault's high cost per user and the lack of key archiving functionalities might prompt organizations to start looking for a Google Vault alternative.
If you're one of them, we have compiled a list of potential Google Vault alternatives to explore.
Five Google Vault Alternatives to Consider in 2023
Jatheon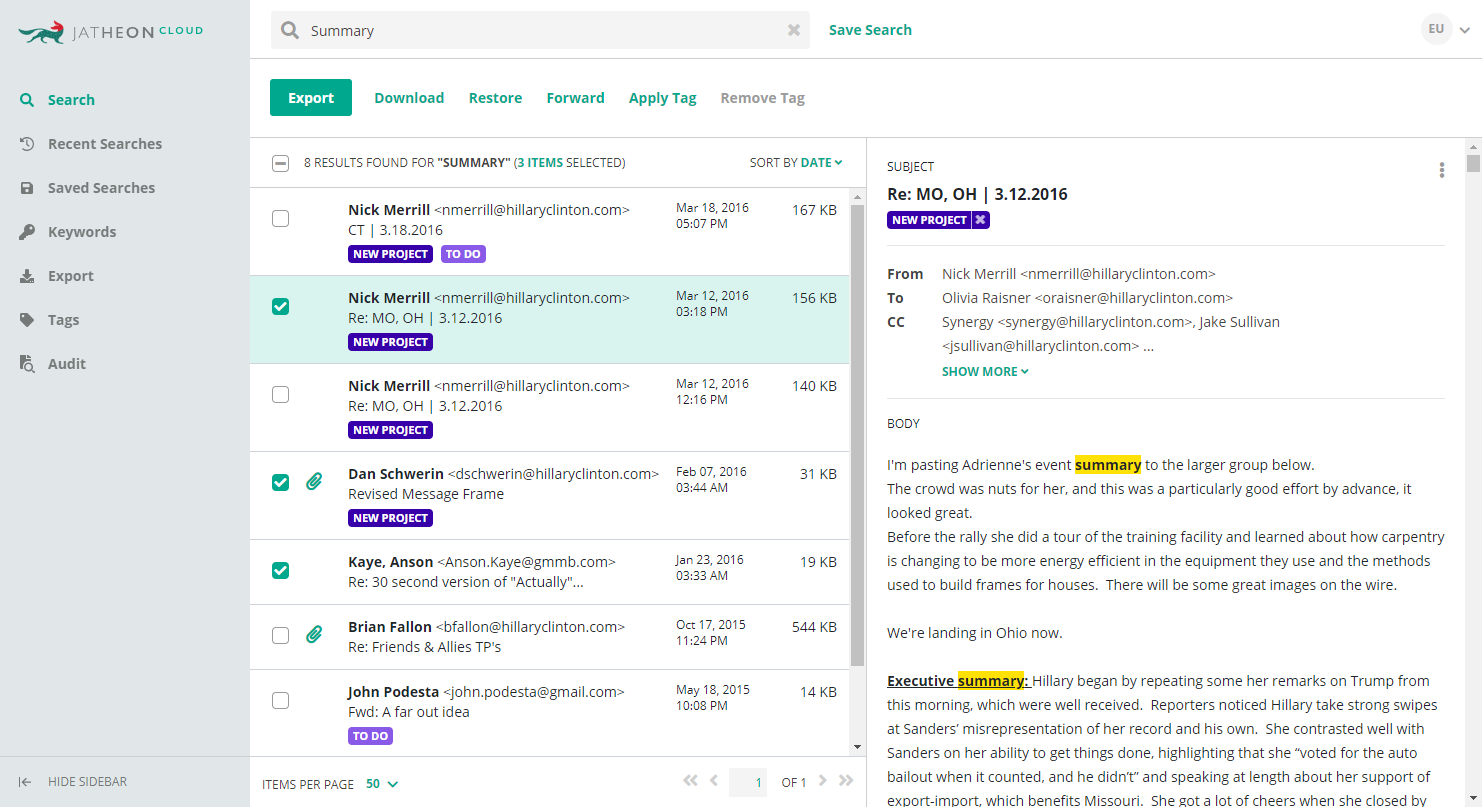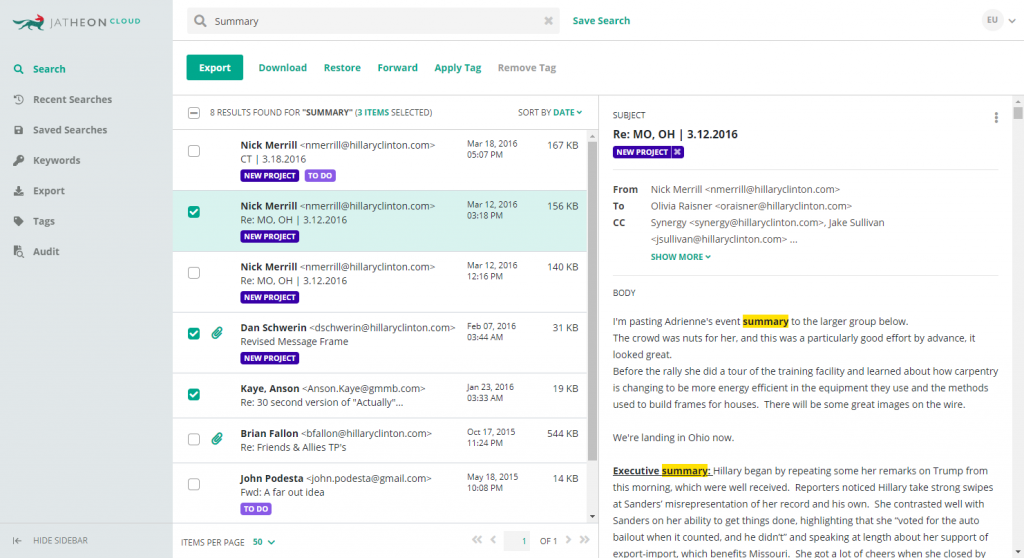 Jatheon has been on the market since 2004 and offers both on-premise and cloud solutions that can archive email, social media, calls, sms, IM and voice messages in a single, fully searchable archive.
The on-premise solution, Jatheon Archiving Suite, earns points for its hardware config, search capabilities and handling large exports. The company also offers automated migration of Google Vault legacy data as well as solid expansion, cloud backup and disaster recovery plans.
Watch a brief overview of Jatheon Archiving Suite here.
The flagship cloud solution, Jatheon Cloud, has a modern user interface that can be used by admins and end users alike. Apart from that, Jatheon's cloud product has been praised for its search and export capabilities, ease of use and innovative approach to feature design.
Jatheon Cloud comes with a complete compliance and ediscovery/open data feature set, including Advanced Search (with 20+ search criteria, and Boolean, wildcard, proximity and fuzzy operators), filters, integrated redaction feature, legal hold and retention tags, as well as integrated redaction.
Multiple data types are supported, including email from all major email platforms, social media (Facebook, Twitter or Instagram), text messages, phone calls, chat and collaboration apps (Microsoft Teams, WhatsApp, Bloomberg, Google chat etc.).
Geofencing and enhanced security options are also available, while both products are backed by 24/7 tech support.
Get the full feature breakdown of Jatheon Cloud here.
Storage and pricing: Jatheon has 6 appliance models ranging from 6 to 96TB (expandable to 192TB). Prices start at approximately $3000 per terabyte with discounts for longer prepaid periods. Jatheon Cloud starts at $2.5 per user per month if prepaid for five years.
Barracuda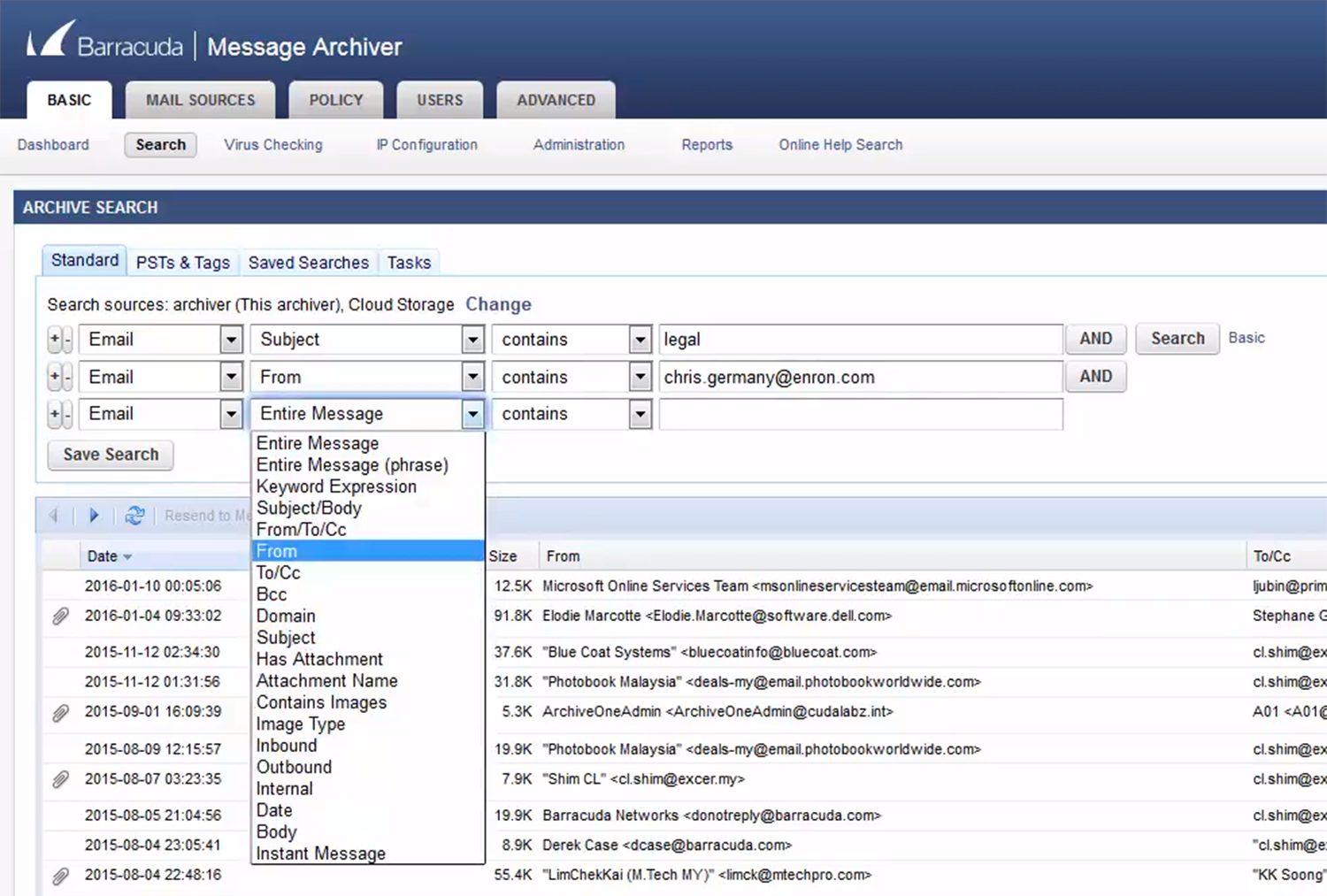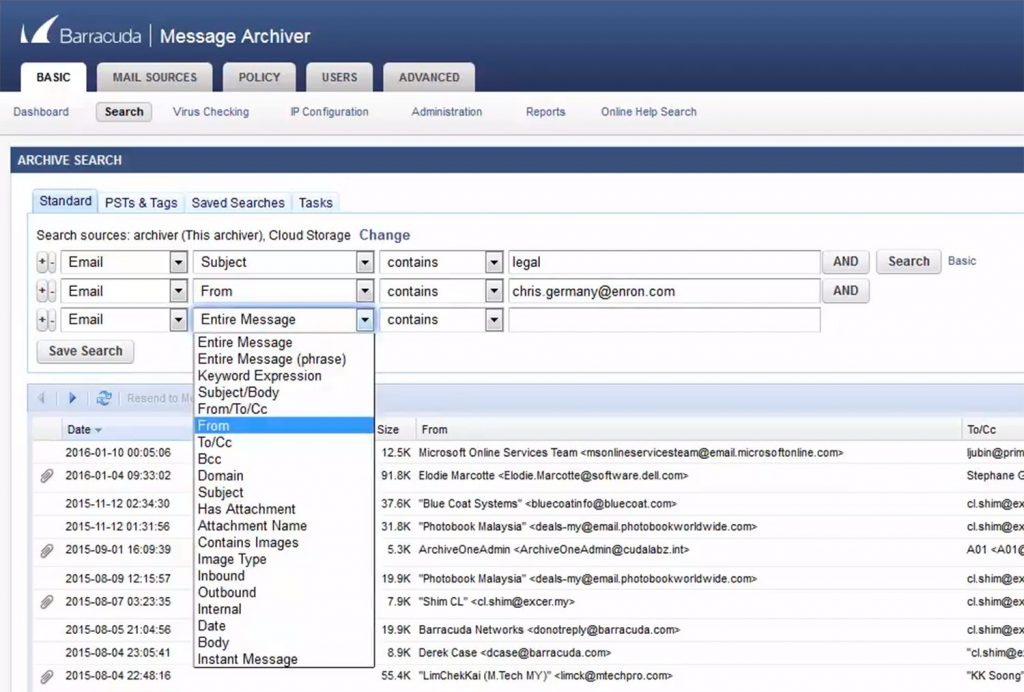 Barracuda is among the leading email archiving solutions in the market, and comes with a number of complementary services including email security, firewalls, network and application security, as well as data backup functionalities.
Barracuda's key archiving feature, Barracuda Message Archiver, allows users to expand their storage capacities through stackable appliances as well as to carry out combined searches. Another of Barracuda's strong points is easy access via mobile and desktop, as well as free hardware refresh (though this depends on your pricing plan). Barracuda also offers cloud storage capacities to be used as a second tier storage.
On the down side, Barracuda's search speed and load times are often low and exporting large amounts of data tends to be an issue. In addition, customers have complained about clunky interface and not-intuitive screens.
Storage and pricing: Barracuda's storage ranges from 500GB to 66TB, with prices starting at approximately $3,500 per terabyte.
See a detailed comparison between Jatheon and Barracuda here.
Smarsh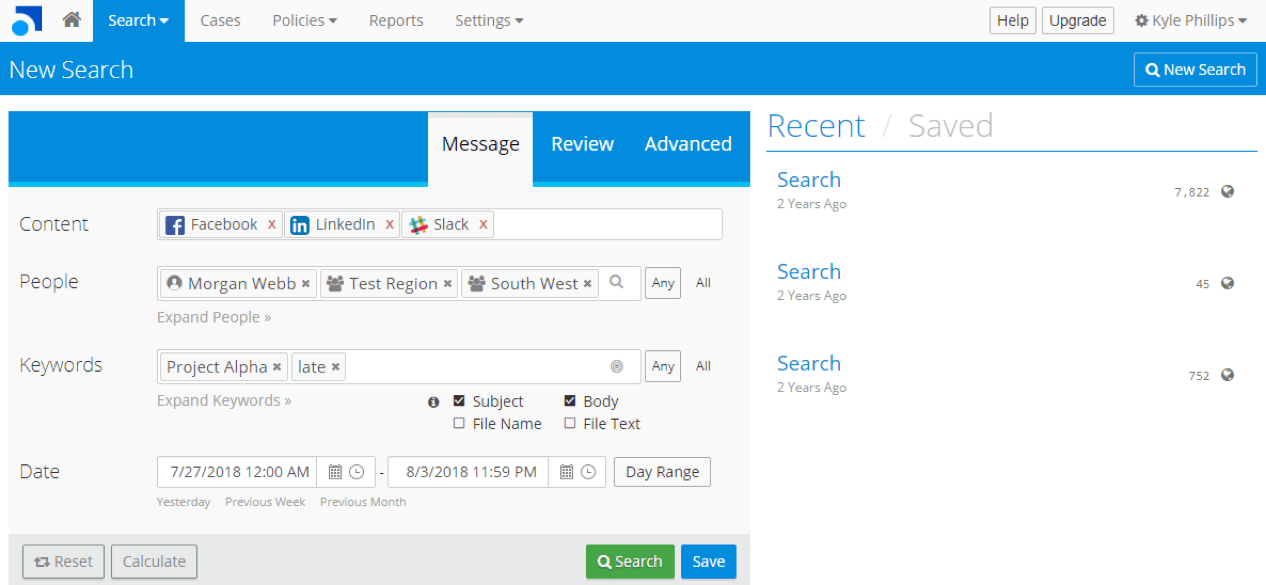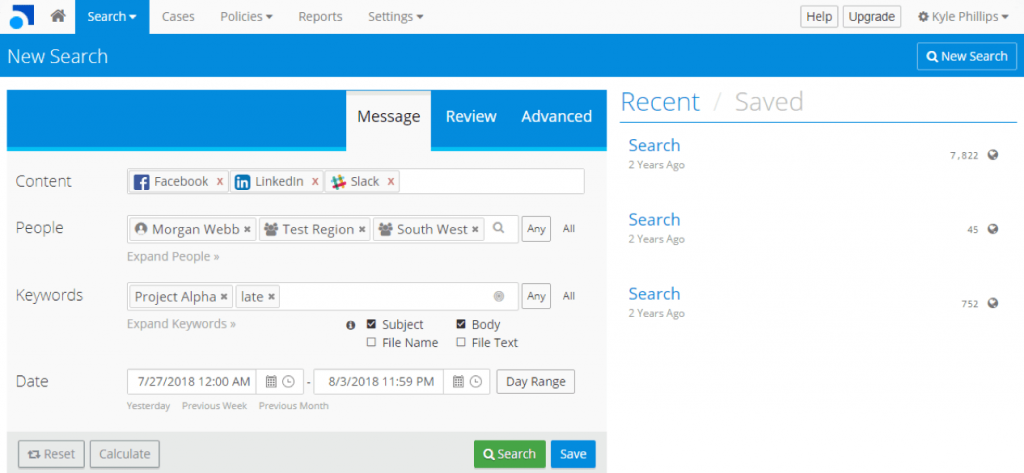 Smarsh has been a global leader and a recognizable name in the archiving industry for a while now. The company mainly focuses on the public sector and the financial services industry.
Smarsh gets points for the variety of services and capabilities it offers (various packages and the capacity to archive social media, text messages and websites) and the ability to export data to multiple formats. As a cloud-based platform, Smarsh offers bottomless storage that can be scaled up and down based on the organization's needs.
However, customers often complain about the speed of search, unavailability, unannounced maintenance, and lack of technical documentation and training. On top of that, Smarsh has a very complicated pricing structure that may leave you paying several times more than what you initially believed (and much more than what you'd pay for competitor solutions).
Storage and pricing: The price for implementation varies based on company size, and there is an additional fee for ingestion of legacy data and end user access to personal archives. Smarsh seems particularly ineffective and unpredictable in terms of cost for large organizations – implementation only can amount to $10,000, while the import of legacy data starts at $10 per GB.
Intradyn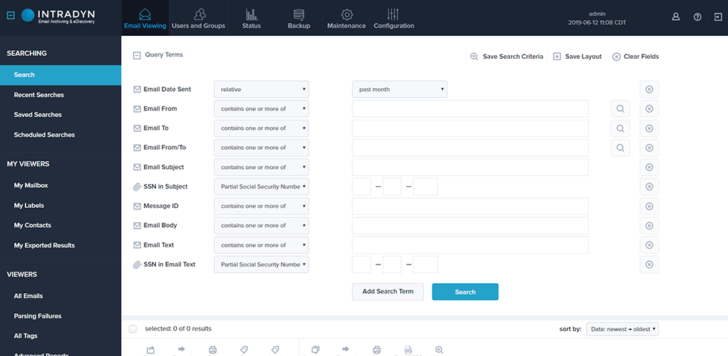 Intradyn is another key player whose solution can archive various types of data – email, social media and text messages – and is available in three deployments: on-premise, cloud or virtual.
Intradyn's Email Archiver is a solution that has good compliance and ediscovery capabilities and is often praised for features such as the user interface, retention policies, redaction and backup.
The obvious downside is that Intradyn relies on stubbing for storage reduction and cannot export files to PST directly. This means that users might have difficulty handling large PST exports and would need a third-party app to ensure a smooth PST export.
Storage and pricing: Intradyn may not be the best option if you are a large organization looking for an in-house solution, as their hardware is not the most reliable and the maximum storage capacity is 8TB. The prices for their cloud-based product start at $4 per user per month.
See a detailed comparison between Jatheon and Intradyn here.
ArcMail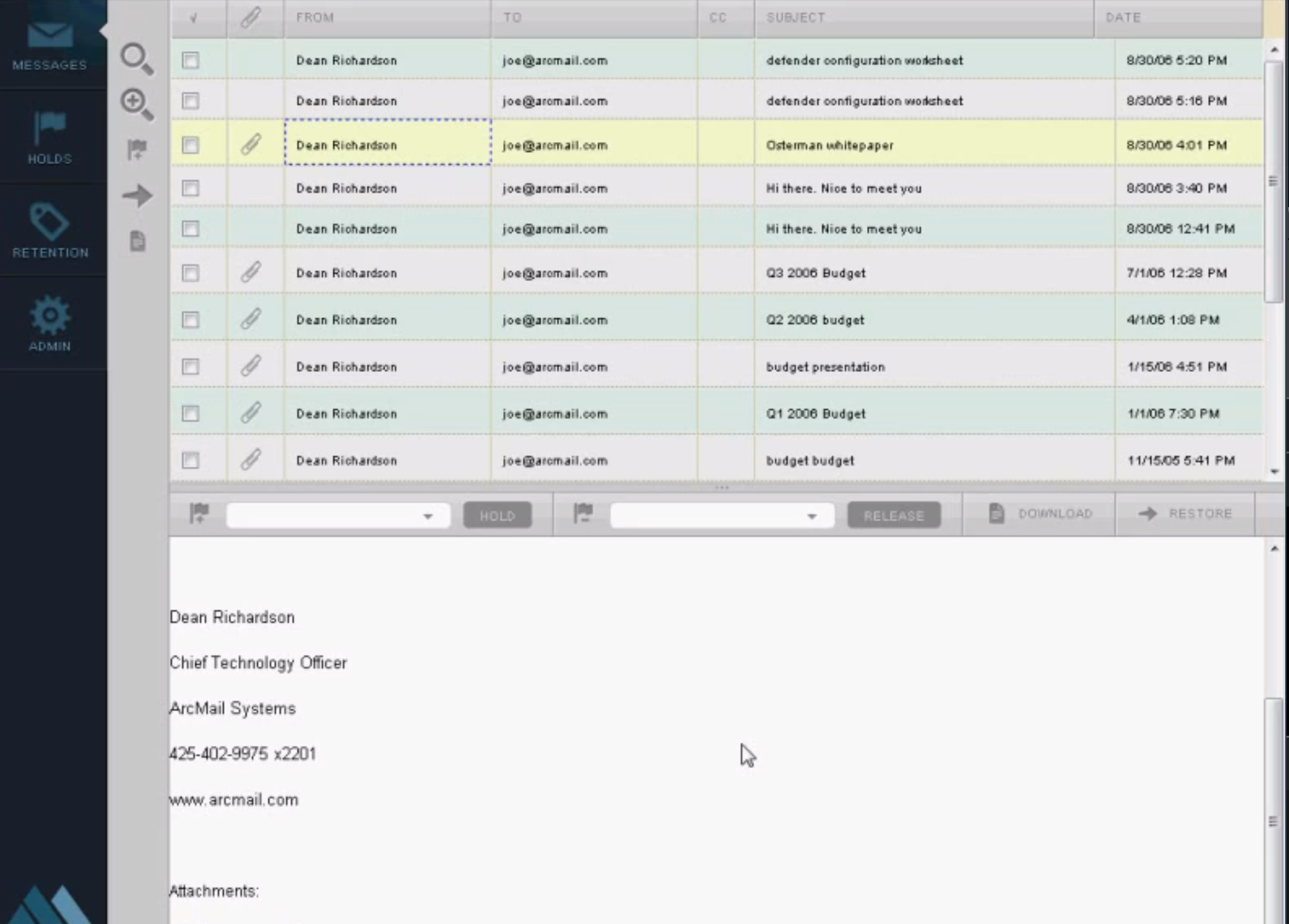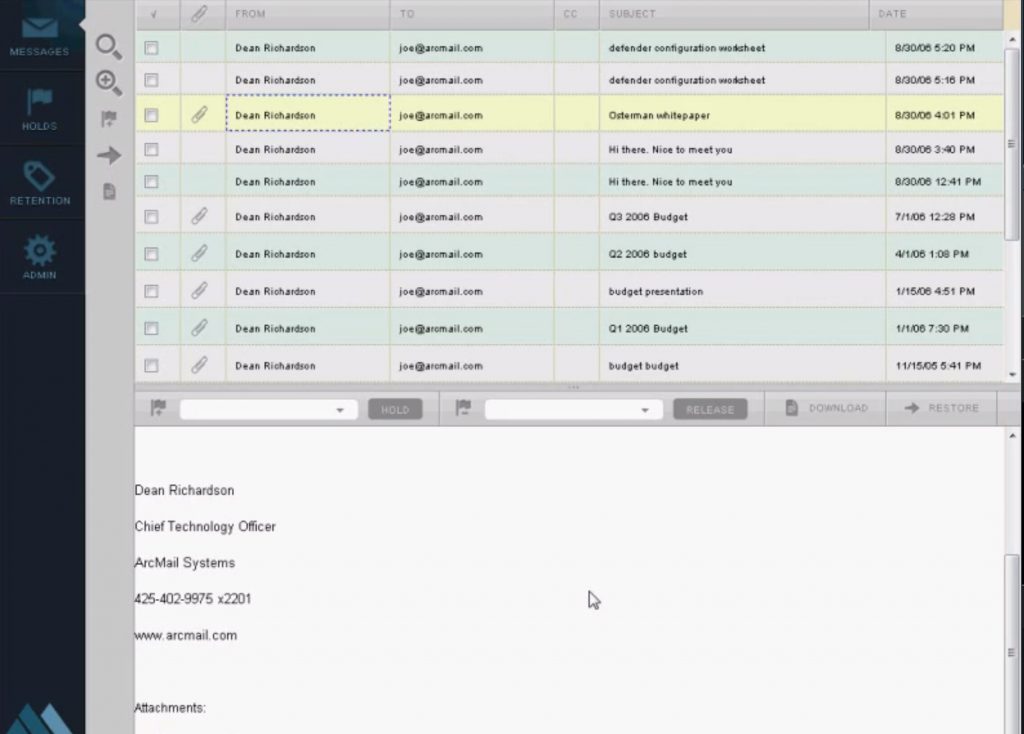 Recently acquired by LandStar, Inc. (now Data443), ArcMail is a recognizable industry name whose flagship product used to be the ArcMail Defender – an email archiving appliance that is now available as a cloud or hybrid solution for email compliance, ediscovery, governance and business continuity.
Although initially known as one of the industry leaders, in recent years Arcmail has received criticism for its poor technical support, old technology used in their search functionality, troubles with export and backup capabilities, as well as an old-fashioned user interface.
Storage and pricing: The ArcMail Defender is available in sizes ranging from 1 to 32 TB. To learn about ArcMail pricing, potential customers are required to request a quote.
See a detailed comparison between Jatheon and Arcmail here.
If your organization is on the hunt for a cost-effective Google Vault alternative product that will give you more control over your data and contain a richer feature set, these alternatives might provide better value for money.

Check out how Jatheon's latest-generation cloud email archiving solution can help safely preserve all business records for compliance and legal support.