Your business information must
never get compromised.
Our archiving solutions make sure it doesn't.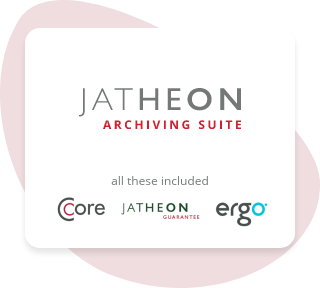 On-premise archiving
Jatheon Archiving Suite
A flexible, modular archiving system centered around a robust email archiving appliance with optional social media and mobile archiving functionality.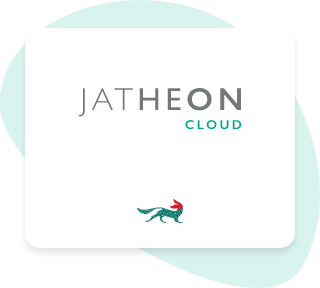 Cloud archiving
Jatheon Cloud
The fastest and most secure cloud email archiving solution with revolutionary user interface. Designed with small and medium-sized organizations in mind.
Why Archive Email with Jatheon
Ever since we designed the world's first on-premise email archiving solution, we've been passionate about providing organizations with secure, reliable and versatile compliance, eDiscovery and governance solutions for long-term retention and agility of unstructured data.
It is our mission to simplify retention, retrieval and monitoring of corporate email, social media and mobile communications and provide better search capabilities for compliance officers, IT departments and end users.
Improve Email Management
automate email retention, improve control, data security and oversight
search through your emails and attachments from a single repository
ensure compliance with federal, state and industry email retention laws
improve information governance and gain insight from your data
Ensure Compliance with Regulations
define retention policies, life-span of data and deletion schedules
avoid leakage of sensitive information and improve data security
monitor conversations and prevent employee misconduct
archive social media and mobile communications for full compliance
Facilitate eDiscovery
perform demanding and extensive searches in terabytes of data
apply legal hold and prevent evidence spoliation
customizable user roles, access levels and email retention policies
prove data authenticity and decrease expenses of legal discovery
Bring Relief to Email Servers
improve performance by moving email data to the archive
ensure uninterrupted email access
use email archiving as a backup tool
protection against data loss and corruption
Who are Jatheon's Solutions for?
Education
Archiving email will help you ensure your email, social media and mobile communication is searchable and stored in a compliant format. With email archiving, school districts can prevent cyberbullying and stay in line with FERPA, FOIA, FRCP and other compliance requirements.
Financial
In financial services industry, email archiving solutions keep organizations compliant with FINRA, SEC, SOX and other regulations, ensure that business correspondence runs smoothly and help to save time and resources spent on eDiscovery.
Government
Government agencies handle a lot of electronic information and have thousands of open records requests to respond to. Email archiving technology helps agencies to pinpoint relevant data in vast amounts of information, as well as ensure compliance and greater efficiency.
Healthcare
When dealing with confidential PHI and sensitive data, there's no room for improvisation. With email archiving technology, healthcare organizations can ensure full HIPAA and HITECH compliance, minimize data breaches and improve administration and productivity.
Legal
You know better than anyone that a single piece of evidence can make all the difference. Archiving email, social media and mobile communication will let you locate all your electronic information easily and ensure additional security for your sensitive client data.
Professional Services
In your industry, organizations exchange private, business-critical information with clients on a daily basis. An email archiving solution will help you keep your communication channels under control, observe various compliance laws and respect data security guidelines.
%
Customer Satisfaction Rating
What our clients say about us

Simple, easy to use, no hassle. Great support. Price is good. Hopefully in the future we will subscribe to the additional features that are available. Been using it for years.
Brian Parker, Southwestern Oregon Community College

They worked hard on a difficult issue I had, until it was solved. NICE JOB!

Rock Star Support. Nice job!
Schedule Your Personal Demo
Look inside Jatheon's solution to see how to better manage your corporate email and messaging data. Leave us your contact details and we'll get in touch and show you around.
Schedule Your Personal Demo
See Jatheon's archiving solutions in action and learn how they'll help you simplify compliance, ediscovery and email management. We'll customize this demo around you, so leave us a few details to help us organize it for you.
Latest Content
Visit our Content Hub for 50+ materials – ebooks, white papers, infographics, webinars and case studies.