Smarsh is a household name in the data archiving industry, providing archiving, compliance and information management services to the financial industry and government sector. And in 2020, it was named leader in the Gartner Magic Quadrant for enterprise information archiving for the sixth consecutive year.
However, despite its cited completeness of vision, Smarsh doesn't work for all companies.
Its complex, often vague pricing, unavailability of functions, slow search, lack of technical support and documentation often cause issues for users.
Large companies in particular face unpleasantries, in the form of unexpected costs which can amount to twice as much as originally planned. The biggest downside to Smarsh is that its standard package comes with limited functionalities, requiring users to pay a lot more to get the same capabilities they would otherwise have with competitors' solutions.
So today we'll look at the top five Smarsh alternatives that offer similar functionalities, but also have more reliable services and clearer pricing structure.
Jatheon Technologies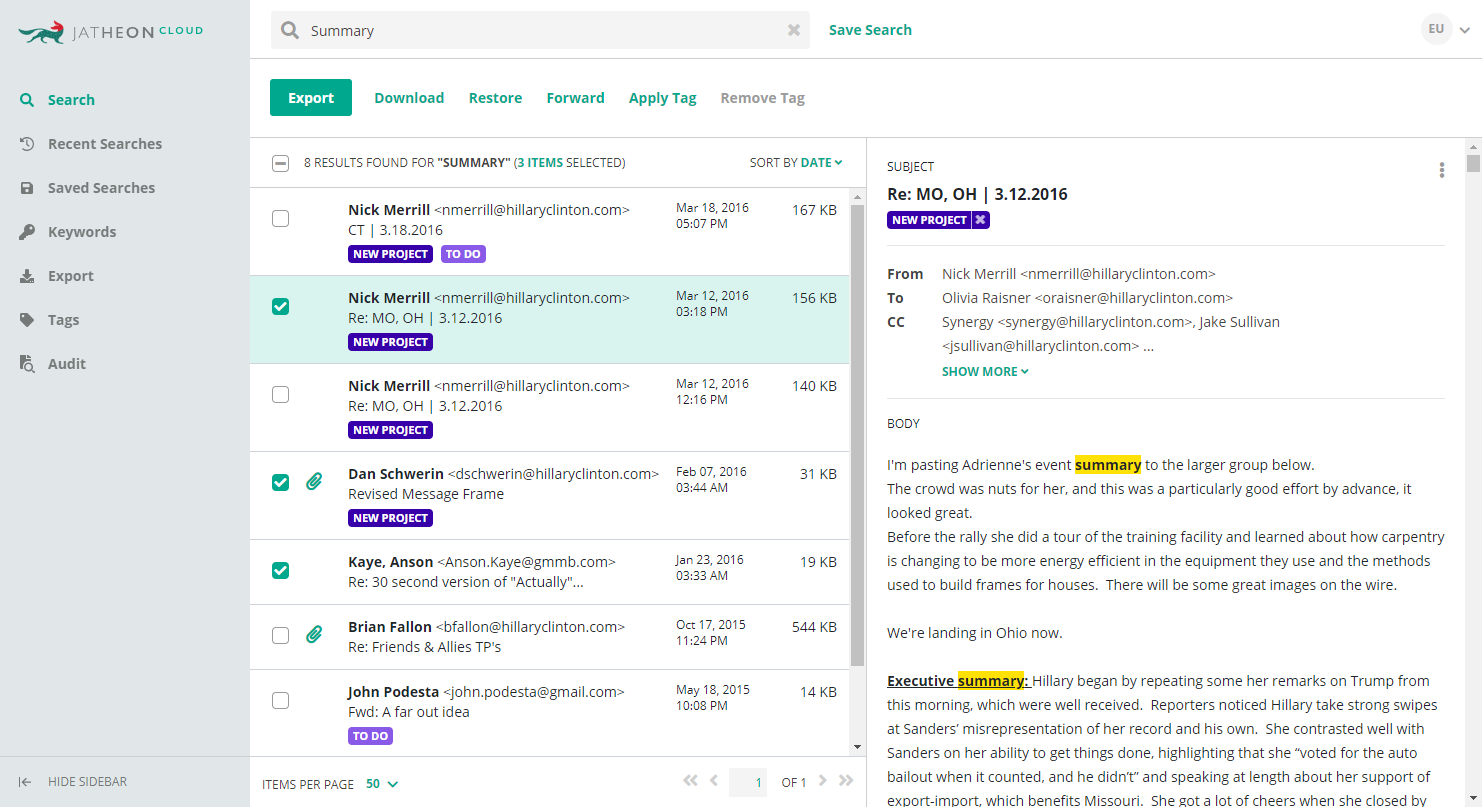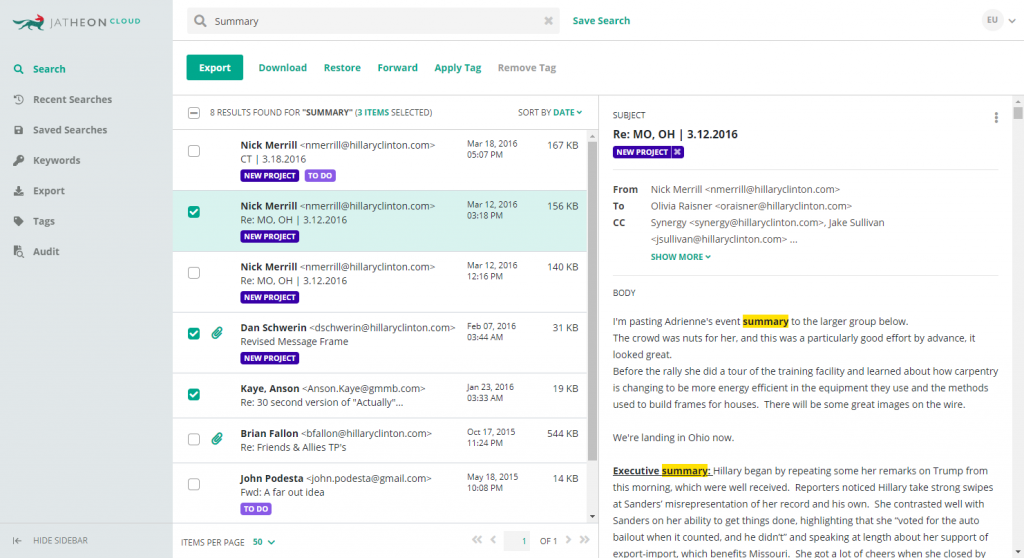 Jatheon is an enterprise information archiving vendor that has been in business since 2004. It lets you archive email, social media, calls, texts, IM and voice messages.
Praised for its advanced search, smooth import of legacy data, and robust export functionalities, Jatheon specializes in archiving solutions for education, government and healthcare.
Jatheon can be deployed as an on-premise, cloud and virtual solution solution. The on-premise solution, Jatheon Archiving Suite, boasts advanced search capabilities, handling of large exports, and enterprise-grade hardware configuration. An added benefit is free hardware refreshment every 4 years, as well as reliable cloud backup and 24/7 tech support. Here's a quick overview of its flagship features:
On the other hand, Jatheon's cloud-based solution, Jatheon Cloud, comes with an easy-to-use interface that doesn't require users to have a technical background to be able to use the platform to its full potential. Besides, Jatheon Cloud has been commended for advanced, proximity, and fuzzy search options, as well as export and bottomless storage. Here's how you can use Jatheon to fix your email management:
As for its downsides, Jatheon lacks encrypted backup, as well as the ability to redact sensitive data. Plus, its social media archiving doesn't come as a standalone solution.
Storage and pricing: Jatheon has 6 appliance models ranging from 6 to 96TB. Prices start at approximately $3000 per terabyte with discounts for longer prepaid periods. Jatheon Cloud starts at $2.5 per user per month if prepaid for five years.
Barracuda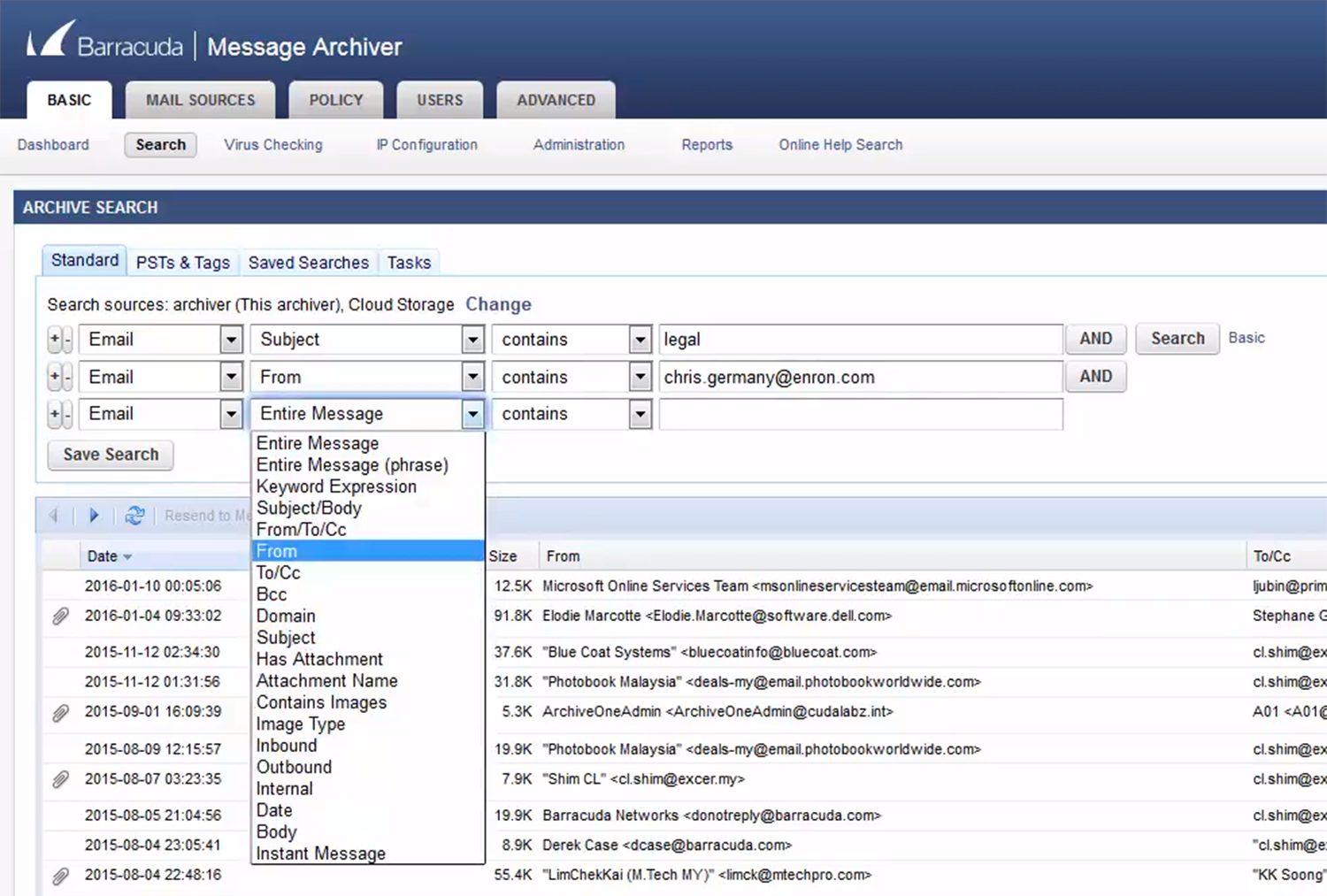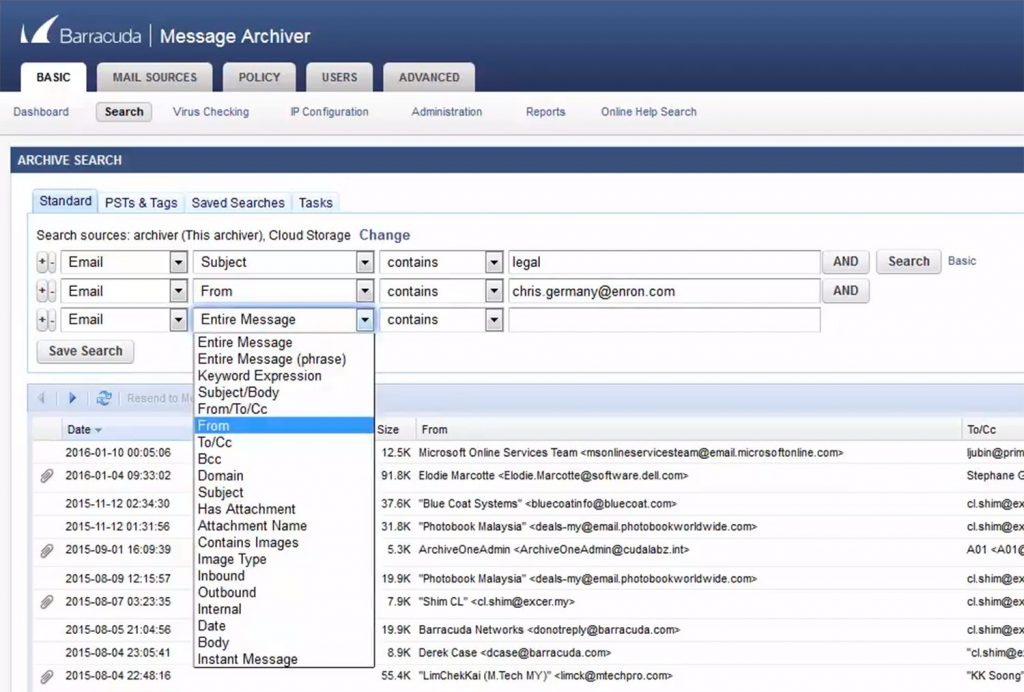 What users like about Barracuda is that it offers a set of complementary services, such as network and application security, firewalls, email security and data backup. Add this to its archiving capabilities, it's easy to see why Barracuda is among the leading solutions in the market.
Its main feature, Barracuda Message Archiver, lets users expand storage capacities through stackable appliances. Another forte is that users can run combined searches. Among its strong points, Barracuda allows users to easily access their archive via mobile and desktop, and comes with free hardware refresh (depends on the pricing plan). And in case you have a lot of data, Barracuda offers cloud storage capacities which you can use as a second-tier storage.
What customers complain about is the search speed and load times, which can often be too low. Plus, the export of large amounts of data can be an issue, which is critical for large companies or companies with a lot of accounts. Some users find user interface counter-intuitive.
Storage and pricing: Barracuda's storage ranges from 500GB to 66TB, with prices starting at approximately $3,500 per terabyte.
Intradyn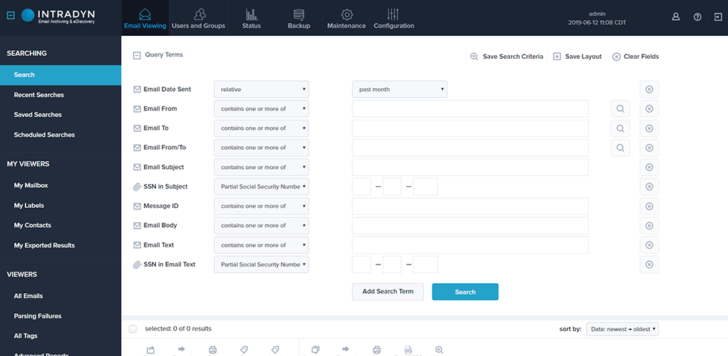 In the game since the early 2000s, Intradyn offers archiving solutions for email, social media and text messages. Unlike Smarsh, Intradyn can be deployed as an on-premise, cloud or virtual solution, which allows companies to tailor their email management to their business needs and technical capabilities.
Intradyn's flagship solution, Email Archiver, comes with robust eDiscovery and compliance capabilities. Users often quote a seamless user interface, the functionality of retention policies, backup and redaction.
As for the downsides, Intradyn's biggest drawback is reliance on stubbing for storage reduction and lack of direct export to PST. This is most pronounced when there is a need to export a large number of emails to PST, as due to the lack of this functionality, users might need to purchase a third-party app to alleviate the process.
Storage and pricing: Intradyn might not be the best option for large companies looking for an on-prem solution, due to limited maximum storage capacity (8TB) and the fact that its hardware doesn't always score high on the reliability scale. The prices for their cloud-based product start at $4 per user per month.
Office 365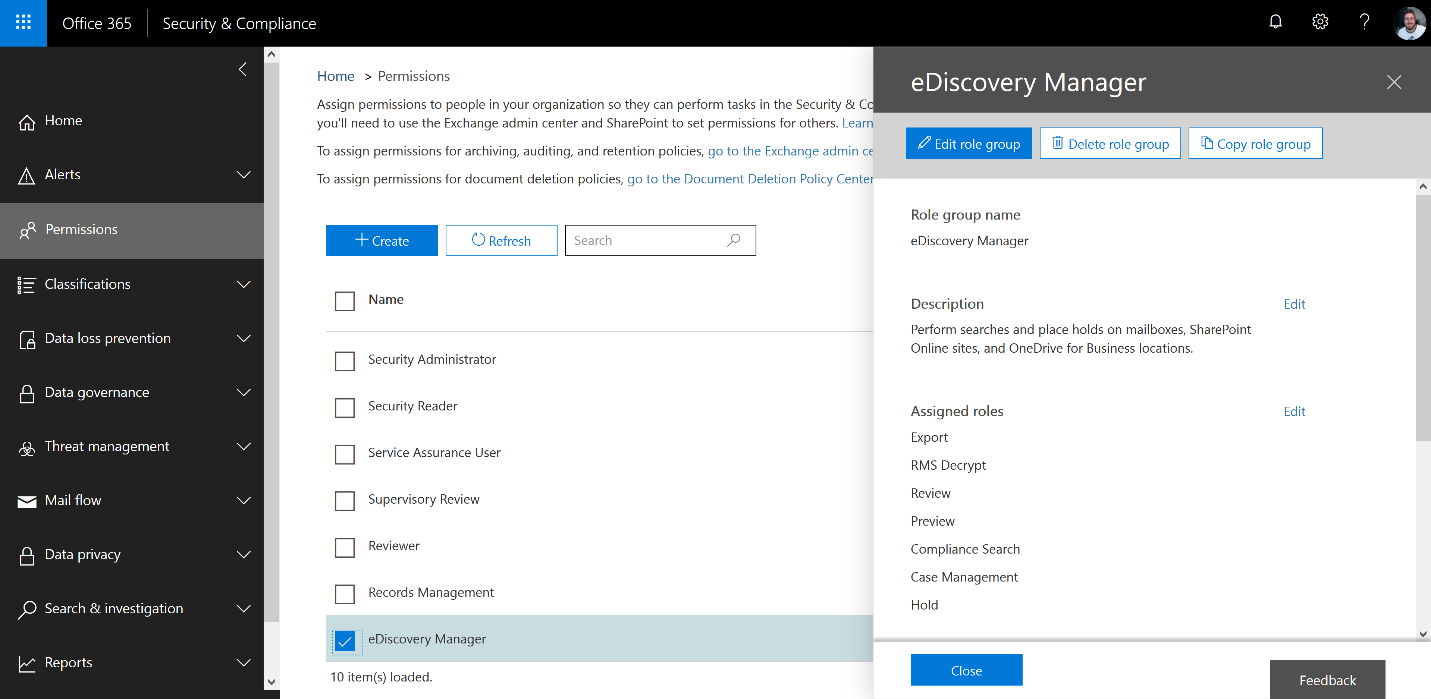 Microsoft's archiving solution, Exchange Online, integrates smoothly with the existing Microsoft infrastructure, allowing companies to have a comprehensive solution that covers not only archiving, but other functions as well.
However, the lack of specialization in email archiving can result in some subpar functionalities, such as the default limited search results. It currently stands at 250 results, which is often insufficient for large companies or large scale litigation cases. Another downside is the search function which can't compare to the robustness of search functions provided by other vendors on the list. Customers also cite legacy data import and large exports as a downside of the Office 365 archiving tool.
Storage and pricing: Microsoft Office 365 can work well for smaller companies that can't afford to buy business software. The subscription includes the complete Office package, with services available for PCs, tablets and phones.
A downside is that the business plan that comes with archiving and compliance capabilities starts at $20 per user per month if prepaid for a year, while Exchange online archiving as a separate service starts at $3 per user/month.
DataCove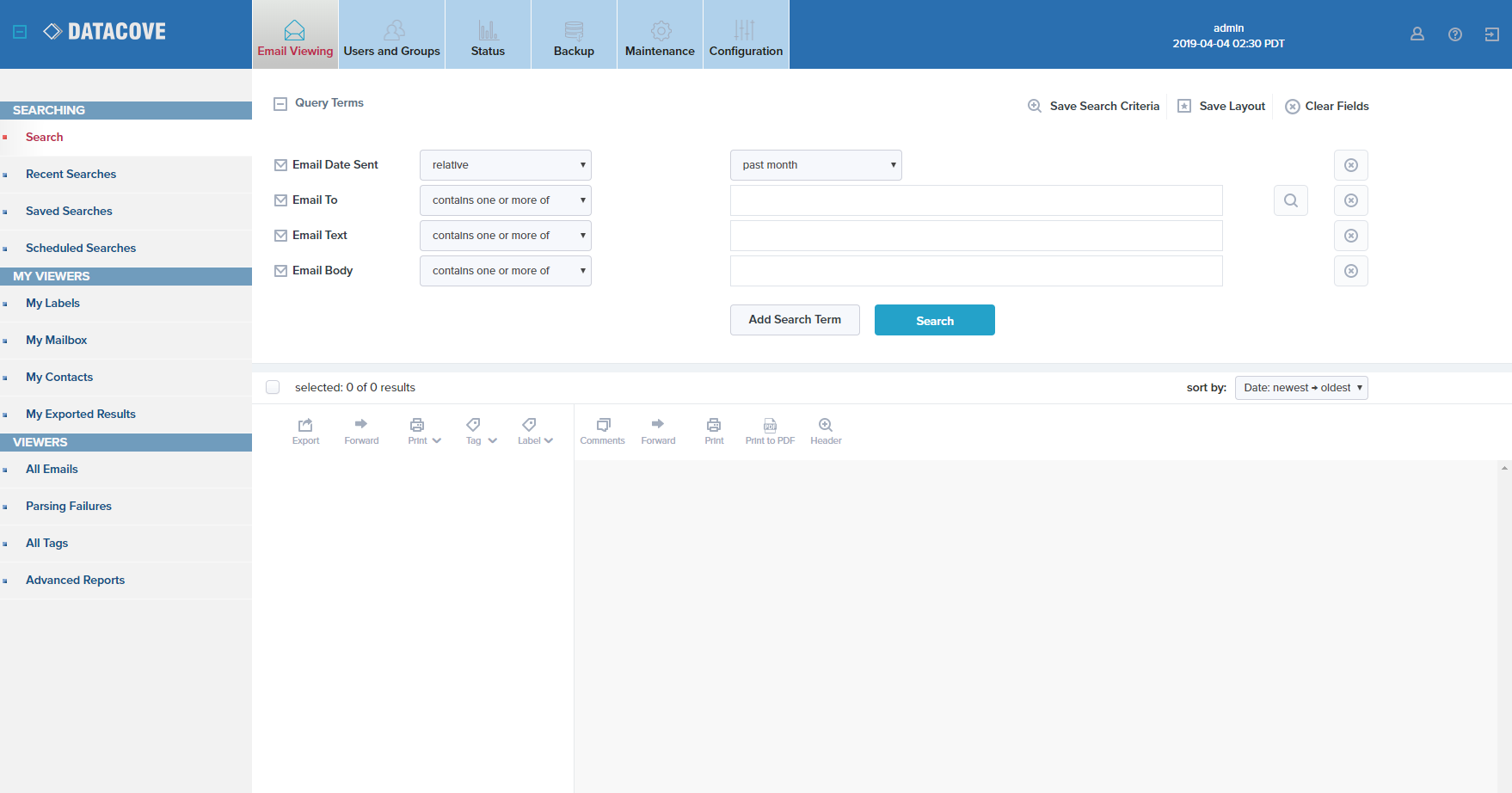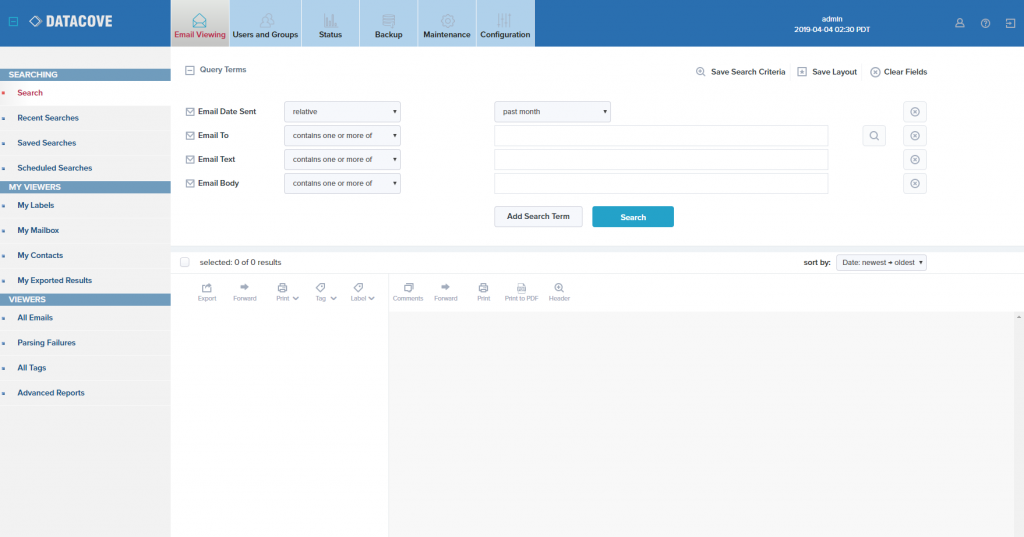 DataCove email archiver was built to meet all the eDiscovery needs of organizations large and small, aside from taking care of email archiving requirements. The solution is built by Tangent, one of the industry's pioneers.
DataCove's biggest advantages are a user-friendly interface, search functionality that supports fuzzy and federated search, as well as the speed and ease of deployment.
What might cause reluctance when weighing the purchasing decision is that DataCove's lower-end appliances are SATA-based. This means that in terms of essential system features, including speed, cost optimization, and data protection, SATA controllers can reduce the system reliability and efficiency. Another issue is that DataCove's archiving solution requires using a separate tool for import/export, which makes the process more tedious.
Storage and pricing: DataCove's pricing varies considerably depending on the number of years prepaid and the type of deployment. If prepaid for one year only, DataCove's prices for the cloud solution start at $2100 (500GB storage) and end at $22,500 (12TB). The prices for their hardware solution range from $4,600 to $82,000. If you have your server and available resources, you could save a bit by picking the VM deployment that starts at $1500.
Finding the right alternative for your Smarsh archiver
If your organization needs a Smarsh alternative with a more transparent pricing and far more reliable technical support, the above alternatives might provide better value for money.