Electronic discovery, better known as ediscovery, is the process in which any electronically stored information (ESI) is requested, searched, located and produced with the intent of using it in a court case as evidence, for government investigations, or as part of a Freedom of Information Act/Open Data requests.
Here's what a typical ediscovery process looks like: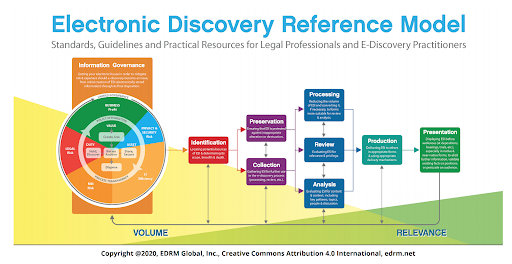 As you can see, it involves many intertwined processes, which, if not done thoroughly, can lead to missteps and result in not just regulatory fines, but tarnished reputation and poor decision making.
So today, we're going to look at how email and email archiving fit in this process and what you can do to prepare for an efficient ediscovery process in your organization.
Importance of Business Communication Metadata
Electronic data is very specific, not only because of its intangible form and transience, but also because it's accompanied by metadata (e.g. the device used to send a message or the date and time an email was sent) that can have a vital role as evidence.
Hence, to preserve document metadata and to make vast numbers of corporate electronic exchanges searchable, it's not enough to print an email or take a screenshot.
One, these formats can be susceptible to evidence spoliation, and two, this way, you'll be losing a tremendous amount of information that could determine the outcome of your eDiscovery process or litigation case.
With this in mind, how can organizations handle ediscovery requests properly?
Well, the key is to be prepared.
Establishing best practices for ediscovery has proven to aid organizations in dealing with requests. Organizations that are fully prepared can cope with an ediscovery request in only one-third of the time that unprepared businesses took to respond.
So first, start working on your plan – establish best practices, keep track of the storage of electronic information and foster a culture of archiving your enterprise email.
Who's Responsible for Ediscovery: More Work for your IT Department?
IT departments are now becoming responsible for data management in many organizations because digital data is growing so fast and IT staff tend to be best equipped to deal with it.
Because data growth is exponential in both private and public sectors, it's now a major challenge to manage data storage and archiving across a company network.
The issue is becoming more and more complex because data storage media types have evolved and remnants of old technologies can be found mixed in with new technologies.
There are organizations that are still using disk and tape data backup and archives. And to start solving this problem, they first need to transform their IT departments to make them more efficient.
How to Best Handle Ediscovery Requests?
Understandably, IT departments have been loath to take on these responsibilities, as the combination of data storage and compliance duties can equal one big mess.
While adapting all systems to support ediscovery may seem like excessive work to everyone involved, companies are legally obliged to keep archives of all business-critical and sensitive information (and 75% of it resides in email).
There's no way to avoid ediscovery anymore, as the fines and court action associated with it are too hefty to ignore.
In a survey by Osterman Research, it was found that the average time it takes to respond to an ediscovery request is between 8 man-hours and 16 man-hours. That's 1-2 full days.
Unsurprisingly, the average cost to companies during an ediscovery case is $1.8 million, 70% of which is paid to legal experts who review data. The hits just keep on coming when it comes to court-imposed sanctions on ediscovery failures.
Reduce Ediscovery Risks with an Email Archiving Solution
As email use continues to rise, so do the risks associated with the confidential data communicated in emails. It is now vital that businesses treat their email data the same as their regular data for archiving purposes and ediscovery.
The reason email plays such an important role in the digital discovery of electronic communications and litigation is that corporate email is classified as a form of record.
In 2006, the US Supreme Court's amendments to the Federal Rules of Civil Procedure led to the creation of a new category for electronic records. This is when the law first explicitly named email, instant messages and social media chats as likely records to be archived and requested when relevant.
The good news is that there are technological solutions available to ensure coherent data backup and email archiving for ediscoveru.
All-in-one appliances are easy to install onto a network and really take the workload off the IT department in the process, while cloud-based email archiving solutions solve the legal preparedness problems for smaller and medium-sized companies.
How Does Email Archiving Help in Ediscovery?
With an email archiving solution, all incoming, outgoing and internal emails are captured. Then, a copy of all these records is made and the emails get indexed, made searchable and packed for secure long-term storage.
When you receive an ediscovery request, you'll already have access to a searchable archive which contains not only the entirety of your business records, but also the metadata for all those records.
This will allow you to search for all relevant records with regards to a particular case, and retrieve each instance of business communication, whether it's an email, a WhatsApp or a voice message, or an email attachment. That's how you'll minimize the risk of accidentally leaving out an essential part of the case that could be used in legal proceedings.
5 Must-Have Ediscovery Software Features for 2021
To even be taken into consideration, any email ediscovery and archiving solution must have stellar search capabilities. You can't present email evidence if you can't find it or if you're unsure that you located everything that could be relevant. Advanced Search lets compliance and legal teams select 20+ different criteria (such as the email sender, recipient(s), email subject, attachment, email message body, the time period etc.) and then combine them in various ways using boolean, fuzzy, proximity and wildcard operators to crawl your entire email archive and find precisely what you need for a legal case.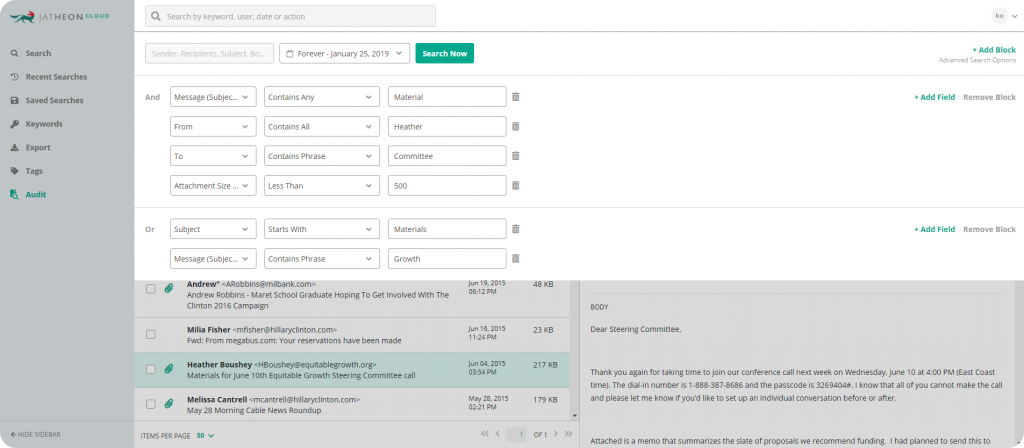 By using advanced search, you can set a number of criteria and quickly retrieve all essential information about an ediscovery case.
When organizations anticipate litigation, it's important to preserve the potential digital evidence and protect it from tampering or deletion. Email archives are built to prohibit unauthorized deletion and tampering with data, but it might happen that certain emails that contain information relevant to your current case are scheduled for automatic deletion. Locating those emails in your archive and then applying legal hold (typically by using tags) will supersede the automatic deletion and retain the emails in the archive for as long as you need them.
Here's how legal hold works in practice:
For legal teams, it's essential to be able to prove that a particular email's integrity is intact, that is, that the evidence hasn't been fabricated or tampered with.
Email archiving solutions help organizations to be ediscovery-ready because they're built to archive everything in a WORM format and prevent data edits and deletions. In addition to this inherent security, there are other features that can assist in ediscovery.
The audit feature allows compliance officers and authorized users (e.g. legal teams with permissions) to monitor user activity in the email archive through a read-only log. Has an employee attempted to check an incriminating email or search for keywords related to the current case? Legal teams will gain additional insight about the case based on the information contained in the audit trail.
The redaction feature allows authorized users to conceal personally identifiable and sensitive information (PII) as well as protected health information (PHI) directly in the email archiving software. Some of the information that's typically redacted includes SSN, ethnicity details, credit card info, medical history etc.
The integrated redaction feature helps to shorten ediscovery request response times while staying compliant with data privacy laws and also prevents the security issues associated with sending sensitive data to a third party.
Finally, finding and reviewing the data for ediscovery means nothing if you can't export it securely and efficiently. The export feature in the email ediscovery software should be able to handle large volumes of data and support various file formats like PST, EML and PDF.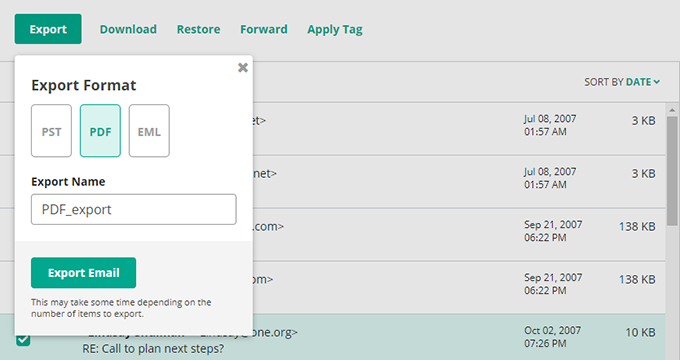 To sum up, an email archiving solution will allow you to easily apply legal holds, prevent evidence spoliation and ensure a smooth ediscovery process without paying thousands of dollars for data retrieval.
One last note before we go.
Even though email is still the most dominant type of electronic evidence requested in litigation, ediscovery scope is expanding. The courts are beginning to treat data sources from alternative communication channels (think text messages, tweets, call records, voice mail, YouTube…) in the same way as email, so they have become candidates for archiving as well.
It's clear that the scope of ediscovery requests has grown over the recent years with the constant evolution of digital communication, which means that organizations also have to be nimble and quick to adapt their ediscovery measures and data archiving strategies.