Checklist
COVID-19 is impacting everyday school communication.
Pick the capture method that works best for you
Option 1
Network-based

mobile archiving
Direct carrier capture on the network level
No app installation needed
Archive SMS, MMS and voice calls
For company-owned phones only
Works with Android and iOS phones

Option 2
Mobile archiving for
Android
A lightweight app that works in the background
App installation required
Archive SMS, MMS and voice calls
For BYOD and employer-issued devices
Works with Android
Option 3
Enterprise number

mobile archiving
Based on a secondary virtual number
App installation required
Archive SMS, MMS and voice calls
For BYOD and employer-issued device
Works with Android and iOS phones
Mobile archiving makes sure you have those records ready when you need them


Archive text messages, calls and voicemail from Android and iOS phones
Deploy instantly regardless of device type, carrier, plan, OS and ownership
Search and filter by sender, phone number, message content
Mobile archiving with or without a special app installation
Archive only business communication on BYOD devices
Customizable retention policies and user roles to limit data access
Audit trail, legal hold and message authenticity verification
Automatic data deletion after retention periods expire
Get 24/7 in-house tech support
Mobile archiving will keep you in line with federal, state and industry laws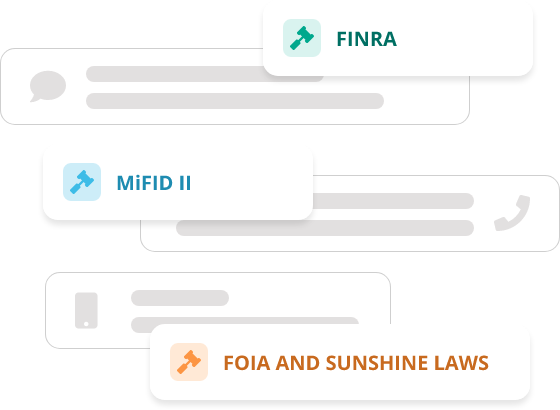 FINRA
"Every firm that intends to communicate, or permit its associated persons to communicate… through a text messaging app or chat service must first ensure that it can retain records of those communications".
FOIA and Sunshine Laws
According to the retention requirements of Freedom of Information Act and most State Open Record Laws, the public has to be allowed access to electronic records, including employee text messages, within 6 months from the date when the request was submitted.
MiFID II
MiFID II requires the recording of any electronic communications, including "email, SMS, business to business devices, chat, instant messaging and mobile device applications".
Jatheon in the Press
"This product starts off the bat. You can search any topic and find it in 10 seconds. With a traditional system, it would take weeks just to restore the back-up."
Computer Dealer News

"Jatheon is one of the few archiving vendors whose solutions get you that 'tick' in the compliance box as soon as possible. Easy to install and use, they come in sizes that fit all customers ‒ from small business to enterprise."
IT Security Specialists

Listed among the top-rated email archiving products on most independent websites.



What our clients say about us
Jatheon is one of the best kept secrets in the email archiving world. Their advanced search is incredible. It's easy to create a complex search using many email parameters. I can create searches and download results in minutes.
Toms River,
Regional School District
Export is extremely easy and efficient compared to other solutions I've worked with. The export task gets everything done in no time. It's also very competitively priced.
Shaun Tuttle,
Marsico Capital Management LLC
Simple, easy to use, no hassle. Great support. Price is good. Hopefully in the future we will subscribe to the additional features that are available. Been using it for years.
Southwestern Oregon Community College
The support I receive from Jatheon is great. The monitoring part is the best because it allows me to focus on other duties and they let me know when there's an issue. Thanks for everything you do!
Massillon City School District
What prompted us to find an email archiving solution was a legal issue – we couldn't provide the emails that the lawyers needed. After a recommendation from a third party, we went with Jatheon and haven't looked back since. Then we had another legal request and were able to supply all the emails in only 10 minutes. I would recommend this product in a minute.
DELCORA
Would you like to know more about how information archiving helps with eDiscovery and compliance in your industry?
Get in touch and we will organize a personal 1-1 tour of our solutions and answer your questions.
Stay up to date with the latest industry news
Visit our Content Hub for 50+ materials – ebooks, white papers, infographics, webinars and case studies.