Provide relief to your clients in and after the Covid-19 crisis.
And we'll support you with up to 50% margins.

Support your clients to archive the sudden influx of electronic communications as they move operations online
Amid the Covid-19 crisis, government agencies, educational institutions and healthcare providers are all experiencing a dramatic shift in day-to-day operations.
As entire sectors suddenly turn remote, we'd like to support them to retain the massive influx of communications data which they may need in the aftermath of the pandemic – for public inquiries, ediscovery requests or proof of compliance.
Join our relief efforts and get up to 50% margins by becoming a Jatheon MSP.
Deliver maximum value to clients in times of need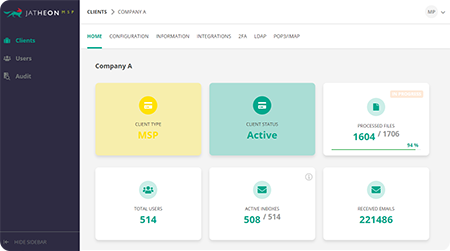 Compatible with all email platforms
Seamless integration with Microsoft Exchange, O365, Gmail, GroupWise, IBM Lotus and more.
Designed for regulated industries
Prepare for the increased scrutiny and the number of data requests in the post-Covid-19 era.
Full set of compliance and ediscovery features
Including customizable retention periods, advanced search,export to multiple formats, full audit trail and legal hold capabilities.
Easy client management options
Activate, deactivate, edit and delete clients. Troubleshoot users to locate a potential issue and provide assistance.
It's time for solidarity and collaboration.
This is how we'll support you.
20-50% margins on highly competitive rates
We strive to build lasting business partnerships with MSPs. This is partly reflected in up to 50% discounts on price that you'll be getting.
24/7 tech support for both you and your clients
You'll have our in-house team of support engineers at your disposal, all of them experienced and certified in our technology and reachable around the clock.
No charge for the migration of legacy data
If your clients are migrating from another solution, we'll take care of it for free.
Free trials and demos for your clients
We provide free trials, access to recorded and live demos, product videos, and joint calls with our sales representatives.
We'll import and onboard your clients for free
We'll offload the most troublesome and time-consuming part of the process and let you focus on client management.
Access to knowledge base with 100+ articles
You'll be able to use our marketing materials and product knowledge base that you can leverage for better customer experience.
Want to see the details of our MSP offer?
Unparalleled
user experience
Blazing fast
advanced search
years of industry expertise
Each MSP has unique needs. We'd love to hear yours.