Cloud archive reinvented.
The best cloud data archiving software is here.
An AWS-based data archiving platform that solves all your data retention, compliance and ediscovery challenges and stores enterprise data in accordance with industry's top security and privacy standards.
TOP-RATED EMAIL ARCHIVING SOFTWARE ON INDEPENDENT WEBSITES



What you get with Jatheon Cloud Archive
Starting off has never been easier.
Easy Setup and Use
With Jatheon Cloud data archiving software, you'll be up and running in a day and get unparalleled simplicity of deployment and everyday use.
It has to be seen to be believed.
Premium User Experience
Thanks to the intuitive and modern user interface, your archiving experience will be smooth and easy. Our processing speed and advanced search remain the best in the data archiving industry.
Archiving doesn't have to cost a fortune.
Cost-Effectiveness
With our simple pricing plan based on active mailboxes, you'll simplify the management of data archiving and get everything you need from a cloud archive without the upfront expenses.
Committed to your security.
High Security
Organizations in regulated industries handle a lot of sensitive information, so we made security and privacy of your archived data our highest priority.
We're here for you around the clock.
24/7 Technical Support
Our security certifications, breach detection alerts and 24/7 in-house technical support and monitoring will make sure your cloud archive is impenetrable.
Don't worry about storage ever again.
Endless Scalability
In today's data archiving, cloud systems guarantee unmatched flexibility and can easily adapt to your unique needs, no matter how big or small your business is.
Just sit back and relax.
Seamless Migration
Thanks to our automated migration tool, we'll migrate your existing data from legacy and competitor archiving solutions reliably, with zero hiccups.
Test the world's best cloud archive now.
A complete data archiving solution for multiple types of communication data
Jatheon Cloud is an all-in-one data archiving and ediscovery software that can be customized to archive email, social media, IM and mobile records separately or in any combination you can think of.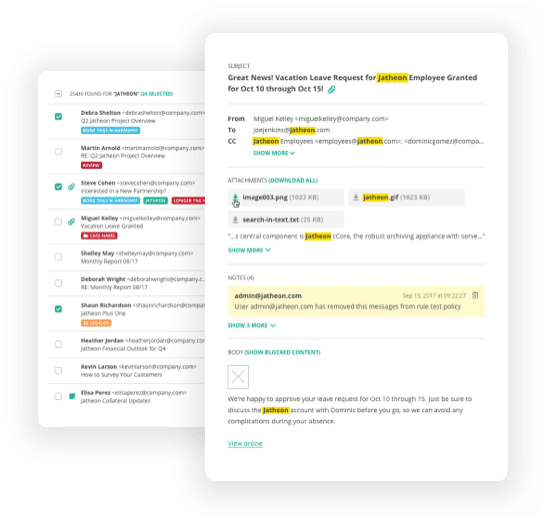 Email archiving
Use Jatheon Cloud as an email archiving solution to archive email from all major email platforms and in line with all relevant government-controlled or industry email retention laws like SOX, GLBA, HIPAA, FINRA, SEC, GDPR, CCPA, MiFID II and others. Capture and retain email in evidentiary quality, respond to FOIA and open data requests, apply email retention policies and set automatic deletion schedules.

Office 365
Gmail

Exchange

Novell

IBM Lotus
Bloomberg
Email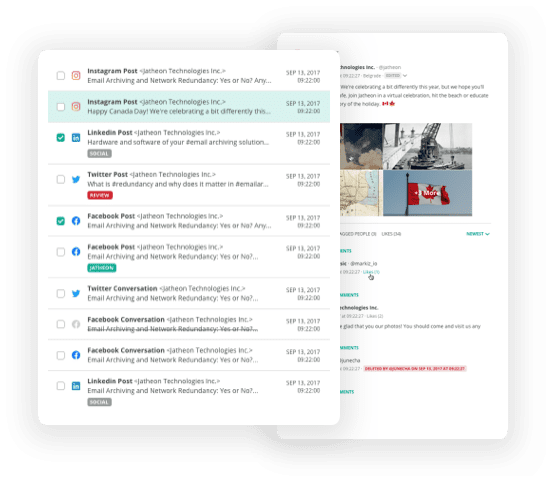 Social media archiving
Archive social media records from your official Facebook, Twitter and Instagram business pages and profiles for better control, monitoring and compliance with social media retention and open data regulations – HIPAA, FINRA 10-06 and 11-39, NASD 130, SEC 17a(3) and 17a(4), FRCP, FOIA, GDPR, MiFID II.
Facebook
Twitter
Instagram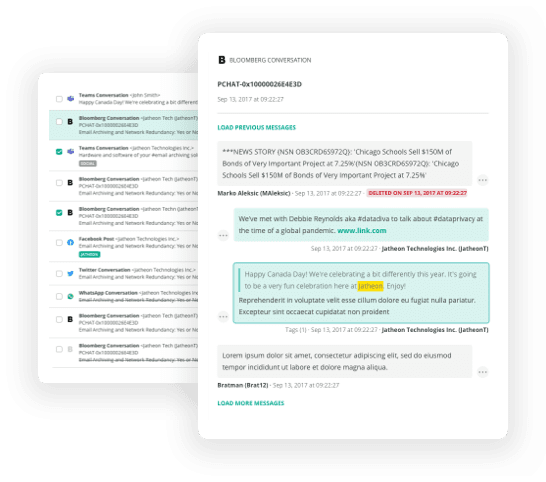 IM archiving
Use Jatheon Cloud as an IM archiving tool to archive WhatsApp, Microsoft Teams, Bloomberg chat and Google Chat if you use such apps to communicate with customers, partners or internally. This will help you protect your compliance status and meet the requirements outlined in FINRA, SEC, MiFID, FOIA, GDPR, FCA and FERC.
WhatsApp
Microsoft
Teams

Google Chat
Bloomberg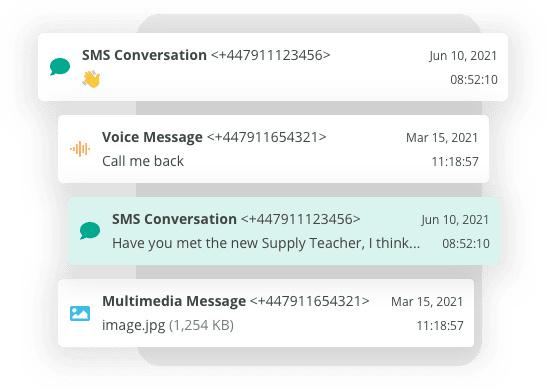 Text message archiving
Capture, retain, search and manage SMS, MMS, calls and voicemail from BYOD and enterprise-owned phones and from all major carriers like AT&T, Verizon, Vodafone, O2, TELUS. Archive mobile records from iOS and Android devices for compliance, legal and HR investigations and monitor conversations for any policy violations.
SMS
MMS
Voicemail
iOS
Android
Take your data archiving to the next level.
A feature-rich data archiving solution to meet all your compliance, legal and data management needs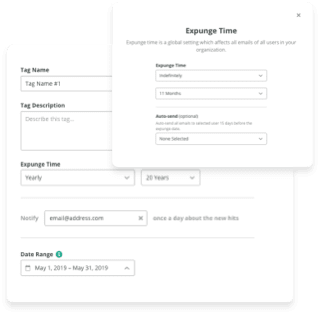 Stay on top of compliance requirements
Set highly customizable retention policies to meet compliance standards in your industry and automatically delete data after the retention windows expire. Prevent unauthorized access and actions by assigning custom roles to users with 60+ unique permissions.
Save time on ediscovery and open data requests
Execute deep searches by using 20+ criteria with Boolean, proximity, fuzzy and wildcard operators. You can preserve relevant records when you anticipate litigation, review user activity and redact sensitive, private and confidential information with 99% accuracy.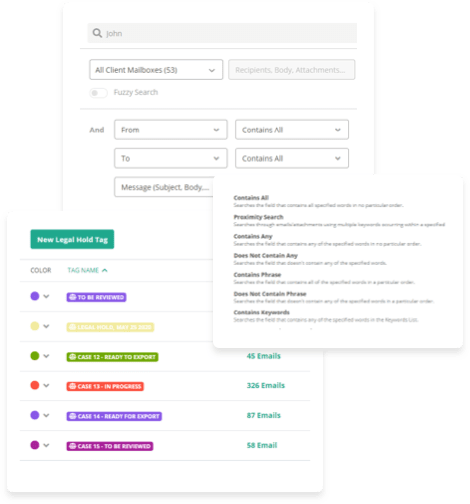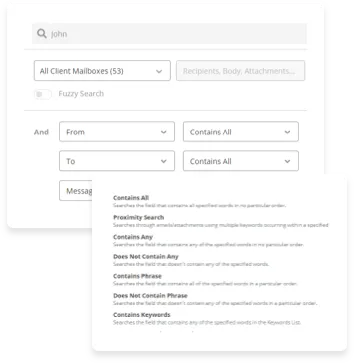 Ensure ease of use for end users
With ease of use at the core of our platform design, Jatheon Cloud's interface guarantees effortless search and archive management for every user. You can conduct everyday searches, view your search history, classify and organize your items through tags and access your archive from anywhere
Top-notch security and data privacy controls
From encryption to 24/7 monitoring, we make sure your data is secure, yet readily available at any time. Our data protection mechanisms guarantee that the data is stored in accordance with all major data privacy laws. All that backed by a team of technical experts and support engineers.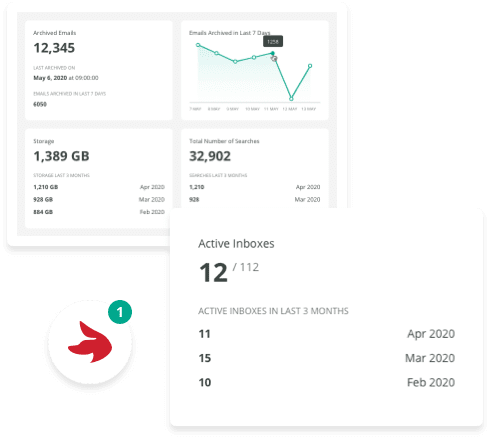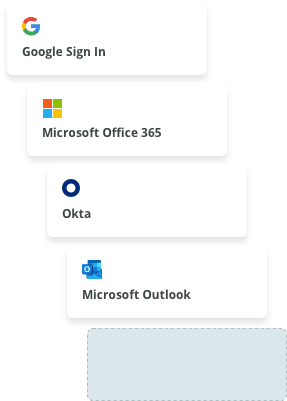 Handy integrations
Your Jatheon Cloud archive integrates with dozens of other services to make your everyday tasks easier. From simplified login and synchronization from AD to the ability to access and search your archive directly from Outlook, we're there to support various archiving scenarios.
Seamless migration
Don't let the dread of migration stop you from changing your current system. We provide efficient, fast and error-proof migration from all legacy and competitor solutions using a native automated migration tool.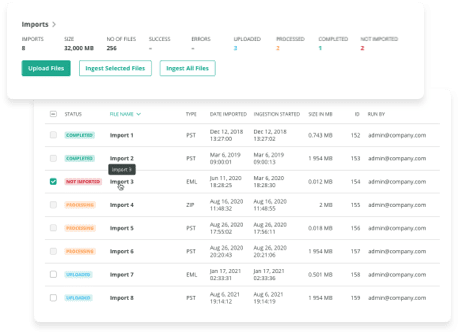 See all these features in action.
Frequently Asked Questions
Have questions about our cloud data archiving solution?
How much data can I archive?
You can archive as much data as you want for as long as you want. It is, however, recommended that your administrator and compliance teams define data retention policies that reflect the requirements of data retention laws that apply to your business. The records in your archive will be automatically removed after the set retention periods expire.
Does Jatheon Cloud require any additional IT resources?
None whatsoever! The data archiving process is fully automated, and thanks to Jatheon's 24/7 in-house tech support and live monitoring, you won't ever have to worry. We have your back.
How is Jatheon Cloud licensed?
Our cloud solution is licenced on a simple, predictable and fixed monthly per-user fee. For more details on discounts for yearly and longer prepaid plans, please reach out to us directly.
How can I pay for Jatheon Cloud?
Jatheon currently supports payments by check, credit card and debit card.
What are the differences between Jatheon's archiving solutions?
Jatheon Archiving Suite is an on-premise archiving solution that's typically used by organizations that have the IT infrastructure to support the hardware setup or prefer to have more control over their archiving system and process.
Jatheon Cloud is an AWS-based cloud data archiving solution which is used by organizations around the globe, regardless of size and industry.
Both data archiving solutions can archive multiple types of communication records – email, social media, IM, text and voice – individually or in whichever combination your organization needs. Both solutions are backed by 24/7 technical support.
Haven't found your answer?
17 years
of experience in data archiving and retrieval
No extra charge
for 24/7 technical support
Best UI
in the data archiving industry
6+ billion
archived records
Let's get you started!
Take a personalized tour of Jatheon Cloud archive to see how you can meet compliance standards and manage your corporate messaging data more efficiently.