In the era of digital communication dominating our personal and professional lives, messaging platforms like WhatsApp have become indispensable tools for staying connected and sharing information.
It's no surprise that people have started using WhatsApp to conduct business and exchange critical information over this app.
However, the convenience and efficiency offered by WhatsApp also bring significant responsibilities when it comes to archiving and compliance.
Whether you're already utilizing WhatsApp archiving or looking for a solution this article will provide you with all the knowledge you need to stay compliant while using WhatsApp.
But first, let's start with a little history lesson.
History of WhatsApp for Business Communication
The story of WhatsApp began in 2009 when two ex-Yahoo employees failed to get a job at Facebook and decided to develop a simple messaging app instead.
Ten years later, WhatsApp is the number one instant messaging and free call app in the world with over 2.5 billion monthly users, outranking both Facebook Messenger and WeChat.
Like Facebook Messenger, WhatsApp was not originally intended for business use and started as a free alternative to SMS for private users, but today it has grown to include a business app letting businesses interact with customers over their platform.
Medium-sized businesses and enterprises use WhatsApp's Business API to connect with customers quickly and securely handling over 65 billion messages and 60 million calls daily and is used by 3 million organizations.
With so much business activity on WhatsApp, it was bound to be affected by compliance laws.
The Start of Enterprise Instant Messaging Archiving
As business regulations expanded with every new communication channel, chat apps have become important aspects of compliance making every message a business record.
Emerging business trends like BYOD and CYOD have added complexity to the mobile-for-business landscape. Courts have increasingly ruled that chat app messages are subject to the same discovery standards as email, underscoring the need for careful archiving practices.
The major regulator by FINRA even stated "Every firm that intends to communicate, or permit its associated persons to communicate… through a text messaging app or chat service must first ensure that it can retain records of those communications as required by SEA Rules 17a-3 and 17a-4 and FINRA Rule 4511."
For these reasons, it's in your best interests to start retaining all WhatsApp content used to engage in any business activity (prospecting, customer services, communication).
What Is WhatsApp Archiving?
WhatsApp archiving is the process of preserving data from WhatsApp messages for compliance, legal, and ediscovery purposes.
It involves capturing and retaining different types of data like text messages, images, video, voice messages, and call logs in a structured manner.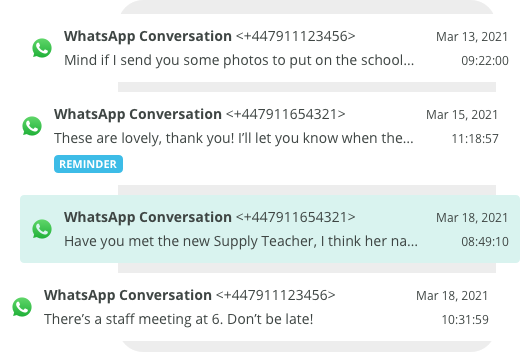 The objectives of WhatsApp archiving are to ensure data integrity, safeguard sensitive information, and meet regulatory requirements imposed by federal and state laws.
Staying compliant is the biggest reason businesses are looking for better WhatsApp archive solutions.
WhatsApp Archive for Compliance
Why is archiving WhatsApp messages so important for your business to stay compliant?
The simplest answer is, that every WhatsApp message used in business is considered a "Business Record."
Laws that mandate the retention of business records rarely address messaging apps specifically, but the definition of business records includes more than just email communication.
In fact, all messages that are work-related and are exchanged and stored on company-issued and personal devices are considered business records.
This includes WhatsApp, but it has many issues keeping many businesses from staying compliant.
1. Lack of Archiving Capabilities
The main downside of using WhatsApp for business is its lack of internal backup capabilities and advanced archiving options necessary for compliance.
WhatsApp has its native archiving feature that allows users to archive WhatsApp records. However, this feature is meant for user convenience and doesn't fulfill the rigorous archiving needs of businesses or organizations with compliance obligations.
Most of this data gets deleted after a certain period and there isn't a reliable way to search through this data, basically it's static and unreliable.
2. Personal WhatsApp Use
In addition to WhatsApp Business, many people use their personal WhatsApp accounts to quickly exchange information with coworkers. This helps the workflow, but a ton of information gets lost.
If two of your employees chat outside working hours and mention business-critical information like a big account your business is working on this is very bad. Imagine a client filing an ediscovery request, but since the chat was done through a personal WhatsApp channel you couldn't be able to comply with the request.
Here lies the problem: if employees do use personal WhatsApp accounts to chat about business, you are faced with countless communication channels that you are required to track, capture, and archive.
3. Data Deletion Policies
WhatsApp lets users delete messages within a certain period of time and these messages are permanently deleted from their records.
This lets users communicate and share information without their messages actually being archived properly leading to huge losses in data.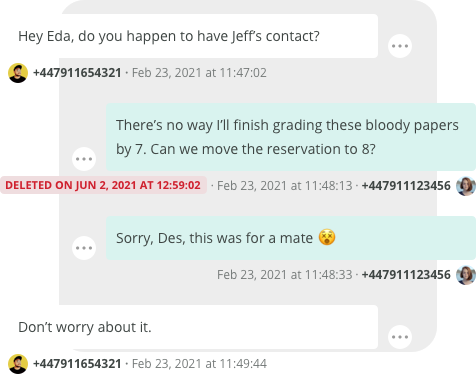 Here's an example.
In 2019, FCA held a court hearing involving a former employee of VTB Capital in London, who was charged with allegedly obstructing the FCA investigation by deleting relevant WhatsApp messages.
Now let's go over the major regulations governing WhatsApp compliance archiving.
WhatsApp Archive Regulations for Compliance
With so much emphasis on WhatsApp archiving, let's take a look at which laws actually require you to archive instant messaging records.
In Europe, MiFID (Markets in Financial Instruments Directive) requires the recording of any electronic communications including "email, SMS, business to business devices, chat, instant messaging and mobile device applications."
In the UK, the FCA (Financial Conduct Authority) has sent a strong signal to companies in the financial industry that it intends to monitor WhatsApp usage for business purposes closely.
Meanwhile, in the US, the FDA, FTC, HIPAA, and SEC have their own rules around the use of social media and mobile communications including WhatsApp.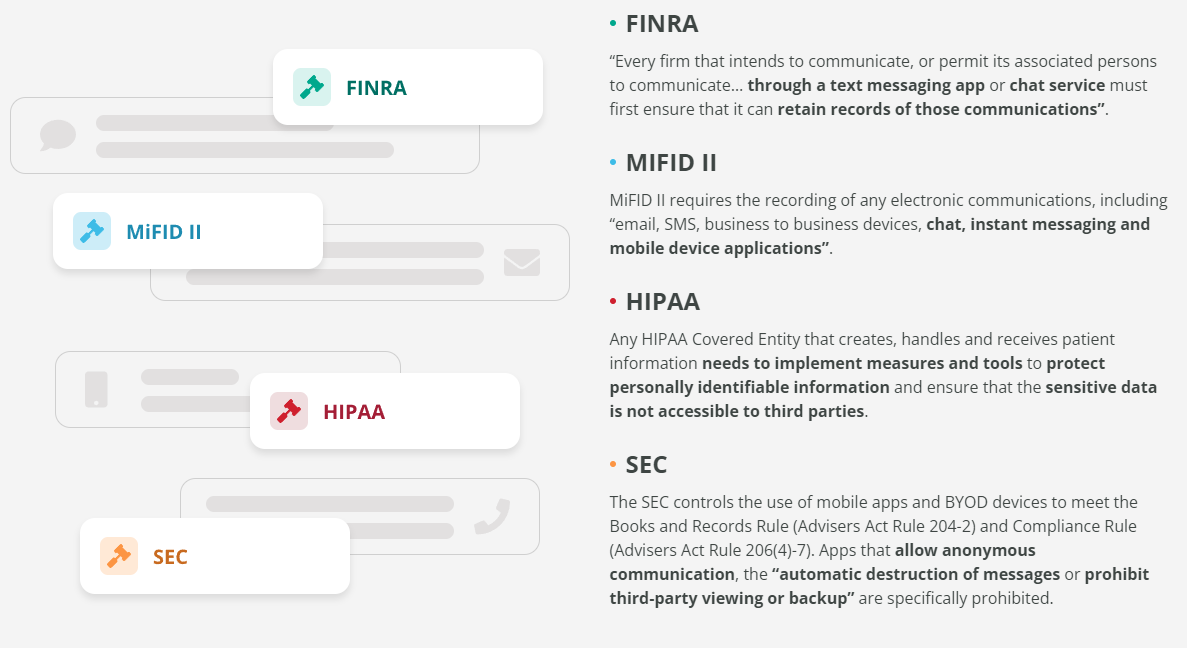 These regulations mandate that organizations, especially those in regulated industries, need to retain and be able to produce business records exchanged via chat apps.
These laws are designed to keep businesses using messaging platforms like Slack, Skype, Telegram, and WhatsApp compliant and prevent their potential misuse. Some examples are:
Unauthorized WhatsApp use for gossip and spreading rumors about colleagues and supervisors, potentially leaving HR uninformed.
Sending inappropriate messages, images, or videos that go unnoticed without message capturing leads to invalid evidence.
Private use of WhatsApp used by malicious insiders to execute theft of assets, IPs, and crucial information.
WhatsApp group exclusions and after-hours conversations leading to discrimination claims under the Equality Act.
With the need to abide by compliance laws and avoid any misuse of WhatsApp communication, businesses had a need for a solution.
The solution came in the form of technology allowing businesses to archive instant messages the same compliant way they already archive email.
Why Should You Use a Third-Pary WhatsApp Archiving Solution?
While WhatsApp's native archiving feature is great for personal use it's not meant for compliance archiving which needs to meet certain requirements and regulations.
Third-party WhatsApp archiving solutions are software specifically designed to archive and retain business records being communicated through WhatsApp. Basically, they are the solution to WhatsApp's compliance issues.
These solutions come with rich feature sets specifically designed for compliance. These features include:
Instant message capture – Capturing all messages, images, video, and voice notes instantly in the exact state they were sent in even if they were deleted by the sender.
Secure storage – All the data being archived is encrypted by the latest technologies and backed up on a cloud storage device.
Cross-platform archiving – Message archiving on every device capable of using WhatsApp messaging (phone or desktop) with an option to monitor which device the messages were sent from.
Message searching – Utilizing advanced filters to find specific messages by their keyword or multiple other operators.
Exporting – Ability to export select messages and chats in different formats like PDF.
Custom retention policies – Ability to create automated retention policies that retain and delete archived messages based on their age or other parameters.
Centralized storage – One place for all business data archiving including email, social media, and WhatsApp.
These are the core features of any WhatsApp archiving solution you should be looking for that will empower your business to stay compliant and research messages for any potential legal cases.
With all of this being said, how do these solutions work?
How WhatsApp Archiving Solutions Work
Essentially, employees continue to use WhatsApp from the web interface or the mobile app normally, while the solution captures all chats (group and individual), text messages, multimedia, files, and deletions.
The software then indexes them and houses them in the company archive separately or together with email, social media content, and everything else you are already archiving.
After archiving the data it is encrypted and applied an automated retention policy based on the criteria you put on this type of data. For example "Retain WhatsApp messages for 7 years" after which they are automatically deleted if not placed on legal hold.
By archiving messages in this way the solution allows for searching through the entire archive by filtering messages based on various criteria (employee name, phone number, message type…).
Benefits of Using a Third-Party WhatsApp Archiving Solution
There are many reasons why businesses are starting to implement WhatsApp archiving software in their compliance strategy.
First and foremost, your employees don't have to be involved in the process of archiving which greatly reduces the risk of error and boosts productivity.
By letting the archiving software automatically retain and manage your data human error is taken out of the picture.
The second, maybe the biggest reason is WhatsApp ediscovery.
With so many messages being exchanged they can quickly turn into liability and cost companies millions of dollars if an investigation is sparked and the business can't provide evidence.
For WhatsApp evidence to be admissible in court, it must contain metadata such as the date/time of the message and contact information of the sender and recipient. All of this is provided by archiving solutions.
Archiving WhatsApp messages allows businesses to have worry-free workplace messaging by knowing they can easily find message evidence and reduce the risk of being fined.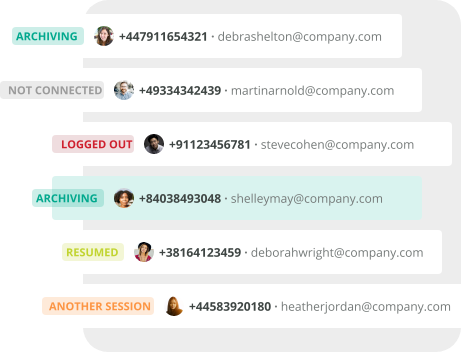 Third and why anyone should archive WhatsApp is compliance and security.
Data archived by these solutions can't be tampered with and is retained for long periods of time, sometimes indefinitely. They store all necessary information to abide by any regulations out there.
Conclusion
WhatsApp archiving is now as mandatory as email archiving was for the past 20 years and businesses are starting to see its benefits.
With this, there have been many solutions to WhatsApp's archiving problems that are specifically designed to provide businesses with compliance and ediscovery features.
This makes these solutions a must-have for any business in regulated industries.
Jatheon's WhatsApp archiving software is a cloud-based platform that allows businesses to capture all WhatsApp chats, even deleted messages, in real-time. With its compliance and ediscovery feature set any department can access, search, manage, and reproduce records for multiple use cases and ensure all compliance obligations.