Looking for an
EMC SourceOne

email archiving alternative?
Switch from EMC SourceOne to Jatheon to level up your data archiving
3 deployment models: cloud, virtual and hardware
A full set of compliance and ediscovery features
24/7 tech support and monitoring
Social media, WhatsApp, calls and text message archiving
Jatheon is compatible with all major email platforms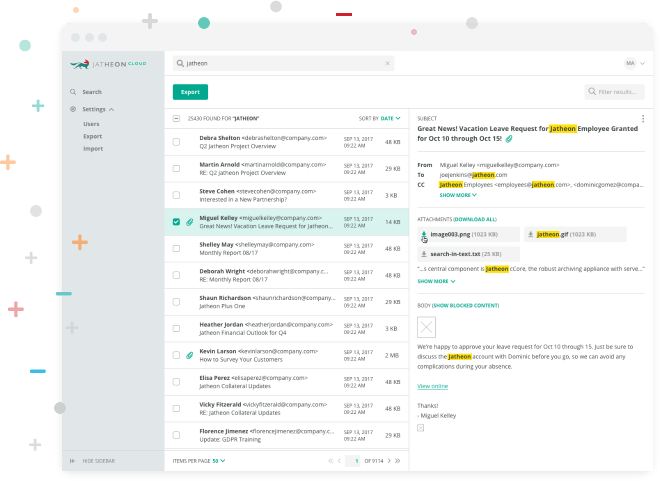 Retire your EMC SourceOne archive before it's discontinued in 2024 and reduce expenses, risk and liability. Free migration.
Many organizations are locked into old technology and forced to keep a legacy archive to meet email retention compliance standards. But maintaining a legacy archiving system is costly, and there's the added risk of failure and losing data. With Jatheon, you can retire and migrate your EMC SourceOne archive and retain the data contained in it.
| | |
| --- | --- |
| Minimize costs | Leverage the latest technology |
| Instead of paying for support and maintenance of your legacy archive that houses data which is rarely used, you can centralize your archiving efforts, harness the old data and be able to actively search all email records from a single screen while saving the time and money spent on running the old system. | Jatheon's solutions come in various deployment options and can accommodate unique needs of organizations regardless of size or industry. Relying on the latest search technology and with a sleek and intuitive user interface, Jatheon's email archiving solutions are quick, efficient and can be used by everyone in your organization. |
| Better product capabilities | Personalized tech support |
| Jatheon's solutions are compatible with all email platforms and come with a complete compliance and ediscovery feature set. Thanks to technology coupled with powerful, yet easy-to-use features like advanced search, export and various email management options and integrations, Jatheon's email archive provides above-average reliability, scalability, performance and security. | All solutions are backed by 24/7 in-house tech support with personal agents who will always be your go-to person if any issues or questions arise. Jatheon's email archiving appliances come with free hardware maintenance and free hardware refresh every 4 years to keep organizations ahead of the technology curve. |
Find out more about the best EMC SourceOne alternative
Why switch from EMC SourceOne to Jatheon?
Get to know the key capabilities that set us apart.
Search Capabilities
Compliance

Simple search for everyday queries
Advanced Search with Boolean, wildcard, proximity and fuzzy operators
Various search criteria and refined search for precise results
Recent searches, saved searches, keyword lists

Set retention periods and automatic deletion of records
Tamper-proof, WORM data format with authenticity verification
Customize retention periods based on departments or special needs
Customizable user roles, permissions and access levels

Ediscovery
Email Management

Search through large databases and get instant results
Save searches, organize them into cases and redact PII
Export search results into PST, EML or PDF
Legal hold, role-based access, full audit trail

Single and bulk email management options
Export, download, restore, reply, reply to all
Group and organize emails by applying tags
Create keyword lists to monitor foul language and use in searches
Find out more about the best EMC SourceOne alternative
A closer look at the Jatheon data archiving software
An overview of some of the essential software features in email archiving
FEATURE
Simple Search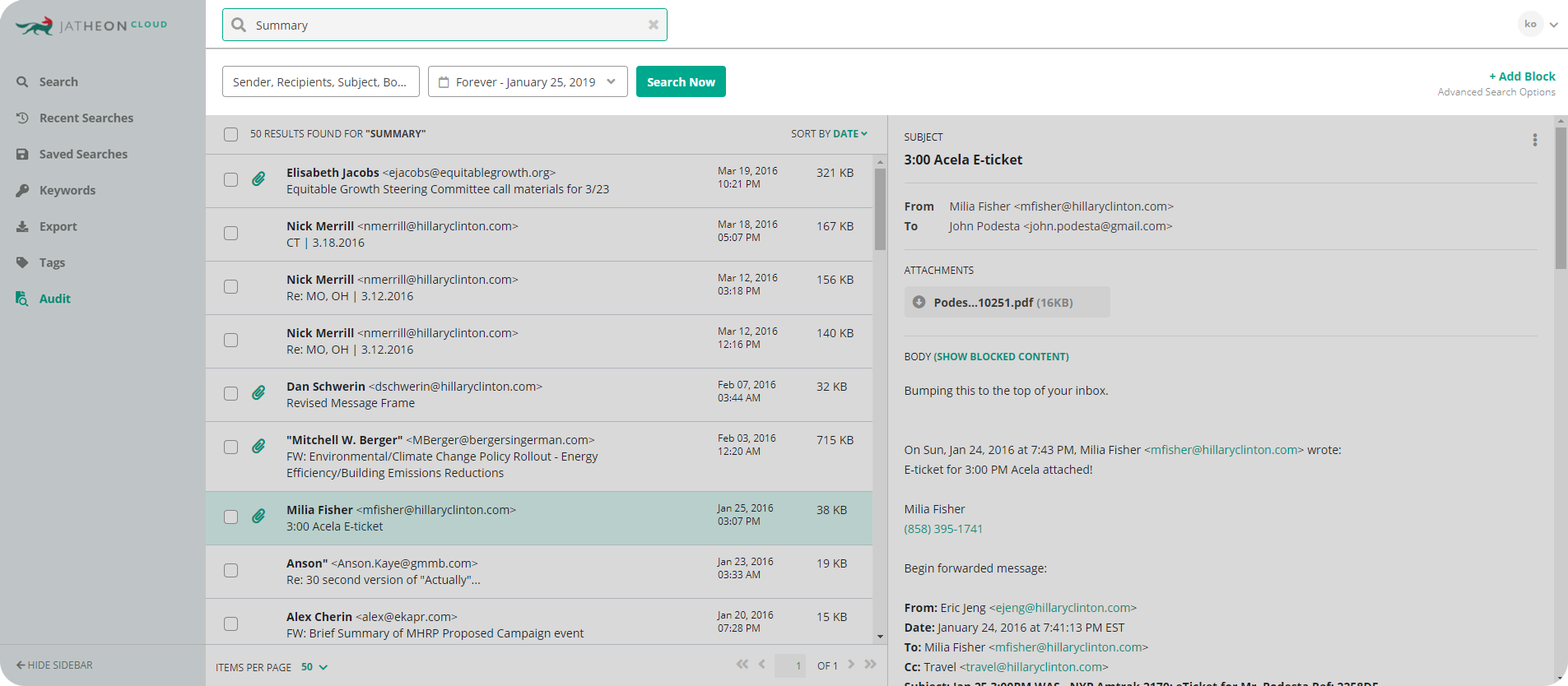 Jatheon's Simple Search lets you search through parts of emails using various search criteria. This simple, yet powerful search functionality was designed to save time and was made with end users in mind.
FEATURE
Advanced Search
Jatheon's Advanced Search allows compliance officers and administrators to search through millions of records and end up with a manageable number of results to review. Superior system logic based on search blocks and containers lets you construct complex searches and filter results easily while using Boolean, wildcard, proximity and fuzzy operators.
FEATURE
Search Results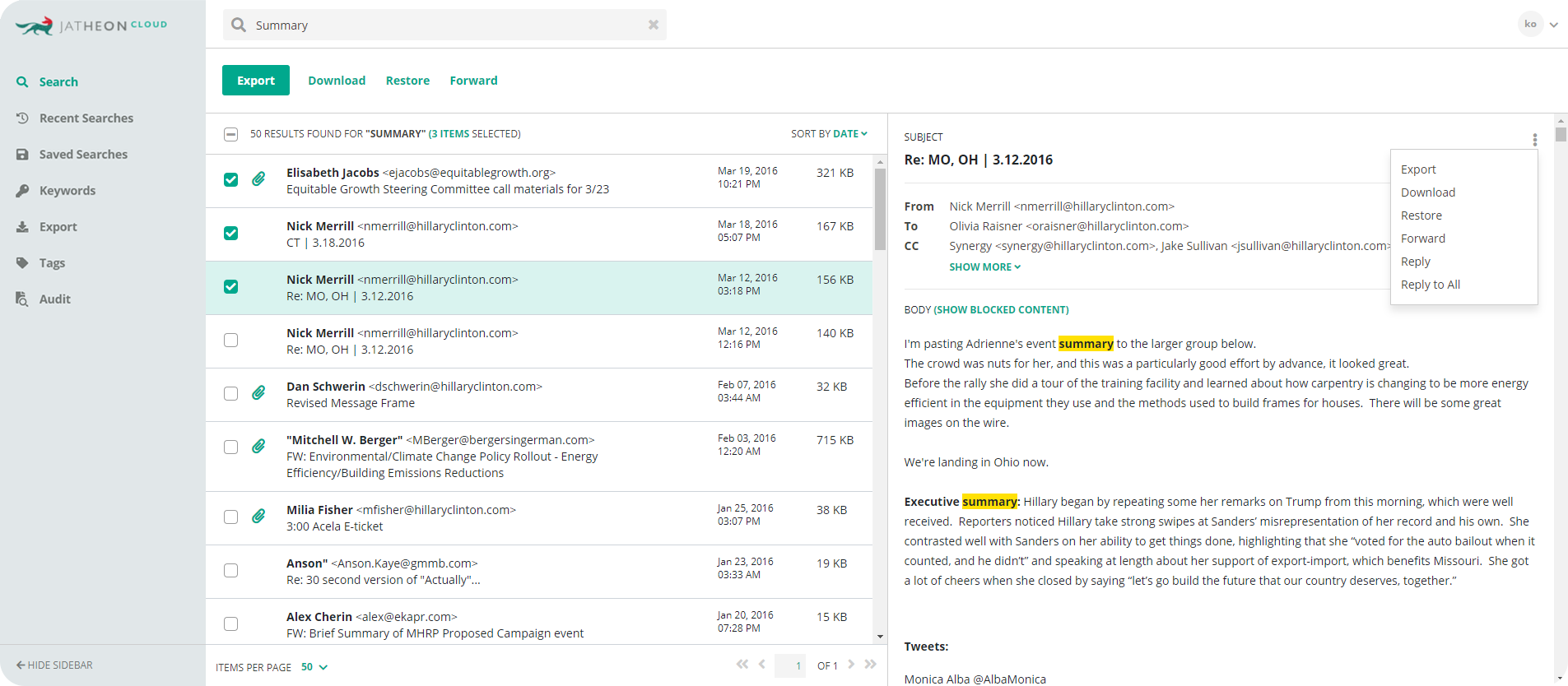 After conducting a search, the user will be presented with search results, where they can select a message and see its content in the preview pane on the right. The specified keyword will be highlighted, and there are various message options including export, forward, restore, reply etc.
FEATURE
Redaction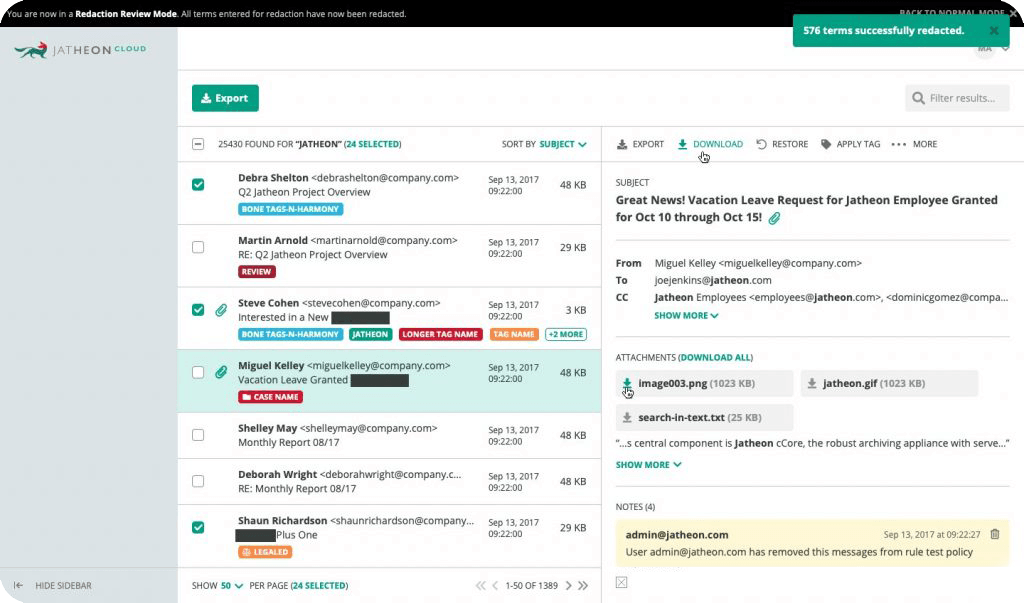 In case email records need to be disclosed as part of a FOIA request, an audit or in legal proceedings, the redaction feature allows selective disclosure while protecting private information and maintaining confidentiality.
FEATURE
Data Export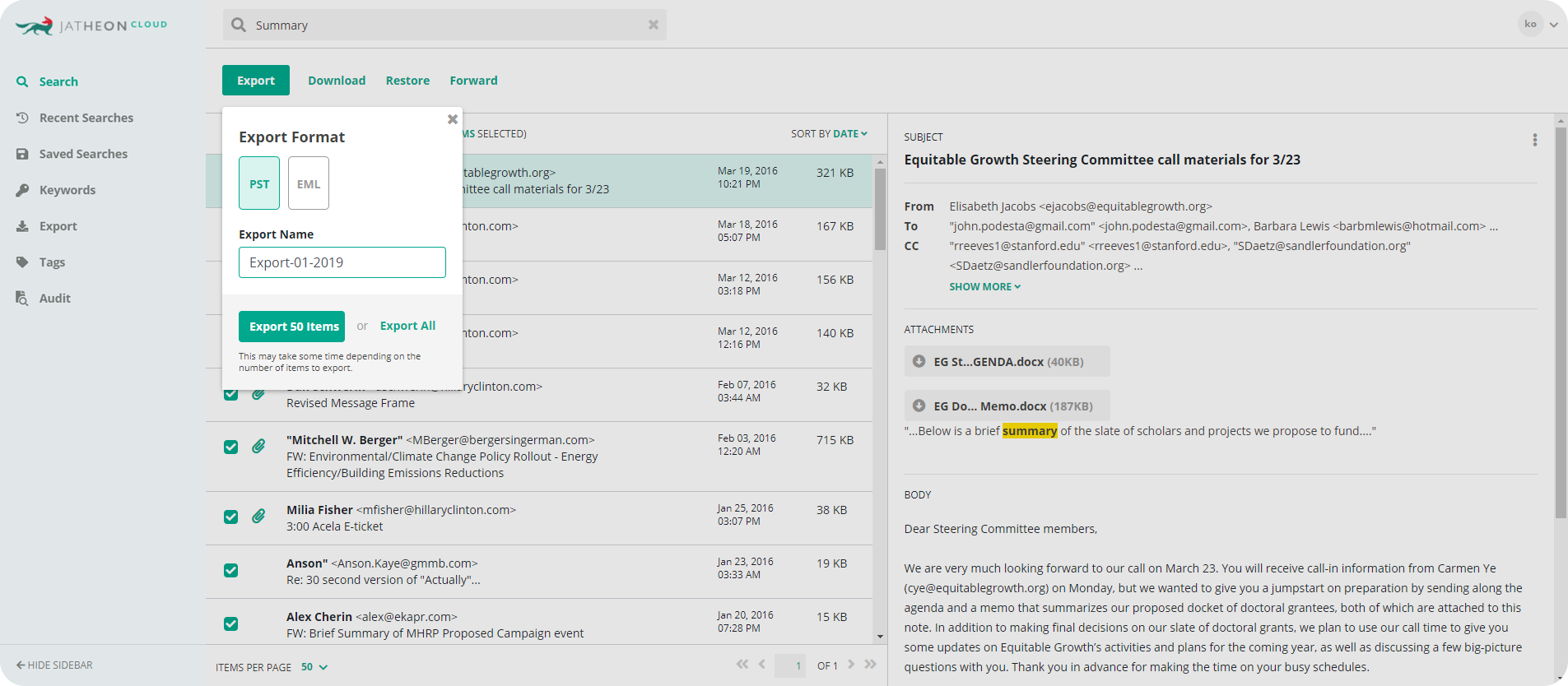 After conducting a search and getting search results, users can select which items they want to export. Users can export to PST, EML and PDF file formats. When the export is ready, the user receives an email with the download link.
More things you'll love about Jatheon
Enterprise and SMB-friendly
Compatible with all major email platforms
Outlook plugin
Deduplication of messages and attachments
Fully customizable user roles and retention policies
Social media, text message, calls, Bloomberg, MS Teams and WhatsApp archiving
Easy onboarding and training
LDAP integration
Cloud backup and data recovery plans
6+ billion archived messages
Average product score 4.9/5.0 on Gartner and Capterra
Included in 2022 Gartner Magic Quadrant for Enterprise Information Archiving
Customers who have happily switched to Jatheon

Jatheon is one of the best kept secrets in the email archiving world. Their advanced search is incredible. It's easy to create a complex search using many email parameters. I can create searches and download results in minutes.
Excellent service! Support was very professional and they resolved the issue we had in record time. Prompt and quick service. We are very satisfied.
Palmerston North City Council

Export is extremely easy and efficient compared to other solutions I've worked with. The export task gets everything done in no time. It's also very competitively priced.
Shaun Tuttle, Marsico Capital Management LLC
Ready to give it a try?
Book your personal demo by calling 1-888-528-4366. If you decide to make the switch, we'll provide a discount in price and migrate your legacy archive for free.