Robust
.

Reliable

.

Secure

.
Powerful on-premise email archiving and governance solutions
Our passion for data security, compliance and information governance drives us to create robust and flexible archiving solutions that can archive various corporate content ‒ email, social media, mobile calls, texts and more.
Compatible with all major email platforms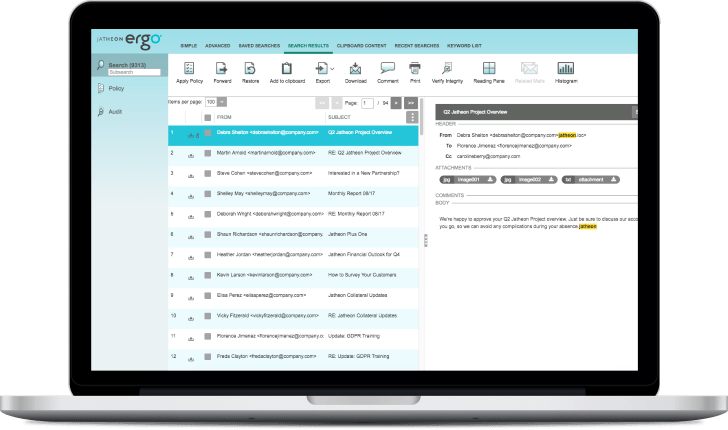 All-in-one email archiving solution
Jatheon Archiving Suite is a powerful, modular, on-premise archiving solution that lets businesses capture, store, retrieve, audit and manage email and other unstructured enterprise information.

Jatheon cCore
Jatheon cCore is a robust archiving appliance with server-grade hardware and sophisticated email archiving software. Scalable, expandable and email platform agnostic, cCore empowers businesses to comply with regulations, avoid lawsuits and protect the integrity of their brands by taking control of their communication data.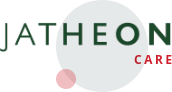 Jatheon Care
Backed by Jatheon Care, our unique customer service, maintenance and support plan, Jatheon Archiving Suite lets your business archive everything — from email and attachments to social media and mobile.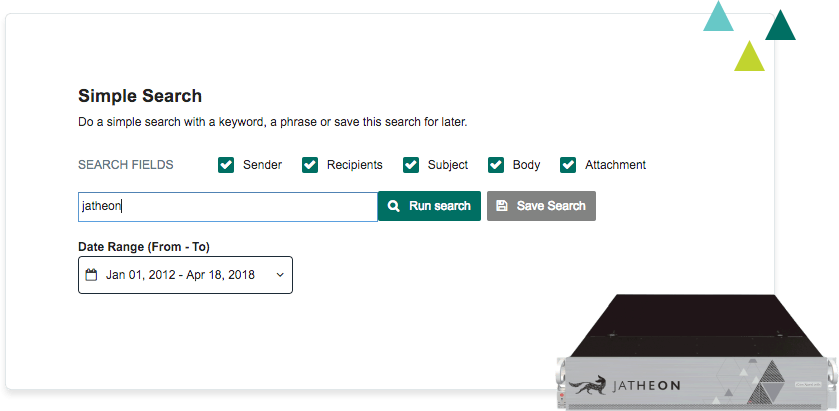 Why archive email with Jatheon Archiving Suite
Ensure Regulatory Compliance
Define retention periods to mirror relevant regulations
Create custom policy rules and get alerts in case of violations
Expunge email automatically after retention period expires
Record and monitor actions using the audit trail feature and ensure regulatory compliance and security
Message integrity verification for data authenticity
Streamline eDiscovery
Create custom levels of access for ultimate control over your archived data
Conduct quick or advanced searches to find what you're looking for in terabytes of data
The fastest and most precise search functionality in the archiving industry
Export to PST, PDF or EML
Apply legal hold and retain specific messages indefinitely
Secure Long-Term Storage
Save storage space thanks to deduplication and compression processes
Hardware features for long-term storage and prevention of bit rot and data corruption
Improve Data Governance
Analyze your archived data and get insight you can use across all departments
Prevent employee misconduct and detect problems before they escalate
Learn about your personnel and boost productivity
A Single Solution to Archive Everything
A secure and cost-effective on-premise solution with advanced archival capabilities
Archive email, attachments, social media, mobile calls, texts and WhatsApp using a single solution
Avoid the risks associated with cloud environment
Enhanced security and maximum oversight on your own premises
Jatheon Care
24/7 remote monitoring
Free hardware maintenance and software updates
Free hardware replacement every four years
Outstanding support along the way
Free legacy data importing and migration
Assistance with archive backup
learn more about
Jatheon Archiving Suite
learn more about
Jatheon cCore
learn more about
Jatheon Care
Jatheon is trusted by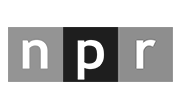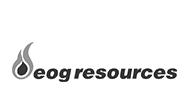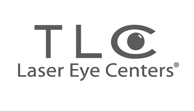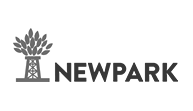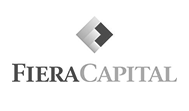 What our clients say about us

The support was excellent. They understood exactly what I was looking for and assisted me in learning how to create a more effective search. Pleasure to deal with!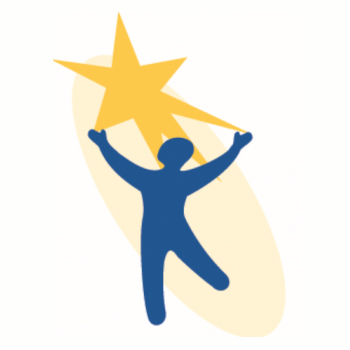 Jatheon support was very quick to respond to and resolve ticket. Problem was fixed in 30 mins from the time reported. Thanks
David Lawrence Mental Health Center, Inc

Great tech support! Very helpful!
Saddleback Unified School District
Very responsive to the request. Support did a great job with a series of followed questions and helped me understand how it all works. Thanks.
The Jatheon Support has always been very good at helping us with our Jatheon email archiver.
Bellefaire Jewish Children's Bureau
Excellent service! Support was very professional and they resolved the issue we had. Prompt and quick service. We are very satisfied.
Palmerston North City Council
Schedule Your Personal Demo
Look inside Jatheon's solution to see how to better manage your corporate email and messaging data. Leave us your contact details and we'll get in touch and show you around.
Schedule Your Personal Demo
Look inside Jatheon's solution to see how to better manage your corporate email and messaging data. Leave us your contact details and we'll get in touch and show you around.