Looking for a Barracuda Message
Archiver alternative?
Simpler maintenance plans. Unparalleled export.
Outstanding support and
flawless, free migration

.
Industry's best enterprise-grade hardware
24/7 technical support and monitoring
Free hardware refresh program
No hidden maintenance costs
Jatheon is compatible with all major email platforms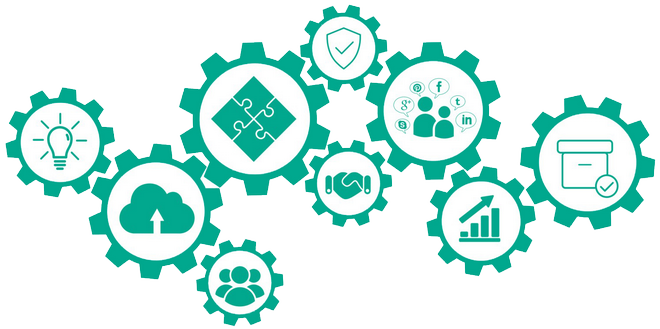 Why switch from Barracuda to Jatheon?
We explored hardware and software features essential in email archiving and created a comparison table giving a short summary of the two solutions:
Features
Jatheon
Barracuda
Hardware

*

*****




enterprise-grade hardware on all appliance models

***

**

Expandable

*

Yes




Using cost-effective expansion modules

Yes




Using stackable appliances

Search speed

*

*****

***

**

Email export

*

*****




export to PST, EML and PDF

*

****

Email import

*

*****

***

**

Free hardware refresh

*

Yes

Yes




depending on your plan

Free migration from Barracuda

Yes




using a native migration tool for automated, seamless migration

/

User roles
Fully customizable

fixed

Social media archiving

*

All major social media channels
No
Mobile archiving

*

Yes
No
Technical support

*

*****




24/7 in-house technical support

***

**
*Explained in detail in the section below.
Upgrade your email archiving solution today!
Top 10 features you're missing with Barracuda
Best Advanced Search in the industry
Export to PDF
Would you like to see improvement when navigating the interface and searching the archive? Jatheon's easy-to-use advanced search lets you create and execute complex searches by filtering emails matching certain criteria, keywords and phrases. Based on the latest search technology, it allows you to search through large databases and pinpoint exact data in a matter of seconds.
Need better export options than PST and ZIP? With Jatheon, exporting email has never been easier. The enhanced export feature lets you export your search results to PST, EML or PDF file formats. Exporting to PDF is a convenient way of offloading emails, especially useful for smaller exports and reports. There's also a print option directly in the interface, which saves time and effort.
Advanced Export
Excellent expandability plans
Struggling with exporting large amounts of data? Although bulk migrations aren't the primary purpose of email archiving solutions, we believe that a great email archiver needs to have a robust bulk export functionality. With Jatheon, the default maximum size of the exported PST file is 3 GB, but can be customized to up to 64GB, depending on total RAM size. That's 3-30 times faster than what you currently have. Moreover, Jatheon's advanced export runs silently in the background and frees up the user interface for other tasks.
Jatheon's archiving appliances can be easily expanded by adding cost-effective expansion modules with extra storage ranging from 8 to 96 TB. Expanding your storage in such a way is much easier and cheaper, as you don't have to purchase the entire appliance and you can still search through both the primary appliance and the expansion unit.

Superior data availability
In Jatheon, we know there are more advanced and less fragile storage-saving processes than stubbing. We want you to have all your data available now and free of errors. That's why we prioritize data integrity features like end-to-end data full checksum protection, corruption-proof root file system and self-healing data sets that prevent silent data corruption and ensure long-term data availability.
EML Import
If you had another email archiver before Barracuda, you probably know it wasn't painless to import historical files in PST form. With Jatheon, you will be able to ingest PST and EML legacy data stored on a local shared drive.
Enterprise grade hardware on all models
Free hardware refresh
If your Barracuda archiver is slowing down as it gets full, that's because it's SATA-based. All Jatheon appliance models have superior hardware features such as ECC memory, SAS hard drives and RAID-Z architecture, improving overall IT performance and ensuring speed and data protection.
Confused about Barracuda's additional services? Unsure if you're eligible for free hardware refresh? In Jatheon, every archiving solution comes with a clearly structured customer service and maintenance plan that includes free hardware refresh after 4 years, regardless of the appliance model or support plan.
Social media and mobile archiving
24/7 tech support and customer service
Jatheon can be your single archiving source. Apart from email, files and attachments, Jatheon offers archiving support for all major social media channels, text messages, phone calls and voicemail.
Apart from a comprehensive knowledge base and detailed technical documentation, Jatheon boasts a fully dedicated, in-house technical support team that continuously gets 100% customer satisfaction rating. We're talking real, human tech support, where every engineer can help, and where you'd get a personal agent working with you from migration and onboarding, throughout the process.
Missing a feature? Let us know!
In Jatheon, we put customer satisfaction first. That's why we encourage feature requests and do our best to include them in our roadmap.
Start archiving smarter!
Jatheon vs. Barracuda
Basic Features Comparison
FEATURE
Simple Search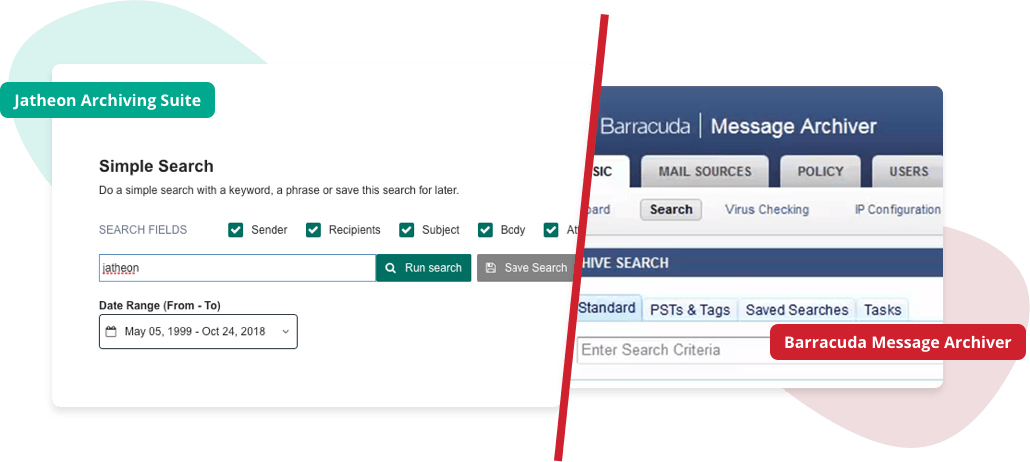 Jatheon's Simple Search lets you search through parts of emails, as well as specify whether you're searching your own mailbox or other mailboxes too. Unlike Barracuda, Jatheon offers a simple, yet powerful search functionality designed to save time and made with users in mind.
FEATURE
Advanced Search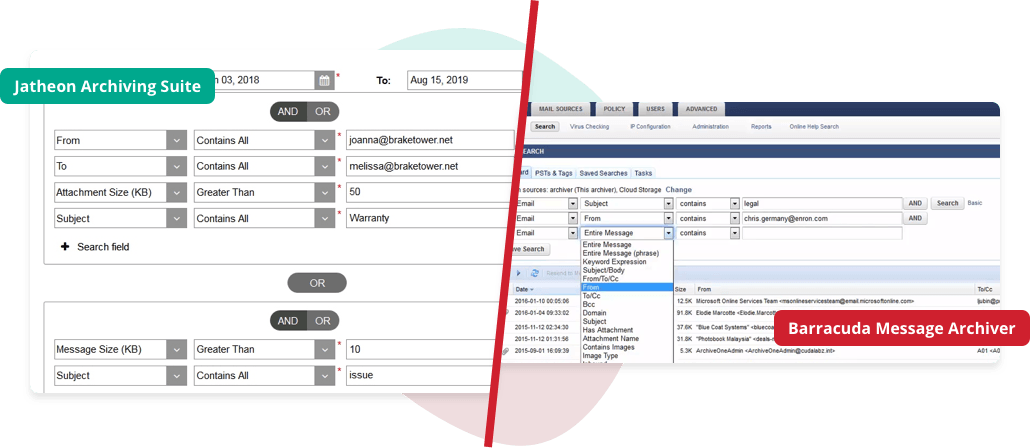 Jatheon's Advanced Search allows compliance officers and administrators to search through millions of emails and end up with a manageable number of results to review. Superior system logic based on search blocks and containers lets you construct complex searches and filter results easily.
FEATURE
Search Results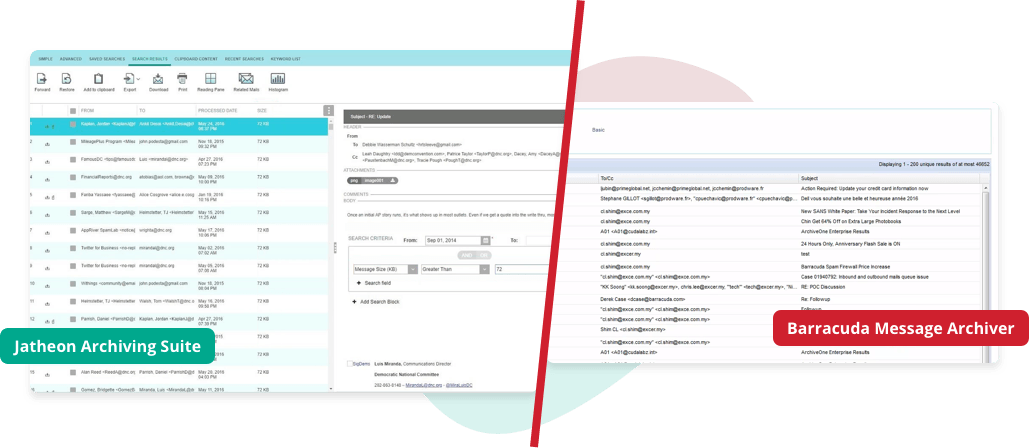 Once you get the results of your search, Jatheon lets you choose the position of the preview pane (down or right), making it easier to review the displayed results. Moreover, there is an option to search through the obtained search results to further narrow down your search.
FEATURE
Data Export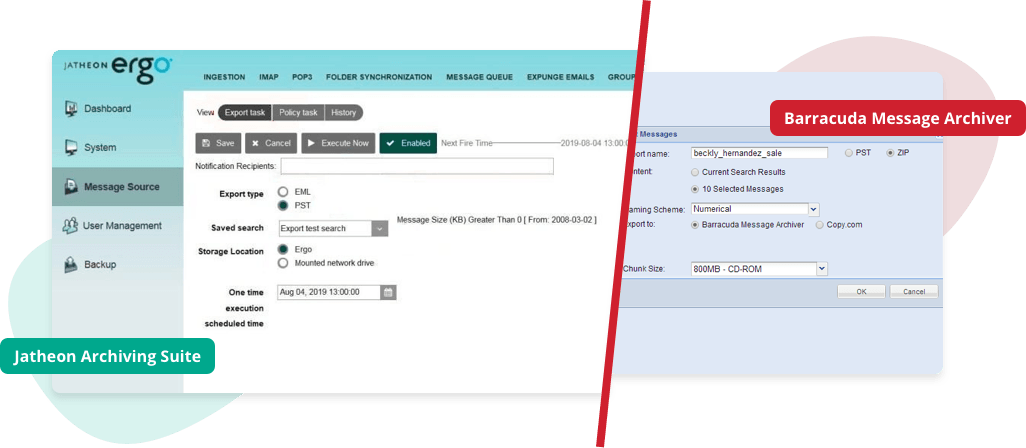 Jatheon gives you the possibility to export up to 5,000 emails into pst/eml files directly from search results using the Export button. You can export a larger number of emails, practically without limitations, by using the Export Task – silent export that runs in the background, freeing up the web interface for other activities. You can track the progress of export and once the file is ready, you will receive an email notification with the download link.
FEATURE
Backup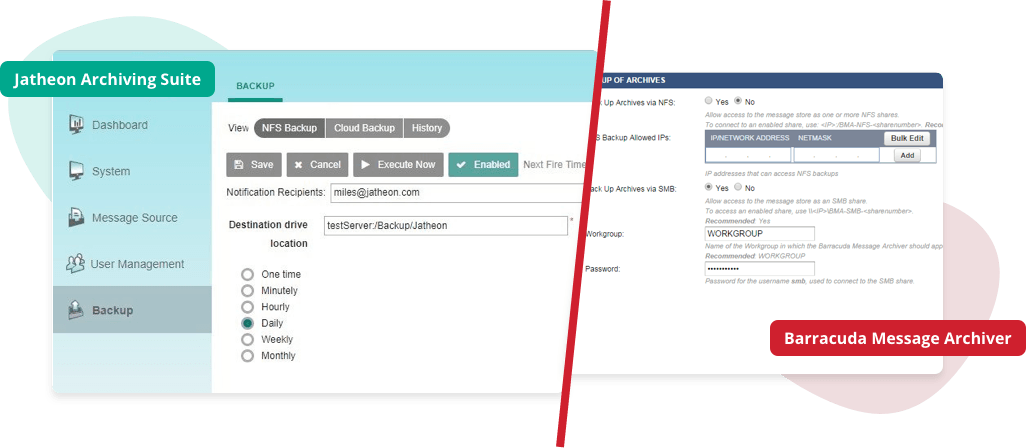 Although Barracuda offers various backup options, Jatheon's backup is done on a binary level and relies on ZFS snapshots. ZFS snapshots are superior because they reflect the entire data as it existed at a single point in time and can be created extremely quickly. Another advantage is that all email data, metadata and system settings are backed up at once and in a single location.
More things you'll love about Jatheon
Outlook plugin
Fully customizable user roles
Deduplication of messages and attachments
Easy onboarding and training
AD and LDAP integration
Included in the Radicati Information Archiving Market Quadrant 2016-2020
Complete ediscovery feature set
Free, automated migration of your Barracuda archive
Excellent cloud backup and disaster recovery plans
6+ billion archived messages
Compatible with all major email platforms
RAID-Z architecture and enterprise grade hardware components
Want to save or share this information? Simply download the PDF overview.
Customers who have happily switched to Jatheon

Jatheon is one of the best kept secrets in the email archiving world. Their advanced search is incredible. It's easy to create a complex search using many email parameters. I can create searches and download results in minutes.

Simple, easy to use, no hassle. Great support. Price is good. Hopefully in the future we will subscribe to the additional features that are available. Been using it for years.
Brian Parker, Southwestern Oregon Community College

Export is extremely easy and efficient compared to other solutions I've worked with. The export task gets everything done in no time. It's also very competitively priced.
Shaun Tuttle, Marsico Capital Management LLC
Ready to give it a try?
Look inside Jatheon's solution to see how to better manage your corporate email
and messaging data.