In 2011, Microsoft designed the Office 365 cloud platform and centralized its existing services including Exchange, SharePoint and Skype.
Six years later, Office 365 revenue overtook that of conventional license sales of Microsoft Office software for the first time.
Today, adoption rates remain strong.
As organizations flock towards O365 as a one-stop shop for the management of email, social networking, VoIP and conferencing, some of them also consider embracing the O365 email archiving capabilities (called In-Place Archiving).
Microsoft offers Exchange online archiving and promises to solve compliance, regulatory and ediscovery challenges.
But can Office 365 email archiving match the functionality offered by specialist third-party solutions? We explored it for you.
1. In-Place Archiving User Interface
The interface of Office 365 email archive may be overwhelming to some users. Even our email archiving expert found it difficult to perform basic tasks such as assigning roles to users or setting up permission levels.
You need to be an administrator to be able to use the platform at ease. Even then, it requires a serious amount of effort.
2. Import of Legacy Emails
Ingesting legacy emails to Office 365 In-Place Archiving can be a tough job.
At the same time, third-party email archiving solutions have automated import of legacy email and don't require any special knowledge or skills. Everything is imported from the network shared drive in EML or PST file formats.
Office 365 is an email server which also handles files, distribution lists and calendars and can work efficiently only if its processing power and disk space usage are in equilibrium. If burdened with 50 million legacy emails, you can expect it to stall.
3. Office 365 Email Archiving: Exporting Emails
On O365, you can export files to a mailbox and get a number of PST files – with major limitations.
Meanwhile, third-party email archiving solutions offer unparalleled export when compared to Office 365 archiver, as you can typically export to PST, EML and PDF file formats with greater speed and stability.
Exporting to PDF is a convenient way of offloading emails, especially useful for smaller exports and reports. It also allows easy redaction.
Although bulk migrations aren't the primary purpose of email archiving solutions, some email archivers have a robust bulk export functionality.
With Jatheon, for example, the default maximum size of the exported PST file is 3 GB, but can be customized to up to 64GB, depending on total RAM size. Moreover, Jatheon's advanced export runs silently in the background and frees up the user interface for other tasks.
4. Running a Search on Exchange Search
The search functionality on Office 365 email archive (called Exchange Search) comes with some limitations. Primarily, Exchange Search isn't able to find misspelled words or employ proximity parameters.
In practice, this means that you would have to conduct multiple searches to locate the words "employee", "employs" "employed" or "employee relationships" and "relationship between employees".
Third-party archiving solutions on the other hand have enviable advanced search capabilities that let you search through terabytes of data, narrow down your search and filter the search results, leaving you with a manageable amount of data.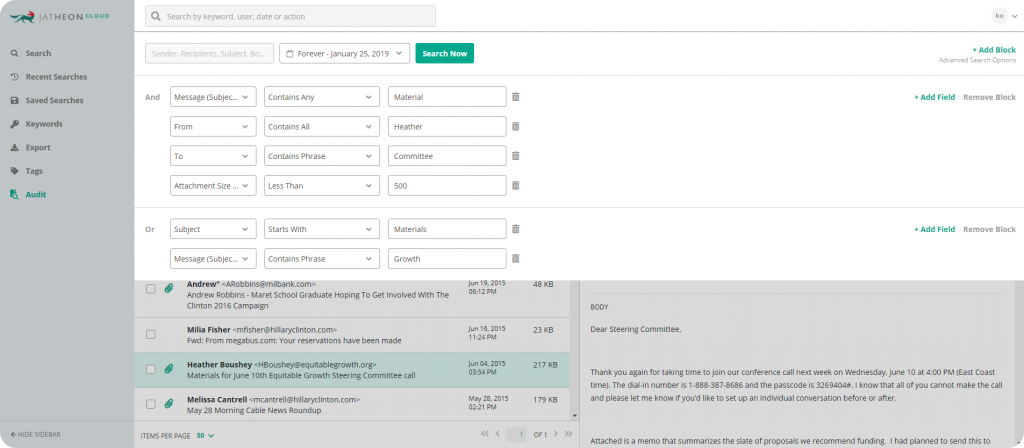 You will be able to use a combination of various search parameters, Boolean operators, wildcard searches and fuzzy and proximity logic to locate a single email among millions of others.
5. In-Place Hold, Litigation Hold, and In-Place Discovery
Office 365 gives end users freedom to manage and manipulate their email and doesn't offer much control over what they do. They do offer In-Place Hold, Litigation Hold and In-Place Discovery functionalities to help organizations ensure regulatory compliance.
However, Microsoft's solution has a very basic retention policy feature where users can apply tags to retain their own email. To ensure full compliance and prevent deliberate or inadvertent deletion of important business data, such tasks should not be left to the end users.
Having an immutable archive is essential for successful ediscovery and compliance audits. If end users can modify or even delete email, as they can on O365, your organization might not be able to prove compliance.
Another major drawback of Office 365 email archive is that its default limit of search results is 250 results, which is rarely sufficient for any large scale legal case. Searching through zipped files is also not possible.
At the same time, third-party solutions can search through various file types—and attachments—and have the audit feature – a read-only log which allows users with special permissions (admins, compliance officers, HR and legal departments) to track, review and control everybody's activities on the archiving platform.
Admins can check whether specific keywords have been searched, which users looked for what data, whether they attempted to modify certain rules or whether somebody tried to overstep their authority. No such thing is available on O365, which is problematic from the regulatory point of view.
6. Neat and Useful Archiving Features
Vendors that specialize in email archiving have taken the time to explore and implement a lot of small, but very useful features, many of them based on customer feedback.
These are just some of the features that O365 doesn't contain but which are essential in compliance officers' everyday life.
Add comment to an email – A compliance officer can add a comment which will be visible to other COs, but not to end users.
Share a search – Allows compliance officers and administrators to share a search with specific users or user groups
Rerun recent search – Users can review the list of recently conducted searches even if they haven't saved it.
Advanced and customizable data analytics – A dashboard with reports and statistics that can be customized and delivered to a mailbox of your choosing.
Mailbox association – Allows compliance officers to define which user group is allowed to search through specific emails.
Deduplication of emails and attachments – Makes sure only one instance of an email and attachment is archived to optimize disk space usage.
7. Office 365 Email Archiving Pricing Costs
In email archiving, very few things can reduce cost-effectiveness more dramatically than inactive mailboxes.
Organizations are often unpleasantly surprised when they discover that they need to pay the same for both active and legacy mailboxes.
That's the biggest issue with Office 365 archiver – as employees leave the organization and are replaced by new ones, you will have to pay for all those mailboxes.
With a third-party email archiving solution, especially if it's an on-premise solution that is paid per capacity, not per mailbox, you won't have any additional costs for legacy mailboxes. This will allow for greater predictability of cost and won't compromise your compliance efforts.
Office 365 In-Place Archiving: Pros and Cons Weighed
Although O365 is a first-class product when it comes to email servers, it still lacks the necessary email archiving, eDiscovery and compliance capabilities offered by email archiving companies that have specialized in it.
Office 365 was envisioned as an email server, and this remains its primary application. With that in mind, it's not surprising that its advanced search, export, permissions, audits and other features don't always perform on the same level as those offered by expert companies.
In other words, Microsoft Office 365 needs to solidify and improve their email archiving capabilities to be able to match the existing vendors that specialize in enterprise information archiving.