Twitter has established itself as the juggernaut of social communication. However, this flexibility has resulted in legal and compliance concerns for organizations.
While Twitter is one of the most far-reaching social networks, its open nature makes it susceptible to abuse. That's why archiving Twitter communications for compliance purposes has become increasingly important.
Why Should You Archive a Twitter Account?
Twitter communications can be riddled with liability. Even a single tweet can expose an organization to lawsuits.
If you don't archive your Twitter account, it's extremely difficult to go back in time to find information and use it as evidence. Moreover, you run the risk of losing the information altogether if a tweet is deleted after a certain amount of time.
Archiving Twitter isn't only important for businesses trying to dodge lawsuits. It's equally important for organizations that want to stay compliant with regulatory standards.
For example, healthcare and financial services companies need to retain and monitor Twitter for compliance purposes in order to comply with HIPAA and SEC (FINRA) mandates. Since social media pages are considered public records, organizations need to be ready to present Twitter records for FOIA or state-level public record requests.
Can You Just Take Screenshots of Your Tweets?
A logical approach may appear to be taking a snapshot of important tweets, but this method of manually collecting static pictures poses several issues:
The Federal Rules of Evidence prohibit the use of screenshots as evidence, therefore they cannot be accepted by an auditor or a court in many situations. Even if a witness can vouch for the legitimacy of a screenshot in court, the opposing counsel will almost certainly cast doubt on its veracity.
A single tweet may be recorded quickly, but a whole Twitter account may be tedious, annoying, and error-prone if done this way.
After capturing a screenshot of a tweet, you have the option to delete it. In the lack of specifics, you may have difficulty demonstrating that your version is the true one. Especially if the tweet has already been removed, how can you prove that your screenshot accurately shows what was on someone's account?
Screenshots can be manipulated and modified, and they don't contain the relevant metadata that is used to prove data authenticity.
For all these reasons, static screenshots are not the best way to archive Twitter account, at least not for legal or regulatory reasons.
Is the Twitter Archive Enough?
Twitter did introduce an "archive", a Twitter's own option where you can download all of your Tweets dating back to the beginning.
Here's how you can download your Twitter archive straight from Twitter:
While on Twitter, click "More" in the navigation bar on the left and then select "Settings and Privacy".
Select "Download an archive of your data".


Under "Download an archive of your data", enter your password and then select Confirm.
Click Send code to your email address and/or phone number on file to confirm your identification. You will be routed to the Account information page if you do not have an email address or phone number on file.
Enter the verification code that was supplied to your email or phone number.
Once you have verified your identification, select the Request data option.

Twitter will send an email to your associated email account or a push notification if you have the app loaded when your download is complete.
You may access your settings by clicking the Download data button under the Download data section.
Once you receive the email, log into your Twitter account and click Download to download a .zip file containing your archived Twitter data.
This view of the archive, however user-friendly it may be, suffers from a number of serious flaws.
Most importantly, the downloaded Twitter archive is not exactly an archive.
The Twitter account archive does not include deleted tweets and it's not possible to capture direct messages and comments.
In other words, Twitter's archive is more of a snapshot of all of the tweets that are still in your account.
An organization, especially one in a regulated industry, cannot rely on Twitter for compliant record retention. Records must be kept, even if the original communication is later deleted in order to comply with FOIA, FINRA, SEC, and other laws and regulations.
How to Archive Twitter Account for Compliance and Litigation
For organizations, archiving Twitter for legal and compliance reasons is critical. However, it's not as simple as downloading an archive and calling it a day.
There are legal requirements that dictate how information should be saved, and organizations may have to meet these requirements. In addition, the organization's IT and security team must understand how the information will be stored.
Ultimately, archiving Twitter for compliance purposes is a process that requires strategic planning.
To meet all these requirements, specialized, automated, third-party social media archiving solutions that archive Twitter posts in real-time are far superior.
Using a Twitter archiving software, you can:
Automate Twitter archiving and increase the efficiency of your compliance team
Backup your Tweets and retweets for easy access
Identify evidence of non-compliance and risk exposure and get alerts
Ensure reliable, defensible records for your communications
Make sure that the preserved content looks and feels exactly like the original and preserve the context
Access related metadata
Access deleted tweets can no longer be seen on the internet
Verify the integrity of data that has been maintained
Put an account on legal hold to guarantee that nothing important is removed from the archive
How Jatheon Can Help to Archive Twitter
Jatheon offers an automated, AWS-based social media archiving solution that eliminates all the hassle of archiving Twitter for legal and compliance purposes. Our social media archiving solutions are designed to safeguard Twitter records against deletion, modification and tampering.
Jatheon allows you to automate Twitter archiving, back up your Tweets and retweets, and identify evidence of non-compliance and risk exposure.
Jatheon's Twitter archiving solution can capture posts, quotes, retweets, replies, messages including text, audio and video content, as well as polls.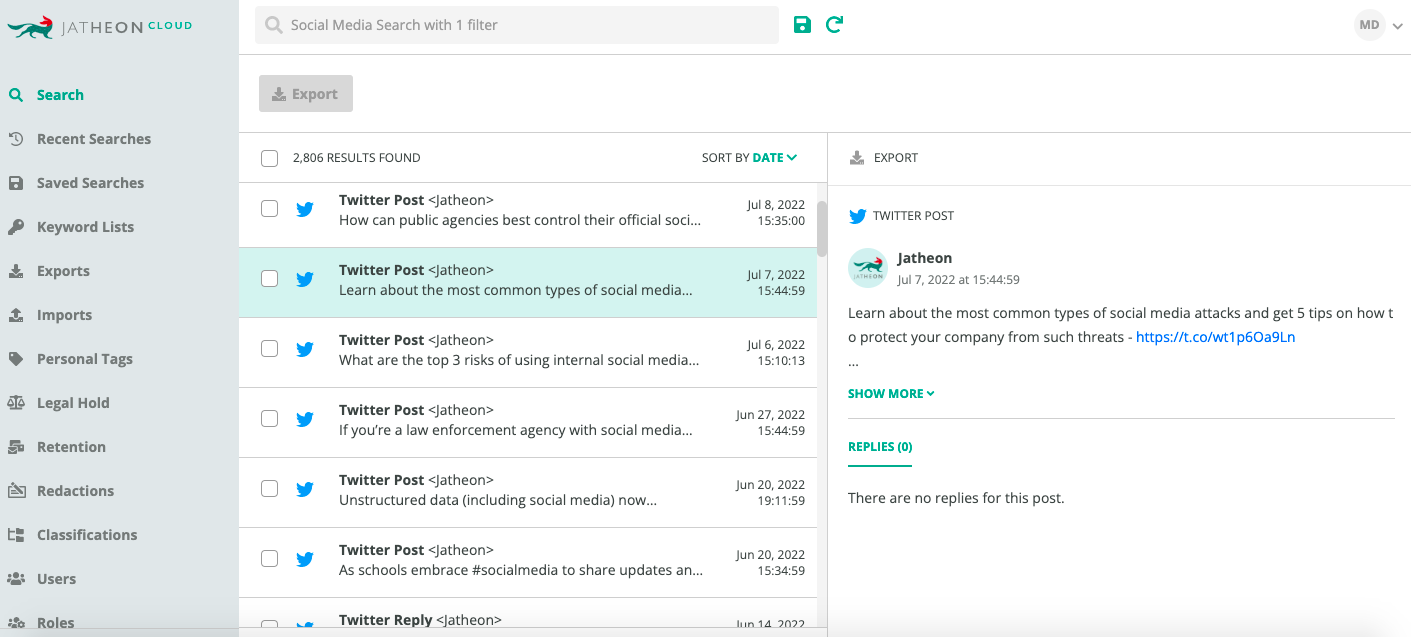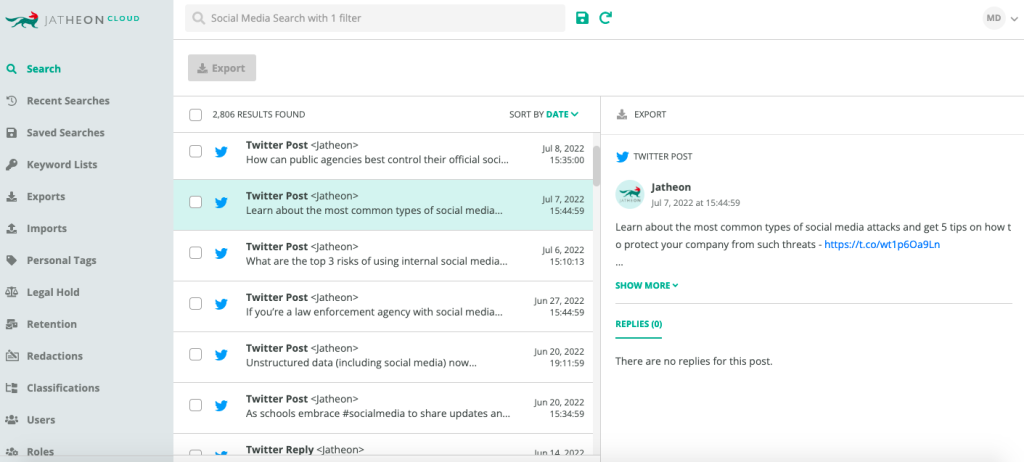 Deleted posts are captured as well, all with metadata and fully searchable using Advanced Search criteria and search operators.
Jatheon is compliant with SEC, FINRA, HIPAA, and other regulations, ensuring that your organization has reliable, defensible records for your communications and preserves context should you need to refer back to information in the future.
To learn how Jatheon can simplify your Twitter archiving process, contact us or book a demo today.