According to the Freedom of Information Act (FOIA), the public is allowed to make a request to access federal records and requires agencies to disclose it within up to 6 months or 8 weeks in case of simple requests.
This law aims to increase government transparency and keep citizens in the know about what their government is up to. Each US state has enacted similar, state-specific open data request laws, known as Sunshine Laws.
Simplify Records Management
To stay FOIA compliant, government agencies need to respond to these requests in a timely manner and produce the requested information.
However, given that federal organizations get hundreds of such requests every year, this isn't an easy task. These official business records include emails, text messages, social media content, calls, voicemails, video recordings and chat app correspondence. And that's a lot of channels and content to go through and produce in a format that's easy to go over.
There are several challenges that agencies have to overcome in order to comply with FOIA and provide the public with requested records:
ensuring transparency while simultaneously protecting sensitive information
storing records, many of which include electronic communication, without violating strict retention laws
searching through massive databases and retrieving the requested information within a relatively short time frame
producing records in accepted formats, often with sensitive information redacted.
Government agencies have been under a great deal of pressure to respond to growing public dissatisfaction over the secrecy that surrounds their decision-making and privacy concerns, and the FOIA was introduced as a response to that.
All this puts government employees in a tight spot since they have to respond to FOIA requests in a timely manner despite their hectic work schedules.
To help government agencies to stay on top of their work and facilitate responding to FOIA requests, Jatheon created an archiving solution that stores electronic records in compliance with the retention laws and regulations and allows for the archive to be searched quickly. This means that it's possible to easily locate and produce the requested content in a compliant manner.
How Jatheon Facilitates Responding to FOIA Requests
Jatheon's FOIA software comes with a wide range of features built to help government agencies to:
Simplify and automate record capturing, archiving, storage, and management
Jatheon centralizes the retention and archiving of electronic communications across different channels. In other words, all emails, text messages, calls, social media content, and chats will be captured and stored in a centralized archive in their original format. It's also important to emphasize that all these records can't be altered or destroyed accidentally or deliberately in any way, which ensures message integrity. All types of electronic communication records are indexed and properly labeled so that they can be easily searched and located within the archive at a later date.
Ensure top-notch security of electronic communications
Due to strict security laws and regulations that state and federal government agencies have to adhere to, the FOIA software they use has to come with enterprise-level security. Jatheon stores all the records in a cloud archive that's in line with the industry's top security standards. We offer 2FA, encryption, AWS-guaranteed security, 24/7 monitoring, and geofencing in order to keep the stored data safe and protected. By opting for Jatheon, government agencies will stay compliant with all major security regulations. On-premise and virtual solutions are also available to agencies that have the necessary IT infrastructure to support the setup.
Locate records quickly and effortlessly
Trying to locate a piece of information in terabytes of data is like looking for a needle in a haystack. Jatheon's FOIA software comes with robust but easy-to-use simple and advanced search capabilities. This simplifies the ediscovery process as it's possible to perform searches based on different criteria, including the name, email address, domain, participants in a conversation, keywords, phrases and tags. Also, Boolean, fuzzy, wildcard and proximity operators are used to refine the search and locate the relevant information.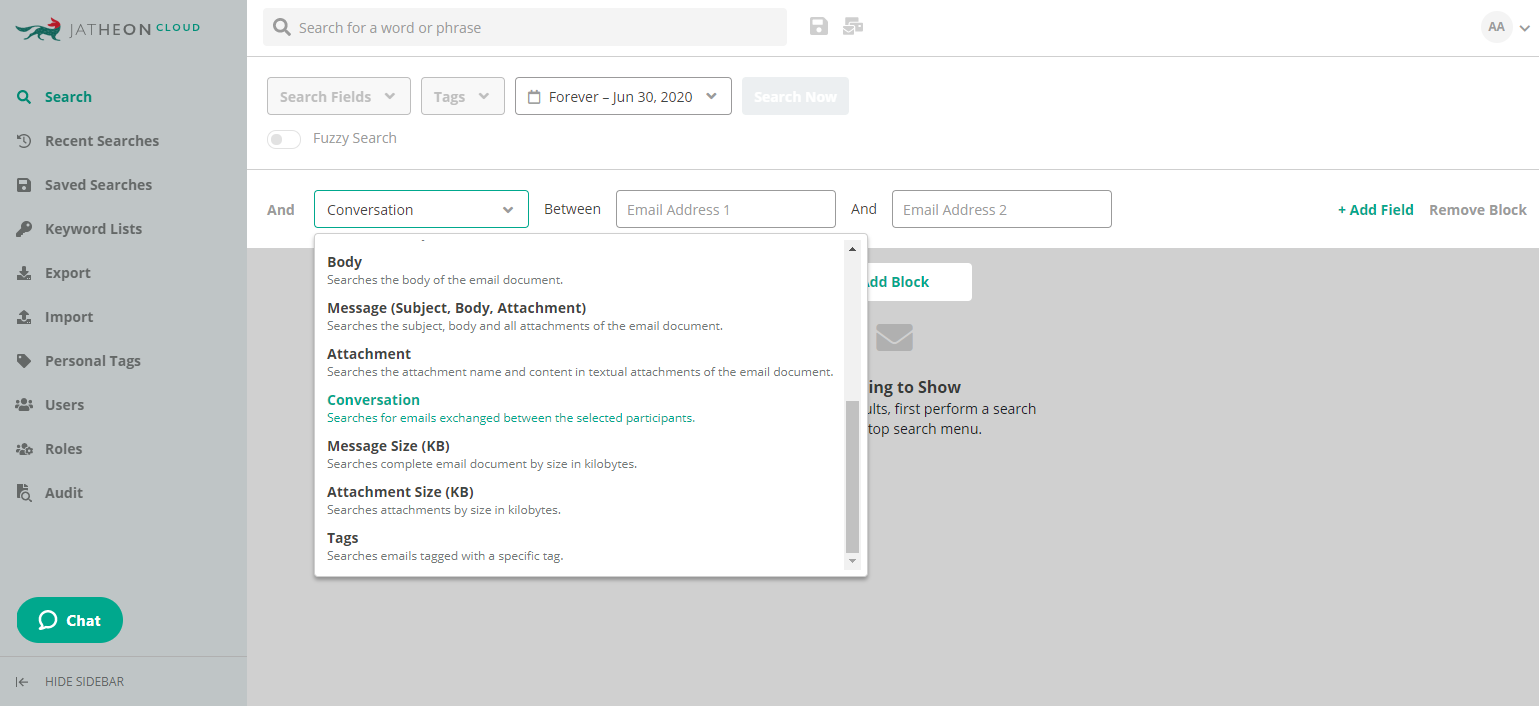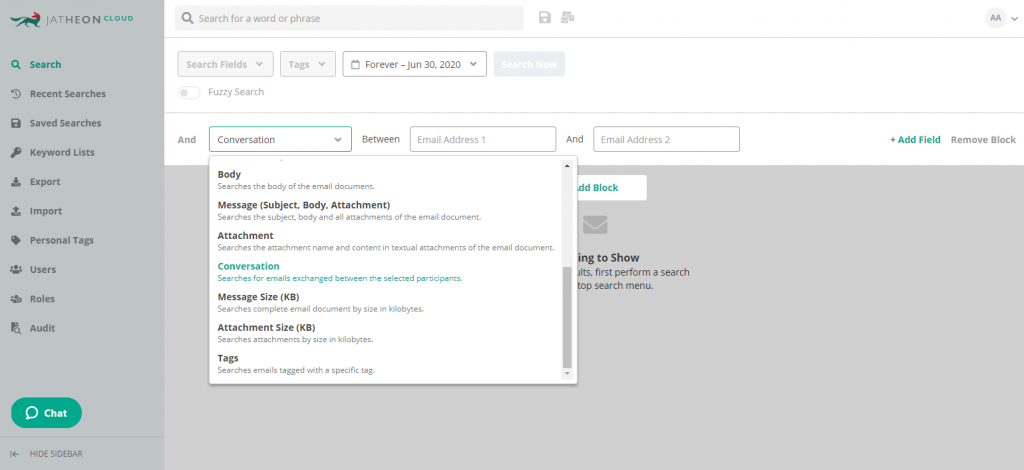 Conceal classified information
We've already mentioned that the public can have access to government records, but sensitive data has to be protected. That's why it's government agencies have to conceal sensitive and personal information such as names, social security numbers, credit card numbers, addresses, phone numbers, and anything else that can reveal someone's identity or be used to cause them personal or financial harm. The process of hiding such information is called redaction. Jatheon comes with an integrated redaction feature that automates the redaction process and can be used to redact messages individually or in bulk.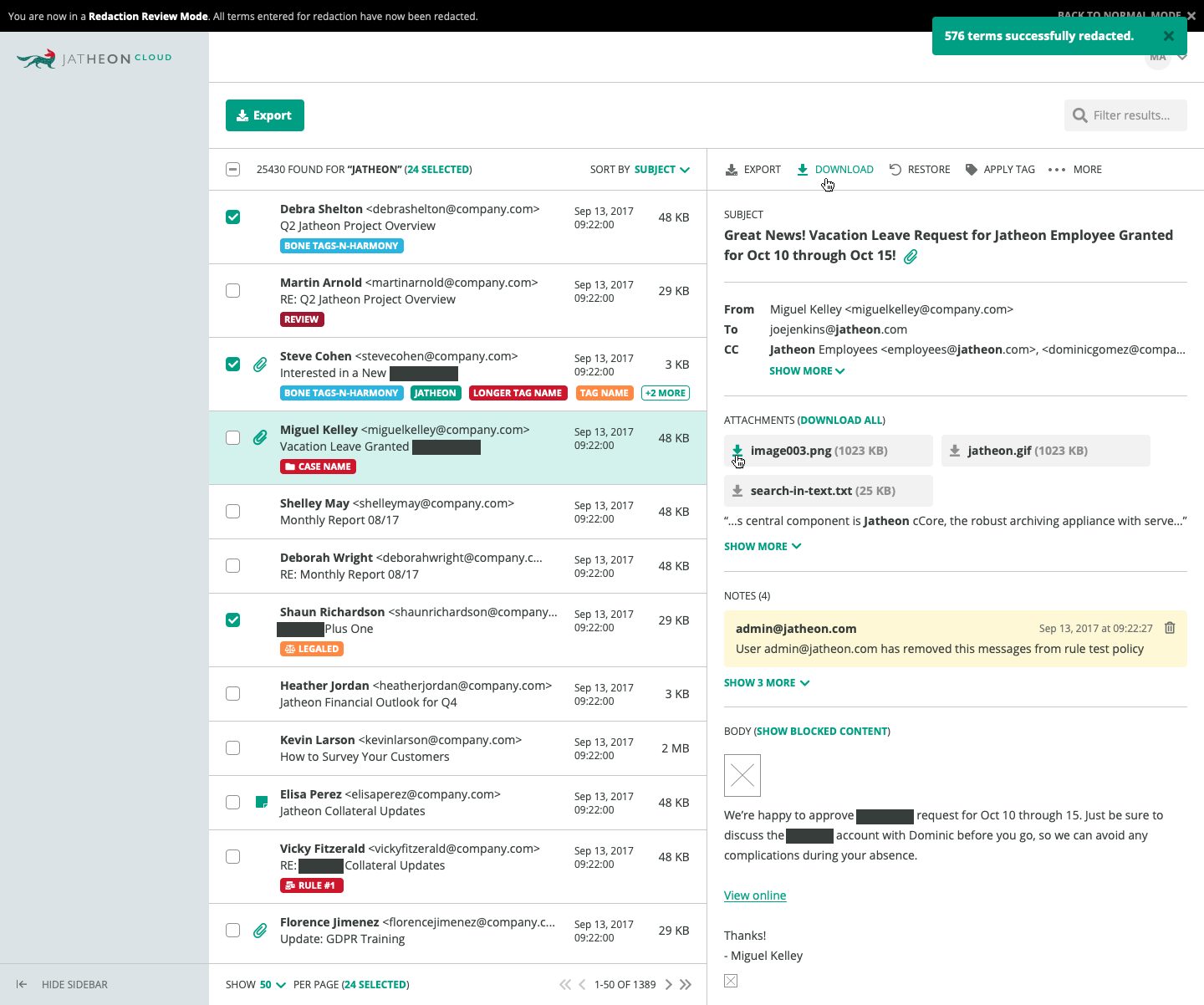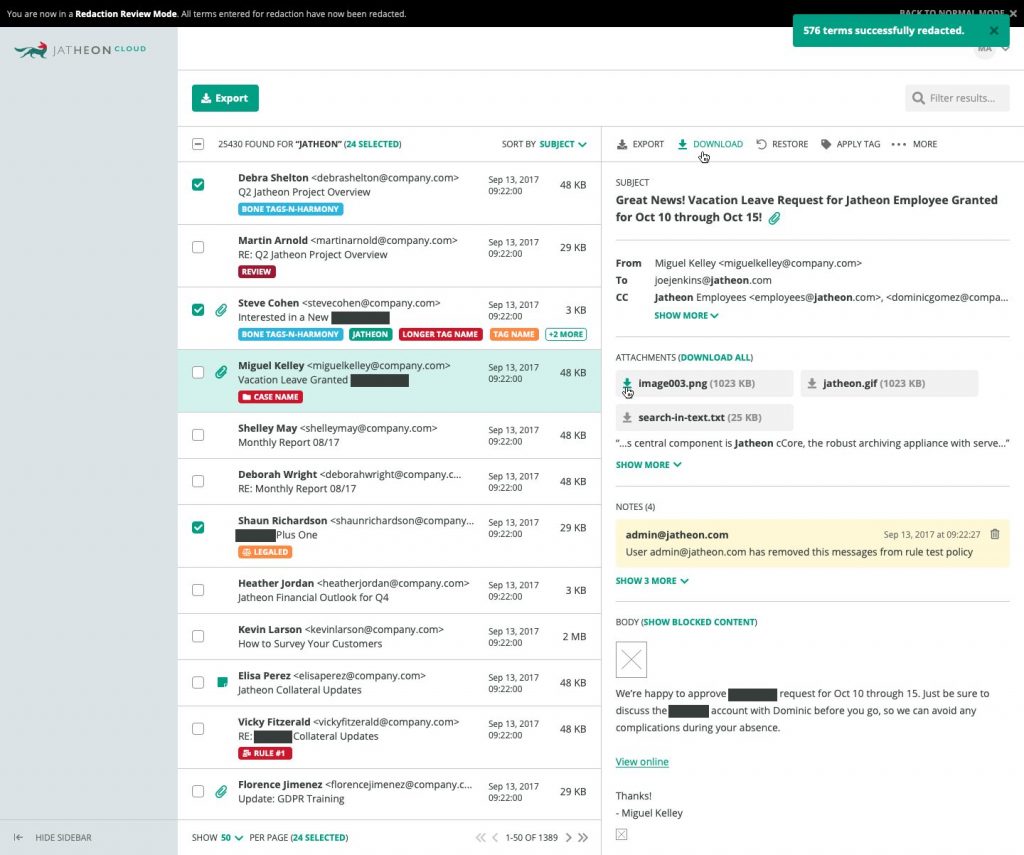 Prepare content for sharing
Before responding to FOIA requests and giving access to archived electronic records with the public, government employees have to prepare these documents for sharing. This refers to choosing a desired output file type, adding attachments, and sending exported records automatically via email.
Scale the archiving storage
Due to the massive volume of information that government agencies have to archive and store, they're always at risk of running out of storage space. Jatheon is an AWS-based archiving platform, meaning that it offers practically unlimited storage and scalability. Additional integrations such as simplified login or the ability to search the archive directly from Outlook make it easier to manage and search records.
Who We Work With
We serve both state and federal public sector agencies that have to comply with FOIA. That's why our FOIA software was built to support:
Educational institutions

(K-12 school districts and universities)

Facilitating communication with students, keeping electronic records across different channels, and staying compliant with FOIA, FERPA, FRCP, and other requirements. 

We also work with tech cooperatives like RICs and BOCES. 

Government agencies

Helping agencies to locate relevant data in massive volumes of information, retrieve it, stay FOIA compliant, and protect sensitive and classified information while handling FOIA requests. 

Healthcare organizations

Hospitals and other healthcare institutions handle a lot of confidential PHI and sensitive data, with no room for error. With our platform, healthcare organizations can make sure they're 100% HIPAA and HITECH compliant, prevent data breaches and boost their productivity. 

Financial sector

In this sector, key compliance requirements include FINA, SEC, and SOX, and Jatheon offers an archiving platform that matches all their requirements. Safety is of critical importance when it comes to storing financial records, and financial institutions that opt for Jatheon can rest assured that their sensitive data is protected. 
To learn more about how your organization can use Jatheon's FOIA management software to streamline the FOIA process, contact us or book a short demo of our system.