There are so many government agencies today that have a presence on social media platforms like Facebook, Twitter, and Instagram.
Social media platforms play an important role in communicating with the public and keeping citizens informed.
Although it seems like an unlikely match, government agencies and social media work well together, meaning that government accounts have a massive and very engaged following.
However, government agencies must be careful about what they post on social media as they have a huge influence on the public.
This is why having a proper social media strategy is key to experiencing all the benefits while complying with the law and positively influencing the public.
Key Benefits of Social Media in Government Agencies
There are many benefits to having social media profiles on different platforms and engaging the public.
Some of them include:
Building Trust
Let's face it, most if not all government agencies aren't too popular in the eyes of the public.
If they aren't talking directly to the public, that tells the public that they have something to hide which nobody likes.
Social media lets you show that governments are human and there for the people by posting about new initiatives, informing people, and representing your employees in the best light.
But, social media can also backfire and give you negative publicity if not used properly, meaning that the people responsible should stray away from controversy and focus on the good parts people want to see.
Public Engagement
There are many questions people want to ask different agencies, but most of them aren't on social media which acts as a one-way street.
Having an open channel like social media gives the public an opportunity to ask questions and for you to answer.
Some agencies even hold regular AMAs or campaigns to engage with the public.
This further develops a good reputation with the public.
Crisis Management
More and more people are turning to social media to seek information and they can come across tons of incorrect information that sparks panic.
Governments can utilize social media channels to identify and counteract these kinds of fake news preventing any kind of mass panic.
When a real crisis happens, governments can use social media to inform people about crises, and best practices for managing them which saves lives.
Educating
Regular people aren't invested too much into the workings of governments, new laws being passed and how they affect them, and how to avoid any legal suits.
It's in the government's interest to educate people about important topics that affect them.
Social media channels provide a quick way to reach massive groups of people and inform them about important topics.
Data Collection and Analysis
Social media provides you with a deeper look into what people care about, who they are, and how they react to certain situations.
There are many tools and techniques governments can utilize to identify emerging trends and tailor their approach to meet the public's needs.
How To Develop a Social Media Strategy
To properly gain all the benefits of social media and achieve your goals you will need to create a social media strategy focused on your government branch.
To create a social media strategy you will need to focus on 3 key aspects of social media.
Content Strategy
The key to building your reputation on social media is the content that you are posting and how much the public enjoys it.
Having a proper social media content strategy is key to providing relevant content to your audience.
Here's how to develop your strategy:
Identify Your Target Audience
Knowing who your target audience is and understanding their needs is critical for creating relevant content.
Your core audience will consist of your state's citizens, businesses, and stakeholders working with your agency.
There are 4 aspects you need to analyze to get to know your audience:
Demography – Analyze the age, gender, location, and relevant characteristics of the audience interacting with your agency.
Psychography – Delve into the interests, values, and behaviors of your audience. What are their concerns? What topics are they passionate about?
Audience Feedback – Conduct surveys through government social media and discussions to gain insights directly from your audience.
Competitor Analysis – Observer businesses interact with your core audience and analyze what kind of content they are using.
Once you gather this information you will have a clear picture of who your audience or audiences are and you can cater your content towards them.
Create Tailored Content for Each Channel
Your audience is utilizing plenty of social media channels like Facebook, Twitter, and Instagram… and you want to target every channel in a different way.
This doesn't mean you should use every channel and stretch yourself thin, focus on the most important ones.
To create a personalized strategy you should focus on:
Relevance – From the analysis you will know what interests, concerns, and needs your audience wants to be met. Speak directly to their aspirations.
Tone and Style – Adapt your tone and writing style to match the preferences of your audience. For some government agencies, a formal tone may be appropriate, while others can adopt a more conversational approach.
Content Types – Consider the type of content that resonates with your audience and what works on different social media. This can include articles, videos, polls…
Plan an Editorial Calendar
An editorial calendar is necessary for planning government social media campaigns.
It will allow you to prepare your content in advance and post consistently, which is essential for engaging your audience.
Use upcoming events such as reconstructions, elections, or anything relevant for your constituents to come up with themes and posts.
Even if there are some changes, you can adjust your content, but it's important to have a plan and a structure.
It's also a good idea to create a library of resources, such as images, videos, and links, that you can use during dry spells when nothing in particular happens.
Engagement and Communication Strategy
Just posting content on your social media isn't enough, you need to engage your audience and build a community around that content.
Especially when you start posting, people will want to engage and express their opinions.
This is why you need to address this aspect of social media presence.
Determine Your Voice
Your audience needs to feel like they are talking to a person when engaging with your agency and it's on you to develop this personality.
Identity and Tone – Establish the messaging you are going to use while engaging the audience. Are you going to be formal, conversational, casual… This identity needs to speak for your values (for example: Educational institutions can be casual, but Healthcare must be serious…).
Platform Consistency – Your identity has to be consistent on every platform, this is why having one or two people responsible for engagement is the best course of action.
Focusing on these two aspects will create a consistent persona audiences can trust and have a better connection with.
Create Communication Channels
The point of having a social media strategy isn't only to talk to but with your audience.
To do this you will need to establish contact points where your audience can engage in communication with you.
It's best to have two types of channels:
Ongoing – These communication channels are always open for your audience to talk with you and should mostly be reserved for questions about your agency. They are usually forms of social media chats.
Periodic – These channels are open for special occasions or at certain intervals and should be used when big news is being announced or for better publicity. They are usually in the form of live streams, AMAs, or contests.
Engagement Campaigns
As mentioned above, governments have big news to announce from time to time, or local events they are organizing and citizens need to know about them.
Turning these announcements into campaigns is a great way to get people involved and talk about your agency and event.
Start posting about events happening in your state, talk about charities in your city, and occasions that interest your audience.
Government Social Media Internal Policy
Every public sector organization and government must have an internal social media policy regulating how social media channels will be used and for which purposes.
Everything, including how to interact with the public and how to monitor this communication, should be addressed in this policy.
Establishing these rules allows agencies to adhere to public records requirements and provide guidelines for government employees on how to interact with the public on social media.
This internal policy outlines the following:
The person(s) in charge of administering the agency's social media channels.
Whether and how government employees can use their personal social media accounts to address and discuss government matters.
What kind of details can be disclosed and shared on social media channels?
Rules for commenting on social media on behalf of the government agency.
What happens if someone violates or doesn't comply with the internal government social media policy?
Once the government social media policy is created all employees need to be trained on how to utilize social media and what the policy states.
Creating an internal policy is the first step to staying compliant with data archiving laws.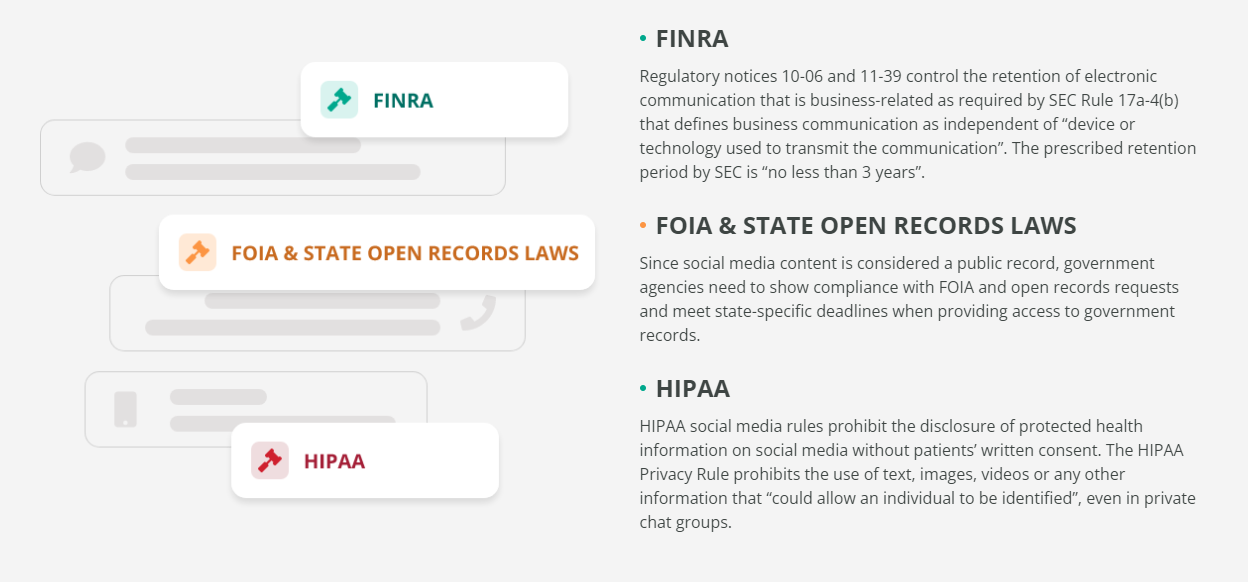 Aside from creating an internal policy, archiving your social media communication is a mandatory part of any government social media strategy.
Archiving Government Social Media Content
As you might already know, social media content is considered a public record meaning that it must never be deleted, instead it needs to be captured and archived.
Even though social media platforms keep the content on their servers, you can't be sure that your content, images, and comments won't be lost.
These platforms usually don't retain data for enough time for you to comply and this data can be deleted due to corruption, bugs, and crashes.
Moreover, if you are requested to provide these records you aren't able to find them as they aren't in your database, or even worse, if you find them, their content might have been edited.
All of these reasons:
Not keeping data for a specified period of time,
Not being able to answer public record requests,
Tampered, edited, or deleted data,
Can lead to your agency being uncompliant with federal and state data retention laws.
That's why it's recommended to use a social media archiving tool like Jatheon, as it comes with features specifically designed to keep you compliant.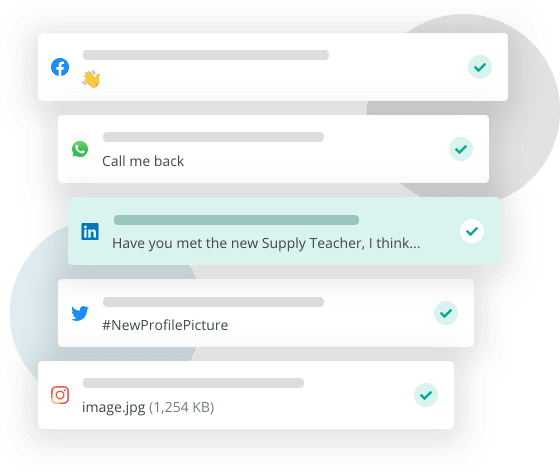 Some of these features include:
Automated social media data capture and archiving (posts, comments, messages) for all major social media.
Customizable social media record retention policies and legal holds.
Advanced search and ediscovery features, allowing for quick and precise record search.
Preservation of the original record format, meaning there's no way to edit or delete them.
Conclusion
Having a social media strategy for your government agency is a great way to engage with the public and develop a better reputation.
There are many aspects you need to consider when developing this strategy, from content and engagement, all the way to safety and compliance.
With social media channels growing more and more every day, it's a no-brainer that governments must be present on channels everyone is using.
Stay compliant with social media compliance laws with Jatheon's archiving solution. Capture data automatically, easily find posts, comments, and chats, and manage your social media data with ease.