The Covid19 pandemic has not only brought the world to a halt but also introduced social distancing measures that sent people working from home and almost eradicated in-person business communication.
Luckily, video conferencing technology is the next best thing to live meetings and events as it helps us stay connected and allows remote teams to communicate and collaborate as if they were in the same room.
Video conferencing systems enable face-to-face interactions among people from different parts of the world and make it possible to run all kinds of virtual events including meetings, presentations, and conferences. But unlike other channels of communication like messaging platforms or Slack, video conferencing tools are much more engaging.
There are numerous video conferencing solutions on the market, and in this article, we'll make a side-by-side comparison between Microsoft Teams vs. Zoom to help you pick the platform that's best for your company.
Microsoft Teams
Microsoft Teams (Teams for short) is a cloud-based communication and collaboration platform that's part of Microsoft 365. Although we'll focus on its video conferencing feature, Teams offers a wide variety of different capabilities such as chat and voice messaging functionality and allows sharing, editing, and working on documents in real time.
As Teams seamlessly integrates with other Microsoft suite apps, including Word, PowerPoint, Excel, and OneNote, the collaboration between team members is streamlined. Teams was built to be Slack's competitor and it has amassed 145 million active users since its launch in 2017 (April 2021 data).
Zoom
Zoom is an all-around cloud-based video communication platform that includes teleconferencing, chat, phone, webinars, and more. The Zoom App Marketplace allows users to integrate different applications thus adding extra features and functionality to the platform. Some of them are Calendly, Google Workspace, Slack, MailChimp, and even Microsoft Teams. Zoom's popularity exploded in 2020, as the number of daily meeting participants exceeded 300 million in April of that year. Its customer base grew by 470.33% in 2020 only. In mid-2021, Zoom had 504,900 active customers.
So, which is better – Microsoft Teams or Zoom?
When it comes to popularity, Zoom seems to be the clear winner, with 36% of US organizations using it in 2020. On the other hand, PCMag writes that 93 of the Fortune 100 opted for Teams, as well as 650 other enterprises with 10K+ users. It's obvious that both platforms have their loyal supporters. But if you're still not sure which one to embrace, here's a direct side-by-side comparison of features and pricing plans.
Microsoft Teams vs. Zoom: Side-by-Side Comparison
Microsoft Teams
Zoom
Pricing plans

From free to $20 per user per month 

From free to $35 per user per month 

Participant limit

Up to 10,000

Up to 500 depending on the plan 

Video quality 

HD 1080p at 30fps by default

HD 720p by default, but it's possible to enable 1080p manually 

Apps

Mobile and desktop app for Mac, PC and Linux

Mobile and desktop app for Mac, PC and Linux

Core conferencing features

Audio and video conferencing 

Chat function 

Online video calls and screen sharing 

Real-time document sharing and editing 

Integration with the entire 365 toolstack 

Audio and video conferencing 

Chat function 

Online video calls and screen sharing 

Document sharing

Third-party integrations available through the Zoom App Marketplace

Customer support

No customer support for free version

Paid plans offer 24/7 online and phone support 

FastTrack assistance available for Enterprise customers with 150+ licenses 

Free version comes with 24/7 online support 

Paid plans offer phone support too 

Enterprise customers get a dedicated Customer Success Manager 

Security 

End-to-end encryption of data in transit and at rest

Two-factor authentication 

HIPAA, GDPR, FedRAMP, SOC, and FERPA compliance

AES-256 encryption is used for shared content 

256-bit encryption is used for communication 

End-to-end encryption can be enabled 

Extra features such as passcode-protected meetings, screenshot watermark, and audio signatures
Microsoft Teams vs. Zoom: Detailed Comparison
Pricing Plans
Microsoft Teams offers four pricing plans. The most basic plan is free, and it offers unlimited group meetings for up to 60 minutes and up to 100 participants. In addition to that, each free user gets 5 GB of cloud storage space, unlimited chat with co-workers and customers, file sharing, collaboration, and data encryption.
Companies that need additional productivity and collaboration apps, as well as more capacity, storage, and minutes, can choose:
Microsoft Teams Essentials for $4 per user per month, and get up to 30 hours of unlimited meetings, for up to 300 participants, and 10 GB of storage space;
Microsoft 365 Business Basic for $5 per user per month, and upgrade to team meetings recordings with transcripts, business-class email, up to 1 TB of storage space per user, and both email and phone support at any time;
Microsoft 365 Business Standard for $12.50 per user per month and get webinar hosting, attendee registration and reporting, and desktop versions of Office apps plus premium features;
Microsoft 365 Business Premium for $20 per user per month, and get all that comes in the 365 Business Standard plan plus advanced security, cyberthreat protection, and access and data control.
Zoom offers several different pricing plans, depending on whether you want Meetings, Phone, Events & Webinar, Rooms, or Unified.
For example, if you're interested in Zoom Meetings for personal use then, you can opt for the Basic Plan, which is free. This plan allows for up to 100 participants in unlimited 40-minute group meetings, unlimited 1-to-1 meetings, as well as private and group chat functionality. Business plans include:
Zoom Pro for small teams for $149.90 per year per license. This plan allows up to 100 participants in unlimited group meetings, but with a Large Meetings add-on, you can host even up to 1,000 participants. You also get 1 GB of storage space per license.
Zoom Business for small businesses for $199.90 per year per license and allows you to host up to 300 participants. There's also a Large Meeting add-on available, as well as, recording transcripts, managed domains, and branding.
Large-Enterprise Ready for $240 per year per license. In addition to everything available in the Business Plan, this plan allows for up to 500 participants, unlimited storage, and recording transcripts.
Zoom United starts at $300 per user per year and offers phone and meetings features.
User Interface
Teams boasts numerous video conferencing, chat, productivity, and collaboration features and functionalities. That's one of the biggest reasons for its popularity. But, this abundance has a downside – Teams squeezed all these features into a single dashboard, making it difficult to navigate. Although it's useful to have all the tools you need in one place, new users can find the dashboard too complex and unintuitive.
So, if Teams is your pick, it's best to help your team familiarize themselves with the platform and learn how to make the most of its user interface.
Zoom may not have as many features and integrations, but its interface is user-friendly and intuitive. This means that you can set it up quickly and that your team won't need extensive training in order to start using it.
Video Quality
Both Microsoft Teams and Zoom with full HD 1080p video resolution and support a frame rate of 30fps. These specs mean that the two platforms are tied when it comes to video quality. However, Zoom comes with 720p by default, and if you want full HD video conferencing, you have to set it manually.
Also, bear in mind that according to bandwidth requirements for using Teams, you need a 2Mbps internet connection, and in case you opt for Zoom, you should have 3Mbps.
Conferencing Features
When we're talking about features, Microsoft Teams and Zoom overlap to a great extent. Both platforms feature video conferencing, chats, phone functionality, screen/desktop sharing, and collaboration tools. Microsoft moved the needle by integrating their 365 Suite toolstack. On the other hand, Zoom compensates for this lack through integrations and extensions found on its App Marketplace.
Customer Support
Microsoft Teams users who opt for a free plan can't count on Microsoft's customer support. However, all paid plans come with 24/7 phone and online support. Besides that, Microsoft 365 Business Basic and Standard plans provide a 99.9% financially backed uptime guarantee.
Customer tenants with 150+ licenses are eligible for the FastTrack deployment assistance.
In contrast, online support is available 24/7 to free Zoom users, paid plans secure phone support, while Enterprise users get a dedicated Customer Success Manager.
Both Microsoft Teams and Zoom provide comprehensive product documentation and customer onboarding that includes videos, online webinars, and help resources for free.
Teams vs. Zoom – Security
Microsoft is known for its top-notch security, so we have an obvious winner in this category. Teams leverages two-factor authentication across teams and the entire organization, single sign-on through Active Directory, and end-to-end encryption of data in transit and at rest.
Microsoft's Reports hub and official Teams security and compliance overview allow end-users to learn more about the company's privacy policies and user data management. This level of transparency can be crucial in terms of compliance for certain industries. The company's press release says that Teams is compliant with the following regulations: HIPAA, GDPR, FedRAMP, SOC, and FERPA.
As for Zoom, the platform provides AES-256 encryption, and TLS while users can also enable end-to-end encryption. Meeting hosts have numerous security options they can take advantage of, such as waiting rooms for attendees, audio signatures, screenshot watermarks, and the protection of meetings with passcodes. Zoom collects only basic user information such as their email address, physical address, phone number, user password, job title, first and last name, and company name.
Although Zoom insists on taking security very seriously, there were security breaches in the past, while the company's privacy and encryption policies aren't transparent. In most cases, Zoom is safe to use, but if you plan to talk about sensitive topics on your calls, it's a good idea to give it careful consideration and weigh your options.
Stay Compliant with Jatheon
Hopefully, this side-to-side Microsoft Teams vs. Zoom comparison helps you decide which of the two options best suits your needs.
As video conferencing has become an indispensable part of the contemporary workplace, it's important to stay ahead of the curve when it comes to compliance and archiving of electronic communications records.
Jatheon is a powerful email, social media, text, IM and Microsoft Teams archiving solution that will help you securely retain, store, and organize your sensitive business information exchanged on Teams in a compliant way. Jatheon's solutions facilitate the ediscovery and FOIA management process and assist in HR disputes and litigation.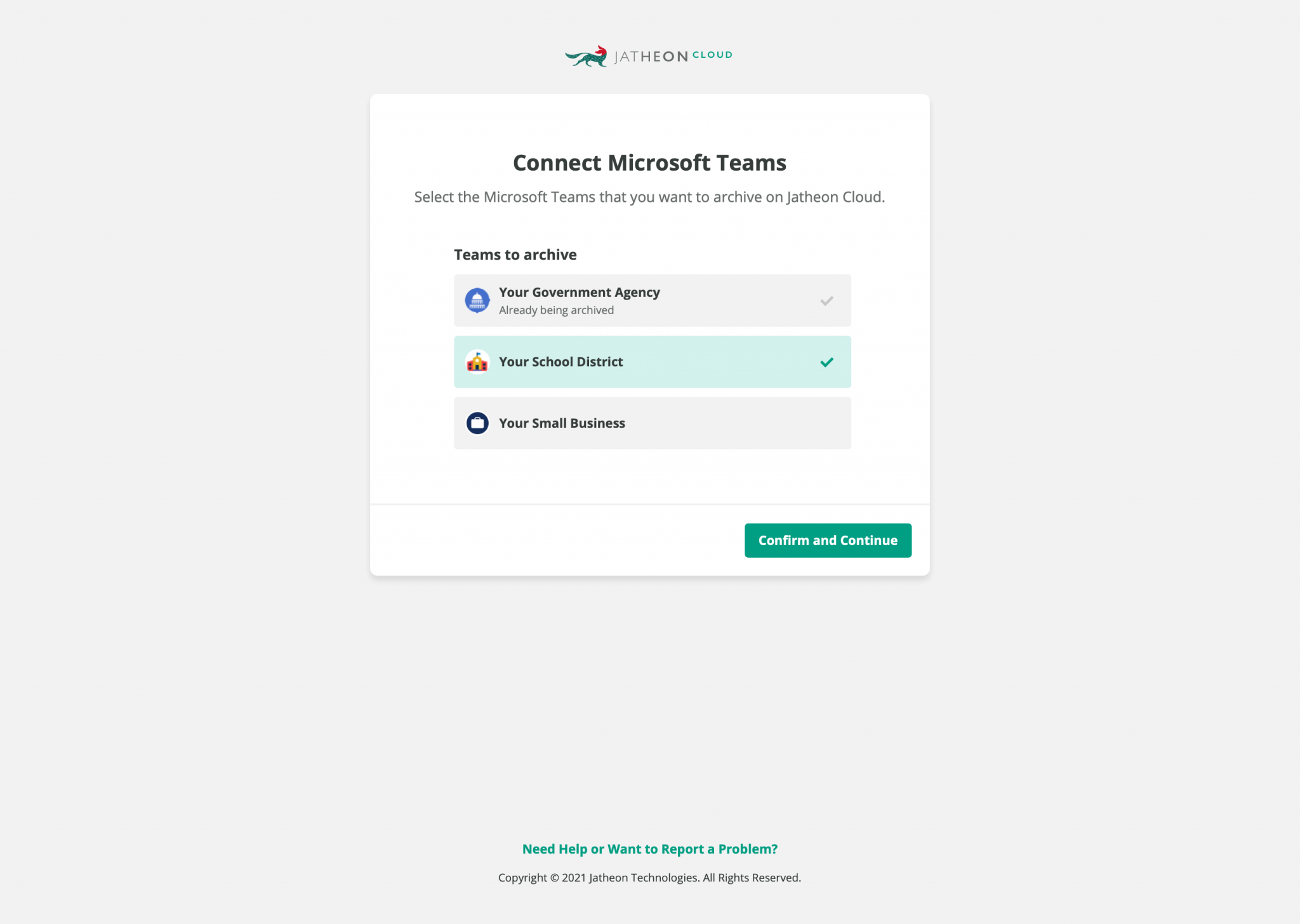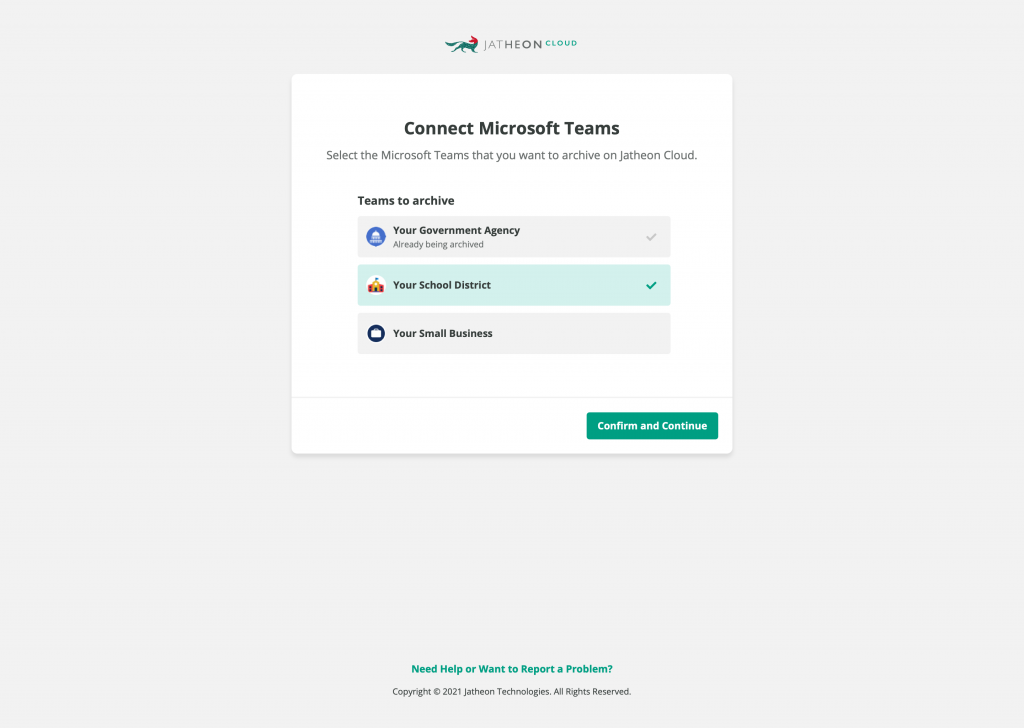 This means you'll be able to save your chat and conference transcripts and shared documents and prevent them from being altered and deleted in any way so that they can be used as evidence in potential litigation. Finally, it allows you to customize and automate your retention policies to stay compliant with the regulations in your industry.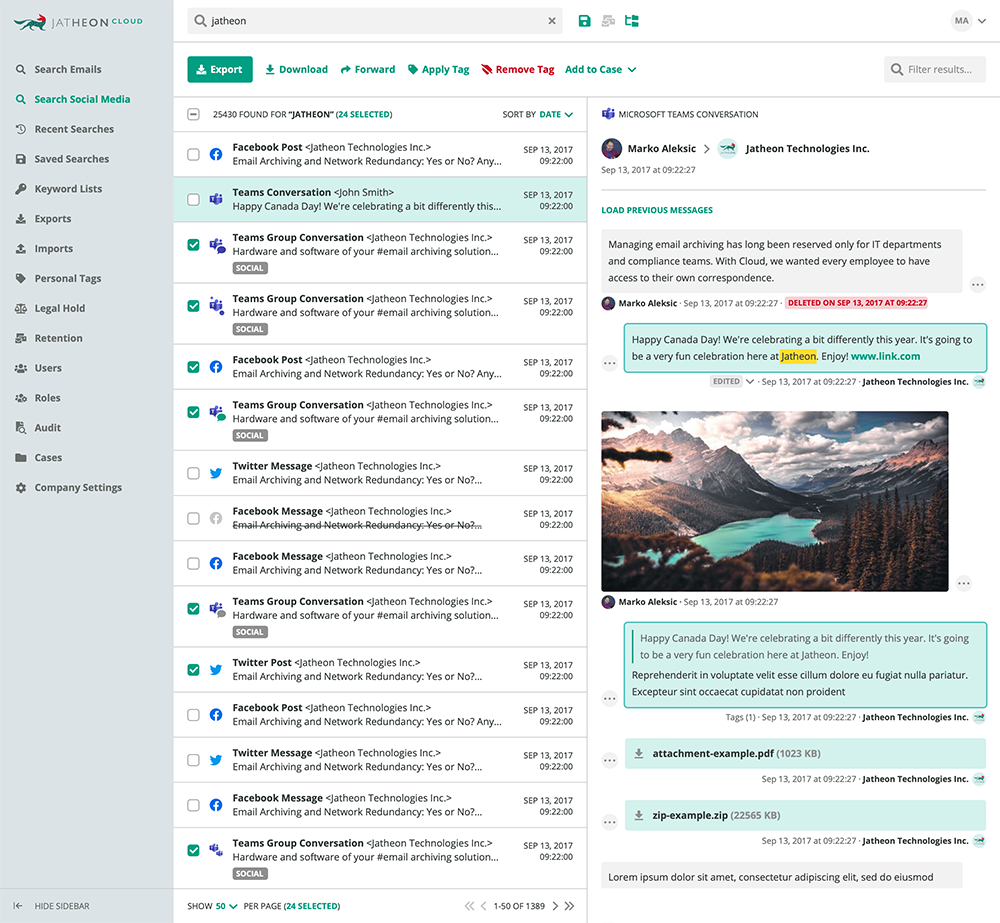 To learn more how you can use Microsoft Teams compliantly with Jatheon archiving, get in touch with our team of experts or book a no-commitment demo.