With the modern approach to how businesses operate, working from home has become a new standard, especially after the COVID-19 pandemic.
With it came new challenges in how teams communicate with each other and gather on important meetings.
To solve this, businesses started to implement video conferencing technology to help their teams stay connected and allow collaboration in the remote environment.
Video conferencing systems enable face-to-face interactions among people from different parts of the world and make it possible to run all kinds of virtual events including meetings, presentations, and conferences.
The two most used video conferencing tools today are Microsoft Teams and Zoom, enabling thousands of teams to work efficiently around the globe.
What's inside:
A side-by-side comparison of Microsoft Teams vs. Zoom
Pricing plans for Teams and Zoom
Detailed feature comparison: user interface, video quality, conferencing features, and security
Let's get started.
Microsoft Teams

Microsoft Teams (Teams for short) is a cloud-based video communication and collaboration platform that's part of the Microsoft 365 suite.
Teams offers a wide variety of tools like chat and voice messaging, creation of multiple communication channels, sharing, editing, and collaborating on documents.
It seamlessly integrates with other Microsoft apps, including Word, PowerPoint, Excel, and OneNote, but the main reason you might be considering Teams is its video meeting feature.
Microsoft Teams supports up to 300 video meeting attendees and virtual events with up to 10,000 users with a complete toolset for video conferencing like screen sharing, virtual backgrounds, and whiteboards.
Meetings can be scheduled and Teams offers its integrated calendar, keeping you organized with all the calls you might have.
It has great video and sound quality without consuming huge amounts of data for call participants.
Overall, Microsoft Teams is a great tool for any organization looking to collaborate through online meetings and events by being an all-in-one tool.
Zoom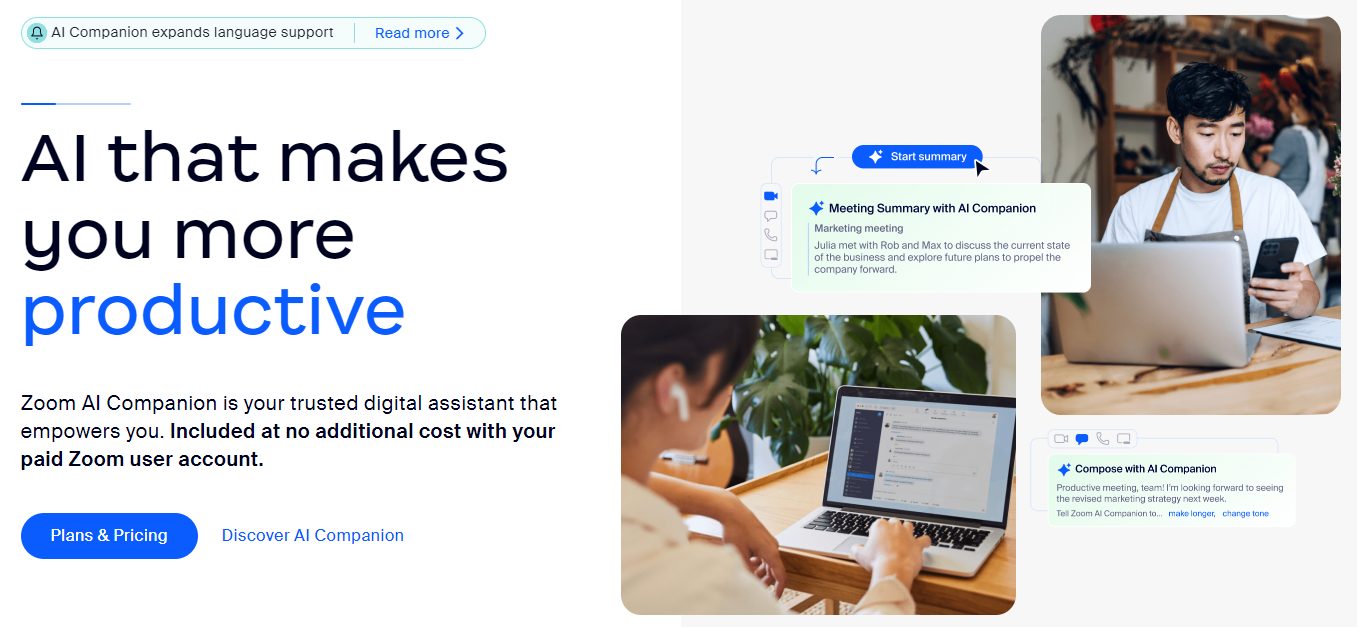 Zoom is a cloud-based video communication platform that allows companies and teams to stay connected with each other via video conferencing features.
Zoom offers a variety of features allowing for online meetings, teleconferencing, chatting, webinars, online vents, and more.
With the Zoom Marketplace (Zoom's platform for discovering and integrating with third-party apps), users can easily integrate into many different applications businesses are using, adding extra features and functionalities to the platform. Most notably Calendly, Google Workspaces, Slack, and even Microsoft Teams.
After its massive popularity boom in 2020, when its daily meeting participants exceeded 300 million in April of that year, and its customer base grew by 470.33% in 2020 alone, it's safe to say that Zoom is a great choice for any business.
So, which is better – Microsoft Teams or Zoom?
When it comes to their popularity, both Zoom and Microsoft Teams are widely used video conferencing tools with Zoom having 300 Million daily active users, while Microsoft Teams has 280 Million daily active users.
With the numbers being so close, it's difficult to say which platform is better, as they're very similar in what they allow you to do, but they also have clear differences.
Let's go over both tools side by side and find the right fit for your business.
Microsoft Teams vs. Zoom: Side-by-Side Comparison
Microsoft Teams
Zoom
Pricing plans

From free up to $20/user per month

From free to $20/user per month

Participant limit

Up to 10,000 for the highest plan.

Up to 1000 for the highest plan.

Video quality 

HD 1080p at 30fps by default

HD 720p by default, or 1080p if enabled manually, both at 30fps

Platforms

Windows, Mac, Linux, iOS, Android

Windows, Mac, Linux, iOS, Android

Core features

Audio and video conferencing 

Chat function 

Online video calls and screen sharing 

Real-time document sharing and editing 

Integration with the Office 365 suite

Transcription

Audio and video conferencing 

Chat function 

Online video calls and screen sharing 

Document sharing

Third-party integrations through the Zoom App Marketplace

Transcription

Customer support

No customer support for the free version

Paid plans offer 24/7 online and phone support 

FastTrack assistance available for Enterprise customers with 150+ licenses 

The free version comes with 24/7 online support

Paid plans offer phone support too 

Enterprise customers get a dedicated Customer Success Manager 

Security 

End-to-end encryption of data in transit and at rest

Two-factor authentication 

HIPAA, GDPR, FedRAMP, SOC, and FERPA compliance

AES-256 encryption is used for shared content 

256-bit encryption is used for communication 

End-to-end encryption can be enabled 

Extra features such as passcode-protected meetings, screenshot watermark, and audio signatures
Microsoft Teams vs. Zoom: Detailed Comparison
Pricing Plans
Microsoft Teams offers four pricing plans for business, while also offering generous plans and features for personal use.
When it comes to business plans, Teams starts with their free plan offering unlimited group meetings for up to 100 participants and 60 minutes of length. In addition to that, each free user gets 5 GB of cloud storage space, unlimited chat with co-workers and customers, file sharing, collaboration, and data encryption.
Companies that need additional productivity and collaboration apps, as well as more capacity, storage, and minutes, can choose between:
Microsoft Teams Essentials for $4/user per month, and get up to 30 hours of unlimited meetings, for up to 300 participants, 10 GB of storage space, and additional meeting and support features;
Microsoft 365 Business Basic for $6/user per month includes all the features of the previous Teams Essentials plan along with recording transcriptions, business-class email, 1 TB of storage per user, and web and mobile versions of Microsoft 365 apps;
Microsoft 365 Business Standard for $12.50/user per month and get webinar hosting, attendee registration and reporting, and desktop versions of Office apps plus premium features along with all the features of previous plans;
Microsoft 365 Business Premium for $22/user per month, and get all that comes in the 365 Business Standard plan plus advanced security, cyberthreat protection, and access and data control.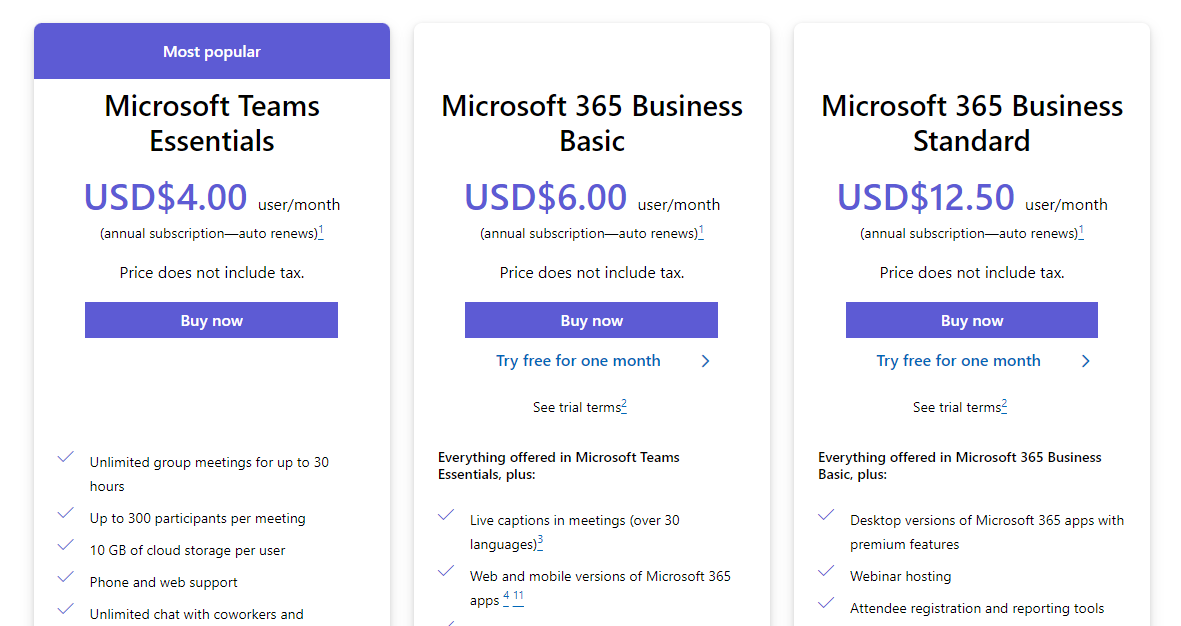 Zoom offers several different pricing plans, depending on whether you want Meetings, Phone, Events & Webinars, Rooms, or Unified.
For example, if you're interested in Zoom Meetings for personal use then, you can opt for the Basic Plan, which is free. This plan allows for up to 100 participants in unlimited 40-minute group meetings, unlimited 1-to-1 meetings, as well as private and group chat functionality.
But if you are looking to use Zoom for business purposes, then you might want to consider a different plan:
Zoom Pro meant for small teams for $139.90/user per year. This plan allows up to 100 participants in unlimited group meetings, but with a Large Meetings add-on, you can host even up to 1,000 participants. You also get 5 GB of storage space, whiteboards, mail & calendar, and team chats.
Zoom Business is meant for medium businesses for $189.90/user per year and allows you to host up to 300 participants along with 5 GB of storage. There's also a Large Meeting add-on available, as well as, recording transcripts, managed domains, and branding.
Business Plus for $250/user per year. In addition to everything available in the Business Plan, this plan comes with 10 GB of cloud storage, workspace reservations, and translated captions.
Zoom Enterprise is a custom plan meant for large companies offering all previous features with up to 1,000 meeting attendees, unlimited cloud storage, and rooms & webinars.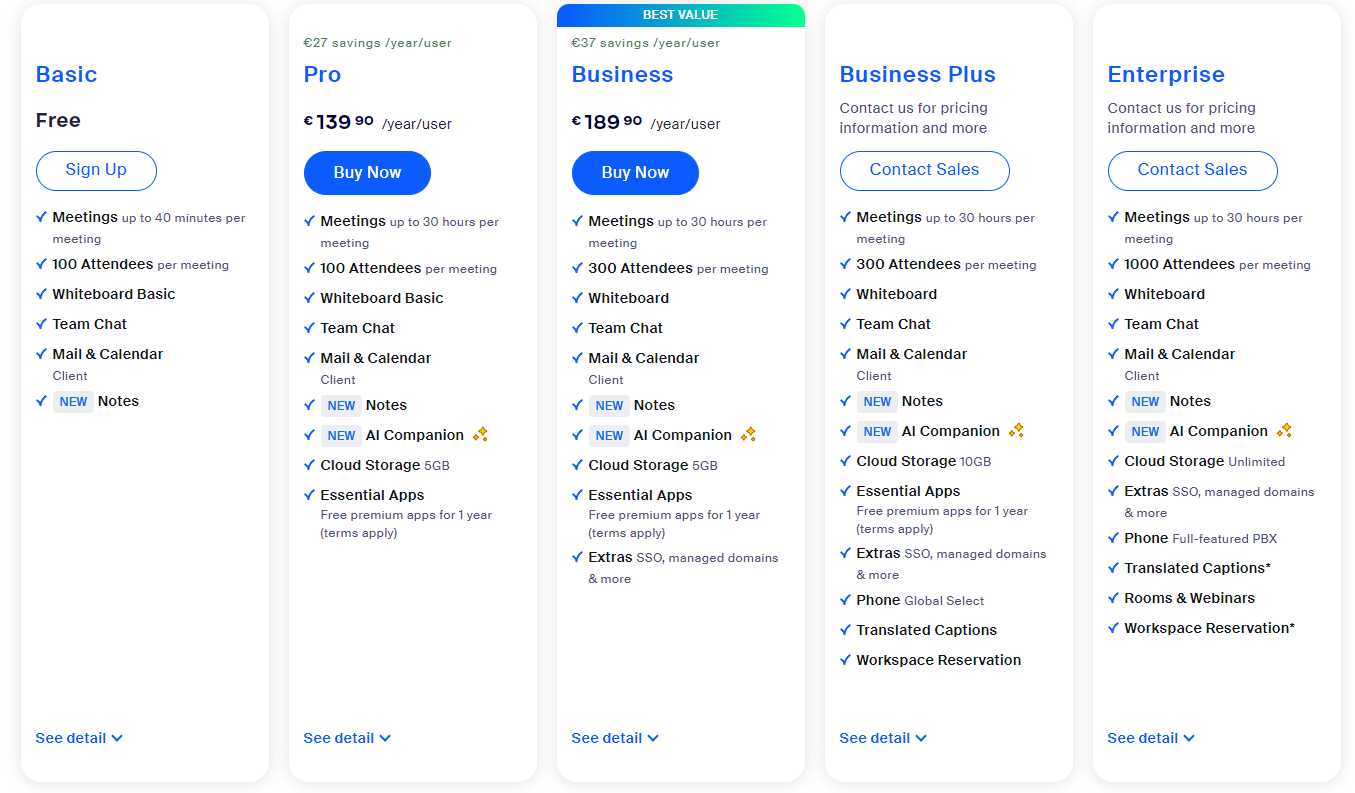 User Interface
Microsoft Teams is a robust platform offering video conferencing, and chats, along with productivity and collaboration features.
The fact that it offers so many tools in one platform is why it's so popular, but this abundance has a downside — Teams squeezes all of its features into a single dashboard.
This makes Tems very hard to navigate, especially if all you're looking for is video meetings and conferencing.
So, if Teams is your pick, it's best to help your team get to know the platform and learn how to make the most of its user interface.
Zoom is a very specialized tool and doesn't have as many features and integrations as Teams. It focuses solely on video meetings and conference calls.
This fact makes its user interface very easy and intuitive to use from the get-go meaning there's no need to provide your team with extensive training on how to use it.
Video Quality
Both Microsoft Teams and Zoom are equipped to provide users with full HD 1080p video resolution and support a 30 fps frame rate.
These specs mean that the two platforms are tied when it comes to video quality.
However, Zoom comes with 720p by default, and if you want full HD video conferencing, you have to set it manually. It's not hard to switch it to 1080p and can be useful if some meetings don't require high resolutions.
Also, bear in mind that according to bandwidth requirements for using Teams, you need a 2Mbps internet connection, and in case you opt for Zoom, you should have 3Mbps.
Conferencing Features
When we're talking about features, Microsoft Teams and Zoom overlap to a great extent.
Both platforms feature video conferencing, chats, phone functionality, screen sharing, transcriptions, and space for 100s of attendees.
There's not a huge difference in their conferencing features, but keep in mind that Microsoft Teams offers its Office 365 Suite tool stack on top of its video conferencing features.
Zoom on the other hand compensates for this lack through integrations and extensions found on its App Marketplace.
In the end, it does depend on what you are looking for, a purely video meeting and conferencing tool or an all-around collaborative environment with video features.
Customer Support
Microsoft Teams users who opt for a free plan can't count on Microsoft's customer support. However, all paid plans come with 24/7 phone and online support. Besides that, Microsoft 365 Business Basic and Standard plans provide a 99.9% financially backed uptime guarantee.
Customer tenants with 150+ licenses are eligible for the FastTrack deployment assistance.
In contrast, online support is available 24/7 to free Zoom users, paid plans secure phone support, while Enterprise users get a dedicated Customer Success Manager.
Both Microsoft Teams and Zoom provide comprehensive product documentation and customer onboarding that includes videos, online webinars, and help resources for free.
Teams vs. Zoom – Security
Microsoft is well known for its top-notch security across all of its products and services and Teams is no exception.
Teams leverages two-factor authentication across the entire organization, sign-on through Active Directory, and end-to-end encryption of data in transit and rest.
Microsoft's Reports hub and official Teams security and compliance overview allow end-users to learn more about the company's privacy policies and user data management. This level of transparency can be crucial in terms of compliance for certain industries.
The company's press release says that Teams is compliant with the following regulations: HIPAA, GDPR, FedRAMP, SOC, and FERPA.
As for Zoom, the platform provides AES-256 encryption, and TLS while users can also enable end-to-end encryption. Meeting hosts have numerous security options they can take advantage of, such as waiting rooms for attendees, audio signatures, screenshot watermarks, and the protection of meetings with passcodes. Zoom collects only basic user information such as their email address, physical address, phone number, user password, job title, first and last name, and company name.
Although Zoom insists on taking security very seriously, there have been security breaches in the past, but in recent years, Zoom is very safe to use.
Still, if you plan to talk about sensitive topics on your calls, it's a good idea to give it careful consideration and weigh your options.
Now that you understand both Zoom and Microsoft Teams pros and cons, how do you keep your business compliant while using these tools?
Stay Compliant with Jatheon
With video meetings and conferencing becoming an indispensable part of the modern work environment, it's important to understand how they affect your business compliance.
If you're using Microsoft Teams or Zoom, you're affected by electronic communication compliance laws like with any other digital communication medium (email, social media, texts…).
This means that you must archive all of your communications records no matter the platform you are using.
If you decide to use Microsoft Teams, then Jatheon is your go-to solution for communication archiving.
Jatheon is a powerful email, social media, text, IM and Microsoft Teams archiving solution that will help you securely retain, store, and organize your sensitive business information exchanged on Teams in a compliant way. Jatheon's solutions facilitate the ediscovery and FOIA management process and assist in HR disputes and litigation.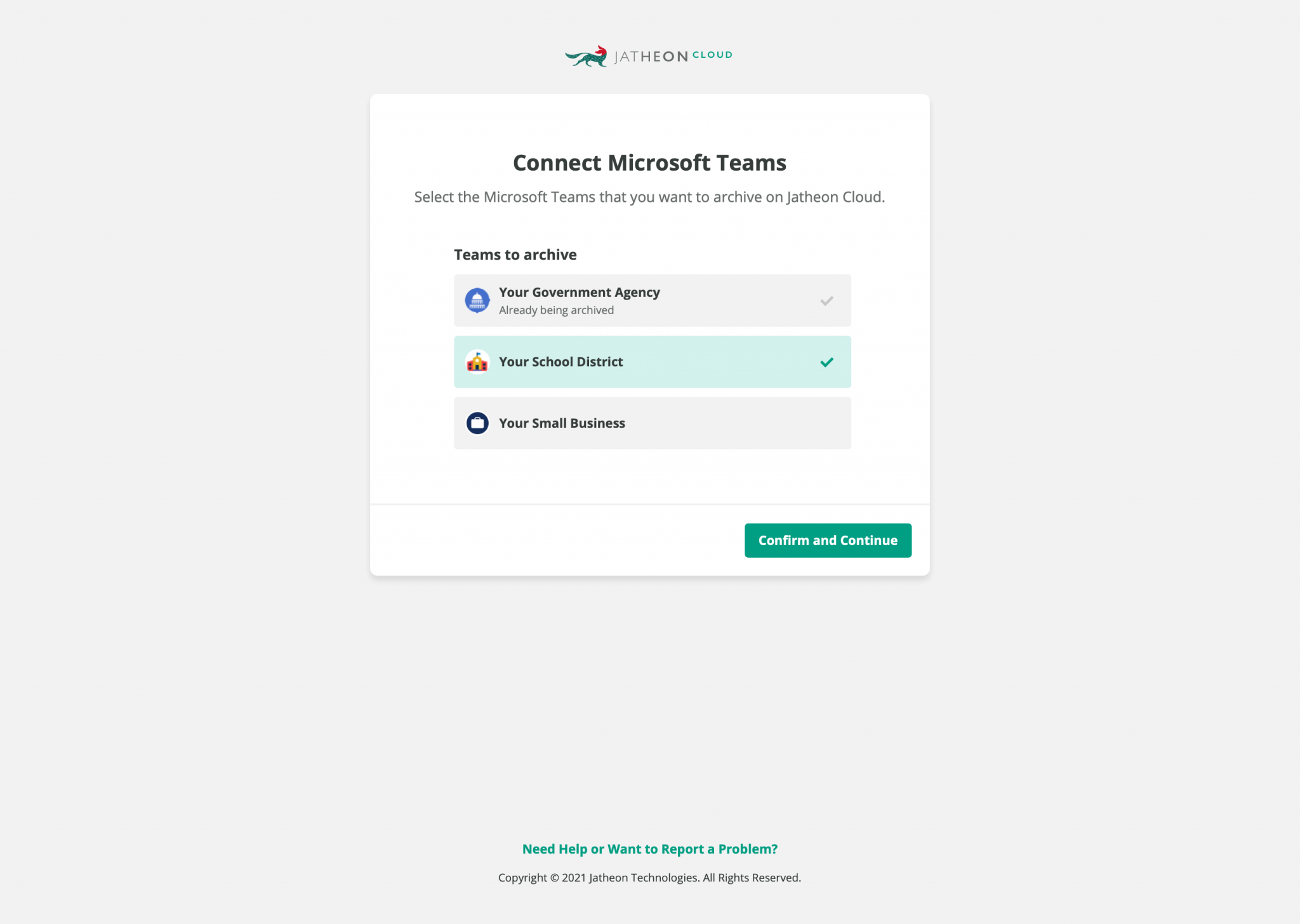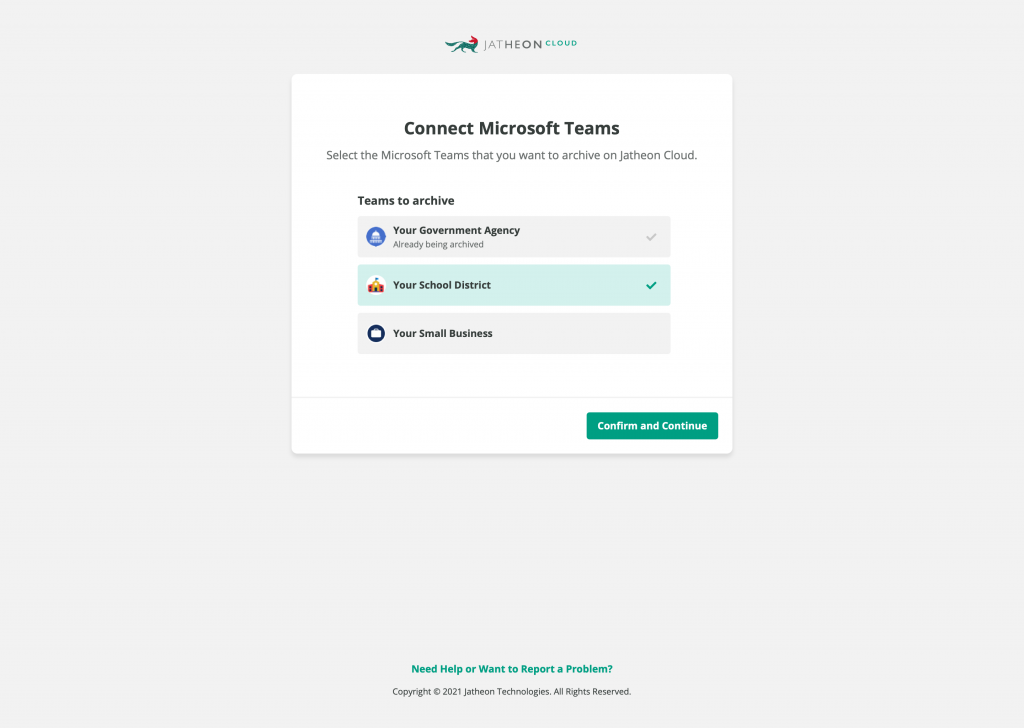 This means that you'll automatically save all of your chats, conference transcripts, and shared documents, preventing any attempt to alter or delete them so that they can be used as evidence in potential litigation.
Jatheon's features assist your ediscovery by allowing you to filter all of your communications and find the records you are looking for.
Finally, it allows you to customize and automate your retention policies to stay compliant with the regulations in your industry.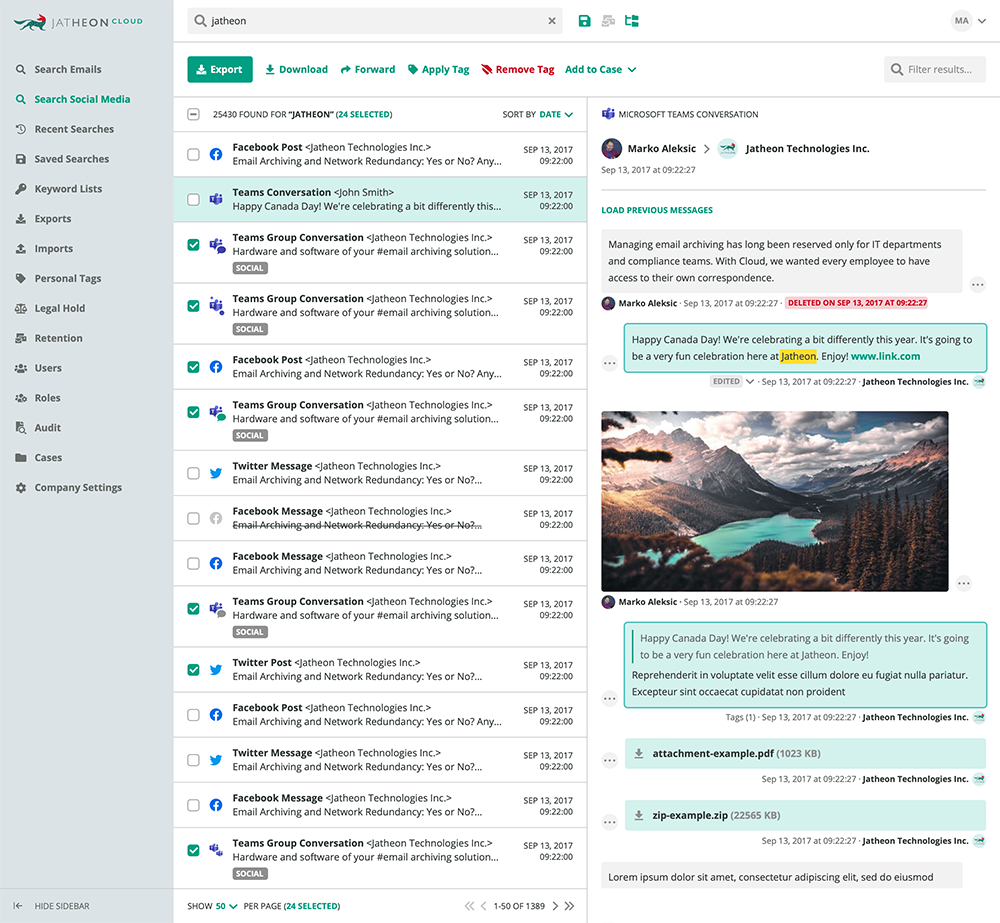 Conclusion
Hopefully, this side-by-side Microsoft Teams vs. Zoom comparison helps you decide which platform suits your needs best.
If you're solely looking for a video conferencing tool, then Zoom is a great choice, but if you are looking for a collaborative platform with great video conferencing features, then Microsoft Teams is your perfect pick.
Just remember that whichever platform you choose, Zoom or Microsoft Teams you will need to think about communication archiving and compliance.
Archive your Microsoft Teams communication, both messages and video with Jatheon's cloud archiving solution. Automatically capture, retain, and reproduce communication records and keep your business compliant.