After 20 years, email archiving has become an established practice for both large and small organizations, but especially for those operating in strictly regulated sectors such as financial, education or healthcare.
These days, organizations are often in doubt when choosing between on-premise and cloud email archiving solutions.
If your organization is more inclined towards cloud email archives, today we'll look at a list of features you should prioritize when considering your future email archiving vendor.
1. Compatibility and Integration
Even small companies now understand that the simple archiving feature contained in their email client lacks the wide range and complexity of features offered by third-party email archiving solutions.
That's why every responsible organization that needs to prove compliance or wishes to ensure legal preparedness and business continuity must look further.
While choosing the best cloud archive for your business, make sure the solution you opt for is compatible with your email platform and that the vendor can support various archiving scenarios, including Microsoft Exchange Server on-premise, Office 365, SMTP journaling, policy-based mailbox capture or processing of PST files.
2. User Interface
Remember that your admins, compliance officers and IT team won't be the only people using the email archiving solution. End users will also have access to their personal mailbox archives and will be able to search and export emails.
An archiving solution can be powerful and feature-rich, but what if it's poorly designed and requires extensive training?
An average office worker handles 124 emails a day and, according to McKinsey Global Institute, spends 28% of the workweek reading and responding to email.
An email archiving software that's easy to master with a user interface that saves users' time and reduces effort should be high on your list of priorities.
With fourth-generation software that has clear information architecture, your users will always know where things are located and won't ever have to read or watch tutorials to find advanced or hidden options.
Many email archiving providers haven't redesigned their software in years and still have the outdated versions that were the norm in the late 2000s.
A modern user interface that's optimized for users in 2020 needs to have an easily available search and well-executed data export. So, when choosing your provider, have in mind that every day, non-IT users need to be able to understand and use the archive without having to bother IT.
3. Robust Search Capabilities
In email archiving, search is the option everyone uses most frequently. For this reason, it's vital that your archive is both easy and quick to sift through.
Large enterprises often have millions of emails housed in their archives, and to search such large numbers of emails, you need an archive that has a super-fast search engine that can return precise results in a few seconds, even when the result set contains thousands of hits.
Make sure your cloud archiver contains functionalities such as advanced search, which is designed for complex queries and pinpointing data in terabytes.
4. Ability to ingest legacy email
Only a small number of companies that are looking for an email archiver are doing it for the first time.
A vast majority have already owned a solution and are now moving to a fourth-generation cloud archiving system that can guarantee cost-effectiveness and better performance.
To maintain business continuity and stay in line with compliance regulations, your organization will need to migrate all the historical email data from the previous solution (on-premise or cloud) to the new archive.
No matter if you're moving from one archiving vendor to another, or simply changing solutions while remaining faithful to your old archiving company, data migration is a complex, delicate process and you'll need all the support you can get.
If you are an SMB that lacks an IT department, make sure your new archiving vendors can assist you with migration, and be extra careful with the costs as some companies charge extra for legacy data ingestion.
5. An effective archiving process
There are several ways to archive emails and in order to select the solution that can meet all your needs, it's vital to understand your company's archiving needs.
How robust do you need your infrastructure to be?
Is it important to retain email attachments as well?
Would you prefer their content to be searchable?
Is the archiving solution able to capture all incoming, outgoing and internal traffic?
Before you decide to buy from a particular vendor, make sure you know what questions to ask.
Here's a good starting point:
6. Compliance and eDiscovery
While email archiving offers many benefits (knowledge management, information governance, server performance, disaster recovery), compliance and auditing needs remain the main drivers behind the adoption of email archiving solutions.
Reasons range from keeping business data or personal client information secure, protected and recoverable to having evidence ready in case of an internal dispute or a lawsuit.
Some solutions are more affordable, but others have a wider range of features. Can you sacrifice a feature for slightly lower costs? What features are important in order to prove compliance with regulations and have a safety net when faced with litigation?
Firstly, make sure that the solution is compliant with government and industry regulations relevant to your vertical (Sarbanes-Oxley, HIPAA, FINRA, GLBA, GDPR, etc.).
To automate the email archiving process and ensure compliance, your solution should contain options such as permission levels, flexible retention policies and automatic email deletion after a policy expires.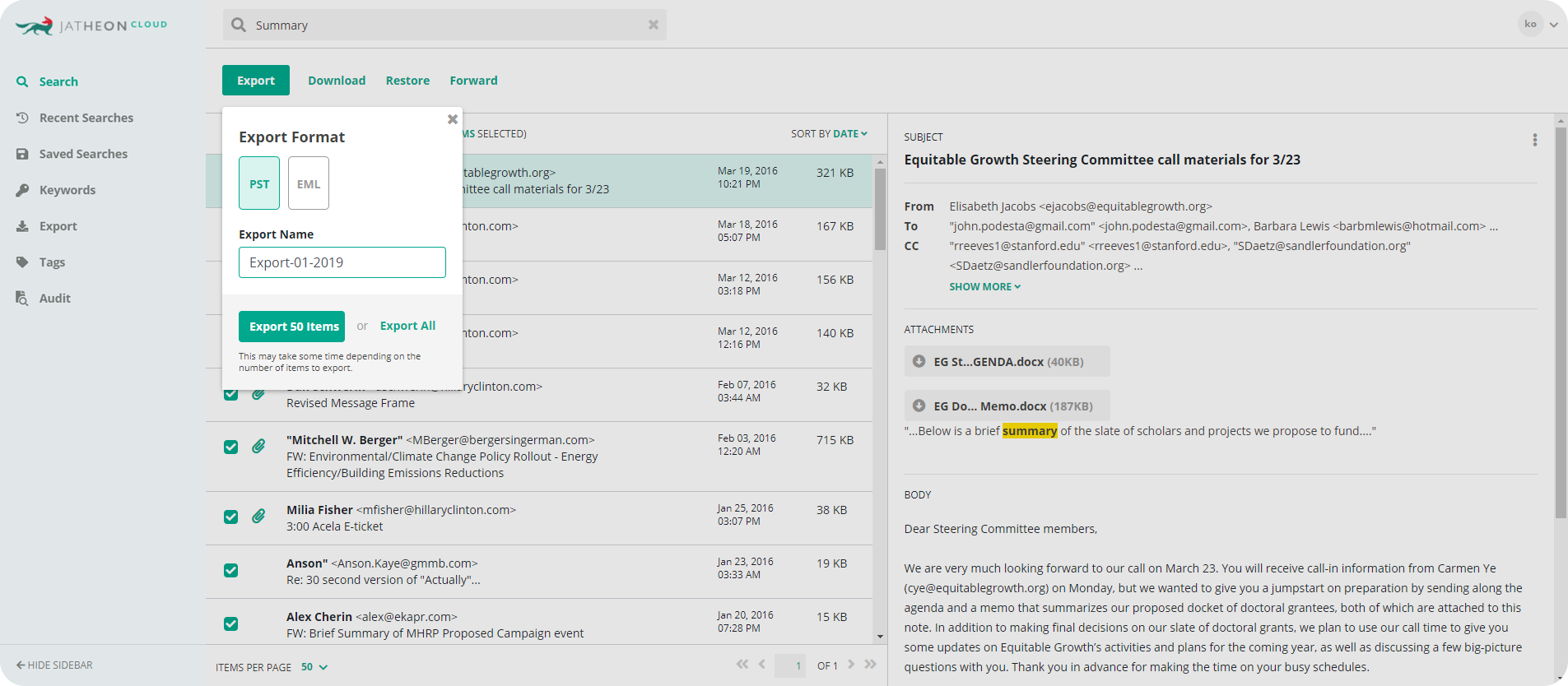 If you wish to retain some emails indefinitely, make sure your cloud email archive can keep data forever. For effortless electronic discovery, and in order to minimize legal risk, an archiving solution needs a full audit trail, legal hold and a speedy export that lets you deliver email records relevant to a legal process in time.
Another thing we've noticed in the archiving market is that some organizations are not sure whether or not to archive emails in the first place. Before you get started, here's a quick rundown of who should be archiving emails:
In case you want to implement a cloud archiving solution, or are looking to switch from a current cloud archiver, here are some resources to help you make a smooth transition while preserving all your business records:
To learn how Jatheon can help you choose and implement the right archiving solution for your business, contact us or schedule your personal demo.