Mobile is everywhere. It's how we kill time waiting for the morning commute. It's how we book our flights, order food, pay for things, and do business on the go.
It's no wonder that 75% of American workers use their cell phones for work purposes.
Employees are both doing work and communicating over the phone speeding up decision-making and making people more available.
But there's a huge risk that comes with using mobile communication for business purposes This took many businesses by surprise and led them to lawsuits and fines.
Today, we're taking a look into mobile archiving and how to overcome the risks associated with the use of mobile devices.
Let's start with a bit of background.
Why Text Message Archiving Matters
In May 2018, WhatsApp, a mobile instant messaging app hit a daily message record of 65 billion.
Fast forward to today, and the daily message record is 100+ billion messages.
Just like WhatsApp, texting wasn't originally designed for business but is rivaling many services specifically designed for business.
TextRequest's statistics tell us that millions of employees and businesses rely on text messages to communicate and do their job.
Why? Because they are quick, taking a few seconds to send and ( much less than having a call) they have a higher open and response rate than email or other business communication tools.
It all leads to a huge amount of business-critical and often confidential data residing on corporate-issued or personal devices.
It's becoming more and more important to consider archived text messages as there are multiple regulations demanding organizations to retain and be able to produce mobile communication.
There have been thousands of instances where businesses weren't adequately archiving text messages, leading to legal repercussions.
And with the line between personal and work getting blurry when talking about mobile communication, it's never been harder to track and oversee business communications.
This makes archiving text messages and mobile content a must-have practice for every organization working in regulated industries like healthcare, government, finance, or education.
What Happens When You Archive a Text Message?
With modern mobile message archiving solutions, archiving is done automatically with every new message being sent or received.
When a new communication record is captured, it gets indexed and safely stored in the archive database.
Every message is stored with its metadata meaning the time it was sent, the exact content being sent, and who was the sender/recipient.
When you archive a text message, its copy is stored separately. This means that it can't be deleted or edited and the right tool gives you an easy way to search the content of all of your archived messages.
Archived Text Message and Compliance: Making It Work
The majority of organizations are familiar with the regulatory need for email archiving, but only a small number are aware that they need to archive other content too.
Recent research shows that only 50% of work-generated content is ever archived.
Why is this?
In the past, only email communication was required to be archived, but since then there have been many updates to include social media and mobile communication in every major regulation.
Now all major laws, regulations, and regulatory bodies in the United States and Europe recognize work-related content communicated over mobile phones as valid business records.
There are numerous regulatory bodies and pieces of legislation that regulate communication and mandate the monitoring and retention of all electronic communications, including mobile messages and voicemail.
These regulations include:
FINRA, SEC
GLBA
Dodd-Frank
HITECH
MIFID II
and public records acts like FOIA, FISMA or FRCP.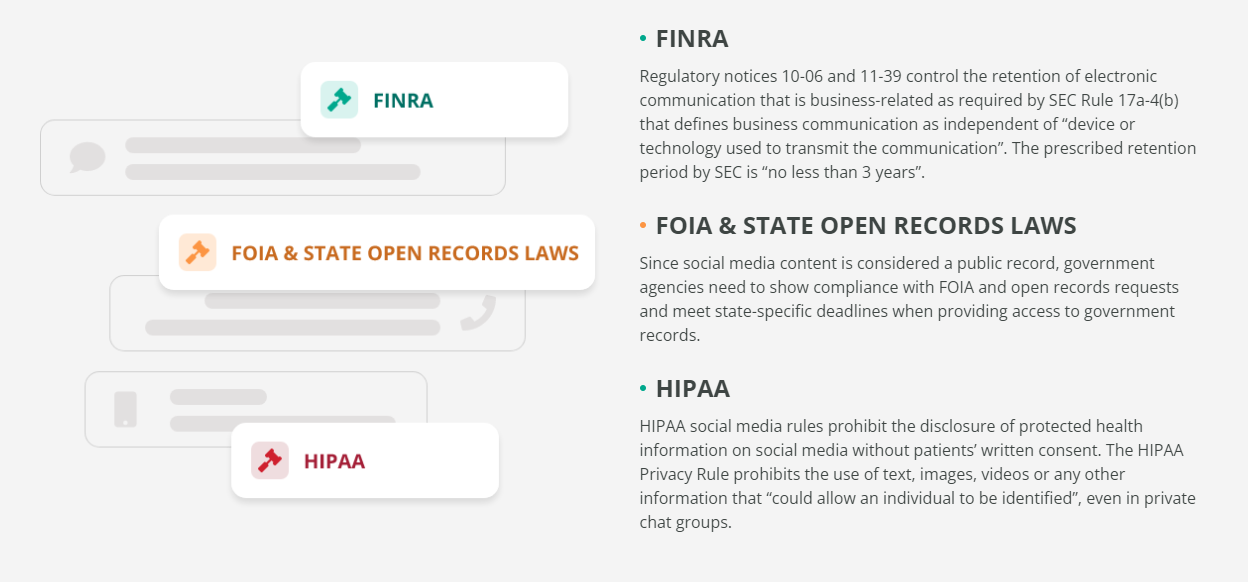 The specifics of these regulations differ greatly among industries, but the intent remains the same — organizations have to retain mobile records for potential review by applicable regulatory agencies or suffer fines and penalties.
The situation seems basic when laid out in these terms, but the day-to-day reality may be different for many businesses.
The vulnerability to unannounced audits can lead to negative consequences for any business that isn't prepared at all times.
The fact remains that no matter what type of audit is conducted or what specific requirements for retention, formatting, and storage are, proper data retention is something a business in a regulated industry must address every single day to be successful.
But archiving text messages and mobile communications goes beyond just compliance.
Beyond Compliance: 3 Reasons for Text Message Archiving
Ediscovery
When it comes to litigation and record requests, ediscovery is the key to finding information fast among all of your communication data.
But as mobile communication rises, there's too much data being exchanged over mobile that isn't captured and can't be discovered.
These conversations are still considered business records that can contain valuable and sensitive information that can be used as evidence in contract breaches, work disputes, or misconduct cases.
Mobile and text message archiving allows you to capture all messages and voice notes in one place and easily find them with built-in ediscovery tools, allowing you to place certain data on legal holds or suspend it from any kind of tampering.
Business Insight
Organizations now utilize their archived data for a lot more than compliance and legal discovery.
As businesses prioritize improvement, oversight, and proactive archiving, information governance and safeguarding valuable data take on greater importance within enterprises.
A good archiving solution will have sophisticated options that allow you to analyze and draw conclusions from your archived data and extract information that will benefit your entire organization.
Looking at your archive as a strategic business asset rather than something that you should use only in emergency situations gives you a unique insight into your organization and improves data management in all your departments.
CYOD ‒ A New Trend on the Horizon
In the past BYOD (Brind your own device) was the norm, making employees use their own mobile phones for business, but this led to mixing business and personal communication.
Recently CYOD (Choose your own device) became a new phenomenon which gives organizations much more control over mobile devices used by staff.
The CYOD approach requires employees to choose from a limited range of devices (e.g. allow Apple devices but forbid Android) or limit the usage of mobile phones to work activities only.
This gives an organization fewer communication channels to worry about and archive with a more flexible way of choosing an archiving solution that supports their devices.
Overcoming Risks with Text Message Archiving
The first step to ensure compliant use of mobile devices is to understand that both compliance and archiving are continual concerns.
This involves implementing a clear communication and archiving policy and fostering company-wide awareness regarding the importance of proper business record management.
You need to address questions such as:
What mobile channels and apps do you use for communication?
Which channels are forbidden for business purposes?
What are the consequences of using these channels? What are the dangers?
Who will be responsible for overseeing the compliance with these guidelines?
What kind of information will be exchanged through these channels?
Understanding the enduring nature of archiving and regulatory needs is just the first step, however.
Archiving alone doesn't guarantee a cost-effective, compliant, and useful archiving system. While awareness is a good start, it shouldn't be the endpoint of your efforts.
Businesses must take their own unique needs into account and explore archiving solutions to find the best fit.
How to Find the Right Mobile Archiving Solution?
Finding the best mobile archiving solution for your organization depends on many factors, the first one being — Is your organization already archiving email?
If you are already archiving email or social media, it's in your best interest to find a mobile archiving solution that works as an add-on to your existing archiving setup.
In reality, businesses often have a cluster of solutions for their data archiving and protection — most of which don't work well together.
But this leads to having multiple single channels archiving your data on different storage devices without any links between them.
A comprehensive, all-in-one solution will allow you to eliminate many single channels, and instead, create a single point of archiving.
Comprehensive archiving solutions like this allow you to:
Archive data from multiple channels (email, mobile, social media…).
Have an easier time for your compliance offices with only one interface.
Have one place to manage your retention policies.
Easily search through all of your communication channels at once.
Have lowered costs due to needing only one solution.
The other factor when looking for the right archiving solution is data security and versatility.
Your archive needs to be secure with multiple ways of storing data formats required by regulatory agencies.
When it comes to features, it's essential that your messages are archived in a WORM format which prevents data tampering.
Lastly, look for a solution that makes your search and ediscovery job easy.
Your archiving solution needs to have advanced search capabilities with the ability to combine various search criteria to find communication data quickly.
Features like proximity search, redaction, keyword search, and keyword monitoring are must-have features for any modern archiving solution.
Conclusion
The main argument in favor of adopting mobile archiving is that it allows for worry-free workplace messaging while boosting employee productivity and collaboration.
Mobile archiving addresses all compliance laws and ediscovery requirements reducing any kind of legal risk.
All of this makes having a mobile archiving solution in your organization a no-brainer for both regulatory compliance and all the benefits it brings with it.