The decision to adopt a particular email archiving solution should be based on various factors – the size of your company, your storage requirements and most importantly, your legal obligations under compliance acts – like HIPAA or Sarbanes-Oxley.
To help you find the right archiving software for your business, we made a list of must-have email archiving software features relevant for compliance and ediscovery. In case you need a quick reference point, scroll down to the end for an email archiving software features checklist.
Email archiving tool features: Why they matter
For small and medium-sized businesses, especially those that don't operate in regulated industries, email archiving will be a productivity tool and a great way to move old emails from overloaded email servers to a secure location where you can manage this data effectively. The dependency on PST files will be eased while administrators will be able to search the archives for specific messages on demand.
Read: The Ultimate Guide to Email Archiving for Startups and SMBs
In a larger business, the given reasons still apply, but compliance issues tend to be the main driver of email archiving. For this purpose, compliance officers and administrators must have the ability to access and retrieve email within minutes, without having to call in a SWAT team or trawl through complex backup files. In other words, a premium archiving solution must have great ediscovery capabilities.
Regardless of whether your organization opts for an archiving appliance or a cloud-based email archiving solution, there are certain software features you should be looking for in order to ensure proper archive management and compliance.
As a rule of thumb, a good email archiving software has to be fast and allow you to manage your data without giving you an extra headache.
It has to be simple to use and have an intuitive interface that allows effortless archiving.
In order to check that eDiscovery box and prevent destruction and spoliation of evidence, you should be looking for an email archiver that's fully secure and tamperproof.
With a well-designed email archiving software, your users won't need to reach for the instruction manual. Apart from simplicity and user-centered design, your archiving software needs to possess sophisticated features that will allow you to locate and retrieve files easily.
That said, let's look at the key features your archiving tool needs to have.
1. Comprehensive Search Engine
Your email archiving solution needs to have a search engine that's flexible, comprehensive and simple to use. It will give administrators and employees the ability to search for specific email messages or conversations.
A good search functionality will contain a variety of search criteria and be able to search through .pdf and word attachments.
If you end up with a large number of results, there should be an option called "subsearch" or "search within a search" which would help you to narrow down your results.
In order for users to manage the archive appropriately, search should be coupled with various message options such as export, forward, print, restore etc.
However, classic search functionality won't get you far if you're looking for a single elusive email message and searching through the entire organization.
That's why it's vital that your email archiver have the advanced search functionality. It is designed to help compliance officers and admins execute more complex and demanding searches.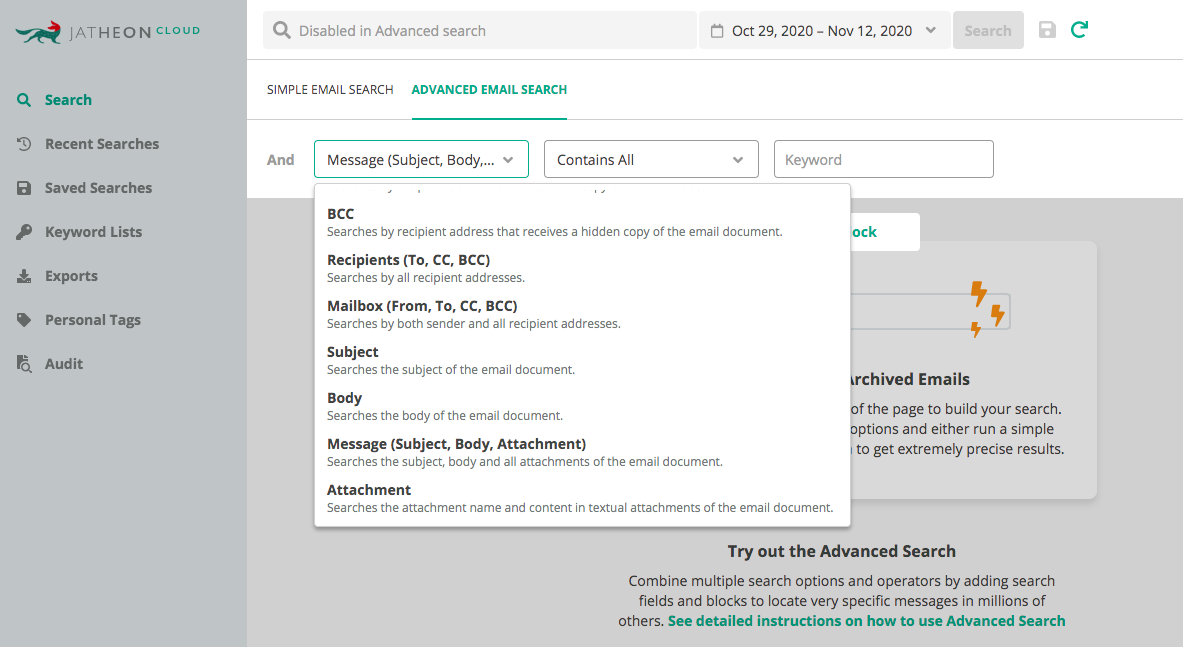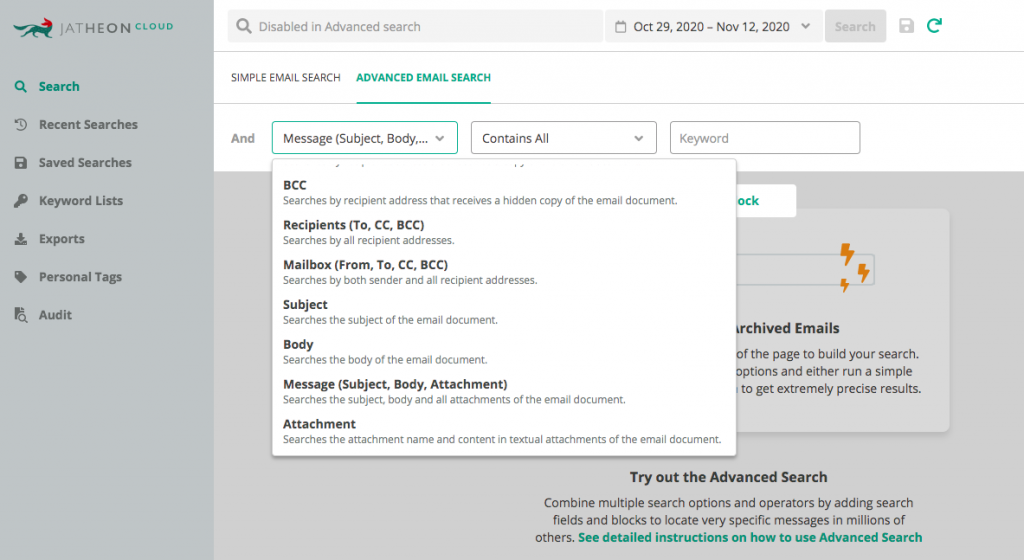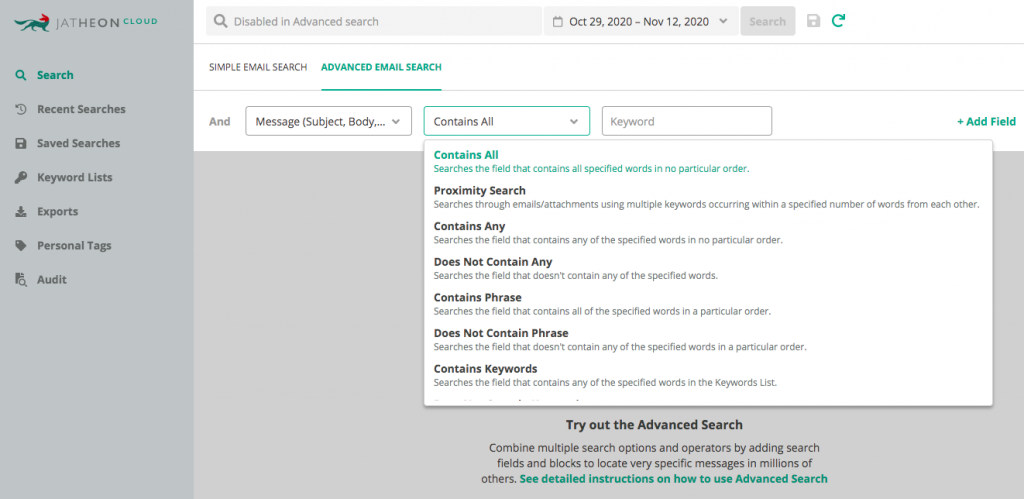 It lets you structure your search better, combine multiple search options and operators by adding fields and blocks to pinpoint the right emails in millions of others. Advanced search leaves you with a manageable number of results even if you're searching through terabytes of email data.
Here's what it looks like in practice:
2. eDiscovery and Compliance Support
Your solution needs to guarantee a tamper-proof archive. One of the most obvious advantages of email archiving is that it prevents your important files from being altered, deleted, misused or moved.
This is important because the company needs to prove the authenticity and integrity of the emails in question should they be used as evidence in a court of law.
Legal hold is a process that organizations use to preserve relevant electronically stored information when they anticipate litigation, investigation or an audit.
This means that certain electronic records must be preserved after their original retention period.
This software feature allows admins and compliance officers to apply legal hold on certain users' mailboxes and thus preserve their communication indefinitely or until the case is resolved.
Read: Why Legal Hold is a Must-Have Feature in Email Archiving
One of the key requirements of both compliance regulators and legal teams is that all data must be preserved in its original state.
3. Adequate Indexing
When an email reaches the archiving system, it is read against a list of defined criteria. The system then creates a list of terms (called an index) that can be used as search criteria later.
A good archiving solution will be able to search not only based on common criteria such as email subject, sender and recipient, but also search for attachments, conversations, message size and attachment size.
This feature is vital as it facilitates your search and ultimately improves your eDiscovery response by enabling a quick extraction of the right records to support legal requests and in-house requests for data.
Many solutions do a pretty good job of indexing the email header criteria and message bodies, but very few can actually index attachments, let alone search through zipped files. Sometimes the business-critical information you're looking for lies in the attached documentation, so make sure your email archiving solution can index and search through these files as well.
4. Customizable Email Retention Policy
Email retention policies largely depend on government, state and industry regulations that drive email archiving and can differ significantly from state to state.
Compliance officers and legal teams are in charge of studying the relevant laws and creating email archiving policies that reflect them.
An email archiving solution with good policy management will not only allow you to set and automate a particular policy, but also eliminate the possibility of human error and prevent tampering with archived data.
After the retention period expires, the data will be automatically deleted from your system (typically after 7 years), as it's no longer needed for compliance purposes. You'll get an additional benefit of fresh storage space too.
5. Archive Access
Finally, email archives should have a feature that allows a company to use the archive as a knowledge repository. This way, authorized users can extract messages and data from it when required. The benefit of this feature is that it enables authorized users to carry out their work without the need to consult or bother any IT staff.
A good email archiving solution also comes with configurable user roles. This means that you can define access levels yourself to control permissions and access to the archive.
End users will typically have access to their mailbox only, while administrators and compliance officers have special permissions and can search through everyone's mail.
The audit trail feature allows responsible staff members to monitor and record users' activities, which is crucial in preventing the attempts at deleting or altering some potentially incriminating information.
Email archiving software features checklist
Now that you know how each of the features we've talked about fits into your records management efforts, here's a quick rundown of essential features your archiving software needs to have to meet various compliance requirements for this year and beyond.
Your email archiving software should be able to:
run searches based on email subject, sender, recipient and body text
search for attachments, conversations, message size and attachment size
index attachments and zipped files, and search through those attachments, zipped files, as well as .pdf and docx files
support advanced searches that combine a number of search criteria to narrow down search results
let you set custom email retention policies
let you configure user roles based on permissions
enable archive access to your employees based on needs/permissions
monitor and record users' activities
group and organize emails for easy (legal case) management
automatically delete messages after the retention period expires
export to a variety of formats
let you apply legal hold tags and keep records intact for legal purposes
preserve all data in an unalterable, WORM format
In case you work in education or government sector and want to learn about specific features your archiving solution should have, these in-depth compliance checklists will come in handy:
Jatheon is a data archiving specialist that's been providing organizations in regulated industries with on-premise, cloud and virtual email archiving solutions for over 15 years. If you'd like to learn how your organization can meet compliance requirements and cut eDiscovery costs using Jatheon's email archiving software, just contact us or book a free, no-commitment demo.