Social media has played an increasing role in communication and sharing content online.
With over 70% of the adult U.S. population having a social media account in 2021, browsing social media has definitely become one of the most popular activities.
Due to the deep penetration of social media into the everyday lives of people in the U.S., law enforcement often counts on it to connect with the community directly, sharing and gathering information that could be helpful in their investigations.
Social media grants reach and speed that can hardly be compared to other forms of communication with the public. Social media for law enforcement agencies can, for example, be used to manage tip lines for potential investigative leads or publish bulletins on wanted or missing persons.
But even though their presence online has many benefits, law enforcement using social media is often subjected to unwanted exposure with numerous risks.
If you're in law enforcement, this article will guide you through the best ways to minimize those risks and make the most out of your social media presence.
The Good, the Bad, and the Ugly
If public entities, such as law enforcement, want to coexist successfully with the public in this space, they need to accept that such existence won't always be easy or pleasant.
Typical PR isn't enough for the success of law enforcement social media.
Spins and misleading statements don't work, either, as the people will dismantle those quickly.
What works is an authentic, open, and honest approach and willingness to engage in real conversations. Such an approach is fundamental when it comes to instances that will generate public controversy, such as the use of force or addressing social issues in law enforcement.
When it comes to social media for law enforcement agencies, people want transparency. Due to technological improvements, this kind of openness can nowadays easily be achieved using technology such as dash-cam or body-cam footage.
That means showing the public the exceptional work the police do daily, as well as the everyday human face of law enforcement personnel like in this Anniston Police Department, first post on "the TikTok, or official Twitter and Instagram accounts by NYPD or LAPD.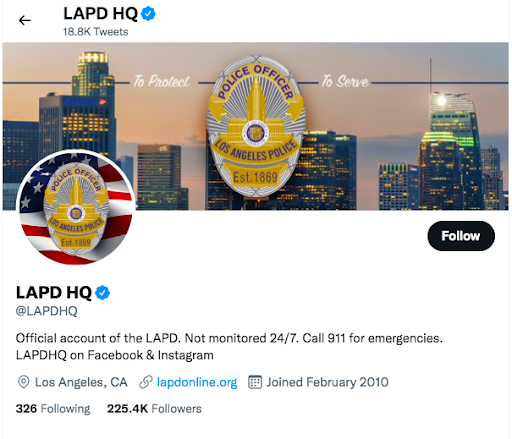 The bad and the ugly can't stay hidden from the public eye, either. Even if law enforcement agencies don't address these situations on social media, odds are high that someone else will.
Being accountable for it all – the good, the bad, and the ugly is the only way to survive on social media.
Have a Policy
As no specific federal legislation governs the use of social media for police departments, many agencies still don't have a social media policy.
However, establishing social media policy and associated procedures has been recommended and supported by policymakers and experts on numerous occasions. To help law enforcement agencies benefit from social media while mitigating unnecessary risks, a police social media policy should ensure:
the use of social media is under relevant laws and policies,
guidelines on professional use of social media,
guidelines on how to use, evaluate and disseminate information gathered on social media,
guidelines on how to document, store, and how long to archive information obtained from social media,
policies on personal use of social media.
Oglesby-Neal and Warnberg researched 70 law enforcement social media policies and discovered the most common topics covered:
defining social media and other important terms,
content permitted on social media,
person in charge of official social media posts and moderation
acceptable professional use,
acceptable personal use,
the approval process,
use of social media for investigations,
who is allowed to use social media,
recordkeeping, archiving, and retention.
However, when creating a social media policy, law enforcement agencies should be aware that they are likely to experience attempts of defamation or inappropriate comments on social media. Some of these inappropriate comments could include profanity, crudeness, and even threats of violence.
Police social media guidelines should address such situations, as well as possible actions.
For instance, by clearly stating what an inappropriate comment looks like, the law enforcement agency will have an additional layer of protection when opting to remove it.
But creating a social media policy is just the beginning.
The next big step is getting the staff to adopt and follow these guidelines when using social media for law enforcement agencies. Comprehensive and well-tailored law enforcement social media training can surely be beneficial.
How to Handle a Crisis
Law enforcement will occasionally run into crises on social media. The worst thing to do is do nothing. Having a crisis plan on how to react is essential. Whether the situation is triggered by an offline or an online event, it must be managed carefully.
It is important not only what law enforcement reps will say in times of crisis but also how they will say it and when. How well they'll manage the crisis will depend on all these components.
Here are some of the tips for the good crisis management:
Be honest, open, and authentic,
Inform the public about an incident transparently and in a timely manner,
Foster dialogue and respect people's emotions,
Answer the most relevant questions in a straightforward way,
Take ownership of mistakes,
Avoid shifting blame and empty statements.
Document and Archive Everything
Law enforcement agencies must keep accurate records of all communications, including social media. This information is subject to the Freedom of Information Act and Open Records laws, so it can be requested at any time.
And when it comes to law enforcement communications, requests for records are not rare either.
With this in mind, law enforcement agencies should opt for a social media archiving solution that captures and stores all social media content in an accessible way.
Law enforcement agencies should look for a solution that can also show what's been changed or removed from their official pages to minimize their social media risks.
This feature can be beneficial if any post is deleted or modified and could be used as significant evidence in a procedure or lawsuit. To see how this functions in practice, you can check out how Jatheon does social media archiving.
Is There Actually a Choice?
You can't really avoid being present on popular social media platforms if you are a public-sector entity. That stands for law enforcement too.
All the citizens you serve are on social media, engaging with each other in numerous ways.
Nasty comments are inevitable. One of the things law enforcement can choose to do is play dead and ignore all the groans and grumbles online.
However, rather than ignoring them, you can as well take part in the conversation, show that you're willing to engage, and reap some benefits from this engagement.
With the right approach, a thorough law enforcement social media policy, adequate social media risk mitigation techniques, and a reliable social media archiving solution, social media can significantly level up the quality of relationship law enforcement agencies have with the public.
Jatheon has established relationships with government and law enforcement agencies and has a cloud-based social media archiving solution that:
Captures content from official social media pages, including posts and comments
Works with all major social media platforms including Twitter, Facebook and Instagram
Captures all edits and deletions in near real-time
Supports search through records by date, person, keyword, phrase etc.
Allows the production of social media records for FOIA and litigation support (ediscovery) in formats like PST or transcript
Allows social media admins to monitor for flagged keywords and get alerts
If you'd like to see Jatheon's social media archiving solution in action, contact us for more information or sign up for your personal demo.