Many businesses opt for Microsoft Outlook as their email client of choice due to its enterprise-grade security, rich feature set, and Office integrations that allow for extra flexibility. As a result, it's the second most popular email client, counting 400 million users.
Despite its popularity, Outlook's pricing can be excessive, and its feature set may be too extensive for some enterprises.
If you're looking for a new email client and want to find a Microsoft Outlook alternative, you're at the right place. Let's go over ten Microsoft Outlook alternatives you should check out in 2022.
The Drawbacks of Using Microsoft Outlook
Although Outlook has many advantages, it also has several major limitations, and the first one is cost. Outlook may be purchased in two ways: as part of Microsoft 365 or as a standalone license.
The first option will set you back $139.99 per license; however, each license is only valid for one PC or Mac, making this choice unsuitable for enterprise-level companies and out of reach for small businesses.
The latter option ranges from $5 per user to $20 per user per month, depending on whether you opt for the Basic or Premium plan, respectively. However, whichever plan you choose, you need to commit on an annual basis.
When it comes to Outlook's wide feature set, it may be a selling point for companies that need them. However, it can be a lot of dead weight for those that don't. It can be extremely time-consuming and tedious to get your staff up to speed on how to use various components inside the Outlook interface.
Finally, Outlook isn't really known as the most reliable email client. Despite being a popular choice for many companies, it's prone to sluggishness, sudden crashes, send/receive failures, and other issues.
If these issues are something you struggle with and you want to switch to another email client, keep reading to find out which one is right for you.
10 Popular Outlook Alternatives for 2022
Gmail
When we think of Gmail, we usually think of Google's free, web-based email client meant for personal use. Google Workspace (previously G Suite), the company's productivity and collaboration app suite, does, however, provide a corporate version of Gmail. This version of Gmail offers anything from 30 GB to unlimited cloud storage, depending on the package you pick and is linked with Google Chat, Meet, and Rooms.
By paying for Google Workspace, users gain access to all of the basic functionality found in the free version of Gmail, such as Google Calendar, Drive, and Docs, as well as the full Google Workspace toolkit, which includes enhanced security, a work optimization tool, custom domains, and a website builder. Google Workspace also includes Gmail add-ons for even more customization.
Price: Free for personal use. Google Workspace starts at $6 per user per month.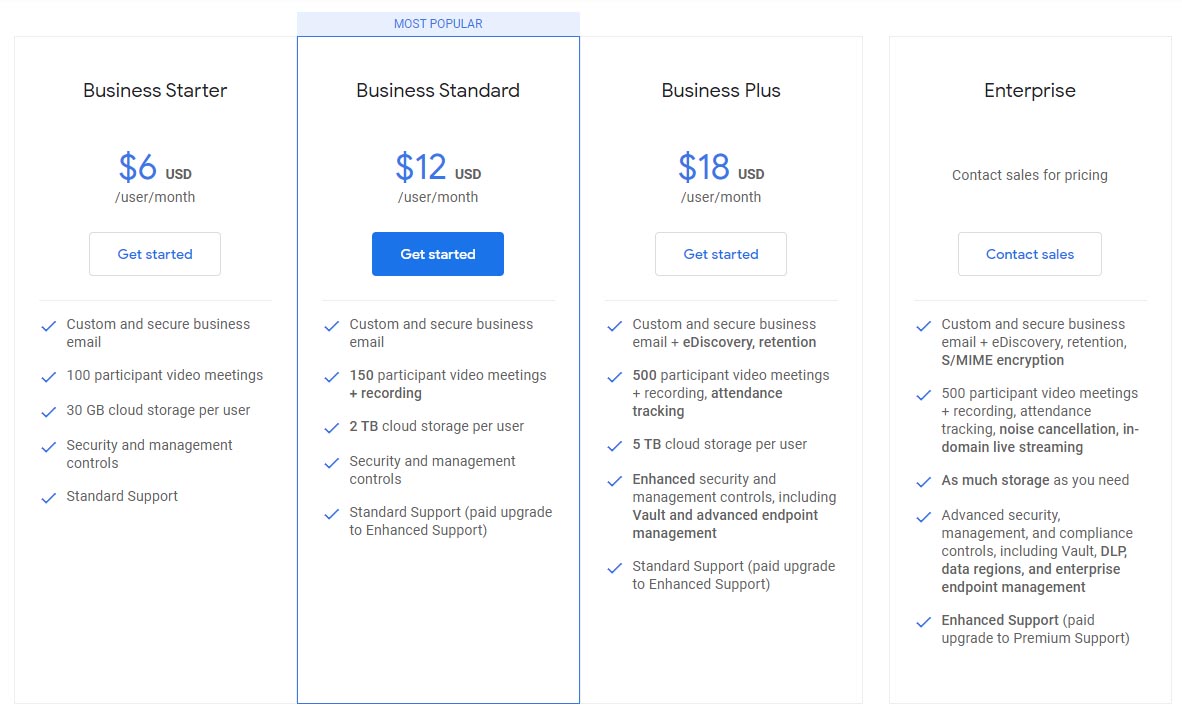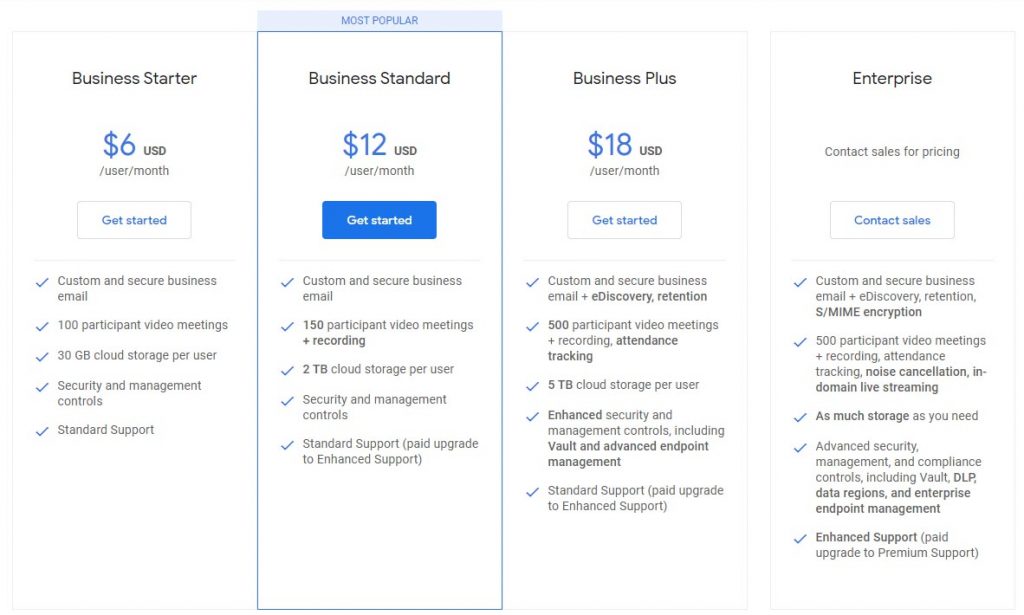 Apple Mail
Often known simply as "Mail," Apple Mail is Apple's native email software. Much of Apple Mail's appeal stems from its simplicity: its interface is clean and easy to use, and it provides many of the same fundamental features as Outlook, such as email archiving, email sorting, and file sharing.
It's sometimes even been criticized for being too simple. However, the app comes with a plethora of extra add-ons, and subsequent upgrades have introduced a slew of additional capabilities, boosting its functionality.
You can also use Apple Mail to sign in to other accounts, such as iCloud, Google, Yahoo, AOL, and, yes, Outlook. It is available for iOS, macOS, watchOS, and iPadOS.
Price: Free
eM Client
eM Client, like Apple Mail, has a clean design and is easy to use, yet it does so without losing functionality. It is available for both Windows and Mac. eM Client is a feature-rich, full-service solution in a deceivingly simple package.
Similar to Outlook, eM Client offers instant messaging, a built-in calendar, appointment and contact management, and task lists. Advanced features, such as email snoozing and scheduling, are also available to users. PGP encryption is also supported by eM Client.
Price: Free for personal use. eM Client Pro starts at $49.95 per unit (the price decreases as you purchase more units)
Thunderbird
Thunderbird is Mozilla's open-source, cross-platform email software. In addition to its core features, such as email filtering, attachment reminders, and a one-click address book, it has a vast library of add-ons that make it highly configurable.
Thunderbird also has robust security features, such as phishing prevention, as well as spam screening. Because Thunderbird is an open-source project, it is always free, and anybody is invited to contribute design code, which means it is constantly evolving.
Price: Free
Mailbird
It's no surprise that Mailbird is a strong contender for the best Microsoft Outlook alternative, with features like customizable layout, unified inbox, email snoozing, attachment search, and robust app integrations.
Mailbird doesn't offer a free plan. However, it is substantially less expensive than Outlook and Gmail for business. The only significant disadvantage of Mailbird is that it is only accessible for Windows; however, efforts to make Mailbird available for Mac are now in the works.
Price: $5.75/month.
Spike
Spike is a contemporary email client that displays your emails as if they were instant messaging. This app is for people who manage most of their emails on their phones. The most impressive aspect of Spike is its "reinvented" unified inbox. You may view your emails without any headers, signatures, or other unnecessary information.
Spike is a great Microsoft Outlook alternative that offers a more modern style and is an excellent choice if you work in a group. It's also cross-platform, so Android and iPhone users may test it out.
Price: Free for personal use. The business plan starts at $144 per year.
Spark
If you're a Mac user looking for a Microsoft Outlook alternative, Spark might be a good option. This third-party email client receives excellent reviews for its clean design, user-friendly interface, and innovative features like Smart Inbox, which automatically gathers and categorizes emails from several accounts, and Quick Replies, which offers the response templates.
Spark, like Outlook, supports scheduled delivery, snooze, email reminders, and task management. Spark is currently only accessible for Mac, but a Windows-compatible version is in the making.
Price: Free for personal use. Spark Premium starts at $6.39 per user per month.
ProtonMail
ProtonMail is a simple webmail service that delivers end-to-end encryption for message transmission and secures your email archive with zero-access encryption.
It offers a variety of features, but one that stands out is its "Zero-Knowledge" policy, which ensures that your data and communications are always encrypted. This growing solution includes a secure calendar and a file storage system.
It offers applications for both Android and iOS.
Price: Free plan with limitations. Paid plans start from €5 per month or €48 per year.
Postbox
Postbox, which was created with small companies in mind, provides much of the same simplicity as Apple Mail but with a more extensive feature set, making it well-suited to managing the needs of any workload.
Postbox has many of the same capabilities as Outlook, such as spam filtering, quick search, and archiving, plus a few extras: Postbox's feature set includes smart folders, a Quick Bar for quick message triage, over 25 design signature templates, and a plethora of app integrations.
Price: $29 per user for a 1-year license or $49 per user for a lifetime license.
Evolution
Evolution, developed by the GNOME Project, is a personal information management program that includes integrated mail, calendar, and address book functions. Evolution is accessible for Linux but not for Windows or Mac, making it a popular Microsoft Outlook alternative among a small group of users.
Evolution has a customizable dashboard, an adaptive junk email filter, and compatibility for the IMAP and POP3 protocols and can be integrated with Microsoft Exchange Server.
Price: Free
Don't Forget Email Archiving
Hopefully, this list of Microsoft Outlook alternatives will help you in your hunt for the ideal email client.
While you're searching for a new email client, there's another thing you should consider — and that's email archiving. Although Outlook and many of its counterparts have some form of native email archiving capability, they are frequently inadequate to meet the needs of a developing business.
Here at Jatheon, we specialize in building email archiving solutions that fulfill all of your archiving requirements, whether you operate a small business or an enterprise-level organization.
Jatheon offers on-premise email archiving and cloud email archiving solutions with powerful, easy-to-use search functionality and a complete ediscovery feature set.
If you'd like to explore how Jatheon's email archiving software can help your organization meet compliance standards while also lowering ediscovery expenses, contact us or schedule a free demo.