Electronic discovery, better known as eDiscovery, is the process in which any electronically stored information (ESI) is requested, searched, located and produced with the intent of using it in a court case as evidence, for government investigations, or as part of a Freedom of Information Act request.
Here's what a typical eDiscovery process looks like: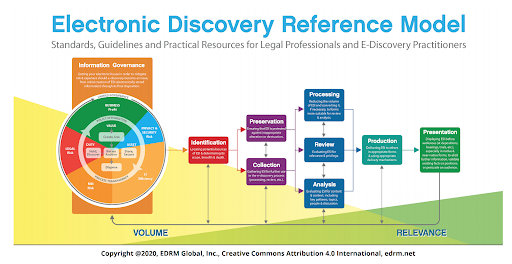 As you can see, it involves many intertwined processes, which if not done thoroughly can lead to missteps and cause you not just regulatory fines, but tarnished reputation and poor decision making.
So today, we're going to look at how email and email archiving fit in this process and what you can do to prepare for an efficient eDiscovery process in your organization.
Importance of Business Communication Metadata
Electronic data is very specific, not only because of its intangible form and transience, but also because it's accompanied by metadata (e.g. the device used to send a message or the date and time an email was written) that can play a vital part as evidence.
Hence, to preserve document metadata and to make vast numbers of corporate electronic exchanges searchable, it's not enough to print an email or take a screenshot.
One, these formats can be susceptible to evidence spoliation, and two, this way, you'll be losing a tremendous amount of information that could determine the outcome of your eDiscovery process or litigation case.
With this in mind, how can organizations handle eDiscovery requests properly?
Well, the key is to be prepared. That's the most important element of dealing with an eDiscovery request.
Establishing best practices for eDiscovery has proven to aid organizations in dealing with requests. Organizations that are fully prepared can cope with an eDiscovery request in only one-third of the time that unprepared businesses took to respond.
So first, start working on your plan – establish best practices, keep track of the storage of electronic information and foster a culture of archiving your enterprise email.
Who's responsible for eDiscovery: More work for your IT Department?
After some years of little to no involvement with eDiscovery, IT departments are now becoming responsible for data management in many organizations. This is because digital data is growing so fast and IT staff tend to be best equipped to deal with it.
Because data growth is exponential in both private and public sectors, it's now a major challenge to manage data storage and archiving across a company network.
The issue is even more difficult because data storage mediums have evolved and remnants of old technologies can be found mixed in with new technologies.
How many organizations have you encountered that are still using disk and tape data backup and archives? And to solve this problem, you need to first organize your IT department for efficiency.
How to best handle eDiscovery requests?
Understandably, IT departments have been loath to take on these responsibilities, as the combination of data storage and compliance duties can equal one big mess.
While complying with eDiscovery may seem like excessive work to everyone involved, companies are legally obliged to keep archives of all business-critical and sensitive information (and 75% of it resides in email).
There's no way to avoid eDiscovery anymore, as the fines and court action associated with it are too hefty to ignore.
In a survey by Osterman Research, it was found that the average time it takes to respond to an eDiscovery request is between 8 man-hours and 16 man-hours. That's 1 -2 full days.
Unsurprisingly, the average cost to companies during an eDiscovery case is $1.8 million, 70% of which is paid to legal experts who review data. The hits just keep on coming when it comes to court-imposed sanctions on eDiscovery failures.
Reduce eDiscovery Risks with an Email Archiving Solution
As email use continues to rise in businesses, so do the risks associated with the confidential data communicated in emails. It is now vital that businesses treat their email data the same as their regular data for archiving purposes and discovery.
Email in eDiscovery
The reason email plays such an important role in eDiscovery and litigation is that corporate email is classified as a form of record.
In 2006, the US Supreme Court's amendments to the Federal Rules of Civil Procedure led to the creation of a new category for electronic records. This is when the law first explicitly named email, instant messages and social media chats as likely records to be archived and requested when relevant.
The good news is that there are technological solutions available to ensure coherent data backup and email archiving for Discover.
All-in-one appliances are easy to install onto a network and really take the workload off the IT department in the process, while cloud-based email archiving solutions solve the legal preparedness problems for smaller and medium-sized companies.
How does email archiving help in eDiscovery?
With an email archiving solution, all incoming, outgoing and internal emails are captured. Then, a copy of all these records is made and indexed, made searchable and packed for secured long-term storage.
When you receive an eDiscovery request, you'll already have access to a searchable archive, that contains not just the entirety of your business records, but also metadata of those records.
This will allow you to search for all relevant records with regards to a particular case, and retrieve each instance of business communication, whether it's an email, a WhatsApp message, or an email attachment. Thus, you minimize the risk of accidentally leaving out an essential part of the case that could be used in legal proceedings.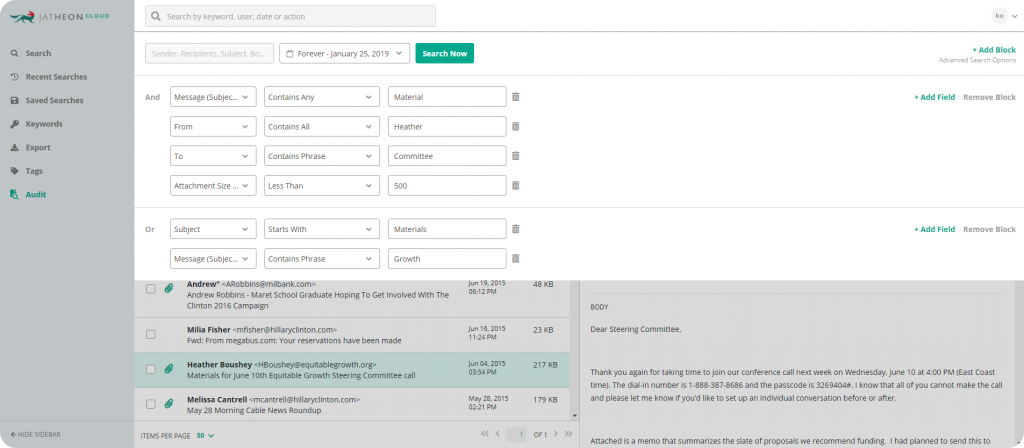 By using advanced search, you can set a number of criteria and quickly retrieve all essential information about an eDiscovery case.
Importance of Legal Hold
When there is reasonable anticipation of litigation, data identified as potentially relevant is placed under legal hold.
This ensures that data cannot be altered or destroyed. To search through millions of archived emails in record times, email archivers need superior search functionalities which allow organizations to respond to eDiscovery and FOIA requests in under 30 minutes.
Here's how legal hold works in practice:
The best part is that the entire process is automated, so businesses don't need to worry about daily backups or manual archiving.
To sum up, an email archiving solution will allow you to easily apply litigation holds, prevent evidence spoliation and ensure a smooth eDiscovery process without paying thousands of dollars for data retrieval.
In case you want to learn more about the role of email archiving in eDiscovery, here are some resources to help you get started: