Email archiving technology was born not long after the first email retention regulations were passed, and ArcMail was among the pioneers.
Today, more than a decade later, ArcMail offers an on-premise archiving appliance called ArcMail Defender, as well as cloud and hybrid solutions for email compliance, ediscovery, business continuity and information governance.
Although initially recognized as one of the industry leaders, Arcmail has received criticism for its poor technical support, export and backup capabilities and an old-fashioned user interface.
If you're currently using ArcMail and need a solution that's better suited to your needs or if you're just looking at other options, we have compiled a list of potential alternatives you could test by getting a demo or a free trial.
1. Barracuda
For a long time, Barracuda Message Archiver was considered a top email archiving product, while the company has been a well-known name and a trustworthy provider of not only archiving, but also other complementary products and services such as web filters, firewalls, security and protection programs.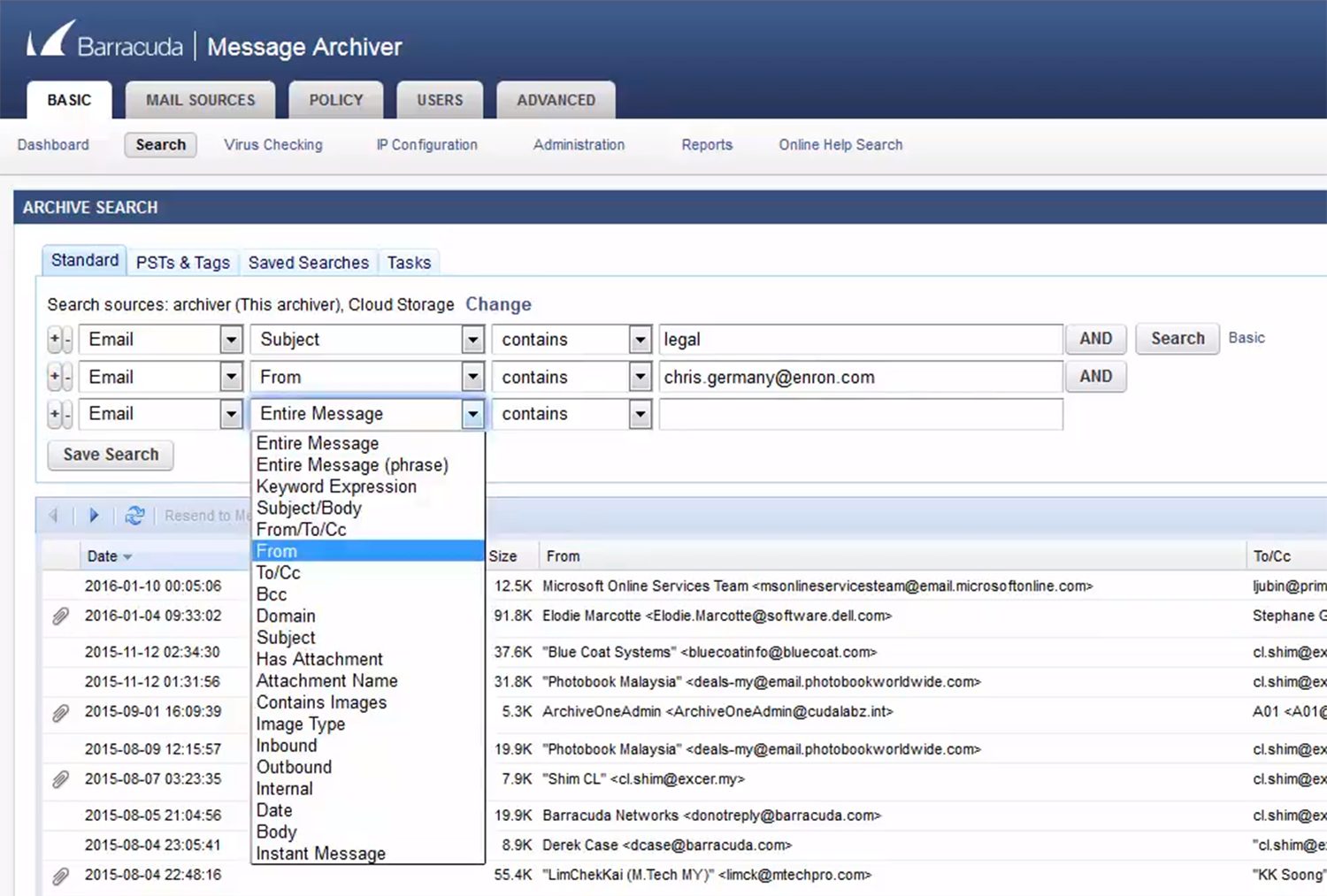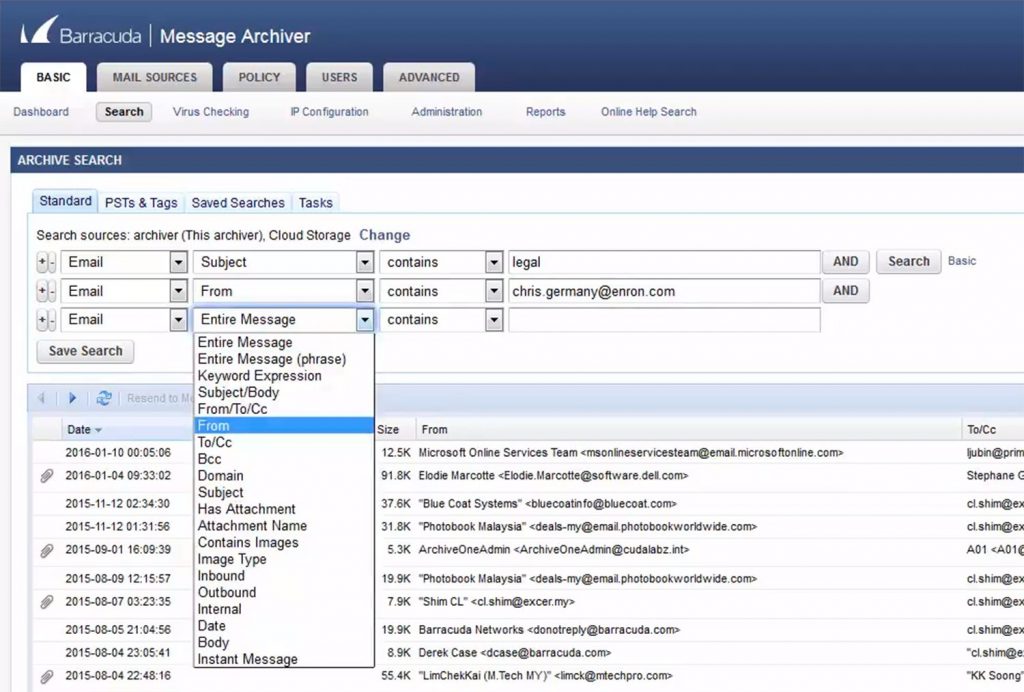 Some of Message Archiver's strongest points are the ability to connect appliances into a cluster and conduct combined searches, easy deployment and mobile and desktop access.
On the other hand, customers have noted drawbacks such as slow search speed, an old-fashioned user interface and "hit-and-miss support".
Barracuda provides archiving support for non-email content and instant messages, but doesn't support exporting to EML or PDF. Importing legacy data from other solutions can be problematic. Critics also cite problems such as complicated pricing and technical support plans.
Storage and pricing: Barracuda's storage ranges from 500GB to 66TB, with prices starting at approximately $3,500 per terabyte.
2. Intradyn
Intradyn is another industry key player that offers archiving support for email, social media and text messages, with solutions available in three deployments – on-premise, cloud and virtual.
Intradyn's Email Archiver is a solution that has good compliance and ediscovery capabilities and is often praised for its search functionality, intuitive user interface, data retention policies, redaction feature and backup.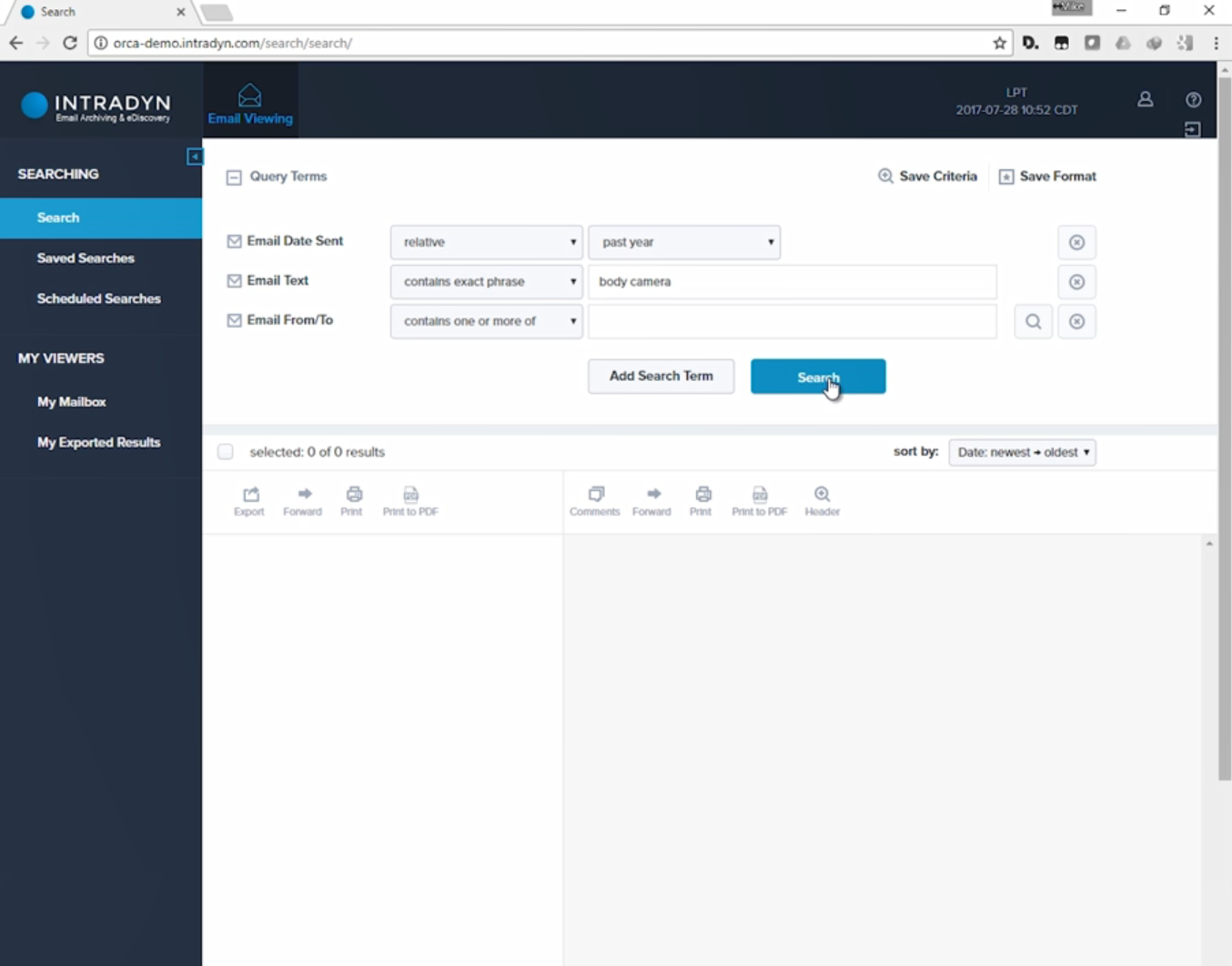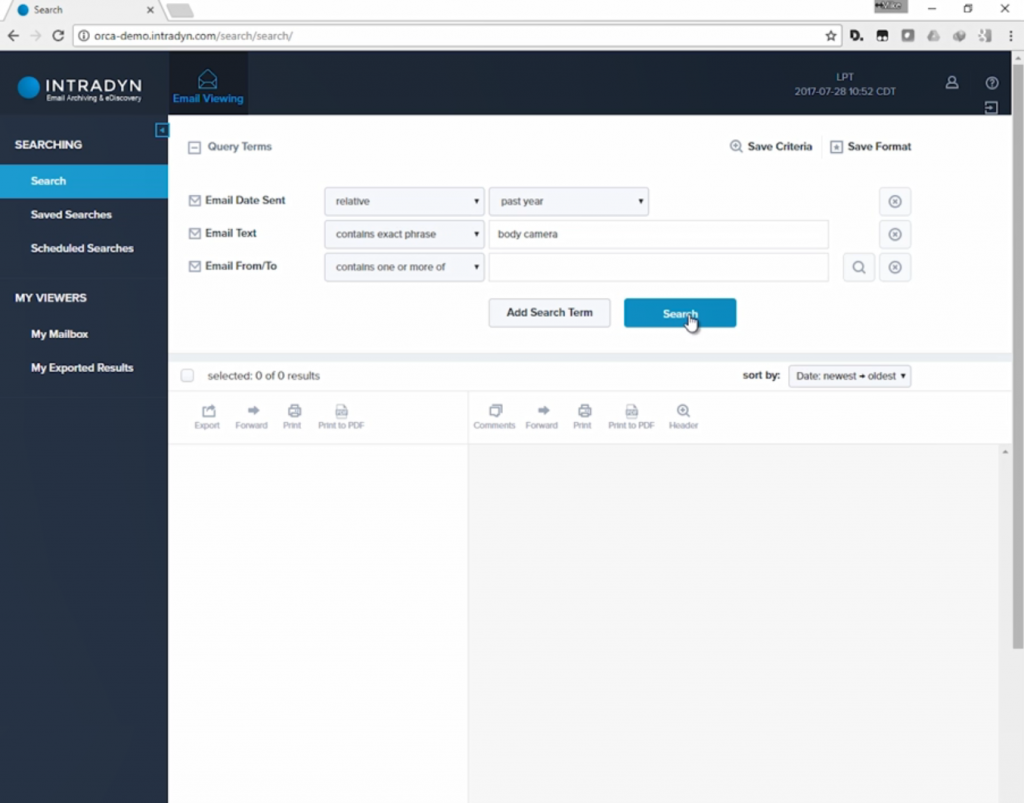 On the flip side, Intradyn relies on stubbing for storage reduction and cannot export files to PST directly, which means that users might have difficulty handling large PST exports.
Storage and pricing: Intradyn may not be the best option if you are a large organization looking for an in-house solution, as their hardware is not the most reliable and the maximum storage capacity is 8TB. The prices start at $4 per user per month.
3. DataCove
DataCove's email archiving software is available across three platforms – on a hardware appliance or as a cloud-based/virtual solution, offers adequate ediscovery and compliance capabilities and simplicity for end-users.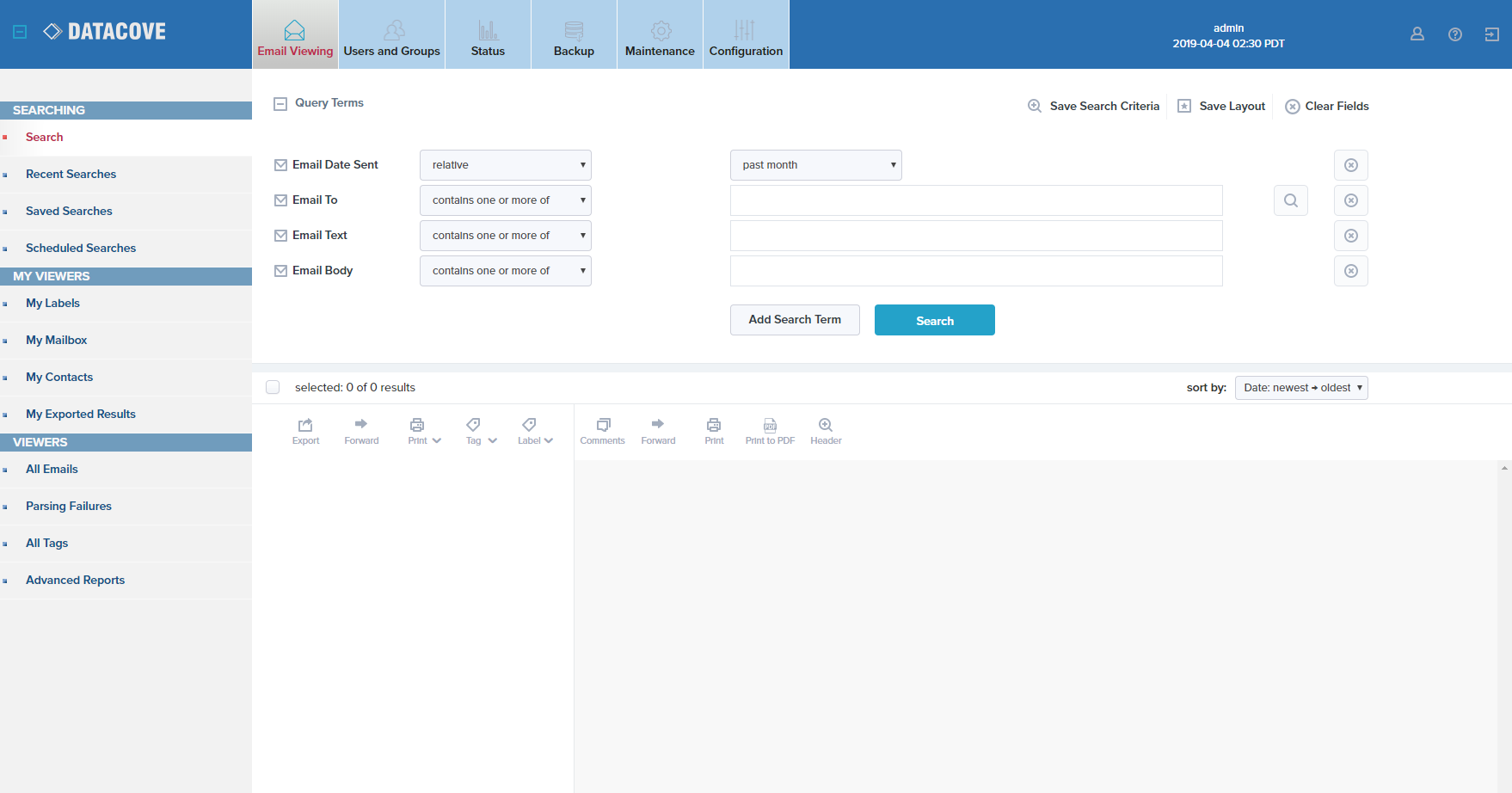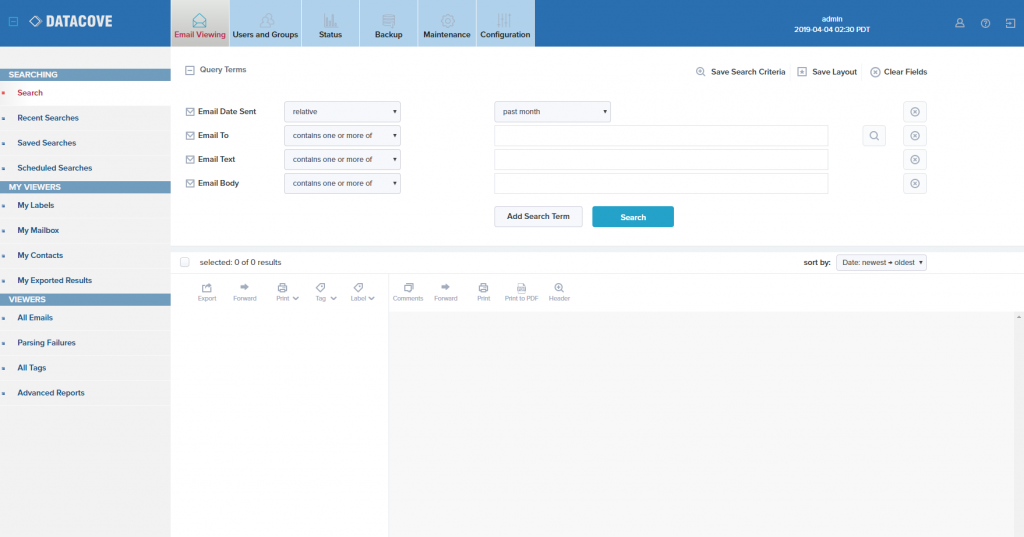 When it comes to the feature set, DataCove gets points for its user interface, ease of deployment and the search functionality that includes fuzzy and federated search.
On the other hand, DataCove's lower-end appliances are SATA-based, while PST import and export is possible only by using a separate tool, which might hinder larger exports.
Storage and Pricing: DataCove's pricing varies considerably depending on the number of years prepaid and the type of deployment. If prepaid for one year only, DataCove's prices for the cloud solution start at $2100 (500GB storage) and end at $22,500 (12TB).
The prices for their hardware solution range from $4,600 to $82,000. If you have your own server and available resources, you could save a bit by choosing the virtual deployment that starts at $1500.
4. Office 365
Office 365 offers a number of products and services, email archiving among them. This has led many organizations to centralize their email management and archiving efforts.
The main advantages of O365 archiving lie in great integration with the existing infrastructure.
However, Microsoft does not specialize in email archiving, so O365 often struggles with some of the basic tasks such as assigning roles to users, setting up permission levels, legacy data import and large exports.
Its search capabilities cannot compare to the advanced search offered by expert companies.
Another major drawback of Microsoft's solution is that its default limit of search results is 250, which is rarely sufficient for any large scale legal case. Searching through zipped files is also not possible.
Storage and Pricing: Microsoft Office 365 might be a good option for smaller companies that can't afford to buy business software because the subscription includes the complete Office package, with services available for PCs, tablets and phones. A downside is that the business plan that comes with archiving and compliance capabilities starts at $20 per user per month if prepaid for a year, while Exchange online archiving as a separate service starts at $3 per user/month.
5. Jatheon
Jatheon Technologies offers on-premise, cloud and virtual solutions that can archive email, social media, mobile calls, text messages, WhatsApp etc.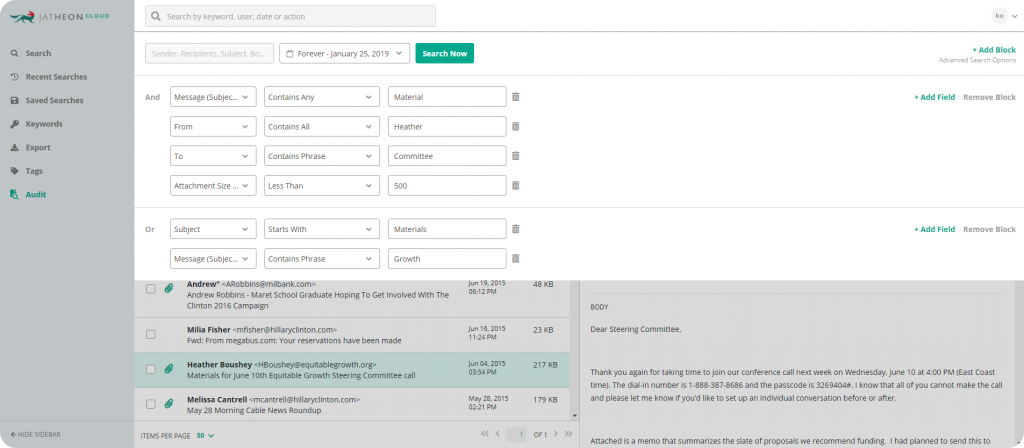 The on-premise solution, Jatheon Archiving Suite, contains enterprise-grade hardware on all appliance models and earns points for its search capabilities, handling large exports, customizable user roles and retention policies and 24/7 monitoring and support.
The company also offers free hardware replacement after 4 years and has storage expansion units, customizable social media, mobile and IM modules and disaster recovery plans.
The cloud-based solution, Jatheon Cloud, has been praised for its search capabilities and innovative and intuitive approach to feature design. Negative aspects of Jatheon's offering include the lack of encrypted backup and the redaction feature.
Storage and pricing: Jatheon has 6 appliance models ranging from 6 to 96TB. Prices start at approximately $3000 per terabyte with discounts for longer prepaid periods. Jatheon Cloud starts at $2.5 per user per month if prepaid for five years.
If your organization needs a cost-effective ArcMail alternative with a richer feature set and more reliable technical support, these alternatives might provide better value for money. To learn how Jatheon can help you choose and implement the right archiving solution for your business, contact us or book your personal demo.