In the most recent Jatheon Cloud software update, we added a few major capabilities – the capture and archiving of Bloomberg email and Bloomberg chat and the option to share personal tags with other users in your organization. Read on for more information about these and other smaller updates from this latest release.
Bloomberg archiving – archive Bloomberg email and chat app
Bloomberg email has long been essential among financial services professionals and, as a key communication tool in the industry, is used by the largest financial institutions like the Bank of America, Goldman Sachs, JP Morgan, Morgan Stanley, hedge funds, asset managers and brokerage firms. Harvard University and UCLA are clients as well. More than 20 million Bloomberg emails are sent daily.
Instant Bloomberg (IB) is Bloomberg's instant messaging tool which, just like email, is primarily used by the global financial community to exchange news about the market, share information, post quotes, view securities and negotiate trades. According to Lexology, Bloomberg chat is used by more than 320,000 traders and investors worldwide, with more than 20 million Bloomberg messages exchanged daily.
Just like the rest of online communication and messaging platforms, the use of Bloomberg has exploded since the beginning of the Covid19 pandemic. But for the financial services industry, this is an especially dangerous territory.
Regulatory compliance requirements by the SEC and FINRA (SEC Rule 17a-4, FINRA Rule 4511 and 3110) require that all electronic communications be captured, retained for between 3 and 7 years and continuously monitored. Because of the sudden shift to remote work, Bloomberg archiving and monitoring has become even more significant, as the pandemic exposed gaps and challenges in compliance and supervision processes.
Here are some of the archiving software requirements for compliant FINRA and the SEC capture of Bloomberg email and Bloomberg instant messaging:
Capture capabilities for unique Bloomberg fields – Bloomberg chat metadata includes less typical fields like chat entrance and exit logs and the number of chat participants
Protection of sensitive data – Both Bloomberg email and chat contain sensitive information like pricing, transaction and trading data. Data protection features like multi-factor authentication, encryption and geofencing for cloud systems are mandatory.
Advanced deduplication – Legal teams' main trouble when inspecting Bloomberg data for legal matters is that there are a lot of duplicates, which makes it difficult to isolate important information and increases the time needed for review and analysis.
Attachment capture – Make sure that attachments are not missed and that they are indexable.
Advanced search – To be able to pinpoint Bloomberg email and chat data, advanced search capabilities are a must. Because of common spelling errors, abbreviations and brokerage slang, it can be difficult to come up with precise and relevant search results without features like keyword list search, as well as proximity and fuzzy matches.
Custom policies across Bloomberg email and chat data – Since different retention windows are required for email and chat records, it's important to be able to schedule automatic deletions to limit any unnecessary liability in the future.
Jatheon Cloud integrates seamlessly with Bloomberg Terminal and captures both email exchanged between Bloomberg users and email sent to/received from outside domains and addresses. Users can choose to search Bloomberg email under the Email Type search criteria.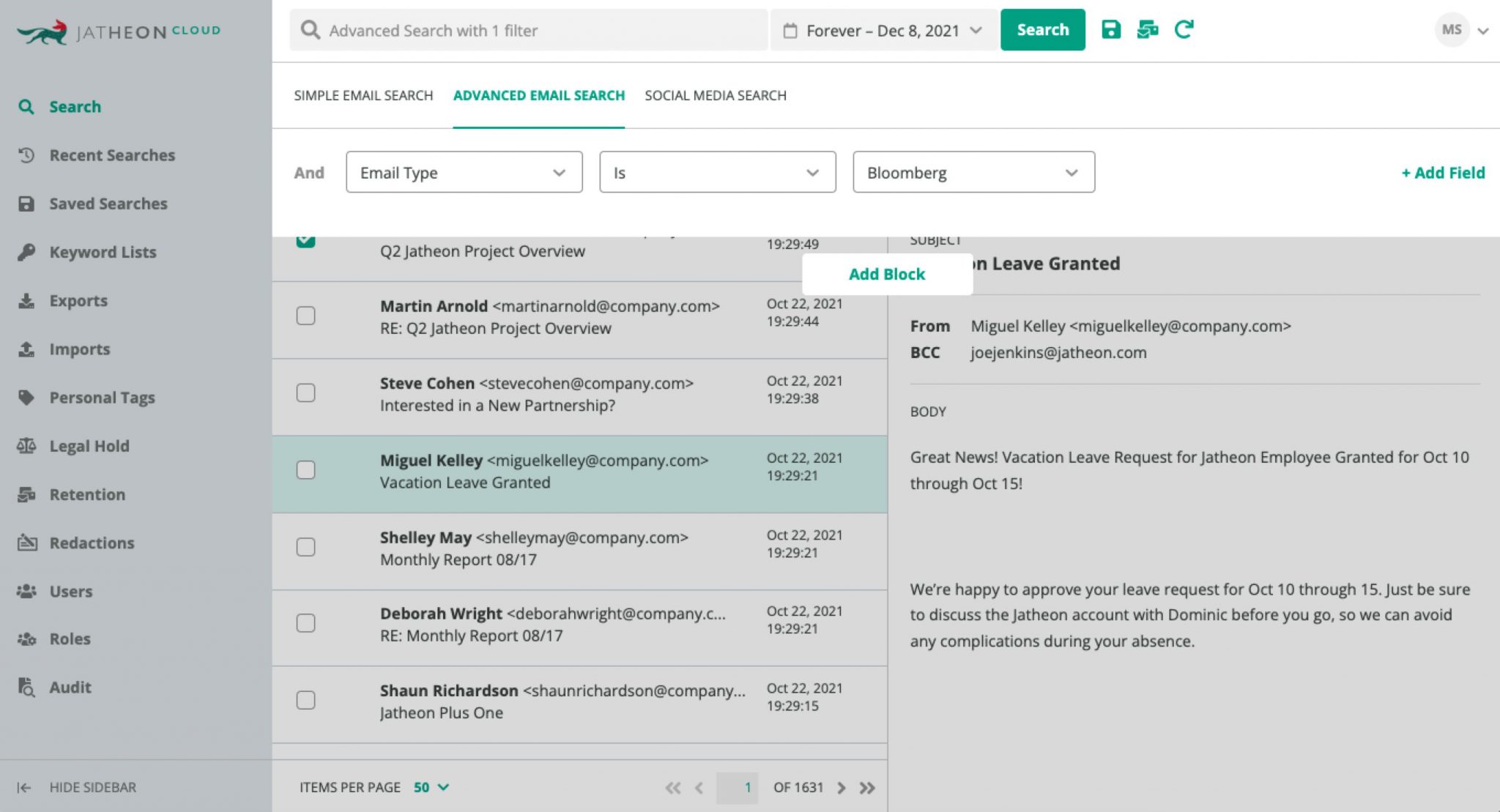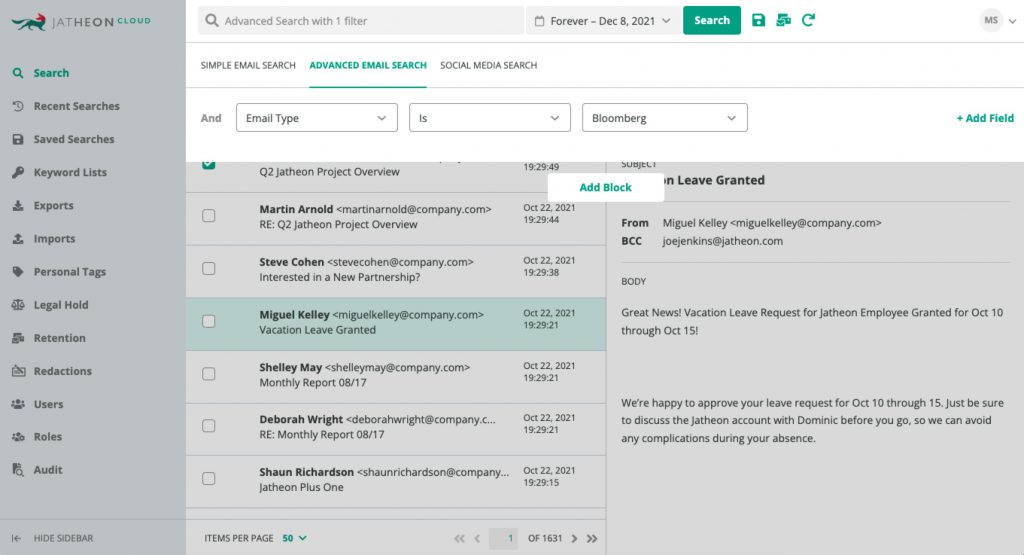 Searching Instant Bloomberg messages is done under Social Search.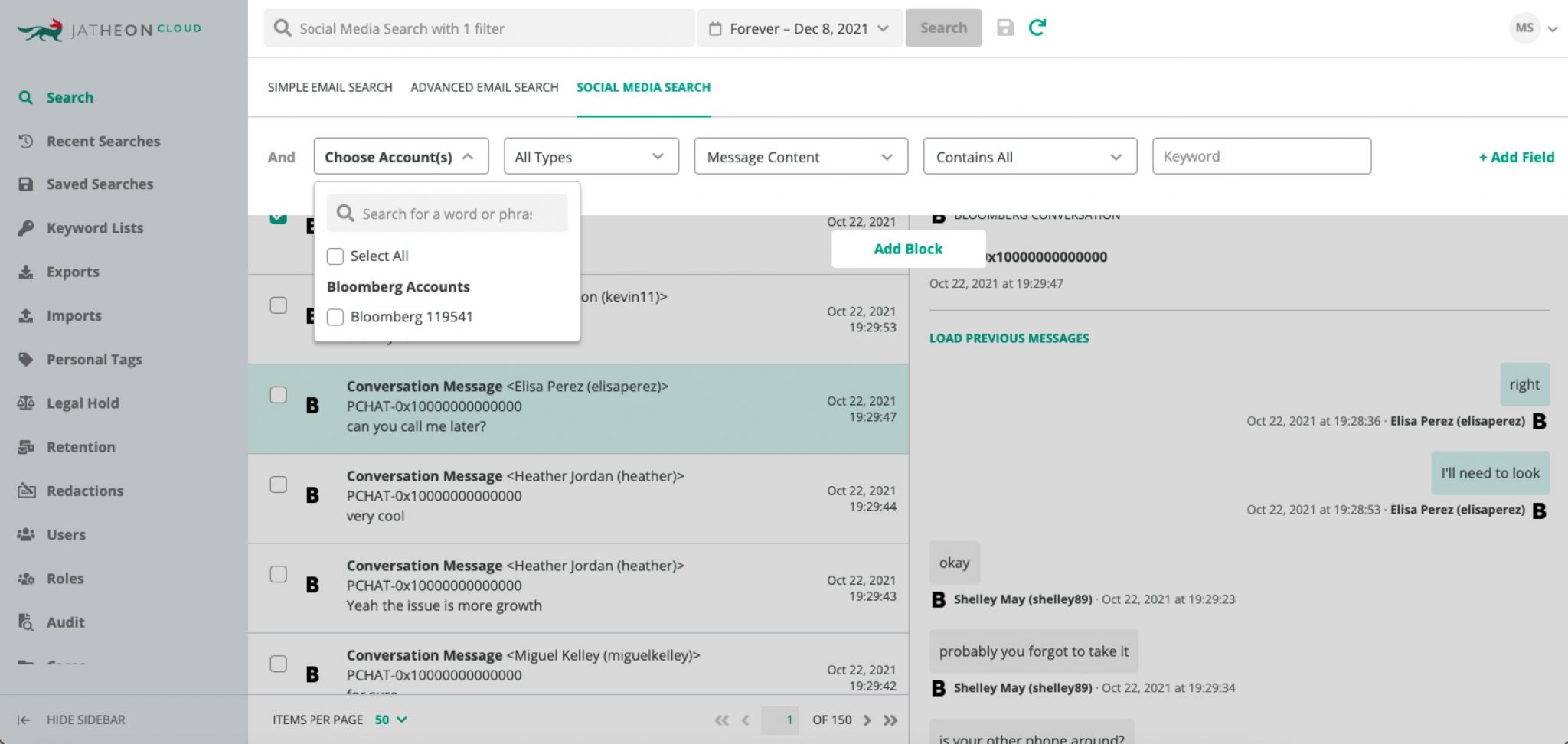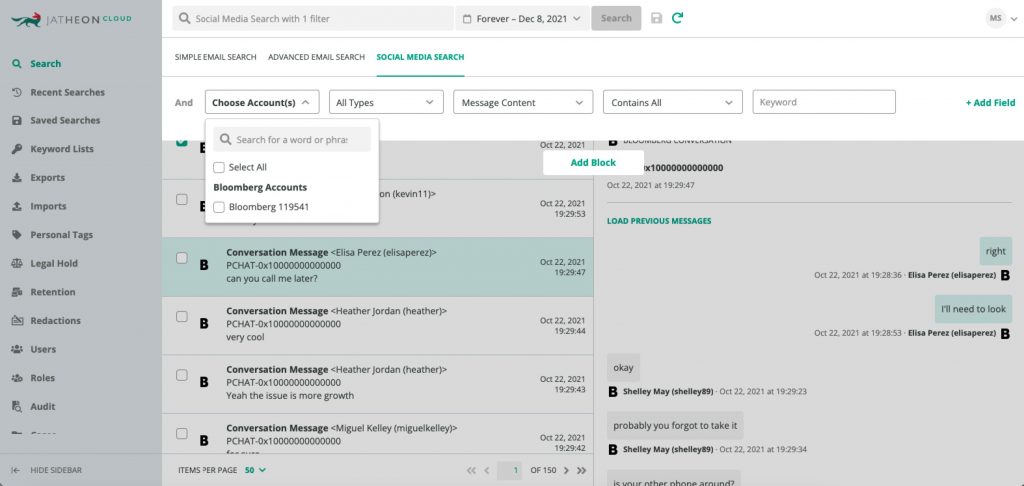 Email and chat records are captured and indexed instantly and then stored in a tamper-proof format for granular searching and full compliance with FINRA and the SEC. All possible metadata is captured and message integrity is verifiable.
Messages are fully auditable and it's straightforward for legal and compliance departments to carry out monitoring and compliance review.
Bloomberg chat messages are displayed as threaded conversations, giving reviewers the necessary context for better conversation analysis.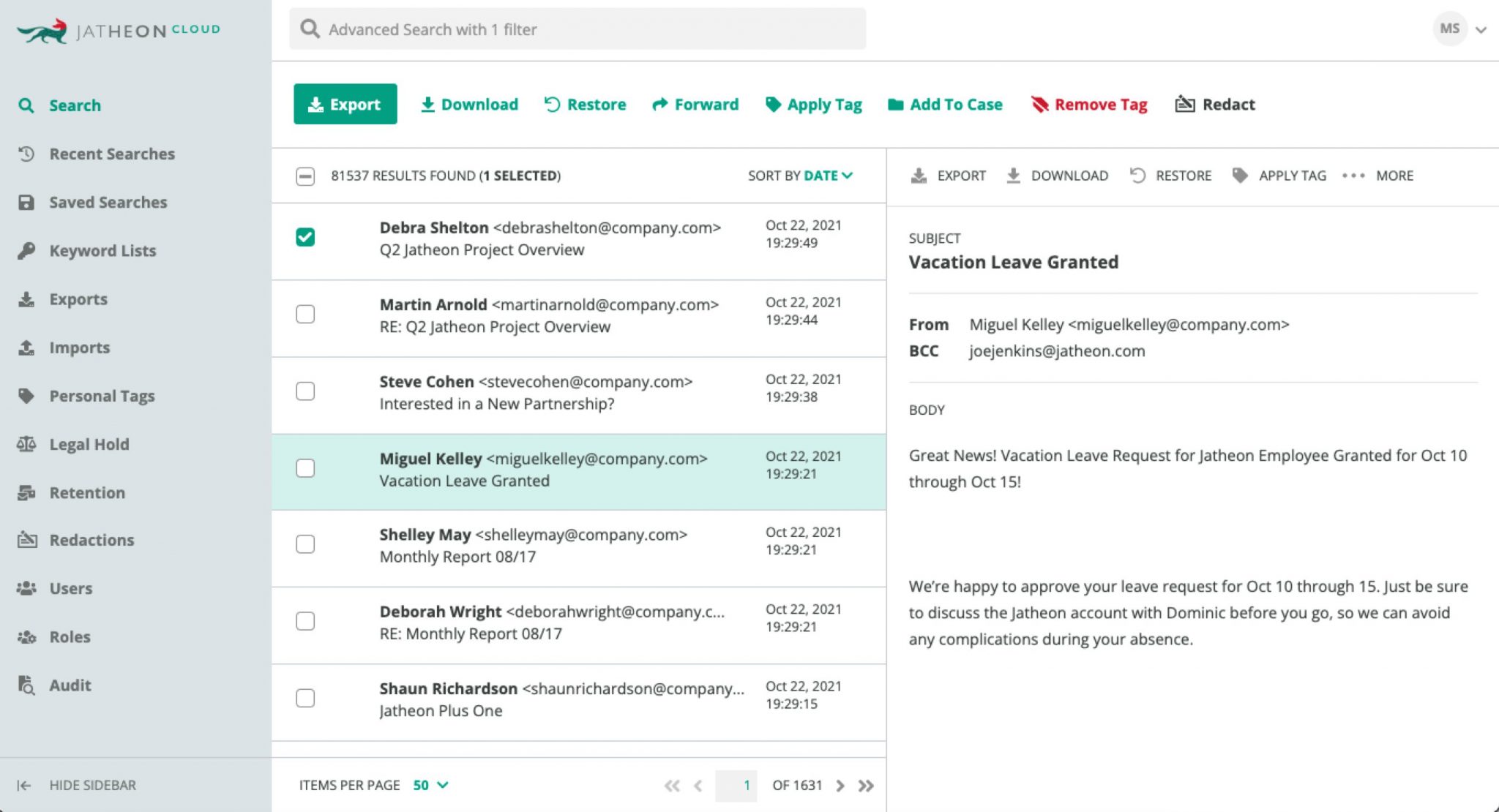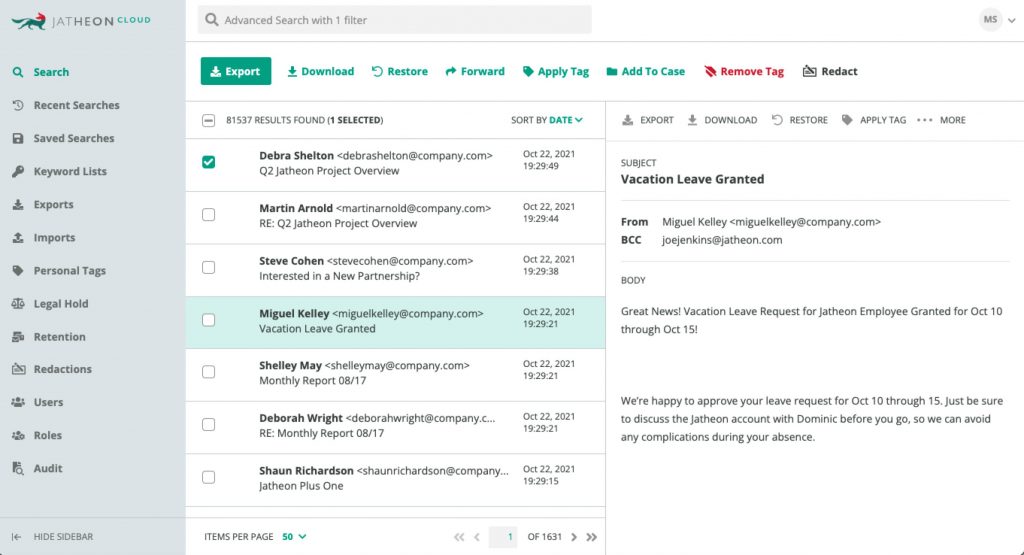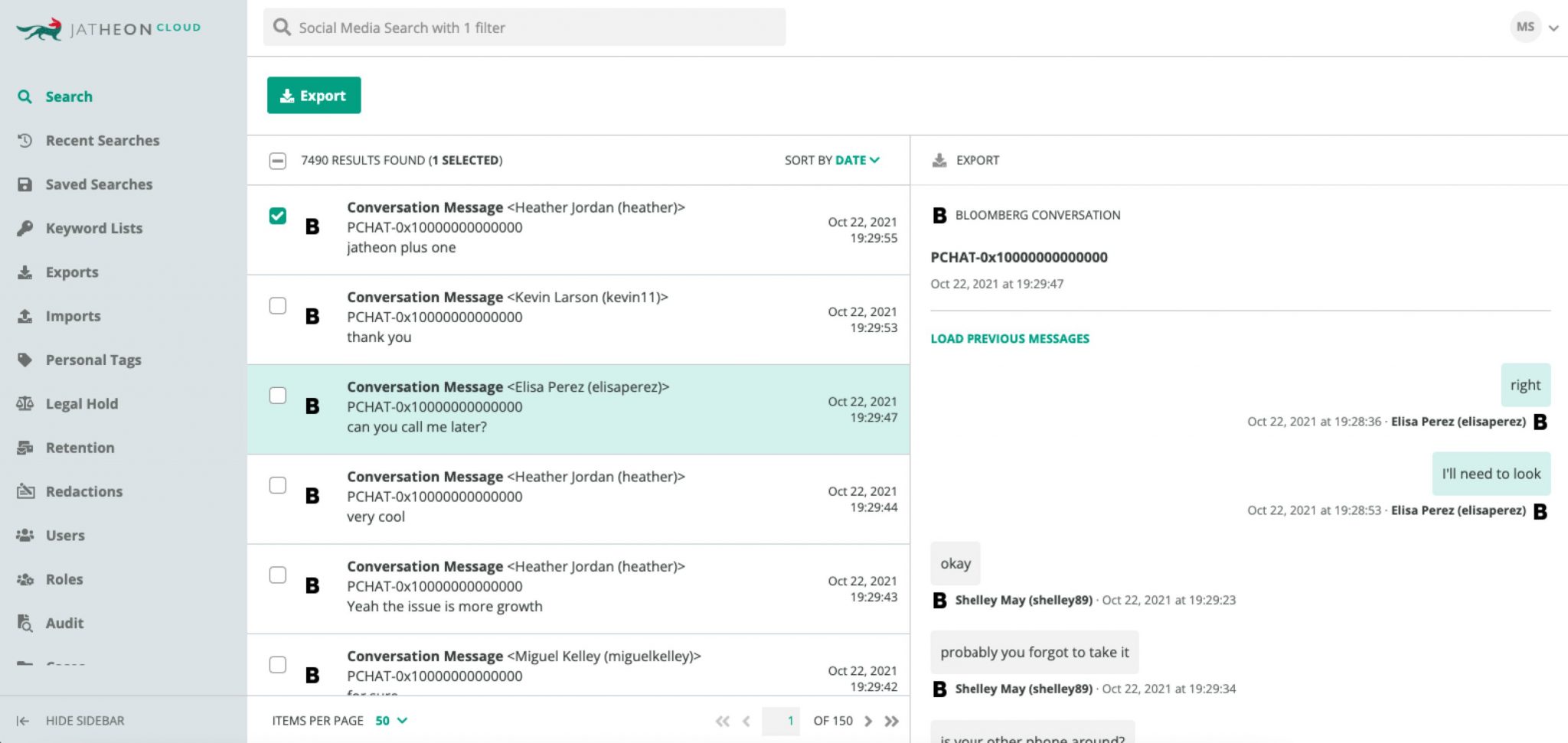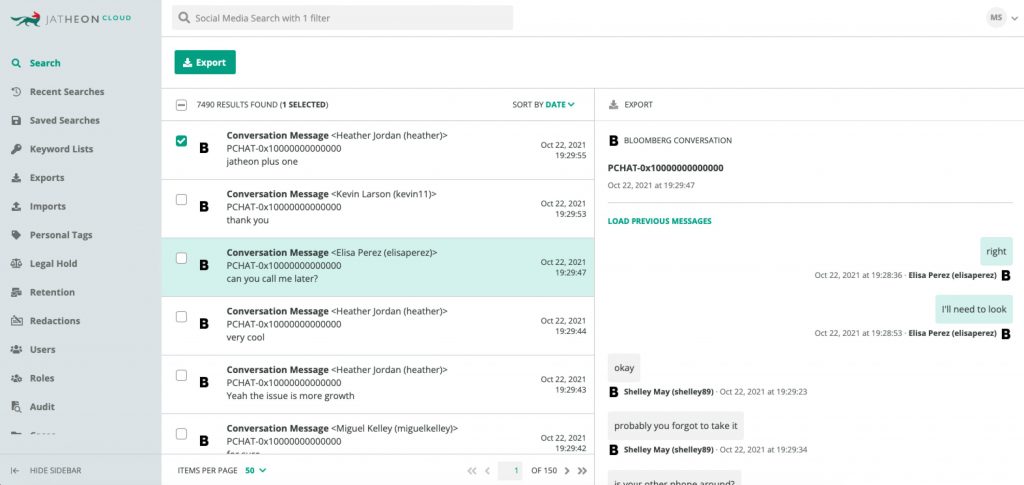 Organizations are also able to unify the archive of Bloomberg communications and the other channels that they're using, including social media like Facebook or Twitter.
Tag sharing and other updates
Jatheon Cloud users can now share personal tags with other people within the organization and view the list of tags which they shared or which have been shared with them. It's also possible to stop sharing a personal tag and remove access to tagged items for the selected users. If you're a Jatheon Cloud user, you can find more information about tag sharing in this Jatheon Support Center article.
We also improved the Redaction feature to allow users to Edit Redactions.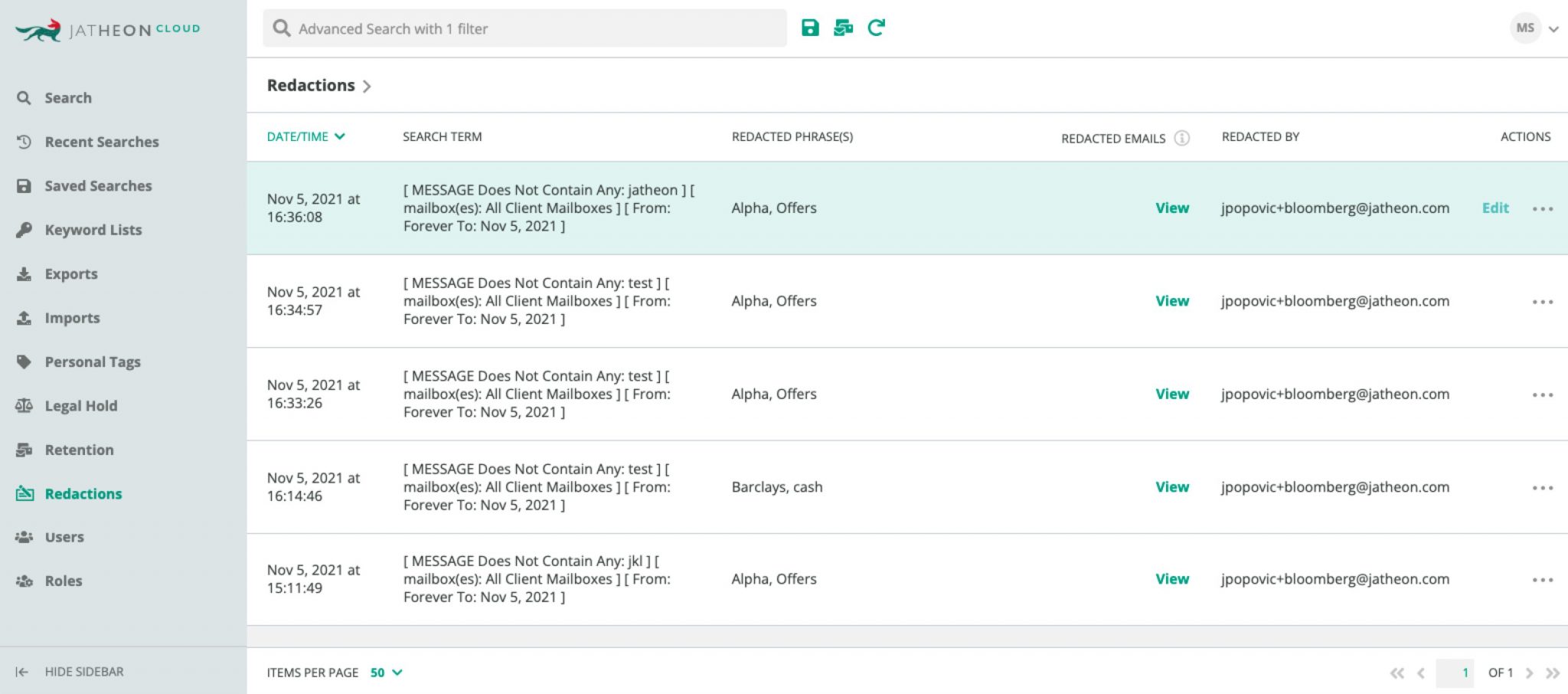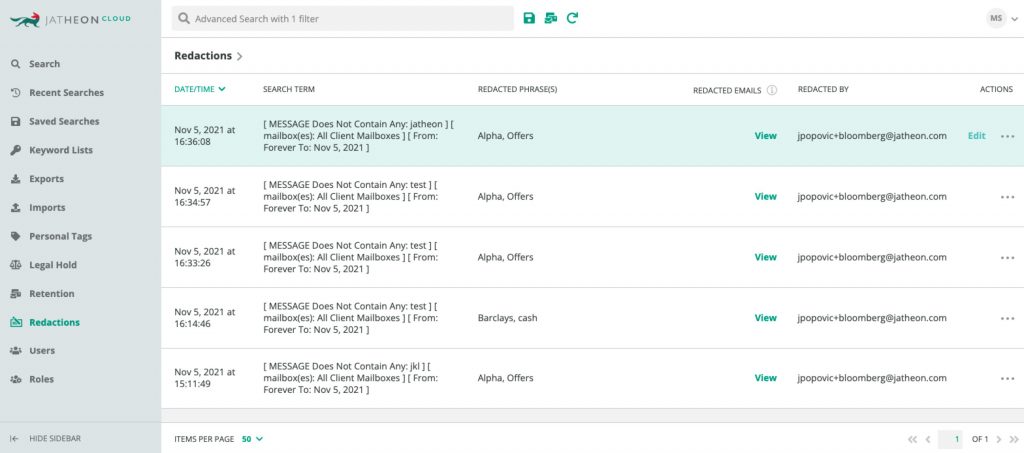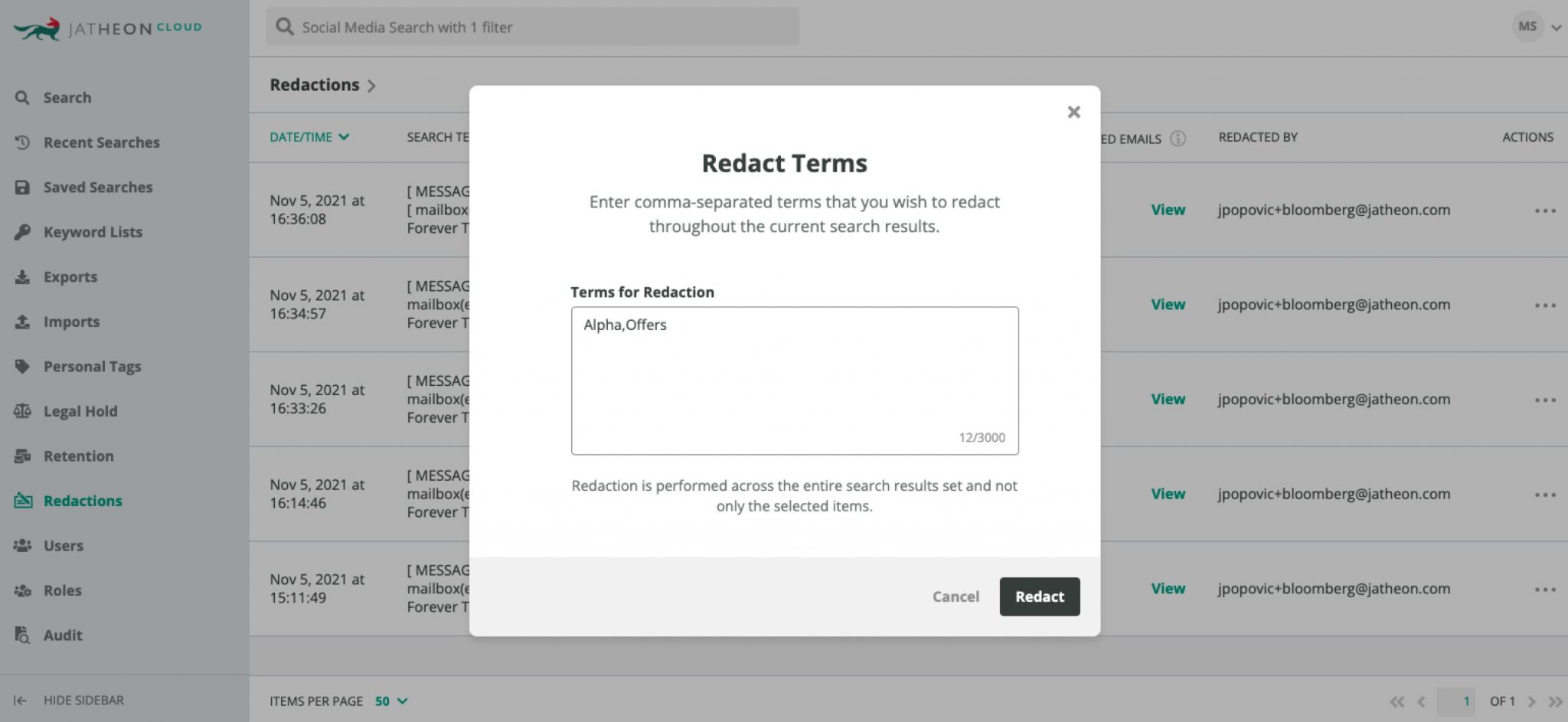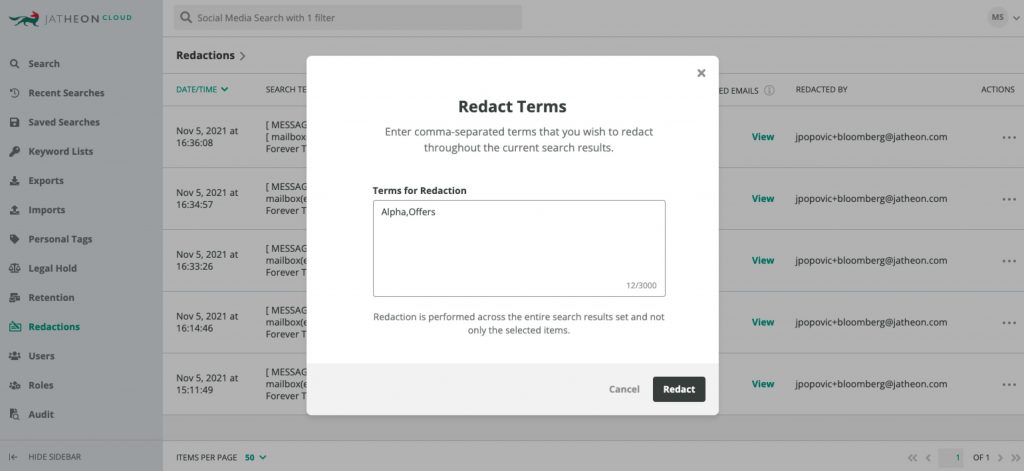 If your organization needs Bloomberg email archiving or a solution to meet Bloomberg chat compliance with FINRA, you can book a 30-minute demo to get a better understanding of Jatheon's Bloomberg archiving capabilities and ask us specific questions about deployment, capture and data protection.