We recently added another major update to the Jatheon Cloud data archiving software – we included Facebook to the list of social media platforms that can be archived.
Just like with Twitter, organizations can opt for cloud-based archiving of their Facebook records only (standalone Facebook archiving) or strategically combine their email archive with the Facebook archive to search both data types using the same platform (integrated email and social media archive).
Here is a quick overview of the reasons to archive your official Facebook page(s), followed by the details of the new update.
What you need to know if you're using Facebook Business Pages
As a free platform with 2.7 billion monthly active users, Facebook gives small businesses, enterprises, schools and government agencies a unique chance to communicate with their community, as well as promote services, inform the public about important changes or news, provide customer support, answer questions and build reputation.
However, organizations in regulated industries need to retain business records in order to maintain compliance with government-imposed and industry-specific regulations, most of which consider Facebook interactions as business records.
In other words, for public organizations, hospitals, school districts, universities, banks, broker-dealers, cities and counties, it is mandatory to archive Facebook records in the same manner and with the same evidentiary quality as email. FINRA is just one of the major laws that explicitly refers to social media archiving in its Regulatory Notices 10-06 and 11-39.
While compliance may be the main reason that prompts organizations to capture official Facebook communication, meeting compliance standards is just one of the many benefits of Facebook archiving. It also helps legal and HR departments to detect potential employee misconduct or questionable and illegal activities that could damage the business. Accurate record-keeping will not only assist with litigation protection, but also provide insights into how your employees communicate internally and externally.
Note on Facebook's own archiving capabilities
While Facebook itself contains the capabilities to archive posts or messages, this does not satisfy the strict compliance requirements in terms of metadata. Even when you download all the information from Facebook, there is little guarantee that all the complete content is there and there is no authentication whatsoever.
For this reason, relying on Facebook's internal capabilities for long-term data archiving is a bad strategy – not only would it not satisfy the Federal Rules of Evidence (Rule 901), but it would also be extremely difficult and time-consuming to properly present records in case there is an ediscovery case, a FOIA request or an audit.
Instead, organizations should take a more strategic and structured approach for the long-term retention and availability of Facebook records. This can be done using data archiving solutions, which automatically capture all data in a tamper-proof format and together with time and date stamps.
Complete Facebook archiving for compliance and lawsuit management
Here's how it works when organizations archive Facebook on Jatheon Cloud:
Jatheon Cloud will let you choose which Facebook Page(s) you'd like to archive, connect to your organization's page(s) and import the data that has already been posted on Facebook earlier. In case you need to archive more pages down the road, you'll be able to connect them later.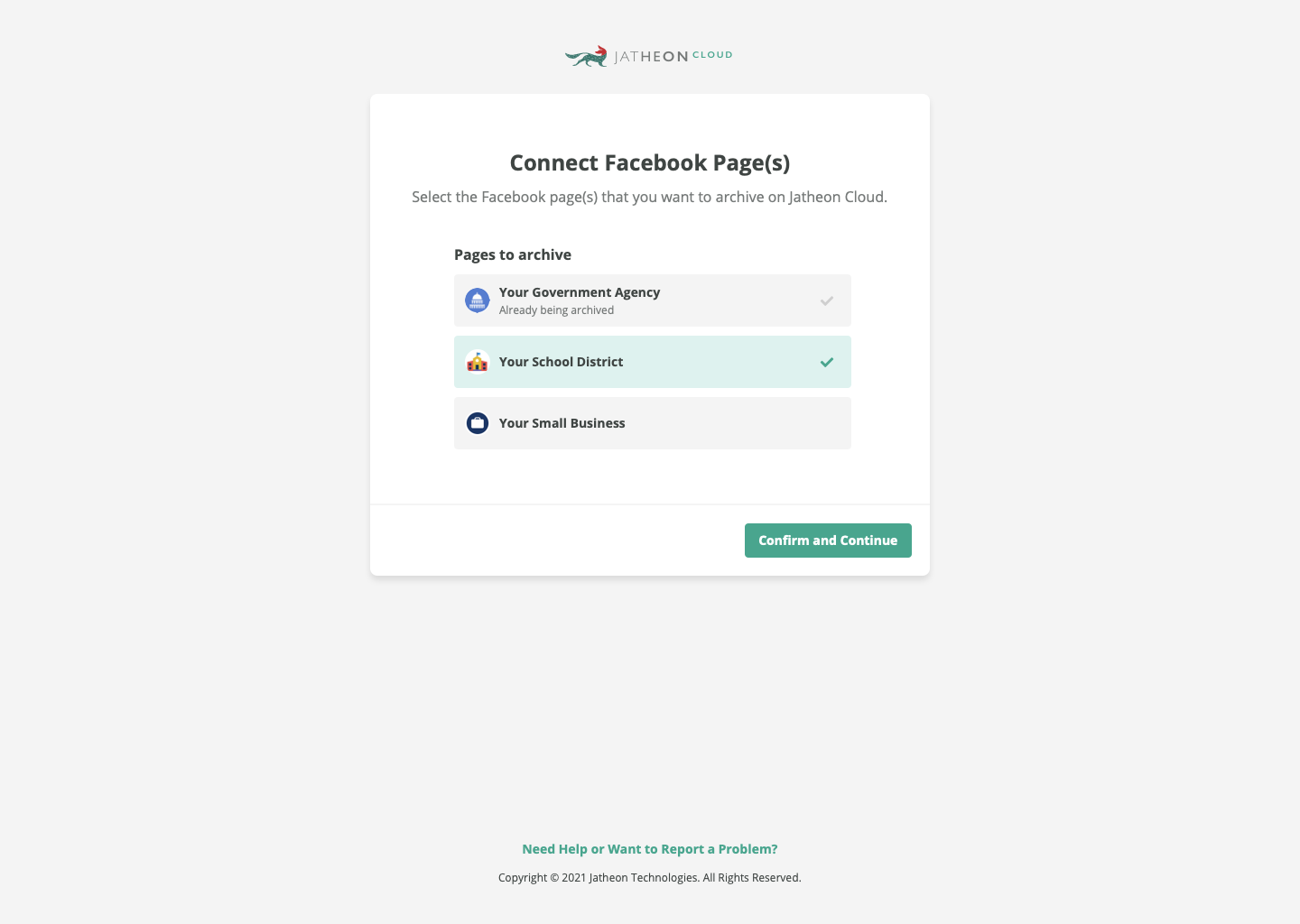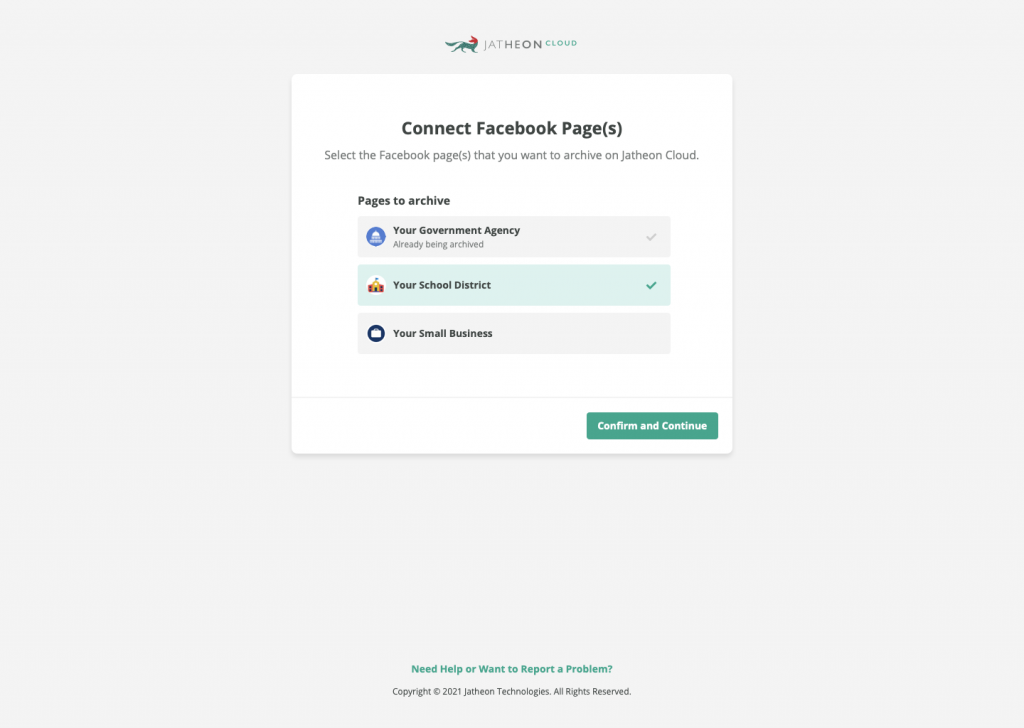 From that moment on, Jatheon Cloud will automatically start archiving all the new data – it will capture interactions like posts, comments, photos, videos, and messages together with all the metadata.
Jatheon Cloud features a separate Social Media Search, where you can structure the search parameters as you best see fit:
select the social network to search through (in this case, Facebook),
define types of records to search through (all, posts, comments, photos, videos or messages)
select the search fields (e.g. From, To, Message Content)
select the search criteria (e.g. Contains All, Contains Any, Contains Phrase etc.)
specify the date range to narrow down your search
add search blocks and fields to additionally narrow down your search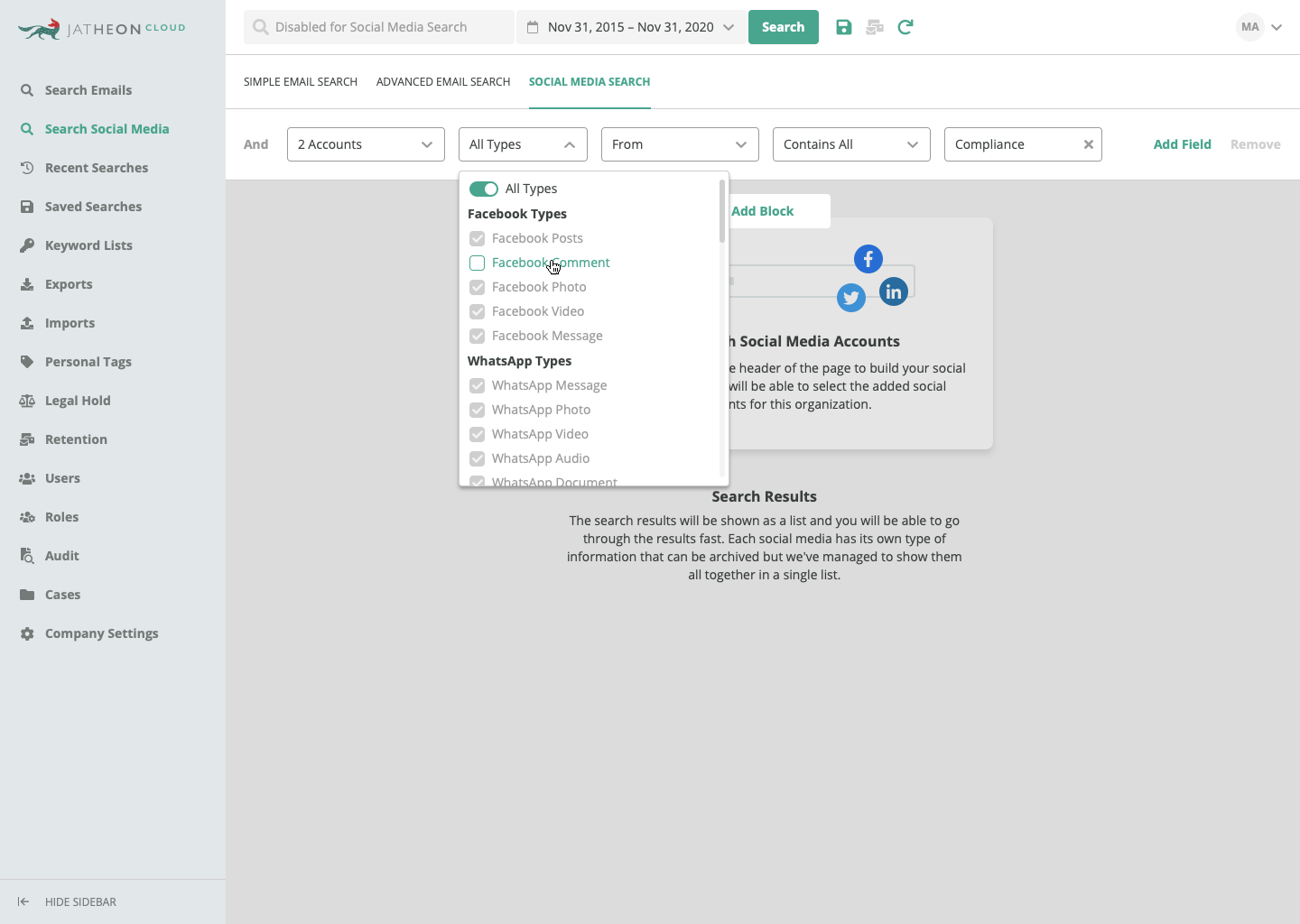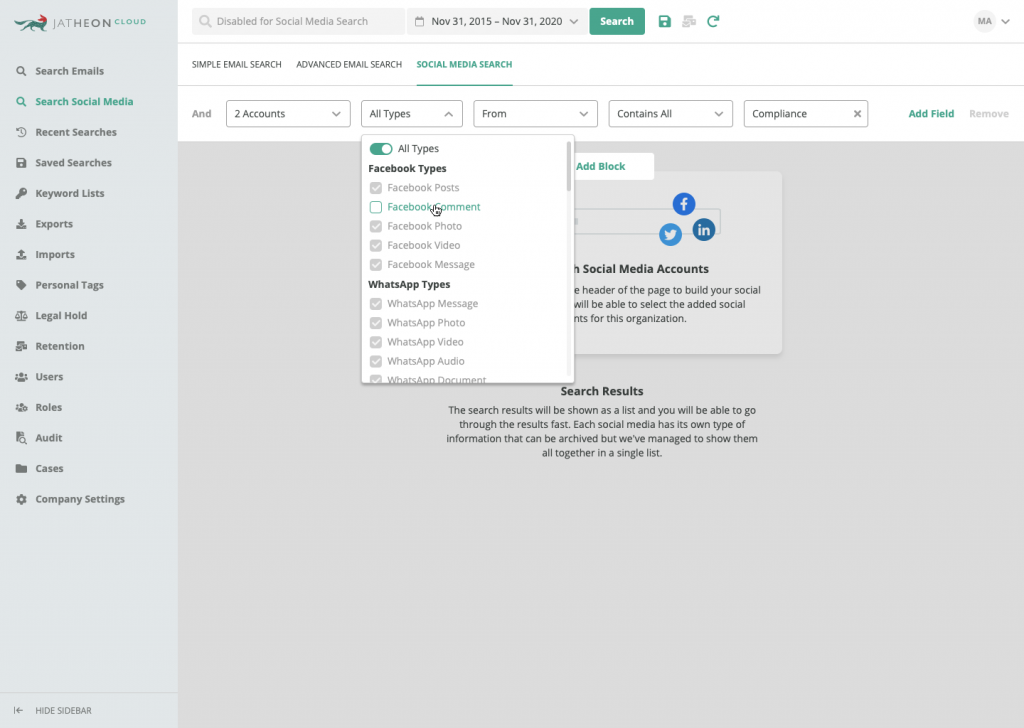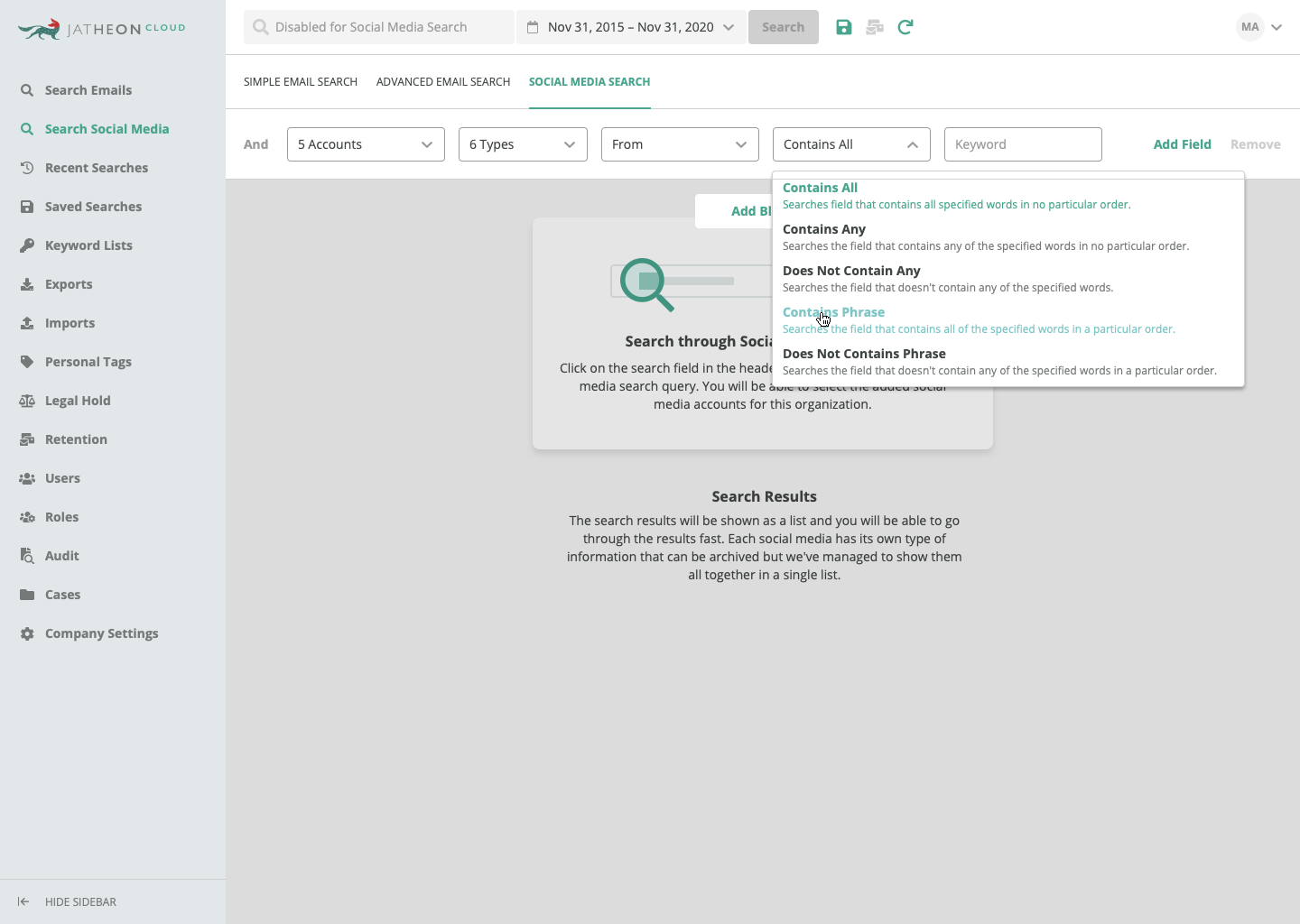 Once the user initiates the search, the results will be presented with a distinct Facebook icon (to separate Facebook results from other social media in case a user is searching for records through multiple social channels like Facebook, Twitter and WhatsApp). You'll also be able to see what type of content the result is (e.g a Facebook post by your business page or a comment), who posted it and when (date and time).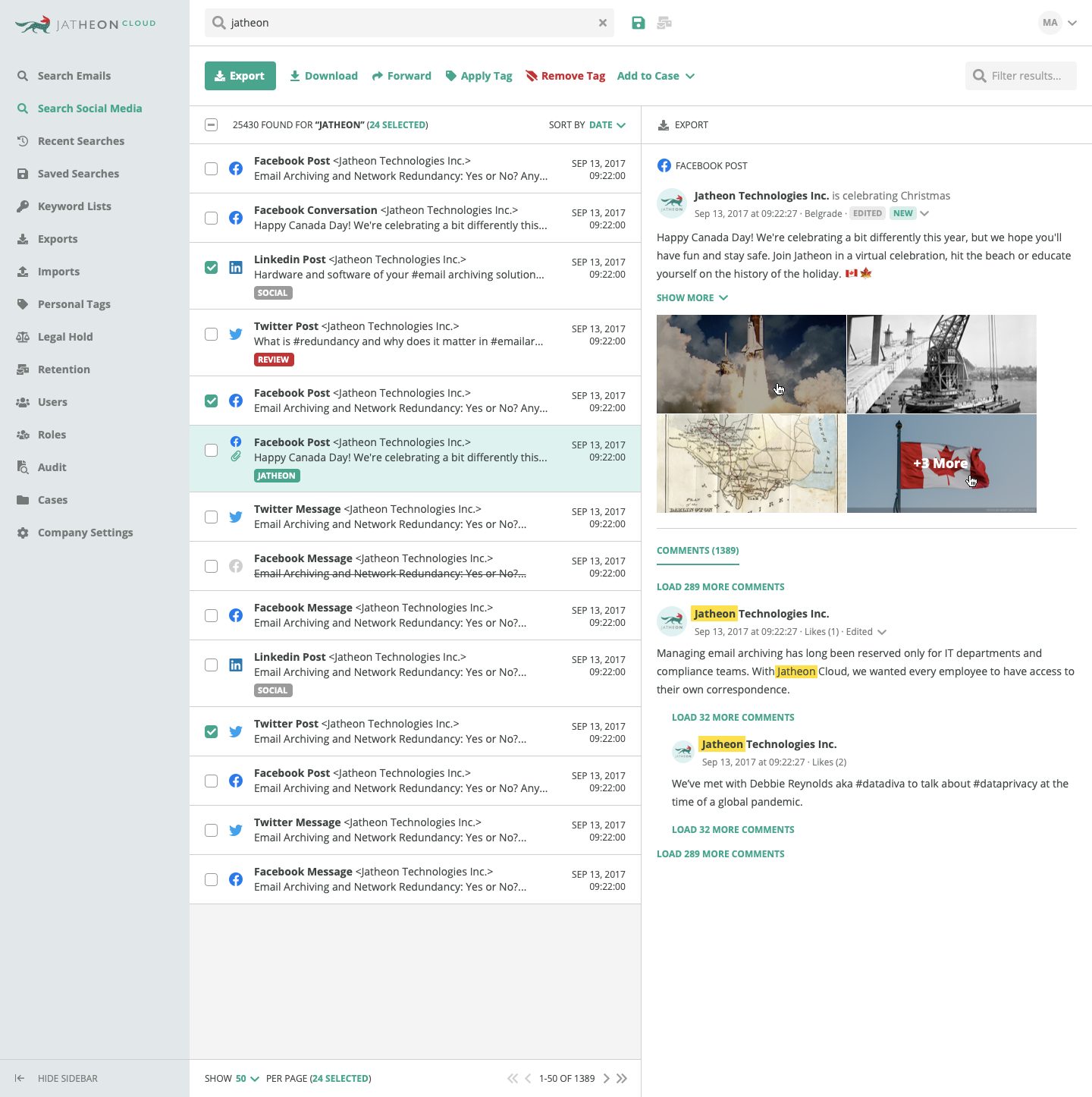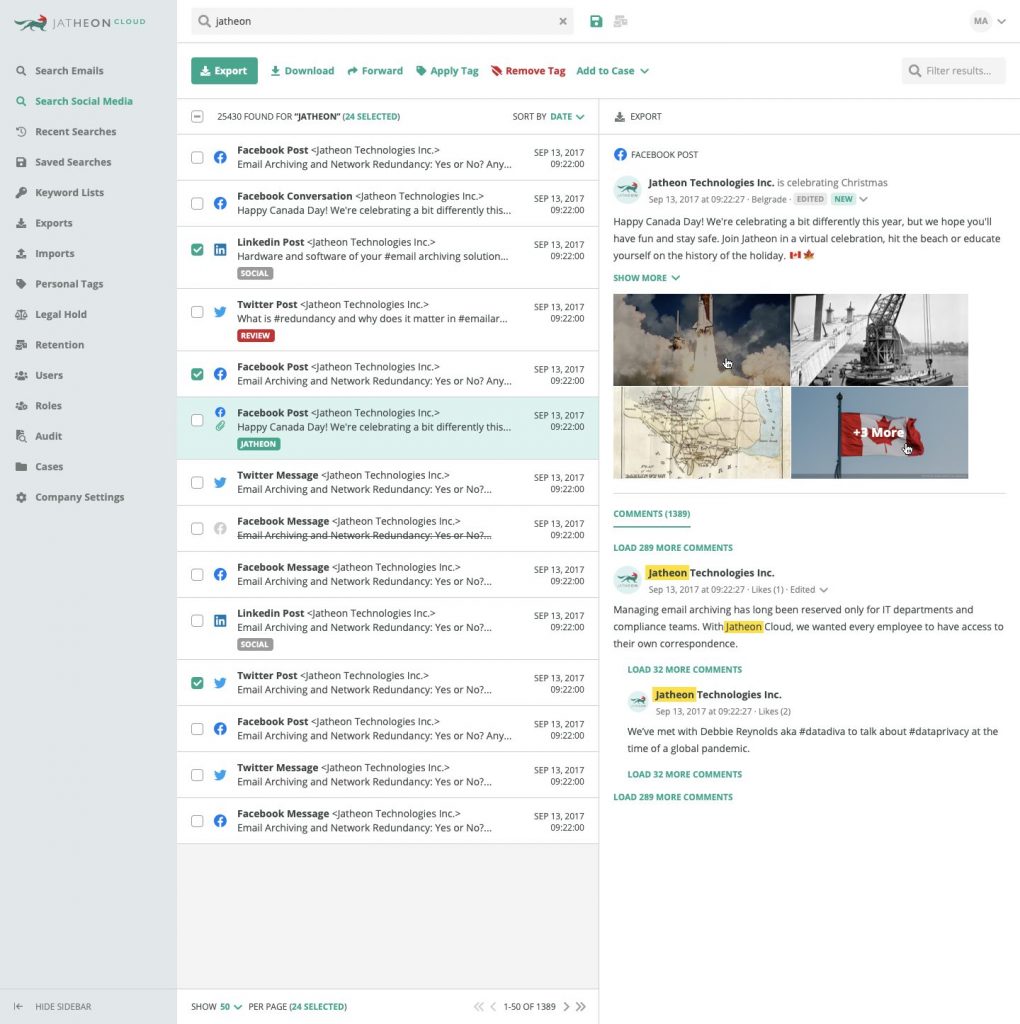 The user will be able to click on a desired single result to view details of the single message. In case the result is a conversation, we keep full conversation threading, allowing the user to view messages in context, before and after the selected result.
To sum it all up, here are the benefits of archiving Facebook on Jatheon Cloud in a nutshell:
One day activation and easy integration with Facebook
Archive and manage one or more Facebook pages
Standalone Facebook archiving in a secure AWS-based environment
Combined Facebook archiving (with email, WhatsApp and other social media)
Compliance with social media record-keeping standards and regulations
Easy ediscovery of social media records for lawsuits and HR issues
If you are already a Jatheon Cloud user, you can get more information about conducting Facebook searches in our knowledge base:
How to Search for Social Media Content
How to View Single Facebook Page Search Result
If you're new to Jatheon Cloud but would like to start archiving Facebook for compliance, ediscovery and business intelligence, contact us or book a short personal demo.