The first thing that comes to mind when people think of email is Gmail, Google's free email service.
However, apart from the search engine and email services, Google offers an entire collection of cloud-based productivity and collaboration tools called Google Workspace (formerly G Suite).
Since Gmail is also a part of Google's ecosystem, many get confused over which product is better for their needs.
That's why we decided to compare Google Workspace vs. Gmail and see how they stack up against each other.
But first, let's discuss Google Workspace and Gmail in more detail, identify their differences and similarities, and help you understand which one to pick for your business.
What Is Gmail?
Gmail is Google's free, cloud-based, email hosting service that enables its users to send, receive, and manage their email.
It was introduced back in 2004 with an invite-only model but opened its doors to the wider public in 2007. Since then, Gmail has become the most popular email service with over 1.8 billion users.
Gmail's free version provides users with 15 GB of free cloud storage across 3 different products – Google Drive, Gmail, and Google Photos. This free plan limits users to a "@gmail.com" address and basic security and integration options.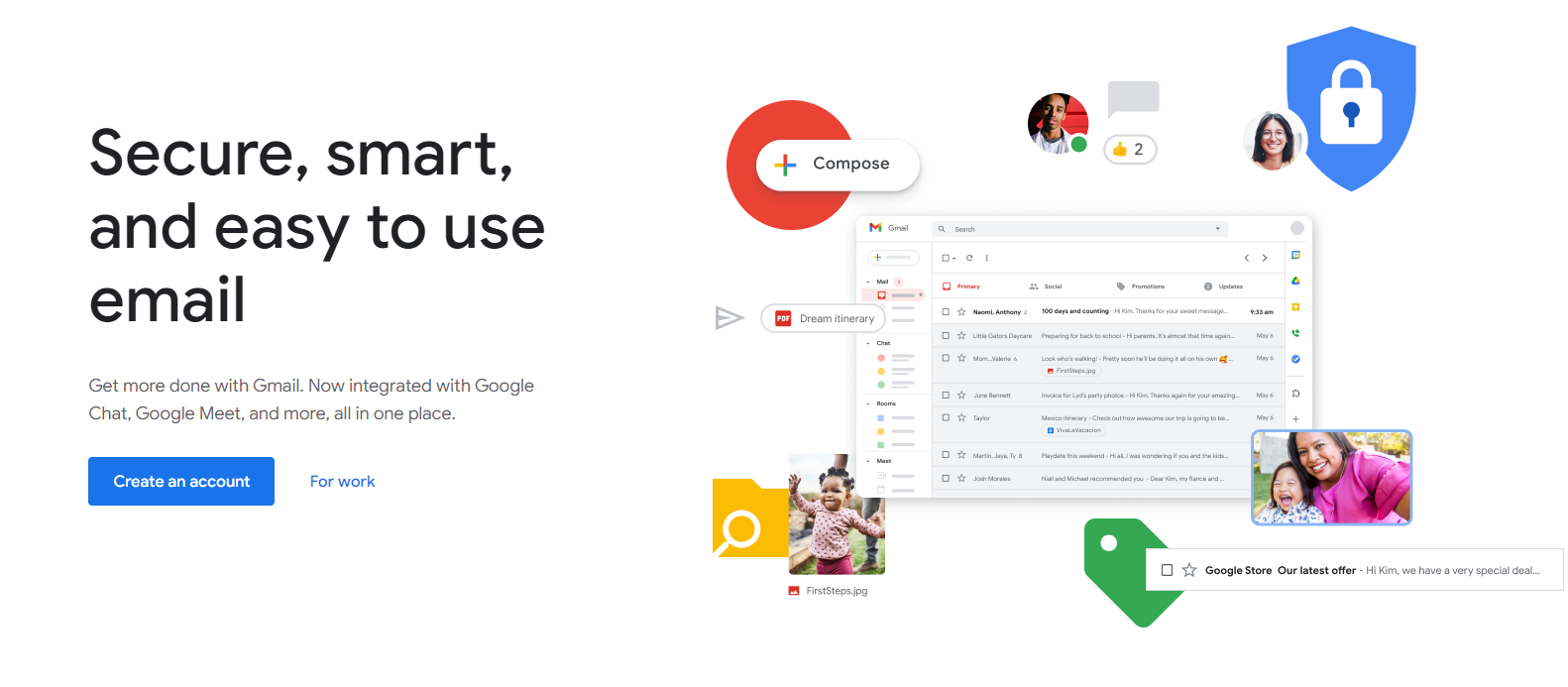 On the other hand, if a business is looking to use Google as their email service provider they should opt for the business version of this service or Google Workspace.
What Is Google Workspace?
Google Workspace (formerly known as G Suite) is a set of cloud productivity and collaboration tools that brings all of Google's products under one umbrella.
It first launched in 2006 as Google Apps for Your Domain and 10 years later it was rebranded into G Suite which was again rebranded into Google Workspace in 2020.
Google Workspace is primarily a business platform and gives users access to many tools like:
Google Meet – Google's messaging and video call service.
Calendar – a scheduling and time management tool;
Drive – Google's file storage and collaboration platform;
Docs – an online, collaborative word processor;
Sheets – collaborative spreadsheet program
Slides – collaborative presentation builder
Forms – a platform where users can create and administer surveys and questionnaires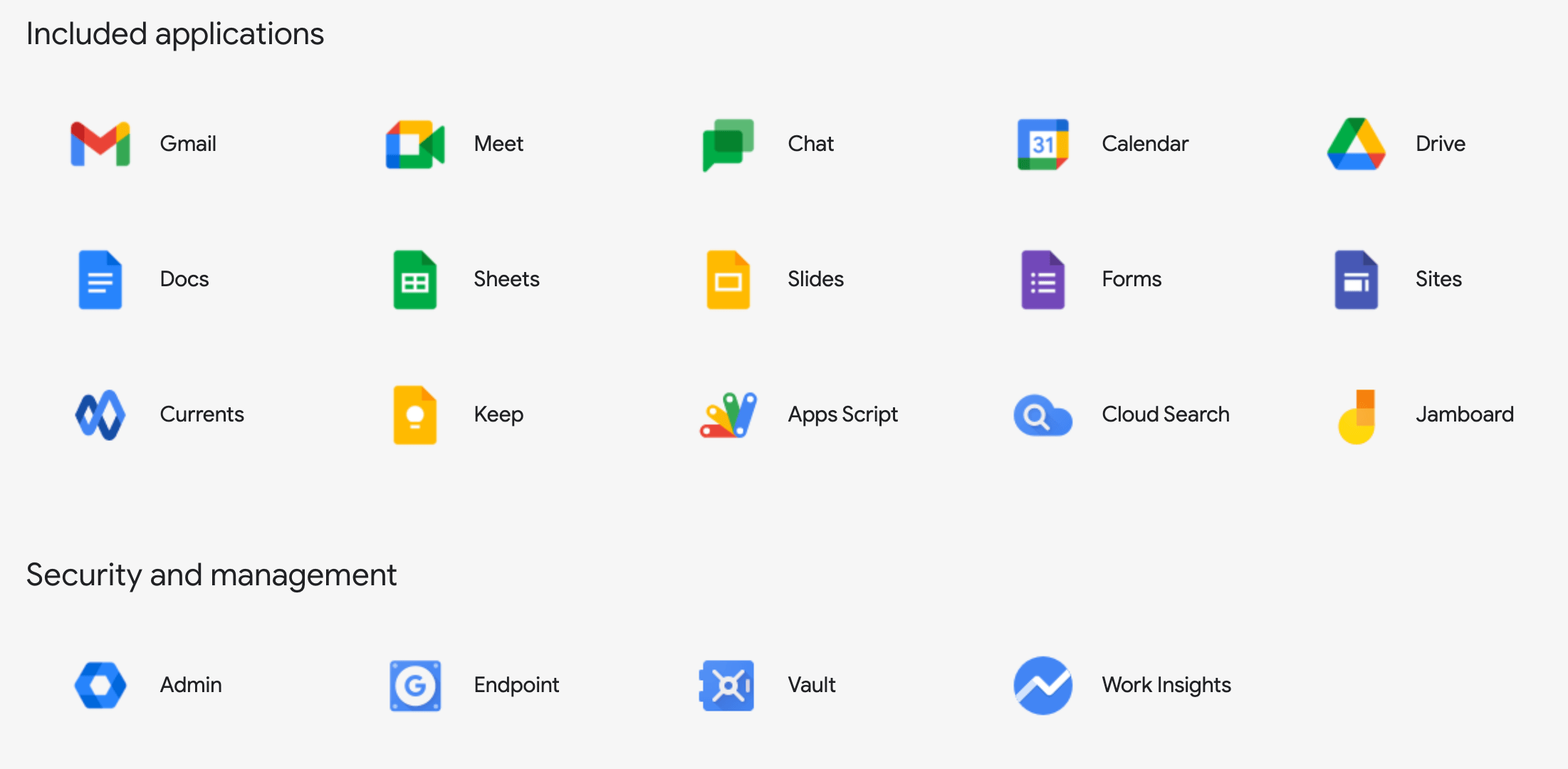 Google Workspace also includes Gmail in its suite, but unlike the basic free Gmail version, it gives users access to a custom Gmail domain, 30 GB of storage space, and advanced security and integration options.
With so many tools and features it's best to have a Google Workspace plans comparison and evaluate which one suits your needs.
Google Workspace (G Suite) has four pricing plans, with Business Starter, the basic and most affordable one, starting at $6 per user per month. The chart below shows all pricing plans and what each of them includes.
Now that you are familiar with these two tools, let's talk about what are the biggest differences between them and which one is right for you.
The Key Differences Between Google Workspace (G Suite) vs. Gmail
There are some important differences between Google Workspace and Gmail:
Cost – Gmail is a free service, while Google Workspace isn't. Its four different pricing tiers are designed for individuals, small businesses, larger organizations, and enterprises respectively. The pricing reflects these use cases and ranges from $5–$16 per user per month.
Administrative Control – Unlike Gmail users, who can only control their email and Google Account credentials, Google Workspace users can create, edit, and delete all the accounts and addresses they created using it.
Domain Customization – Users of the free version of Gmail can't change the default "@gmail.com" domain. On the other hand, Google Workspace users get the privilege of creating their own domain names.
Space – Gmail users can count on up to 15 GB of cloud storage available. At the same time, Google Workspace users are entitled to anywhere from 30 GB to unlimited storage, depending on the plan they opt for.
Toolset – While both Gmail and Google Workspace give their users access to additional productivity apps, which apps one gets depends on the service they choose. A free Gmail account grants access to some basic apps and features such as Google Drive, Docs, Calendar, and Slides. However, in addition to that, Google Workspace also offers access to Google Meet, Chat, Keep Sites, Forms, and Current.
Security – Although a sharing option is available to both Gmail and Google Workspace, the latter significantly facilitated collaboration efforts. This means that Google Workspace users enjoy admin privileges – they have total ownership and control over any files created by individual user accounts.
Support – Free Gmail users have somewhat limited assistance options. They can either use the Gmail knowledge base or the Help Forum. However, Google Workspace users are eligible for 24/7 phone and email support.
Should You Use Gmail or Google Workspace?
In the end, the decision depends on your needs.
Gmail was created with personal use in mind. While it's a popular and feature-rich free email service, it falls short of meeting the needs of advanced business users due to its limited capabilities and functionalities.
Google Workspace was primarily intended for business and enterprise users and its custom domain and collaboration features reflect this. It's much more than an emailing service as you can work together on documents and presentations, have meetings, and have almost everything one business needs in one tool.
It's best to choose depending on your business size:
If you're an individual, Gmail would be the best choice for you as it comes with enough storage space and tools one person might need.
If you're a small business with up to 25 employees, the Workspace Business starter plan would best suit your needs at its low $6 price point.
If you're a mid-size business, the best choice would be the Business Standard plan which gives more storage, flexibility, support, and performance across all tools.
If you're a large enterprise-level business the Enterprise plan is best. It offers custom solutions, dedicated support, and advanced security measures on top of all the features other plans have to offer.
In short, Gmail is for individuals, Google Workspace is for collaboration.
How To Protect Your Email Data With Archiving
While implementing an email service like Gmail or Workspace into your business you might have noticed their security features.
Protecting your crucial business data is very important after all.
While both solutions offer a certain level of archiving capabilities, they aren't nearly as effective as they should be for your business to achieve regulatory compliance.
Archiving needs to be handled by a specialized solution and Google has its own email archiving solution in Google Vault. But Google Vault's many drawbacks keep it from being a good solution businesses are looking for.
Unlike Google, archiving solutions like Jatheon are designed to automatically archive all of your email data and store them in a well-organized database.
Having everything in one place will keep your business compliant and allow for advanced ediscovery capabilities, and the ability to restore any email, and if for any reason you decide to migrate from Google, your archive will easily be migrated to any email service.