Looking for a perfect
Smarsh


alternative?
Lower, simplified costs. Outstanding tech support. Free migration.
Industry's best cloud and hardware archiving solutions
Fastest advanced search on the market
24/7 tech support and monitoring
Convenient add-ons
Jatheon is compatible with all major email platforms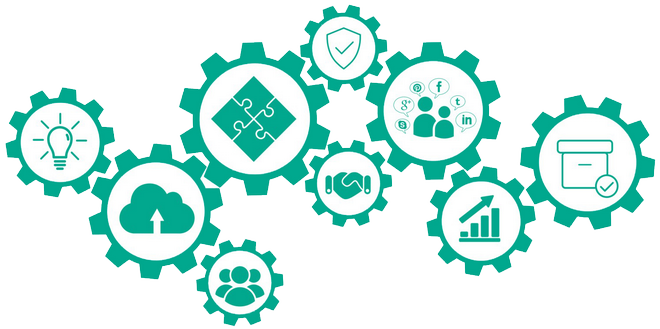 Confused by Smarsh pricing and package structure?
Our vision is simple – everyone deserves maximum functionality and a transparent pricing model.
With Jatheon, there are no restrictive packages – you'll have complete compliance, ediscovery and audit capabilities regardless of the number of users, at a single price.
We're talking an unlimited number of retention policies, cases, exports and the fastest advanced search in the archiving industry – for everyone in your team and at no extra cost.
Jatheon
Smarsh

Cloud archive*

$2.5 month/user

What you get:

Full suite of Jatheon features

Full setup and support
24/7 tech support everyone can contact
Customizable policy rules
Import of legacy data
eDiscovery functionalities
Legacy archive email migration
Import of EML messages
Advanced search & export
On-demand webinars, user guides and product documentation

Archiving Platform

$8 month/user

What you get:

Standard services only

Standard setup
24/7 tech support only Admins can contact
On-demand webinars, user guides and product documentation

What you don't get:

Customizable policy rules
Import of legacy data
Advanced search & export
eDiscovery functionalities
Legacy archive email migration
Import of EML messages




Physical hardware appliance*




starts at $8,999





*includes all the features available in Smarsh Premium package

Additional services

All other services (such as enhanced technical support, advanced search and export for compliance and eDiscovery, legacy archive email migration, import of EML messages, assistance adding new users) are charged extra.



Why switch from Smarsh to Jatheon?
We explored features essential in email archiving and created a comparison table giving a short summary of the two solutions:
Features
Jatheon
Archiving Suite
(on-premise)
Jatheon Cloud
Smarsh
Connected Archive
Search speed

*****

*****

****

*

Email export

*

*****




unlimited no. of exports

*****




unlimited no. of exports

**

***


no. of exports depends
on the product and package
Email import

*****


free import from
legacy solutions

*****


free import from
legacy solutions

***

**

Customizable retention policies

✓




unlimited no. of policies

✓




unlimited no. of policies

✓


no. of available policies
depends on the
product and package
Customizable user roles
✓
✓
n/a
Encryption
✓
✓
✓
Support and monitoring

*****


24/7 appliance monitoring
& in-house tech support

*****


24/7 in-house tech
support

***

**

Outlook Plugin
✓
✓
X
Enterprise grade hardware

✓




on all appliance models

/
/
Storage
6TB – 96+TB
unlimited
depends on the product
Free hardware refresh

✓


get a brand-new appliance
every 4 years
/
X
Redundancy features
*****
/
/
Expandable
yes
using cost-effective
expansion modules
/
X
Social media, mobile and IM archiving

✓

X
✓
*Explained in detail in the section below.
Upgrade your email archiving solution today!
Top features you're missing with Smarsh
| | |
| --- | --- |
| 1. Industry's Best Advanced Search | 2. Direct Export to PDF |
| Jatheon's advanced search lets you create and execute complex searches by filtering emails matching certain criteria (boolean expressions, wildcard, fuzzy and proximity operators), keywords and phrases. Based on the latest search technology, it allows you to search through large databases and pinpoint exact data in a matter of seconds. | Need direct export options other than EML and PST? With Jatheon, you'll be able to export your search results to PDF directly through the user interface without having to go use online PDF creators. This option allows easy data redaction and is especially convenient for smaller exports. |
| 3. Advanced and Large Exports | 4. Dedicated 24/7 Tech Support |
| Struggling with exporting large amounts of data? Although bulk migrations aren't the primary purpose of email archiving solutions, we believe that a great email archiver needs to have a robust bulk export functionality. With Jatheon, the default maximum size of the exported PST file is 3 GB, but can be customized to up to 64 GB, depending on total RAM size. Moreover, Jatheon's advanced export runs silently in the background and frees up the user interface for other tasks. | Jatheon offers continual dynamic system monitoring that allows a rapid, proactive response and intervention for any software, hardware or network connectivity issues. Our in-house, highly-skilled tech support team is here to provide assistance 24/7 and continuously gets 100% customer satisfaction rating. We're talking real, human tech support, where every engineer can help. |
Start archiving smarter!
Jatheon
Overview of Basic Features
FEATURE
Advanced Search
Jatheon's Advanced Search allows compliance officers, administrators and end users to search through millions of emails and end up with a manageable number of results to review. Superior system logic based on search blocks and containers lets you construct complex searches and filter results easily.
FEATURE
Search Results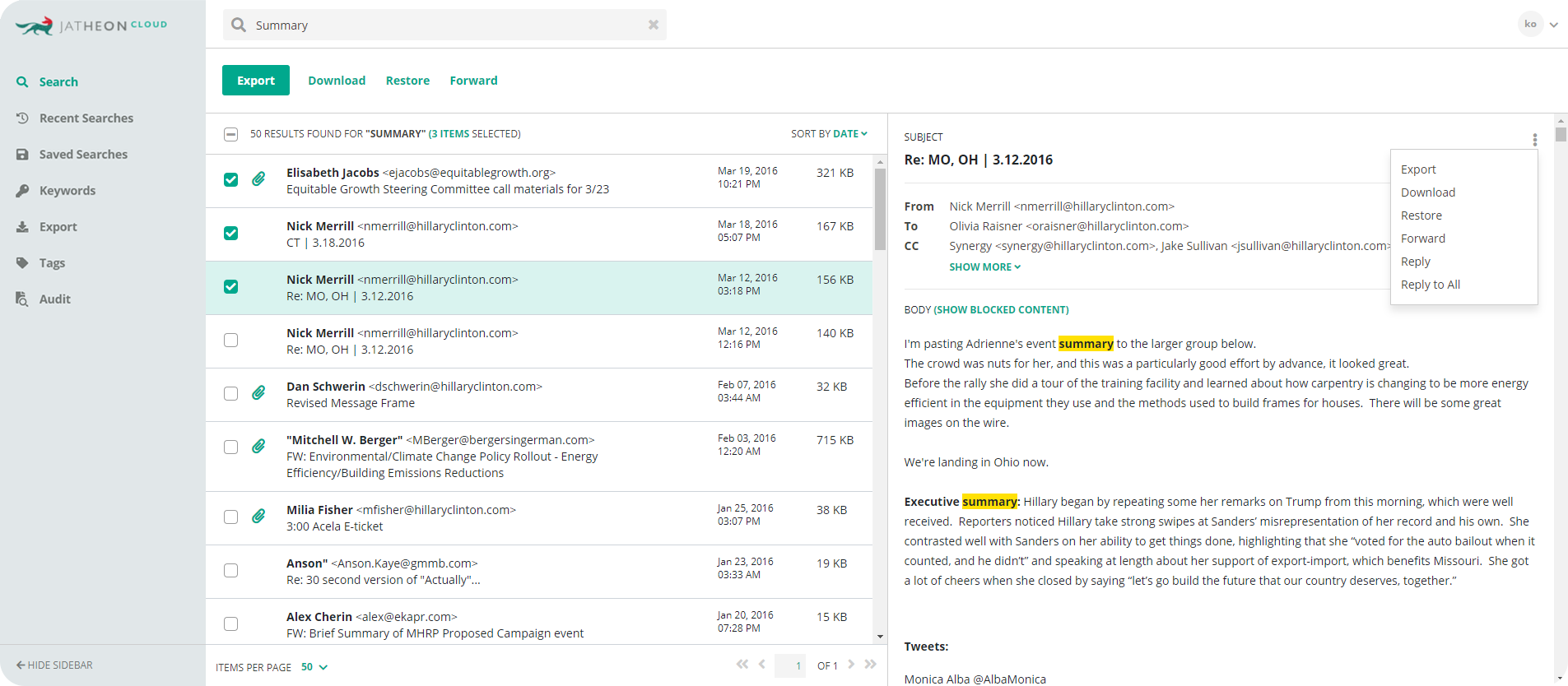 After conducting a search, the user will be presented with search results, where they can select a message and see its content in the preview pane on the right. The specified keyword will be highlighted, and there are various message options including export, forward, restore, reply etc.
FEATURE
Data Export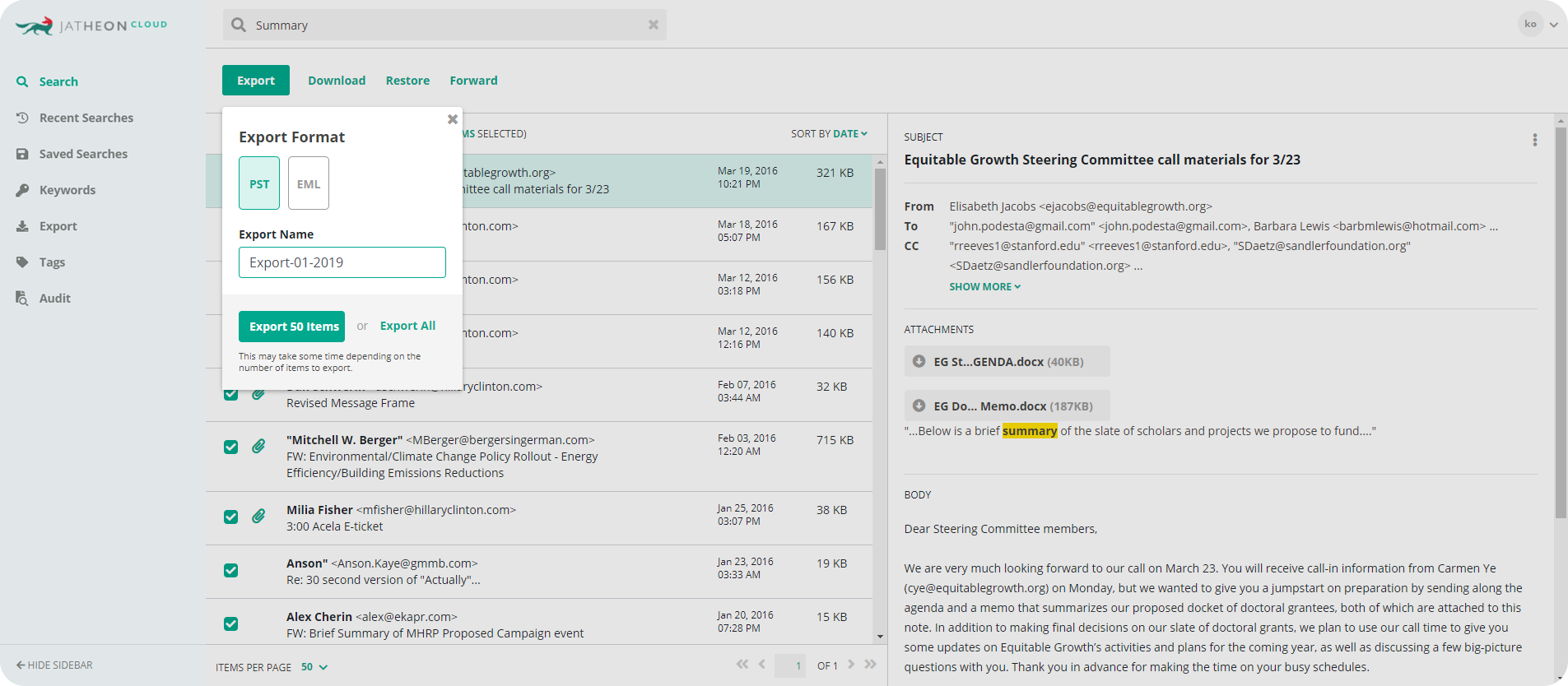 After conducting a search and getting search results, users can select which items they want to export. Users can export to .pst, .eml and .pdf file formats. When the export is ready, the user receives an email with the download link.
FEATURE
Legal Hold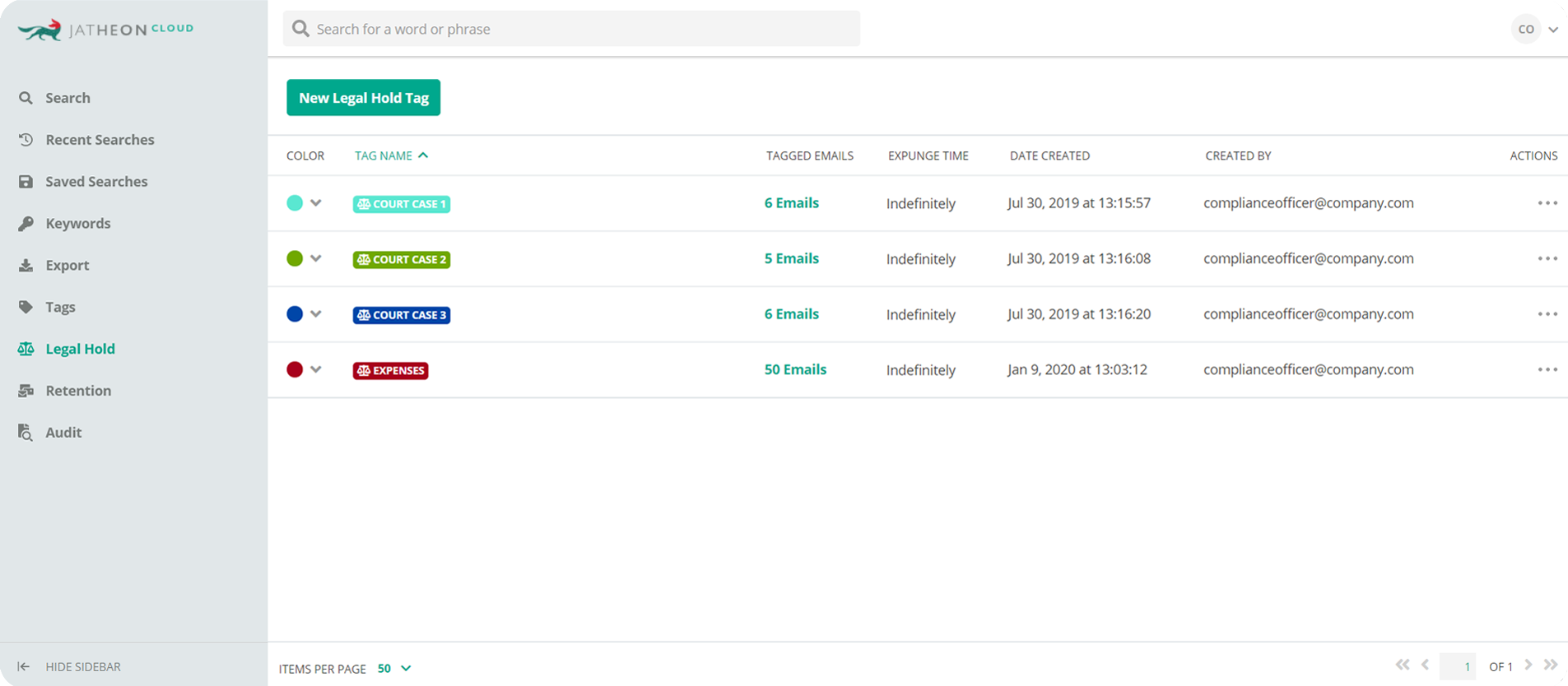 Apply legal hold to freeze emails and prevent data tampering and deletion. When you need to export them for review, you can do it easily directly from the legal hold section in the side menu. Once your court case or audit is done, your compliance officer can manually remove the legal hold tag.
FEATURE
Audit Trail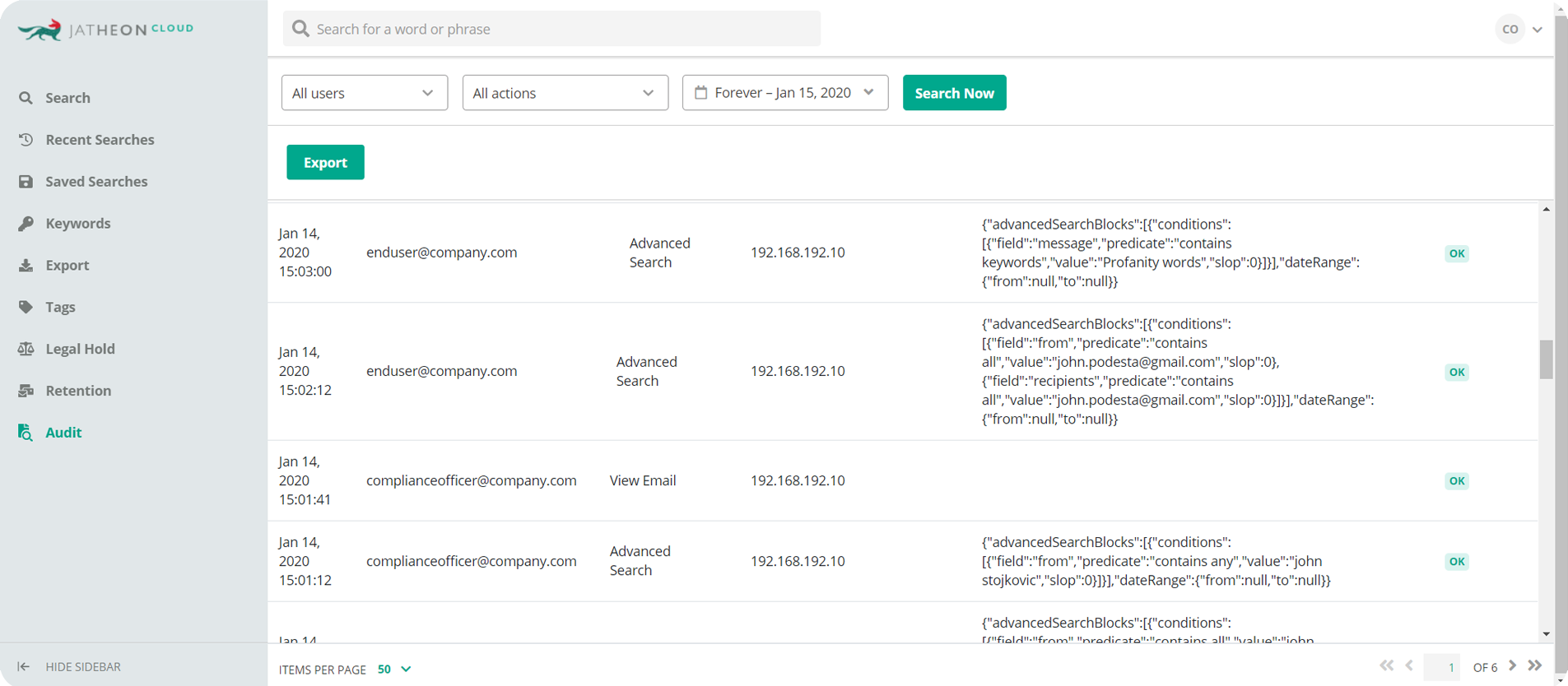 Track users' activities on the archiving platform and get comprehensive info about user actions to meet regulatory requirements, monitor communications and respond to violations proactively.
More things you'll love about Jatheon
Outlook plugin
Mobile app for iOS and Android
Built-in ediscovery toolset – legal hold and activity trail
Integration with all email platforms
Single sign-on
Fully customizable user roles and permissions
Included in 2016 and 2018 Radicati Information Archiving Market Quadrant
Deduplication of messages and attachments
Seamless LDAP and AD sync
Social media, mobile and WhatsApp archiving add-ons
Excellent cloud backup and data recovery plans
Rated 4.8/5.0 on independent review websites
Feature requests
RAID-Z architecture and enterprise grade hardware components
Want to save or share this information? Simply download the PDF overview.
Customers who have happily switched to Jatheon

Jatheon is one of the best kept secrets in the email archiving world. Their advanced search is incredible. It's easy to create a complex search using many email parameters. I can create searches and download results in minutes.

Simple, easy to use, no hassle. Great support. Price is good. Hopefully in the future we will subscribe to the additional features that are available. Been using it for years.
Brian Parker, Southwestern Oregon Community College

Export is extremely easy and efficient compared to other solutions I've worked with. The export task gets everything done in no time. It's also very competitively priced.
Shaun Tuttle, Marsico Capital Management LLC
Ready to give it a try?
Evaluate Jatheon for yourself. We're sure you'll be impressed.
Schedule your personal demo by calling 1-888-528-4366.
Still under a contract with Smarsh? We'll structure a pricing arrangement to offset your current maintenance cost. Give us a call and find out the details.