Looking for the right archiving option for your organization?
Compare Jatheon's on-premise and cloud archiving solutions, with deployment details, full feature set comparison and pricing plans.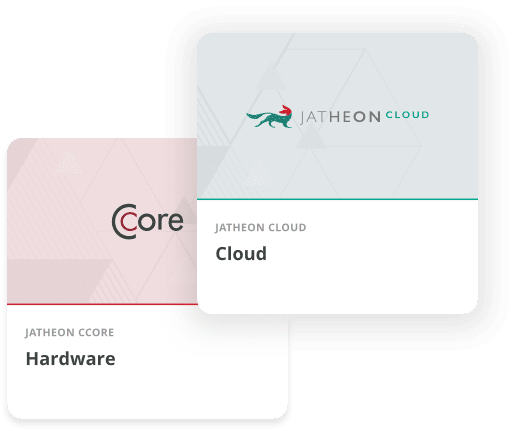 BASIC DIFFERENCES
Jatheon's products at a glance
Features

Jatheon cCore

Jatheon Archiving Suite

Deployment

On-premise data archiving solution with enterprise-grade hardware
Can be deployed as a virtual solution with VMware vSphere, KVM, VirtualBox.

Cloud data archiving solution based on AWS

Scalability

Expand storage with the Jatheon Xpand expansion units as your organization grows

Add new seats any time as your organization grows

Migration from legacy/competitor systems

Automated
Higher reliability and minimal incidence of errors

Automated
Higher reliability and minimal incidence of errors

Migration between Jatheon On-Prem and Cloud
Installation and setup

Expedited shipping from Chicago. White glove onboarding with Jatheon Support in one day.

White glove onboarding on signup.

Pricing

One-time cCore/vCore cost + yearly maintenance

Per user per month pricing, billed annually

Storage

6TB – 96TB (expandable up to 192 TB)

Supported communication channels

Email
Mandatory
Not Mandatory
Email platform agnostic
Bloomberg mail
Social Media
With email, as an add-on
Standalone, or integrated with other services
Facebook
Twitter
Instagram
Instant Messaging
WhatsApp
Bloomberg chat
Telephony
Text messages
MMS
Voice calls
Collaboration Platforms
Microsoft Teams

Feature Set

Compliance
Unlimited no. of customizable retention policies
Expunge – Delete data automatically once the retention windows expire
User Management – Customize user roles with 60+ permissions
Single-instance storage
Complete metadata indexing
Email Notifications
Ediscovery
Simple Search
Advanced Search
Boolean operators
Wildcard searches
Proximity search
Fuzzy search
Saved searches
Recent searches
Legal hold
Audit trail
Integrated redaction of PII
Cases
Export to all major recognized file formats

Export to PST, EML, PDF, HTML

Export to PST, EML, PDF, HTML

Ease of use for end users
User interface
2014 (update in progress)
2021
Personal tags
Classification tags
Localization
English only
English, German, Portuguese


(available in your language in 2 weeks)

Message options
Reply
Reply to all
Forward
Restore to mailbox
Mobile App
Security
Encryption
2FA
24/7 System and Network Monitoring
Geofencing
SLA
Failover
Integrations
LDAP
Single Sign-On
IMAP / POP 3
Outlook Plugin
MSP Platform
Okta
Technical Support
24/7 Support by phone, email and chat
Onboarding and user training included in the price
Access to Knowledge Base
Take your data archiving to the next level
Take a personalized tour of Jatheon's solutions to see how you can meet compliance standards and manage your corporate email and messaging data more easily.
Leave us your contact details and we'll get in touch and show you around.