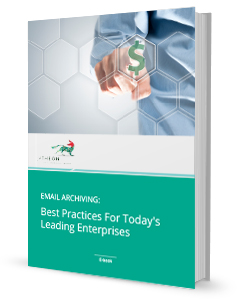 The implementation of email archiving can appear daunting to any organization, not to mention big companies with large IT systems and hundreds or thousands of email users. But fear not! Implementing and managing email archiving in big companies is actually really manageable, as long as you develop a sound strategy.
We have compiled a list of email archiving best practices for large IT systems, hoping to help you make the most of email archiving (even if your organization is small, most of these best practices apply to you too).
In this eBook, find tips on all the stages of the email archiving implementation process, from identifying your challenges, creating an email retention policy, automating your archiving requirements and making the most of your archive by using it as a corporate intelligence repository as well as a safeguard against potential threats.
Complete the form below to finish your reading: